What a Catch!: The 'Big Bang Theory'
Kathryn Maroun is back, and describes recent events in her "Big Bang Theory" below.
Every winter there is a mass exodus from Canada as the snow geese (aka older Canadians) pack up and fly to warmer shores. It is a necessary part of the culture because a great percent of Canadians suffer from vitamin D deficiency. Canooks are easy to pick out at international departure gates. They tend to be pasty white and wear vacation attire on the way out of hockey country. Don't be fooled, they can also sport a dewy glow of scarlet heat upon return, after overdosing on vitamin D in the tropical sun.
I'm sure we have all said out loud, when on vacation, "I wished I lived here!"
But few people actually follow through on a tipsy vacation exclamation by expatriating — especially Canadians who are enticed to stay in Canada with the lore of free healthcare.
In my opinion, the Canadian health system is floundering and Bermuda has a world-class fishery… so after vacationing in Bermuda, my wish came true and I made a gutsy life change by moving offshore. I thought it would be a "blast" to live in Bermuda, also referred to as the Somers Isles. Hemingway and others have written about what a great fishing destination Bermuda is. It is as wonderful as it sounds.
So yes, I do consider myself lucky, but not for the reasons you may think.
I'm lucky because I survived a gas explosion.
In mid-October, my Bermuda dream home blew up with me in it.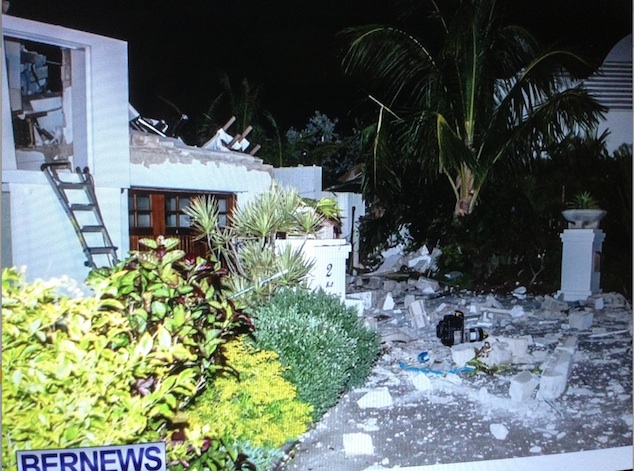 I've survived to fish another day.
I haven't seen the bill from the hospital yet, but it will arrive, as sure as the fallen snow on Nova Scotia.
It was painful and traumatizing. But, with many signs, of something greater at play, I feel that a miracle happened that day.
Leaky gas lines caused the explosion that destroyed my concrete-fortified home. I call it the "Big Bang." The blast was so strong that it blew me off my feet and hurled me across the room, knocking me unconscious. I thought that my lungs had collapsed.
Our neighbors' toilet blew clean off the wall and flooded their house with filthy water. All of the houses on the block had doors and windows blown in and the neighbors had to go stay in hotels until it was safe to return. Concrete flew for a city block and conjecture of what was going on, was also flying about. Everyone on the island felt the blast. Some people wondered if it was Al Qaeda, a drone strike perhaps or attempted murder.
Amazingly, no one was killed.
Most significantly, everything that had to do with fishing survived the blast.
This is my theory for why the Big Bang happened: "I guess someone is trying to tell me something. "Time to go fishing?"
So I've moved into a temporary residence for the next few years while my house is being rebuilt. I've bought new stuff, but some things just can't be replaced, like my grandmother's china and crystal. Some things that were saved, I will treasure even more, like my fishing library.
All week I've been sorting out my fishing books and getting lost in their pages.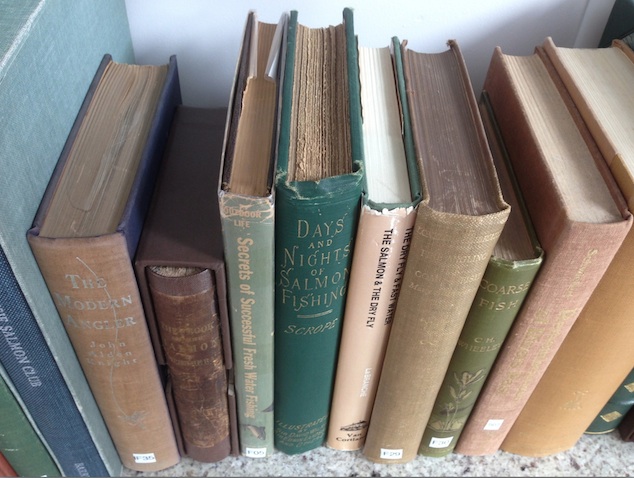 "How to" books by the likes of Joan Wulff, Lefty Kreh, Mel Krieger line the shelves. I took time to revisit my antique and modern fly-tying books by master tiers. As well, I have books on saltwater, freshwater, still water and even frozen water fishing. Rod building books by master craftsman stand next to autobiographies and biographies of fishing legends from days past.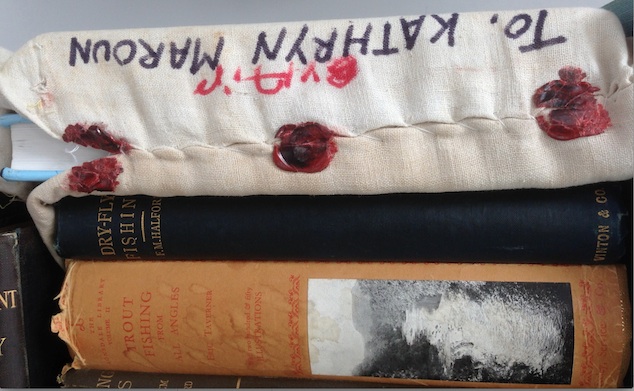 My library is as varied as the sport itself.
Having a near-death experience has got me thinking about all the things that still need doing.
"Fish are, of course, indispensable to the angler. They give him an excuse for fishing and justify the fly rod without which he would be a mere vagrant. And it is these memories of days a-stream that lead the angler to find in the literature of the art, those records and comments, that philosophizing of other anglers, that he will delight to compare with his own."
I found this quote in the forward to the book, The Pleasures of Fly Fishing, by V.S Hidy. This book, and others, sat on my shelf for years. I was so busy fishing that I didn't have time to read all the books in my library nor did I make time to do a long list of other things that I had planned on getting to someday: joining the rose society in Bermuda, getting a dog and writing a book of my own, for example. The explosion and living with Chronic Lyme disease have changed all that and I have been forced to slow down and live more consciously.
One thing that hasn't changed is that as a city person, I need to connect with the wilderness and with the magic and mystery of ever-flowing water. Fishing is a great excuse to do exactly that.
I must admit, there is nothing like the pleasure I get from casting a fly …
And you know? Some good did come from the "big bang."
The 'Big Boat' theory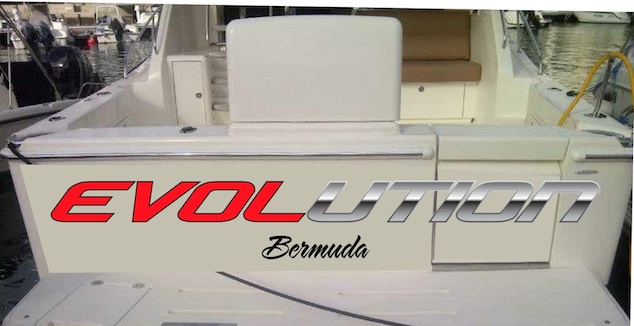 She is named after my last film "Evolution of an Angler".
Have a Bermuda-ful day because if you aren't ready to die, than you better live. Or, hey … life's a blast!!!!
About Kathryn Maroun

Kathryn Maroun is one of a handful of Canadian women to be certified as an FFF casting instructor. She is the award winning executive producer of What A Catch Productions. The 52 show series highlights Kathryn's fishing adventures from around the world. Kathryn exposes never talked about hazards of the sport, conservation, culture, as well as showcasing exotic game fish in her series. Her show first aired in the US before being internationally distributed. Kathryn is featured in the collection of two prominent museums for her significant contribution to the sport of fly fishing. Kathryn Maroun is the president and founder of Casting for Recovery Canada, past director of Trout Unlimited Canada and past member of the Canadian World Fly Fishing team. Along with creating a line of clothing for women at work in the outdoors, Kathryn has fished around the world and has a number of world record fish to her name. Today she dedicates her time to writing about her miss-adventures and enjoys telling her stories through keynote speaking opportunities. Kathryn is campaigning to create a more balanced playing field for women in the sport. View all posts by Kathryn Maroun →
The Conversation