Review: Remington RM380 Micro Pistol
Babbs tests a Remington RM380 Micro Pistol.
Remington Outdoor Company invited me, along with some other lucky gun writers, to experience firsthand this little number while training at one of the nation's premiere training schools. For 2 days, we put that little pocket pistol through the paces. One among us even fail-tested it, and wore out his trigger finger. Meanwhile, the gun kept loading and firing upon demand.
Crossbreed Holsters supplied several styles of carry holsters that paired particularly well with this gun and impressed the group overall.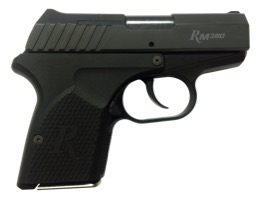 Designed to meet the growing pocket-pistol carry market, this gun especially will appeal to women. In fact, Remington designed this gun with women in mind.
Here's why.
The RM380 comes in all-metal construction with a light DAO trigger. Lefties will appreciate the ambidextrous magazine release, and if you want, you can replace its grip panels for further customization. While on the subject of the grip, the angle and ample checkering worked well for the other women and for me. The guys certainly hit their targets in good, tight groups and never complained that their guns slipped away from them – which makes me think Remington found a great middle-of-the-road-pleasing carry gun here. The RM380 comes with a slightly extended Beavertail, which also kept my hand on the grip and especially, made it easy to find an accurate hold when drawing from a holster. The trigger guard – designed and undercut so that a shooter can hold on higher on the front strap – also contributed to me being able to maintain a firm grip on this gun.
Features like a 2.9-inch 416 stainless steel barrel and aluminum frame make this firearm particularly appealing for hot weather carry. And the sights? Machined sights integral with the slide, they lay low and operate snag free; they are what you would hope for on a micro carry gun.
Women and seniors will appreciate the light force it takes to rack the slide back, and when you've fired the last round, the slide stays back. No guessing required as to whether you've emptied the magazine and cleared the chamber. You can check easily. You can also pull the slide back easily, thanks to the wide, positive cocking serrations.
Also, the RM380 weights 12.1 ounces and comes with an angled trigger with a 7.9-pound pull.
The magazine holds 6 rounds.
As you may have suspected, the gun is chambered in .380 Auto. It debuts at this year's National Rifle Association's Annual Meeting & Exhibits in Nashville.
The tests
We shot that little number from 3, 5 and 7 yards in speed drills, a competition shoot-off at about 15 yards and several stimuli and moving drills. If the bullet flew off the center of mass, I knew it meant operator error on my part – moving and not adjusting my aim properly, which is something I need to work on.
We also performed the Dozier drill at about 15 yards, where we had to shoot at 4 opponents quickly. The opponents – prepper poppers of steel – kept going down faster and faster, as we increased our abilities to hit and move on.
We also spent time in the shoot house, learning to clear it room by room and looking for the bad guy. Talk about a wee bit of pressure, with the instructor's hand always on the shooter's shoulder and danger around every corner.
I will trust this pistol to defend me and my loved ones, God forbid, should we ever need it.
The RM380 retails for $417. Available this summer.
About Barbara Baird

Publisher/Editor Barbara Baird is a freelance writer in hunting, shooting and outdoor markets. Her bylines are found at several top hunting and shooting publications. She also is a travel writer, and you can follow her at https://www.ozarkian.com. View all posts by Barbara Baird →
The Conversation