Meet Chelsea Davis: Hooked on Shotgunning
Chelsea Davis recalls that particular day when a client in the oilfield business invited her to a shooting clays range and she shot at and broke some clay pigeons. "I was instantly hooked," says the racehorse-riding businesswoman.

When asked what she tells people about herself after a formal introduction, she said, "I'm an exercise jockey and I gallop racehorses in the mornings and own my own racehorse appraisal business … but, I always let people know that I'm also a sporting clay shooter." She is sponsored by Fabarm USA, Syren, Fiocchi ammunition, Briley chokes and Oakley.
Before the racehorse business, Chelsea worked in oilfield sales. Part of the protocol – much like going to the golf course – meant she went to the shooting range, where she would trigger a button to release clays upon a shooter's command of "pull" or keep score. Then, came that pivotal moment when a client handed her his gun and she took aim. She liked it. She got "hooked."
The following Christmas, Chelsea's father bought her a shotgun and she began advancing in the clay sports, preferring to shoot sporting clays. As she progressed in the sport, she decided she needed a gun that fit her better. "Every gun I have ever shot before, I had to have altered in one way or another. I always had to add recoil systems or modify the stock in some way. The Fabarm XLR5 Velocity LR is the first gun that fit me right out of the box, with only a few tweaks to the included adjustable comb. I shot a 92/100 on my very first outing with it! It's also very smooth shooting and barely kicks," said Chelsea.
Chelsea and the gun obviously work together well. "When I first started out shooting registered targets in 2009, I won ladies D class at Nationals. I then won the ladies A class National Championship title back in 2012 – aiming to win AA this year! I've also won several events at State several years in a row and have been on the Louisiana All-State team for the Iast few years." She also holds numerous local titles.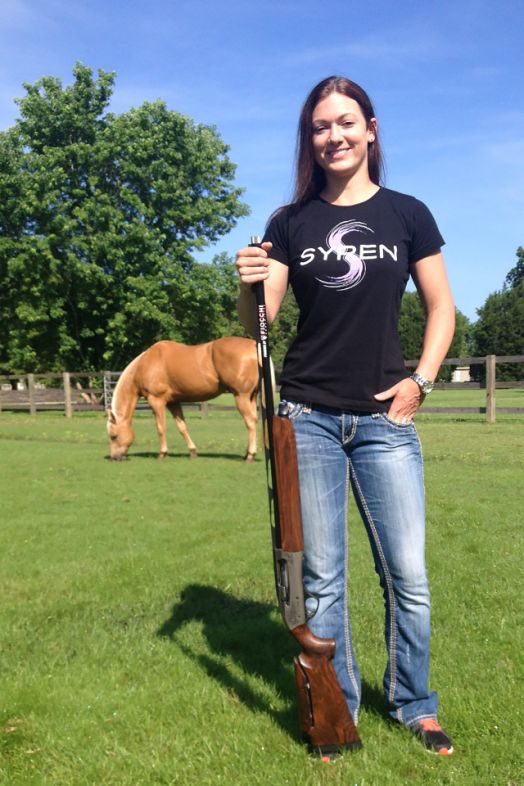 In regard to the new line of Syren shotguns (which came into production after Chelsea discovered the Fabarm line), Chelsea said she is impressed. "I have seen and tested some of the Syren models, and let me tell you, they're a great fit for a woman! With a longer neck, high cheekbones and smaller hands, picking up a typical gun (which is automatically made to fit a man) always leaves me – along with most women – looking up the barrel, reaching for the trigger, or bruised and in pain."
Chelsea practices once mid-week and competes every weekend. "I'd shoot every day if I could, but life prevents that from happening! I try to mix skeet and trap into my practice routine to keep myself well rounded. I'll also turn report pair stations into true pairs, shoot pairs in reverse, and vary where I stand," she said. She believes her greatest strength overall is her competitive nature: "I still keep things fun, but I put just enough pressure on myself to get the job done".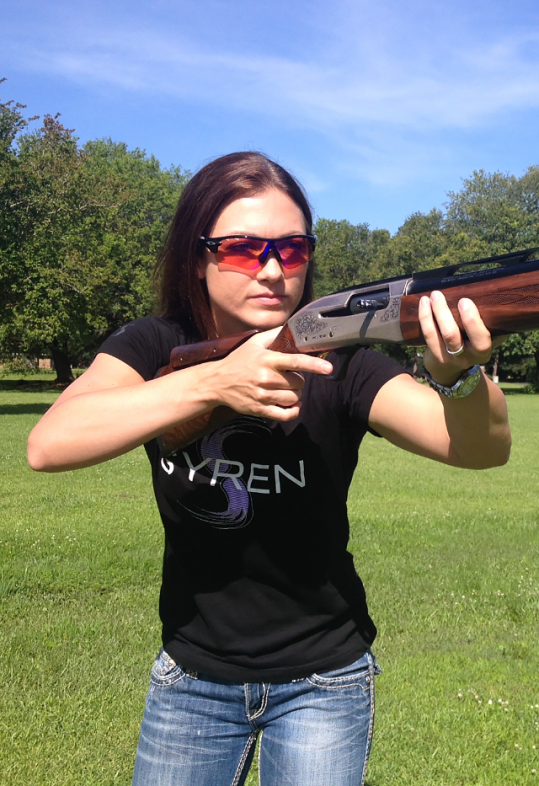 And when she's not busting clays? "When I'm not shooting, I'm either riding horses or in the gym. I ride racehorses for work, but I also have 2 horses of my own at home. I also work out 4 or 5 days a week; I'm a bit addicted to lifting weights!" And when she can squeeze in a little down time, she plays the piano.
To women who may wonder about why she packs up her gun and gear and heads to the range every week, she said, "I always tell them about the thrill of beating men at a 'man's game.' Sporting clays is one of the few sports where women can actually compete against the men, as well as have their own separate category. I also tell them about how great of a stress relief shooting is."
"I always say don't knock something until you try it," continued Chelsea. "If you're a woman and you want to give shooting a try, go out and find you a gun that fits (like a Syren), grab some 1-ounce shells and give it a whirl! You never know, it may just be your new favorite hobby."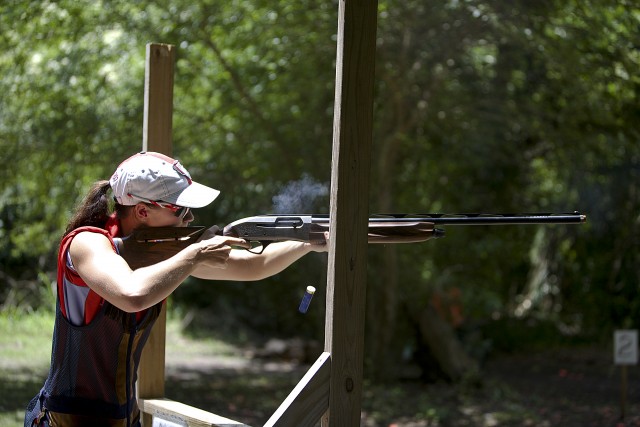 About Barbara Baird

Publisher/Editor Barbara Baird is a freelance writer in hunting, shooting and outdoor markets. Her bylines are found at several top hunting and shooting publications. She also is a travel writer, and you can follow her at https://www.ozarkian.com. View all posts by Barbara Baird →
The Conversation