Retro WON Babbs in the Woods: A friend for all 'seasons'
One phrase comes to mind that describes turkey season 2012 – all three weeks of it. "The mind can only absorb what the butt can endure." I don't know who coined this term, and I'd like to substitute the word "tolerate" for "absorb."
I know, I'm fortunate that I have a place to hunt – thanks to my parents-in-law and their generous gift to us upon their passing. So, I based camp down at the old home site in southwest Missouri. I hunted 19 out of 21 legal spring turkey season days. I put more than 100 miles on my boots, climbing over creek beds and up knobs and down into hollers, with a turkey vest full of stuff and a 12-gauge shotgun. The only two mornings I stayed in and rolled back in bed after the alarm clock went off at 4 a.m., were the two mornings that lightning appeared outside my windows. I draw the line at that …
Turkey hunting in Missouri ends at 1 p.m. daily. Then, I'd head back in, meet deadlines, do laundry, etc.
I've never had good fortune to kill a turkey on my own. To call one in and dance with it for a while. I'm not that good yet. My enthusiasm for turkey hunting (and any hunting, if truth be told) far exceeds my prowess.
My mouth calls sound like spitty balloon gas coming out.
This year, I called on one of the best in the business, my friend Marti Davis. Marti is on the pro staffs of so many fine companies, including Knight & Hale, Mossy Oak, Moultrie Products and the list goes on … if anyone can call in a bird, it's Marti, and she promised to tutor me along the way.
Well, we spent two days runnin' and gunnin' and thought we were close. Thought we had two coming in to visit us. And then, silence. What the heck? It was going to be harder than we both thought.
Marti went to Illinois and filled her tag there. I continued runnin' and sittin'. Then, she put the pow on a jake over in her neck of the woods.
I kept on pathetically calling.
I roosted birds. But they wouldn't be there the next morning. That happens, says my turkey professor pal Steve Hickoff, who blogs at Realtree and Outdoor Life and writes for anyone who's anyone in the business. He told me turkeys can move in the night from treetop to treetop. They bed-hop.
Dang it.
By week 2, I was in autopilot. My eyes started popping open at 3:50 a.m. I headed out in the dark, to different areas, and as time went by … the gobblers got quieter and quieter.
I had a few catty situations with hens. We'd squabble every now and then. I called in a few gobblers, but not close enough to seal the deal with a few lead bits. I busted more than I called in. And I walked, and scrambled and sat. About 8 hours a day.
I lost five pounds.
And then, I saw a gobbler strutting in a field for his lady friend one evening, but it was adjacent to our property, up on a ridge top. So, I called the owner and he gave me permission to hunt the field and asked me to let him know if I found his missing cattle, too.
Three days I sat in the tall grass of that field, and heard gobblers and talked to gobblers and didn't convince any of them to come in. I did call in four coyotes and one bobcat.
Then, Marti, suffering from a pinched nerve in her neck, took pity on me and headed back to me – fresh from a visit to the chiropractor. She left the convenience and comfort of her huntin' hut and food plot that she'd been preparing all year for this hunt, to crawl through two sets of five-strand barbed wire with me and sit in a field for two days. And she called her little heart out. And no gobblers came to her call either.
Until the last day, at about 8:30 a.m. A gang of four jakes sauntered over near her decoys. They didn't like what they saw (the turkey decoys doing the, as Tom McHale says over at My Gun Culture, "nasty"). They did an about-face. Marti whispered, "If you're gonna shoot, shoot now!" I dropped one at 44 yards. We had turkey nuggets that evening for supper.
What will I remember the most from this year's turkey season? That Marti is a friend for all seasons, and I'm not just talking about hunting. That when people like Steve or Will Brantley (my editor at Realtree.com) say "Stick to it," that it sticks in my mind and helps me over one more ridge top.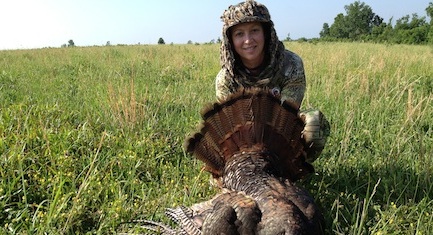 Thanks, Marti (and Steve and Will). I owe you.
This Retro WON first appeared May 9, 2012.
About Barbara Baird

Publisher/Editor Barbara Baird is a freelance writer in hunting, shooting and outdoor markets. Her bylines are found at several top hunting and shooting publications. She also is a travel writer, and you can follow her at https://www.ozarkian.com. View all posts by Barbara Baird →
The Conversation