The Gun Counter 101: Or, How to Buy a Gun
It's the gateway to shooting, the gun counter at a gun store. Behind the counter stands the gate keeper, responsible for your success or failure to purchase a gun.
I write an undercover shopper article for a trade magazine in the gun industry. To accomplish this task, I must create a story that I present to 4 gun stores in an area on why I want to purchase a firearm – I've been from Seattle to Charlotte and Sioux Falls to Phoenix to Savannah and in between. Let's just say I've been around a lot of gun counters and told a lot of fibs.
How to buy a gun
Here are some techniques, tried and true, that have worked for me throughout the years to make the most of my experiences at a gun counter.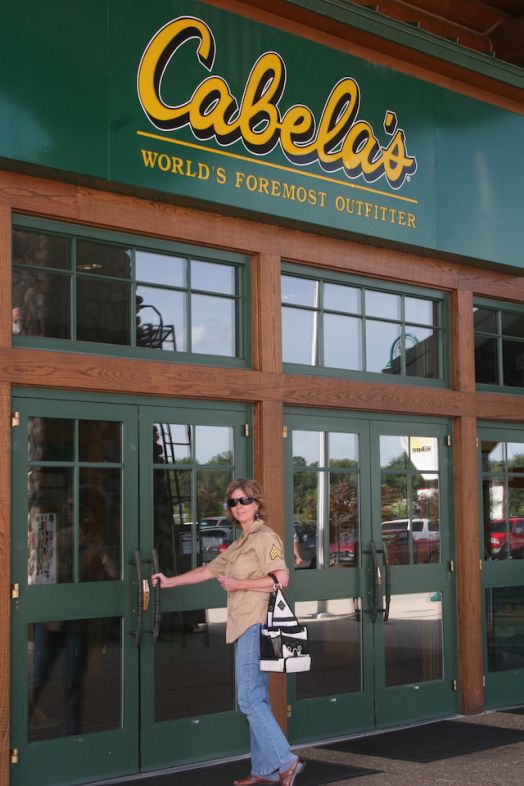 What do you want?
You wouldn't go to a clothing store and ask for a dress or a pair of shoes, or to a car lot and ask for just a car. You know the function of the garment and you might have an idea of the design and color that you're looking for. Think about what you are looking for – is it a rifle, shotgun or handgun? Then, narrow it down further. For what purpose will you use the firearm? Target practice? Self-defense? Hunting? Home defense? Concealed carry?
Approach with confidence
It can be disconcerting, walking up to a gun store counter. It's almost like stepping into a foreign country for a first-time buyer. Take a deep breath and basically, put your big girl panties on. Act brave, people will not know the difference. Remember, you know what you are looking for so place yourself close to the counter near the types of guns you're interested in seeing. Don't hang back, hoping someone will notice you. Don't stand down by the ARs when you want to look at a pistol. You'll just have to move there.
Get eye contact soon
Start looking at the nearest sales associates. Catch someone's eye and nod or give the hint of a smile so that they see that you mean business. They should at least acknowledge your presence. Did you need to take a number? This is your opportunity to check out the inventory of guns while you wait. Decide on at least 3 options that you want to see.
When help comes
When help arrives, tell the sales associate what you want and in what caliber or gauge. Such as, "I'm looking for a concealed carry pistol in 9mm, and I'd like it to be a small gun." Then, point at the guns you've chosen to see, or ask for the makes and models that you want to see. (You can do prep work beforehand, thanks to the various gun manufacturers' websites and helpful publications, such as this one.)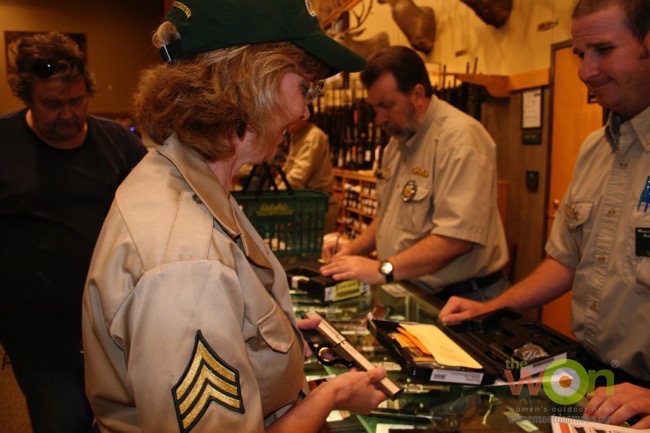 What a good sales associate will do
A good sales associate will start to work with you regarding what you want. He will listen to you and ask follow-up questions about the potential purchase. When it's time to start shopping, he will bring a gun out of the case, point it in a safe direction and clear it (check to see that it's not loaded). He will then tell you the features of it, and not just read them off the tag.
What you should do
Now, you should pick up the gun, and if you want to double check that it's clear, do so. Then, point it in a safe direction and acquire the sights. Always ask permission to pull the trigger. Keep your finger off the trigger until you are ready to dry fire the gun. There are some guns, such as .22 caliber rimfire, where you should never fire the trigger dry. This is where you can take all the time in the world. Make sure it fits you, and if it doesn't, and you want to move ahead further with this gun, ask how it can be made to fit you. Does the business have an in-house gunsmith? Can the grip or stock be modified?
What you might consider doing
Not so much at the big box stores, but at smaller local gun stores, the sales associates have been told to work with the customer. Sometimes, they can knock some of the price down for a cash payment, or if you know the gun costs less at another location, let them know that. Will they throw in a holster or some ammo? Let's make a deal here.
What a sales associate should not do
Train you on the spot. Sales associates are not trainers. Even if they teach courses, they are not teaching at that time. They are selling you a gun. You wouldn't expect a car salesman to teach you to drive.
Touch you without asking. I've seen a sales associate wrap his ever-loving arms around my daughter-in-law to make sure she had a proper grip on a gun. There's no reason for a sales associate to come around the counter to help you, or hold your hands in his, or basically touch you at all.
Try to sell you the most expensive gun. That's why if you do your homework beforehand, or check out the inventory onsite, you'll have a good idea of what's available and the range of prices. If it seems he's wanting to sell you the moon, ask if there are less expensive models.
Equate your lifestyle to his mom's or wife's or girlfriend's reasons for buying a gun. I'd rather hear about why local women are buying a certain gun than why he bought this one for his mom, wife, girlfriend.
Talk bad about any of the guns he's selling. Sure, everyone has an opinion, but he's not entitled to his while at work and selling guns.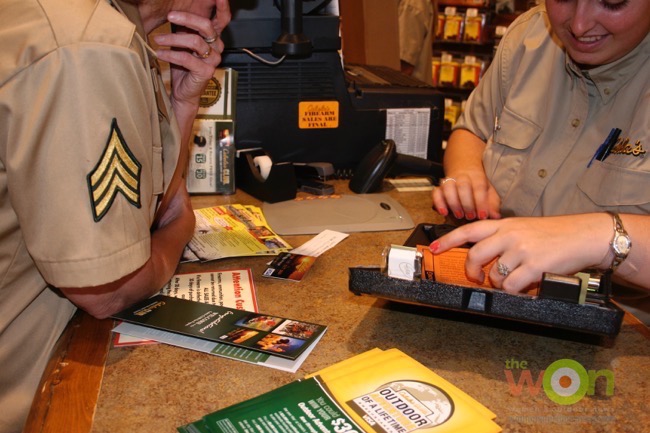 Now what?
If you find a gun that you want to buy, now you'll do the paperwork. You may have to wait for a few days or 10.
Think about what else you'll need for this new purchase.
How will you carry it or use it? Do you need a holster or gun bag?

How will you store it? Do you need a safe or vault?
Do you have ammo?
Does your gun need an accessory?
Do you have any cleaning supplies?
Parting shot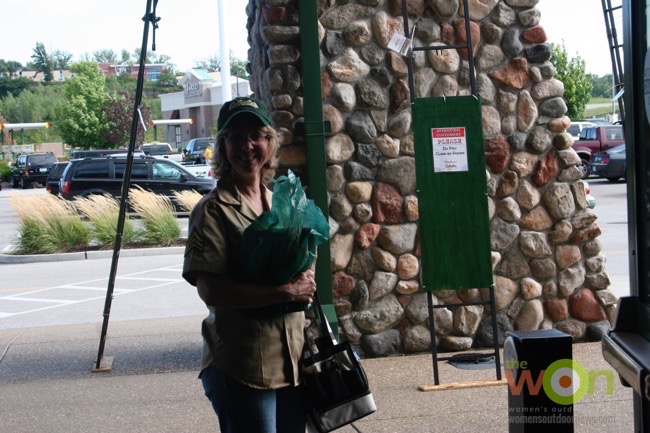 Also, remember that a gun will feel different when it's loaded (it'll be heavier) and when you fire it and experience the recoil. This is one reason why gun stores with gun ranges and rentals are such a sweet deal. You can try before you buy.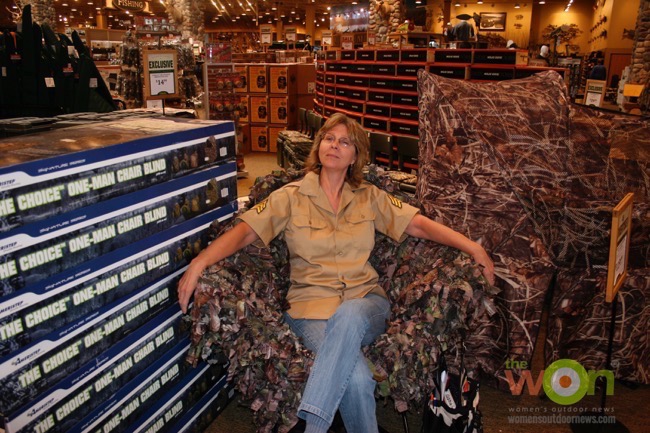 Head over to that gun counter, and good luck with your purchase. You've got this.
About Barbara Baird

Publisher/Editor Barbara Baird is a freelance writer in hunting, shooting and outdoor markets. Her bylines are found at several top hunting and shooting publications. She also is a travel writer, and you can follow her at https://www.ozarkian.com. View all posts by Barbara Baird →
The Conversation