Gracing the Field: The Dallas Gun Club, Fire in the HOLE!
Having had a few days sight seeing and living the cowgirl dream round Dallas, Victoria (owner of The Shotgun & Chelsea Bun Club) and I were itching to get out for some target practice. I'm always quite excited about going to a new ground for the first time as you can't rely on knowing where to place your barrels so you can get straight on the clay or the "it's coming from above those trees"; you just have to go out and shoot off instinct! Vic and I had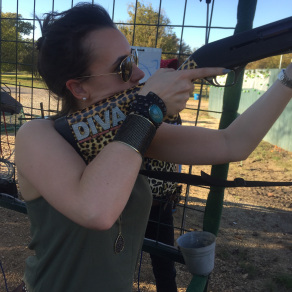 googled the ground before going and couldn't wait to see it in the flesh. Admittedly, I was also a bit nervous as I wanted to make a good impression. Vic and I would be shooting with Judy (Rhodes, Texas legend and Founder of DivaWOW), Barbara Baird and Michelle Cerino both of Women's Outdoor News. To top it all off and really add to the pressure, Dallas Gun Club is a majorly exclusive club with an even more major and exclusive waiting list for membership. So, on Wednesday 16 November we headed over to Dallas Gun Club to get our eyes in ahead of our hunting trip. The weather was ideal and it couldn't have been any better at a warm 29 degrees. We did spare a thought for everyone freezing back at home in Blighty – if only for a brief moment!
From the moment you start driving down the Gun Club's long driveway, you can instantly tell that this is a ground with class and somewhere where you take your shooting seriously. It is set in sprawling and well-manicured grounds and covers every shooting discipline. Of course we have 'areas' within our grounds in the UK (i.e. skeet layout, sporting etc) but some of the designated areas alone at Dallas Gun Club were bigger than some of the UK grounds I've been to in their entirety.
On arriving at the club, we all sat down for cheese burgers, fries and onion rings (when in Rome!) and, while at all times maintaining our Debretts level of elegance, hoovered them down! It was a great opportunity to get to know the other girls and their shooting trips and adventures. One of the Diva WOW ladies, Cheryl, started shooting fairly recently in her later life after retiring from her career as a country & western singer. Deceivingly petite, this lady could have given Annie Oakley a run for her money! Both her and Judy could remember the days when ladies shooting didn't really exist in the form that it is now, so much so that ladies were not allowed in the club house. It seems that the US are a few years ahead of us in terms of the ladies shooting market and it was so inspiring listening to Judy talk about pioneering the way – something that Vic could obviously completely empathise with. Judy set-up DivaWOW to get and educate more women outdoors and into shooting. It seems that her passion was infectious and the local women were clearly waiting for someone like her as the group took off and now, not only are Judy's days fully booked, but the ladies are part of the furniture in the club house.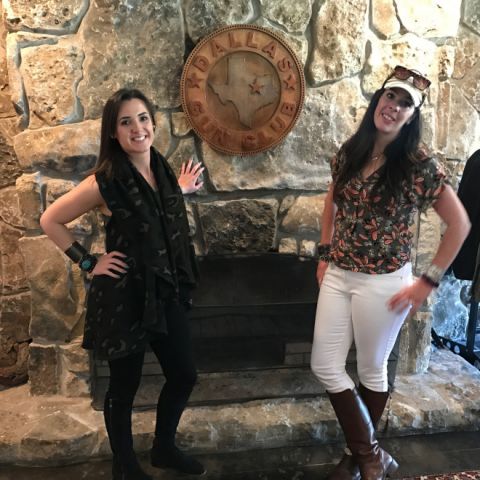 Once lunch had finished and we were borderline sick of sweet tea, we got our guns and kit together ready for a full afternoon out on the clays! As well as getting in some target practice, Vic and I also needed to familiarise ourselves with the shotguns that had been very kindly loaned to us from Franchi for the duration of the trip: two Franchi Instinct L 12g multi-choke shotguns. The guns themselves were very smooth to shoot and on the lighter side of a 12 bore. This was welcome news as these would be ideal for hunting across the prairies.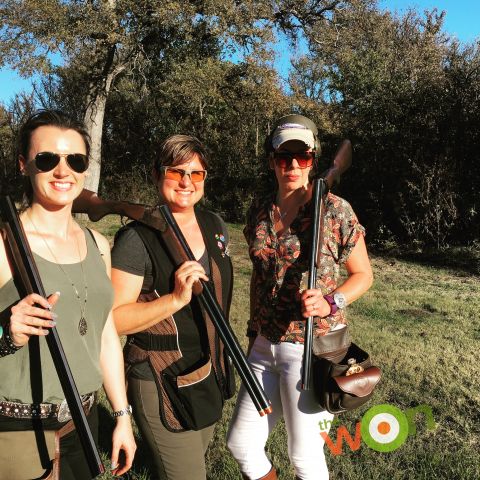 In order to get a good understanding of our guns and how they shoot, Judy took us to pattern test our guns which is something that is taken quite seriously pre-hunt in the US. Pattern testing is where a shotgun is fired at least twice at a stationary target (or 'plate'), usually from about 15-20yds and then maybe a bit further back, which has an aiming mark that the shotgun should be pointed at. The 'plate' is washed or painted down so that it is clear and then the shotgun is fired at the aiming mark. Once the pellets hit the 'plate' they leave a mark at the point of impact and those marks show you the pattern. Simple! When you do pattern your gun, be more Dallas and remember to shout (*in a lovely Texan accent*) "FIRE IN THE HOLE!!" once you have loaded and the safety is off! This phrase quickly became the motto of our trip. Poor Michelle! After a week with Vic and I, I'm really not sure which she found most painful; the fact that I used EVERY opportunity to say this loudly (in every possible situation) or our very poor attempts at Texan accents…
Continue reading, "The Dallas Gun Club, Fire in the HOLE!," here and follow Claire Sadler's blog, "Gracing the Field."
About The WON

The Women's Outdoor News, aka The WON, features news, reviews and stories about women who are shooting, hunting, fishing and actively engaging in outdoor adventure. This publication is for women, by women. View all posts by The WON →
The Conversation