HidingHilda Purse Review Features the Crimson Red Messenger Bag
I'm with Dawn Hillyer. I'm a leather purse snob … of the nth degree … I mean, big time and hundreds of dollars later spent on the most expensive concealed carry, aka CCW, purses to be found on the planet. Move over Coach and Kate Spade and all you others, because I found some buttery soft leather bags that rival those brands and also, carry a concealed gun comfortably and soundly. And then, I met and interviewed Dawn Hillyer, proprietor of HidingHilda.com and its vast line of CCW bags and other accessories for female firearms owners. I told Dawn that I would review her specially designed HidingHilda fabric messenger bag, in red, of all colors.

I originally intended to carry this quilted bag for oh, maybe 3 weeks at the most. So far, my Hilda and I are going on 5 weeks and I won't go back this fall to leather at all. Here's why.
First of all, I like what Dawn's doing with her company, and the fact that she has revived a dead Vera Bradley quilted purse manufacturing line in her hometown of Fort Wayne, Indiana, because she decided a few years ago to start her own business — of making purses out of fabric to hold guns. I interviewed Dawn for "The Women's Gun Show," a podcast that I cohost with Carrie Lightfoot, of The Well Armed Woman fame. You can listen to it here.
In the show, Dawn talked candidly about being the victim of a stalker, and of deciding to become a self-protector and then, how that led to becoming an entrepreneur of not only a purse company, but also of an online store that sells top-brand CCW bags — from such names as Gun Tote'n' Mamas and Cameleon. The shop also sells backpacks, other bags, jewelry, home defense items, holsters and a long list of great products for a female gunslinger.
Dawn's HidingHilda purses are made of fabric. We know why (cuz Vera left town), but Dawn became a quick convert to the light weight and washability of the beautifully finished fabric quilting of the bags. She, too, had been guilty of being a real leather snob. She has designed a line of 3 different styles of bags, so far: the treasure tote, messenger bag and mini messenger.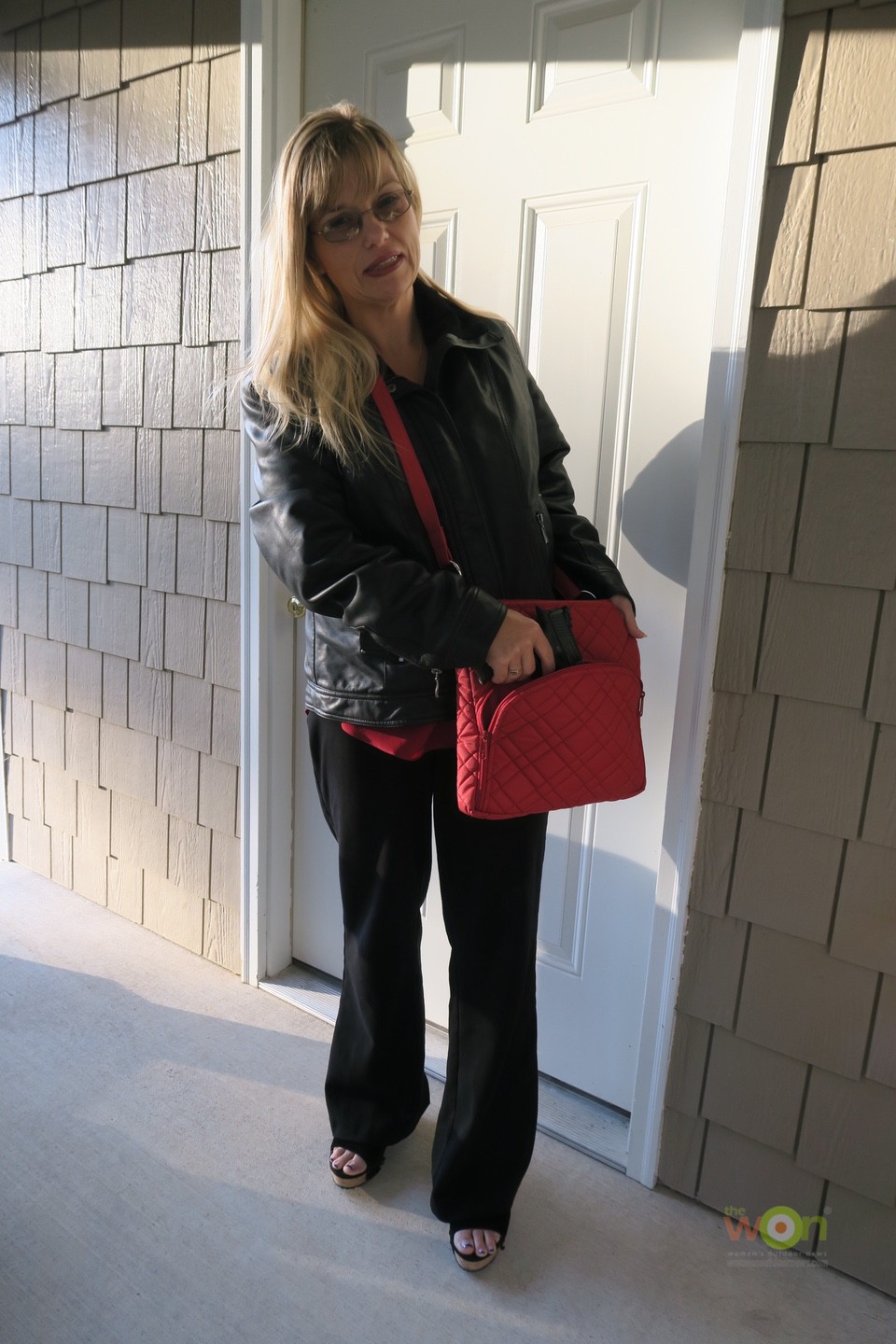 Total disclosure here. HidingHilda is now a partner with us at Women's Outdoor News. We can buy the bags at a discount after we review them, and Dawn receives advertising and social media shares/love in return for funding support so we can pay our writers and editors, designers and web developer and soon, as you'll see, our new mobile app developer.
We will be featuring a bag a month, and our writers will be using these bags and testing them to the max.
The HidingHilda 3-Zip Messenger Bag
This bag measures 11 inches by 2 inches by 11 inches, and comes with a super long adjustable strap, for cross-body carry options on either side. The bag is made to be bilateral, so that a right- or left-handed person can carry it.
The zippers. They rock. They are sturdy and don't hang up. This bag has 2 deep zippers in the back, and a u-shaped zipper compartment in the front, where you can safely secure your firearm in a leather holster that fits most concealed-carry type firearms. This holster has a Velcro back and attached firmly to a large Velcro patch inside the front pocket. You may zip the compartment down from the top or the side, depending on how you decide to close this section with its 2 zippers. I also don't want to forget the piping. The back 2 pockets are even more secure and smart looking because of piping in a contrasting color (black) that runs across the width of the bag.
Inside the bag, 2 pockets have been created for phones, credit card wallets, you-name-it. The bag can fit my wallet, Mom bag (quart-size clear bag for airline travel filled with hand sanitizer, lip balm and you-can-imagine-what), credit card case and cell phone. I put my keys in one of the back zip pockets and have been known to throw my speed loaders into the other pocket.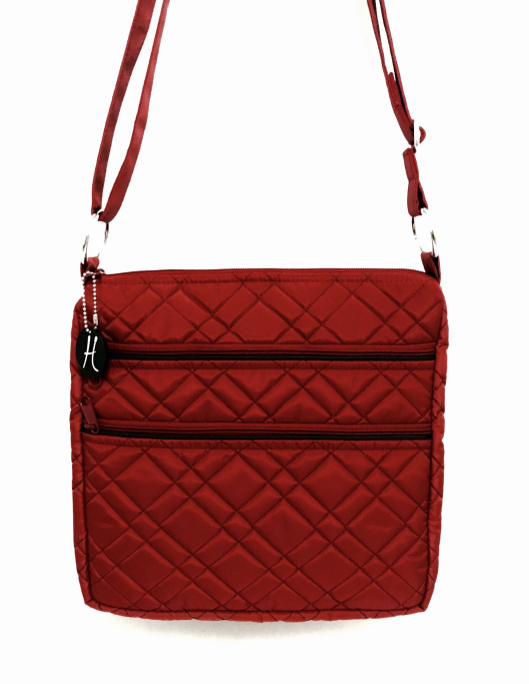 The MSRP of this bag is $89.99. Worth every penny. I'm going to buy mine and keep using it. This particular bag (mine is crimson) also comes in light gray, gray, brown, blue, black and black with pink piping.
The next review will pop here at The WON in November, after our Michelle Cerino takes Hilda on a road trip to Texas.
About Barbara Baird

Publisher/Editor Barbara Baird is a freelance writer in hunting, shooting and outdoor markets. Her bylines are found at several top hunting and shooting publications. She also is a travel writer, and you can follow her at https://www.ozarkian.com. View all posts by Barbara Baird →
The Conversation