Gun Tote'n Mamas New Lineup for 2018
I remember when I met Claudia Chisholm, president of Gun Tote'n Mamas, at her first-ever SHOT Show many years ago. It's a pleasure to have followed the journey of this woman-owned company as it has evolved from a luggage maker into one of the country's prominent manufacturers of women's (and men's) concealed carry bags. Let's see what just arrived in time for SHOT Show this year. Many of these bags are already available, and some will be appearing later this year.

Sponsored by Gun Tote'n Mamas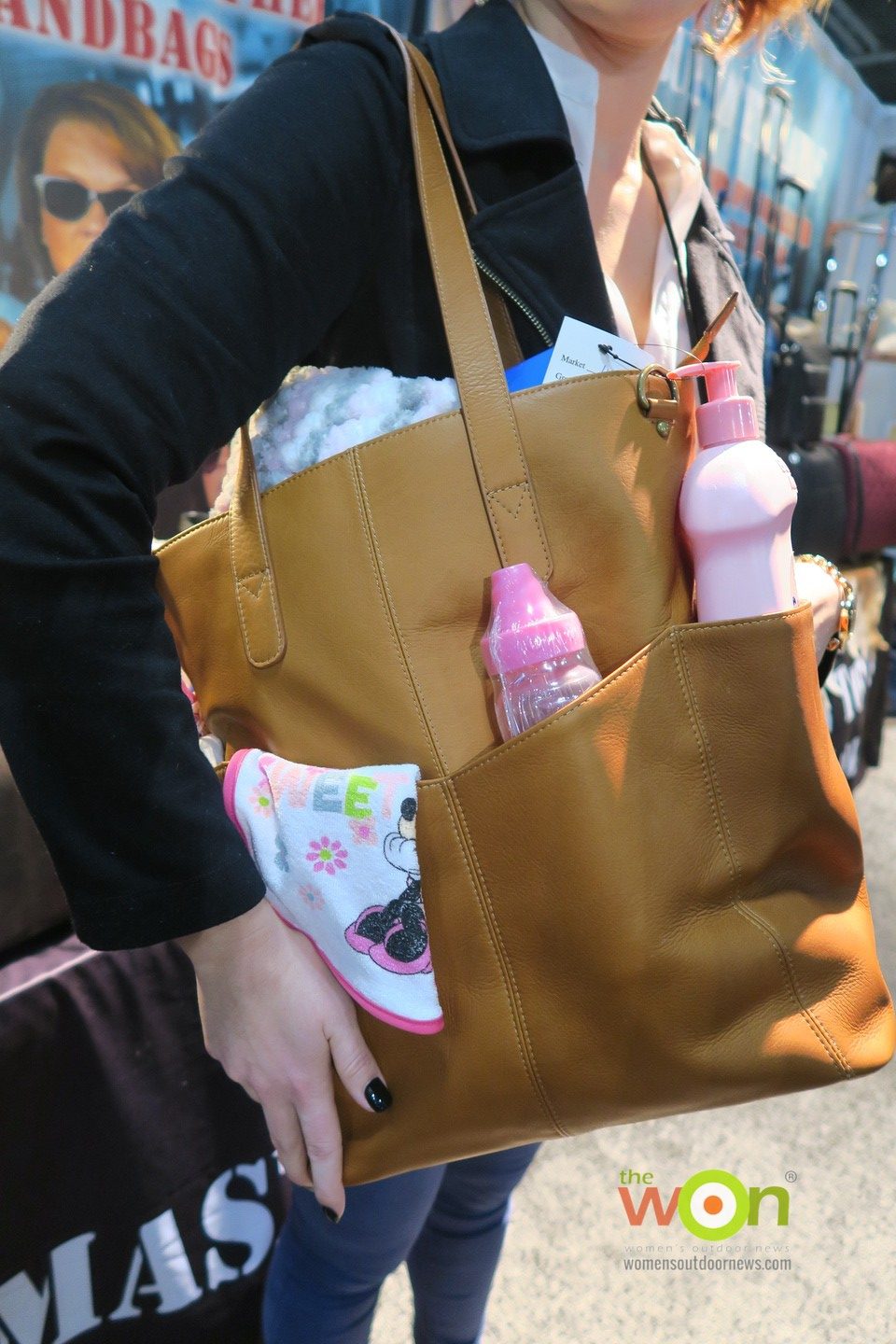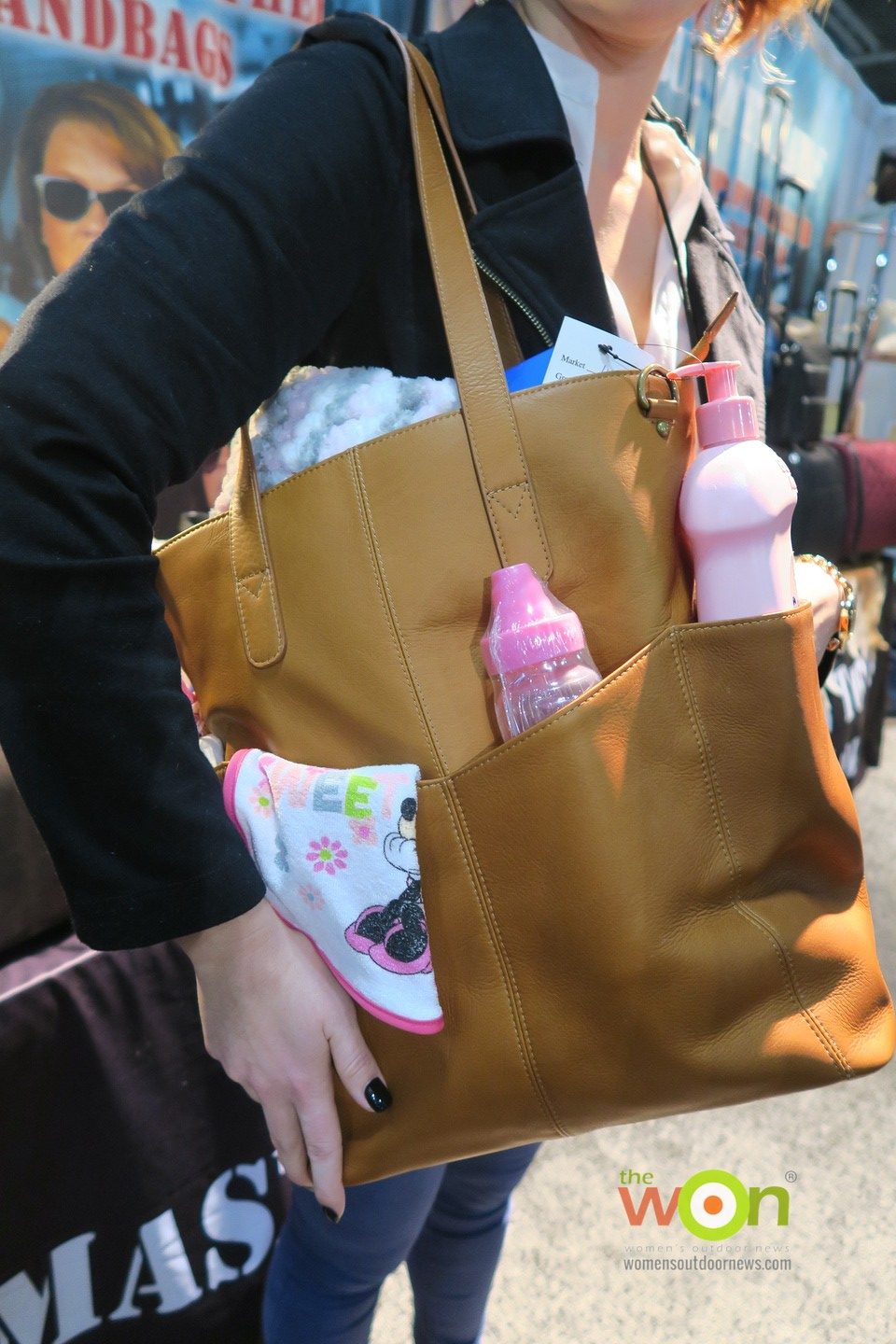 The Diaper Bag
"This is a South American cowhide and what we call a 'naked finish' … there is no coating because with this type of tannage, the more that it gets beat up, the better it looks," stated Claudia. It has access in the back – bilateral – for your concealed firearm. MSRP: $149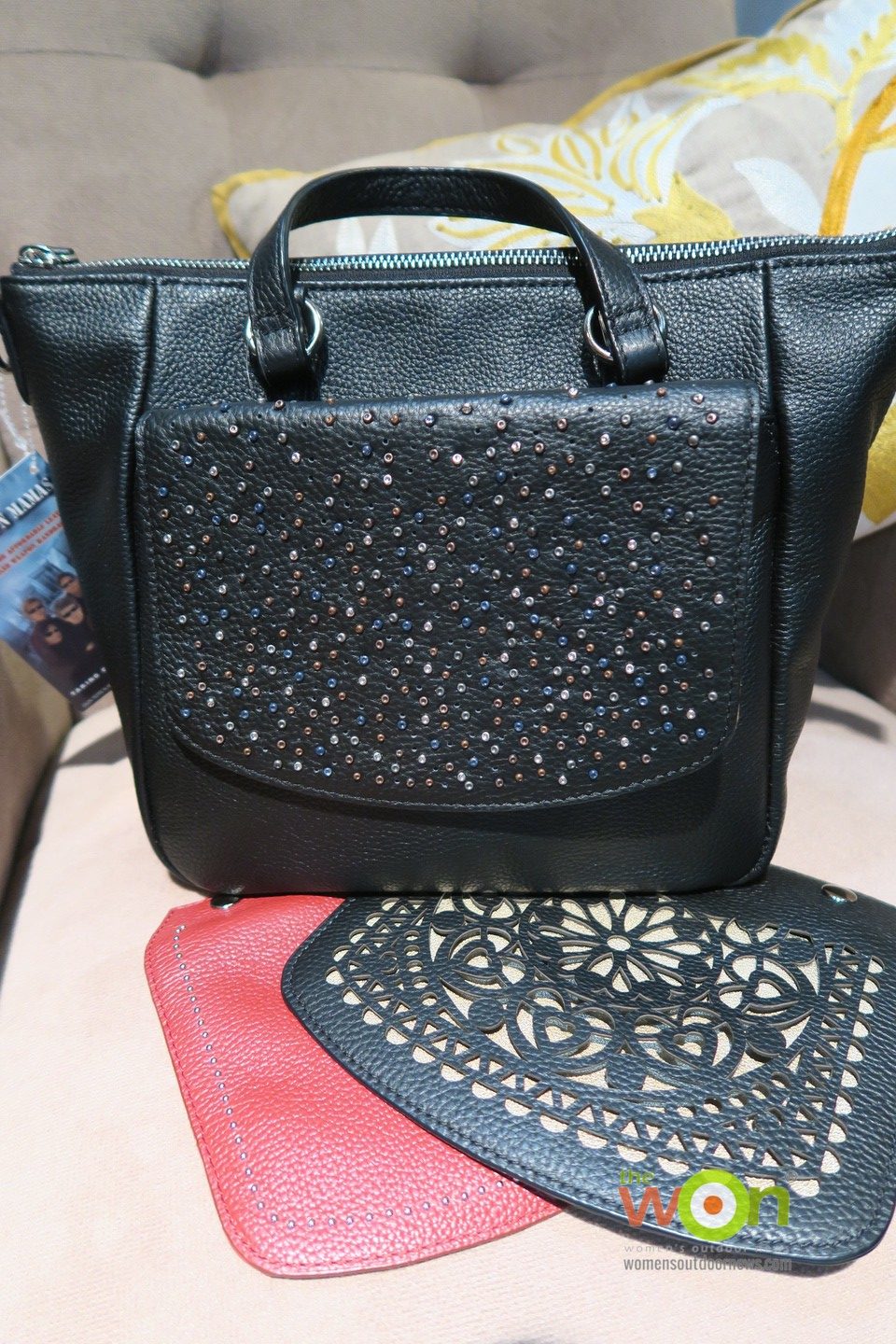 #1 Introduction Bag – 4 Flaps and 1 Bag
"This is the one that's been written about the most. It's a wonderful concept to change the look of your bag. Folks way back in the luggage industry used this one years ago, and we pulled out our archives and found this," said Claudia, "and it's 4 bags in 1." The bag comes with 4 front flaps: 1) Bohemian 2) hammered with copper, chrome and bluish rivets 3) red with the same hammered treatment and 4) black. Claudia said the company might add even more flaps in the future.
MSRP: $169.95
"There's no other leather in the world that compares to American cowhide," said Claudia. "We only use American cowhides, except when we're doing something out of South American cowhides. Because we have the free ranges in this country, so defects – such as tick bites and scratches – are at a minimum." Claudia said that with fewer defects, manufacturers get more area to work with from a piece of leather, which keeps the cost down.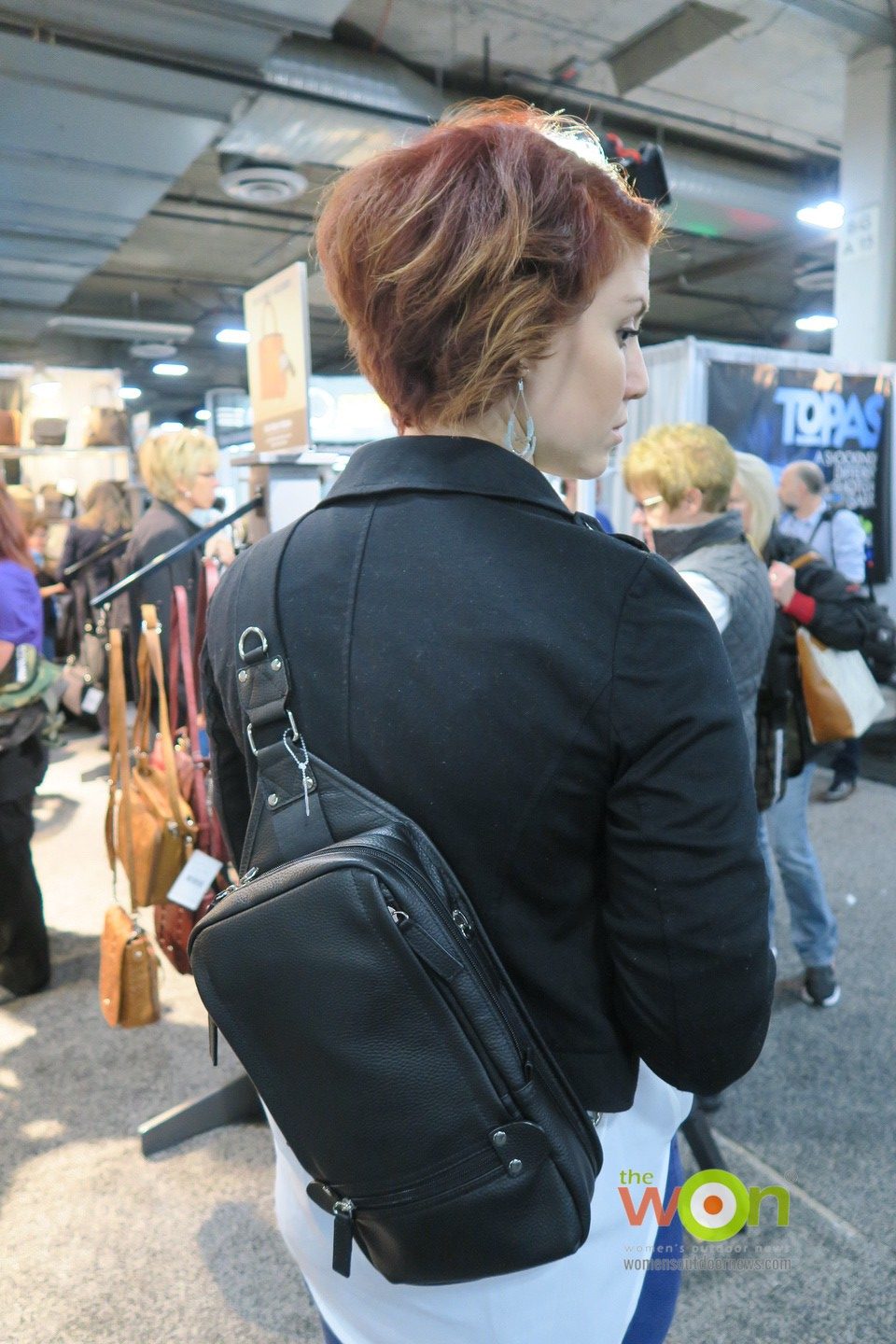 The Well Armed Woman Bag
"We are a top sponsor with The Well Armed Woman, and every year at their conference, I give them a challenge," said Claudia. "This year, I challenged them to help me design a purse. Donna Wilson designed what we have been wanting to do for several years, and that is a backpack."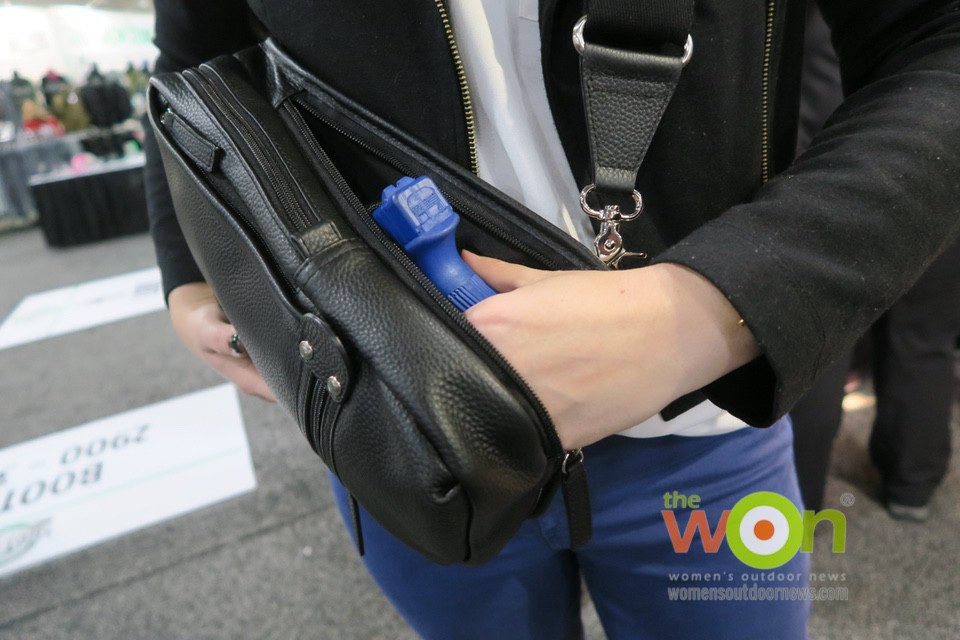 "The challenge of a backpack is how to draw quickly. It's sleek and slim and comes with great storage capability. It's easy to swing it around and grab your gun. It will go through further testing."
"We've had just as much interest from men as from women for this bag," said Claudia.
MSRP: $149.95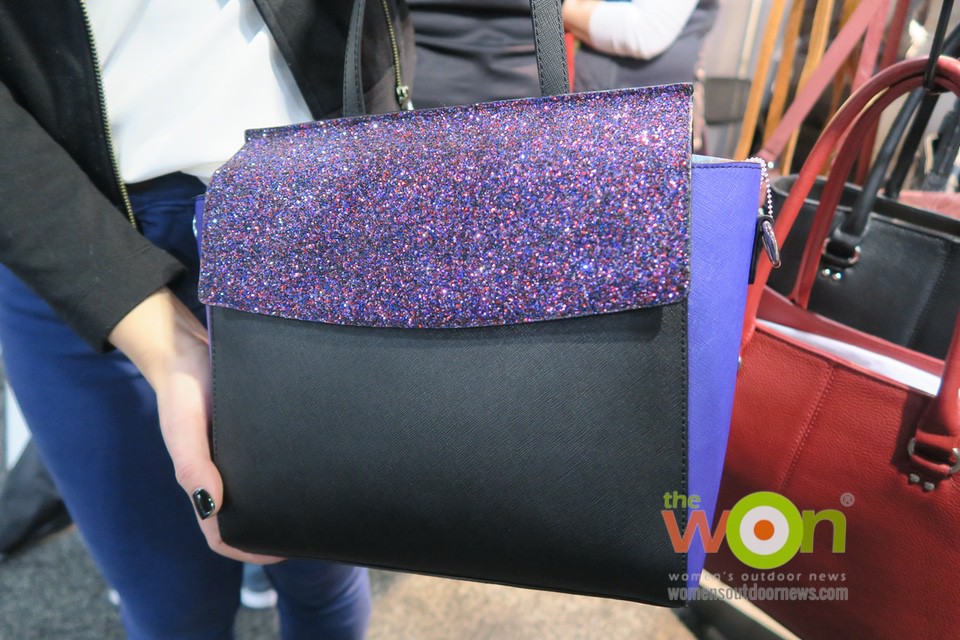 The Bling Purse
Claudia then picked up a purple leather bag with bling.
"I saw quite a few young women with this … I was walking city streets on my travels during the last 6 months – and where I really saw this type of treatment was in Chicago and in Pigeon Forge, of all places – with gold, as well as silver and clear. We know this leather already. This hash leather was introduced into the market by Louis Vuitton, and every tannery now has it and we were able to find it in the purple. As with almost all of our bags, every bag has a cross-body strap with 11-ply steel cable wire (what we're known for and what we introduced to the industry)."
MSRP: $139.95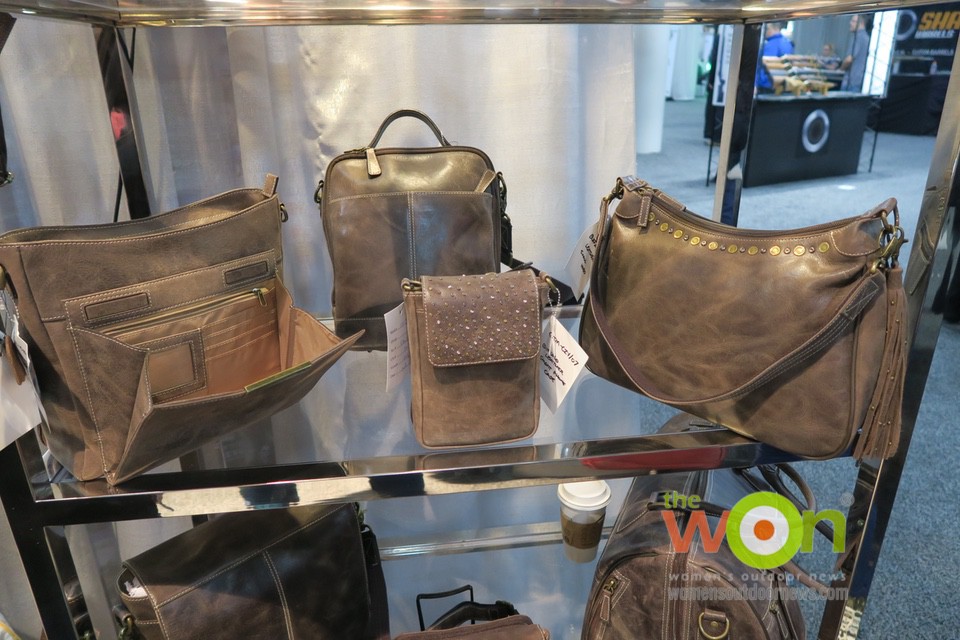 The Distressed Leather Line
"The distressed leather is our own development. It took me 3 years to get this right. It's actually not a color," stated Claudia. "We take the crust of the leather, which is like a blank palette once the hides come off the tanning spring. As with any leather, that's when you introduce the color and the treatments. In this case, I challenged the tanner that I wanted to have something that is a dynamic distress – meaning I don't want something that's permanently printed and looking distressed. We added natural wax and oil in a certain ratio. That wax crackles and breaks and that what makes it a dynamic distress. The oils that are infused into the leather keep reconditioning that area. It's a difficult process, but once you got it, it's stunning. The time is right and the look is right."
There's a complete line of 10 bags, hailing from Claudia's luggage line. This year, GTM added the "Hobo," with hammered rivets. She said, "I kept telling my assistant, 'Smash those rivets! I don't want to see them uniform!' It's been fun."
MSRP: $149.95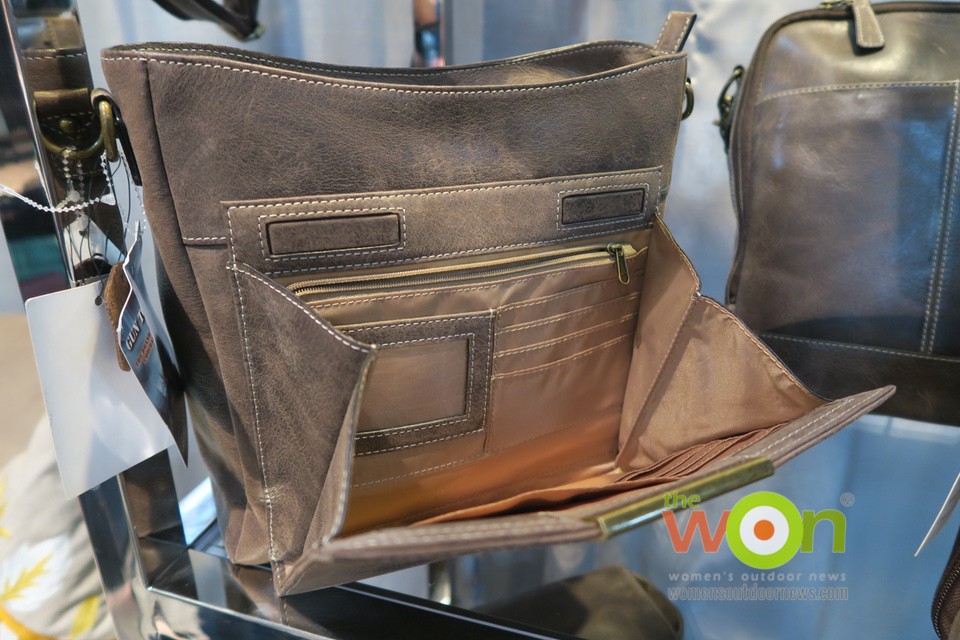 The RFID Thing
Introduced into the "Cinnamon line" last year, this bag features a front flap that is held shut with rare earth magnets. "Here's your wallet," said Claudia, as she flipped down the front flap to reveal an organized storage area for credit cards, ID cards and other important items – which comes with RFID protection. "It's our first bag that offers this protection."
MSRP: $169.95
"Because of all we've done in luggage with all the years, we have a less than .001% return rate. We're very proud to say that our return rate is negligible. And we're looking at more than 800,000 bags on the market and the main difference is that we manufacture these bags to a luggage standard, not to a handbag standard. That's the key."
Check out the full line of bags at Gun Tote'n Mamas here.
About Barbara Baird

Publisher/Editor Barbara Baird is a freelance writer in hunting, shooting and outdoor markets. Her bylines are found at several top hunting and shooting publications. She also is a travel writer, and you can follow her at https://www.ozarkian.com. View all posts by Barbara Baird →
The Conversation