Gear Review: Volquartsen Scorpion Holster
I've been carrying concealed for many years now, and as a women who uses a wheelchair, my preferred method is to use a concealed carry handbag. Because I sit all day, with frequent transfers, I don't wear a belt for comfort reasons, as well as the fact that I don't ever run the risk of my pants slipping when in a standing position! This all adds up to the fact that I don't have a lot of experience with holsters.

Sponsored by Volquartsen Firearms
I fell in love with the Volquartsen Scorpion .22 pistol as soon as I pulled it out of the case, and my daughter and I have enjoyed shooting it this year. In order to improve my marksmanship with the pistol, I've been trying different shooting drills at the range. I wanted to attempt some shots from a holster, which gave me the opportunity to review the Target 22 Style, Blade-Tech TEK-LOK Scorpion Holster.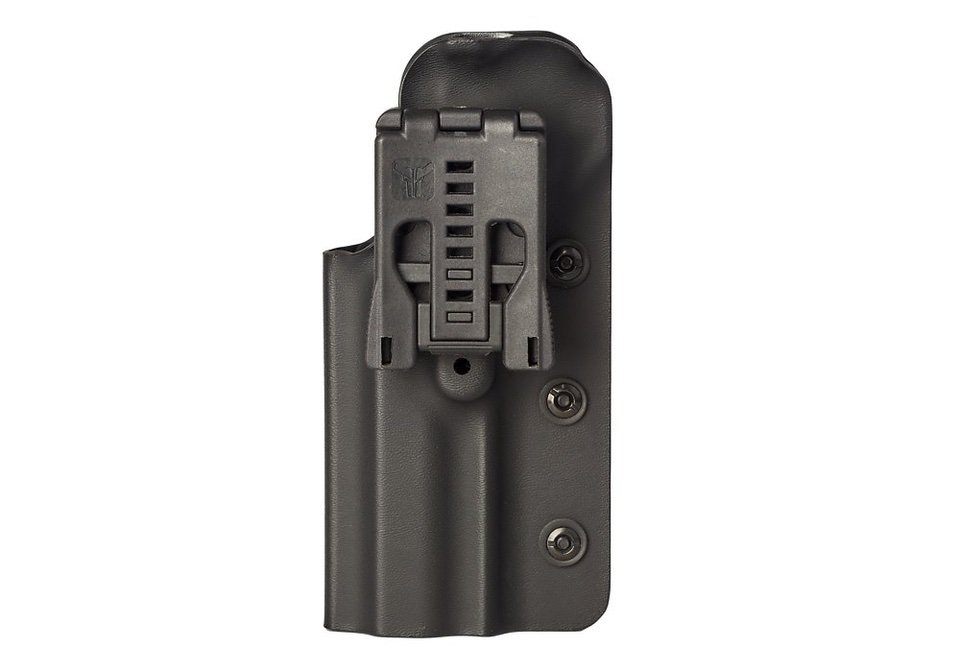 This holster is made right here in the USA, from .080-inch-thick T100 Kydex, which means it is durable, scratch resistant, waterproof and provides less friction when drawing your firearm. Configured for the Ruger Mark-III series, this style utilizes a Blade-Tech TEK-LOK belt clip. The speed-draw cut allows for a faster draw, and the open bottom is compatible with thin suppressors of 1-inch diameter or smaller. The holster weighs approximately 5 ounces and is compatible with most red-dot sights.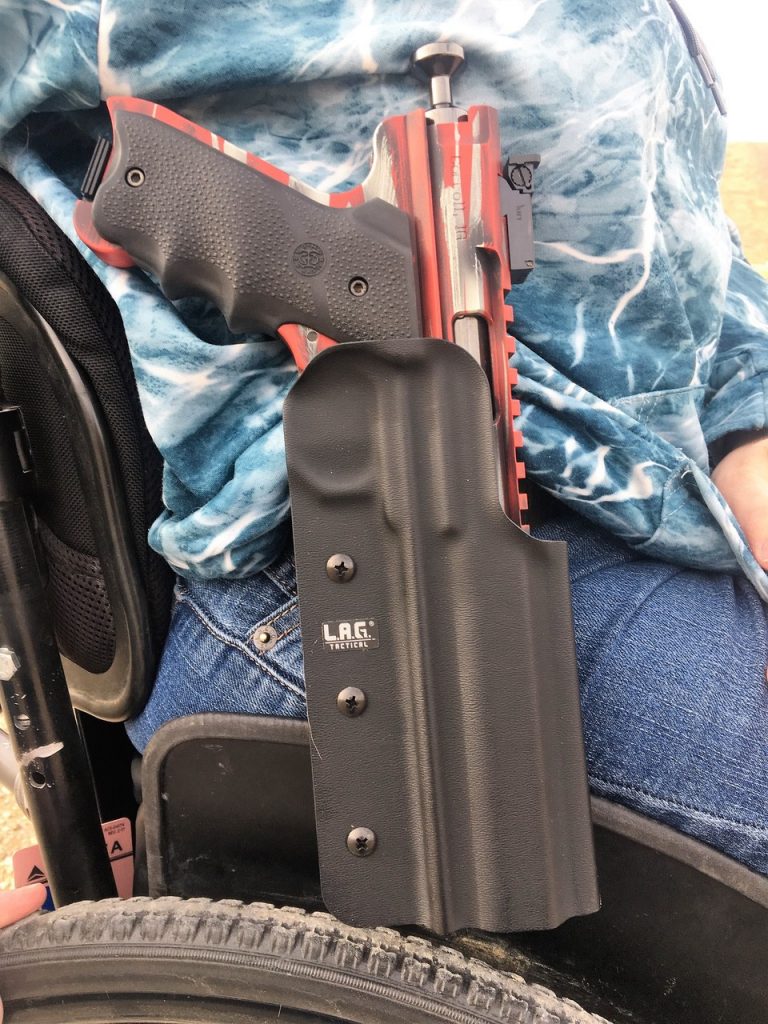 On the Range with the Volquartsen Scorpion Holster
Being unfamiliar with holsters, my first decision was how I would wear my firearm. I started with the simplest option – by wearing a belt for the first time in nearly 20 years! While it was definitely not something I could wear throughout the day as I was actively rolling, when I was sitting in front of a target with my brakes securely locked, it worked perfectly. I started with the Scorpion unloaded to get used to the feel of the holster and what it was like to draw and aim down range. Once I was comfortable with this motion, I loaded the magazine and drew several times with the gun on safe and my finger clear of the trigger. Once this motion was also more familiar, it was time to shoot. I ran several drills off of the steel plates, varying between continuous fire and re-holstering after each shot. I was happy with how smoothly I was able to draw the .22, and before long, my accuracy improved as I became more familiar with the cadence of the motion.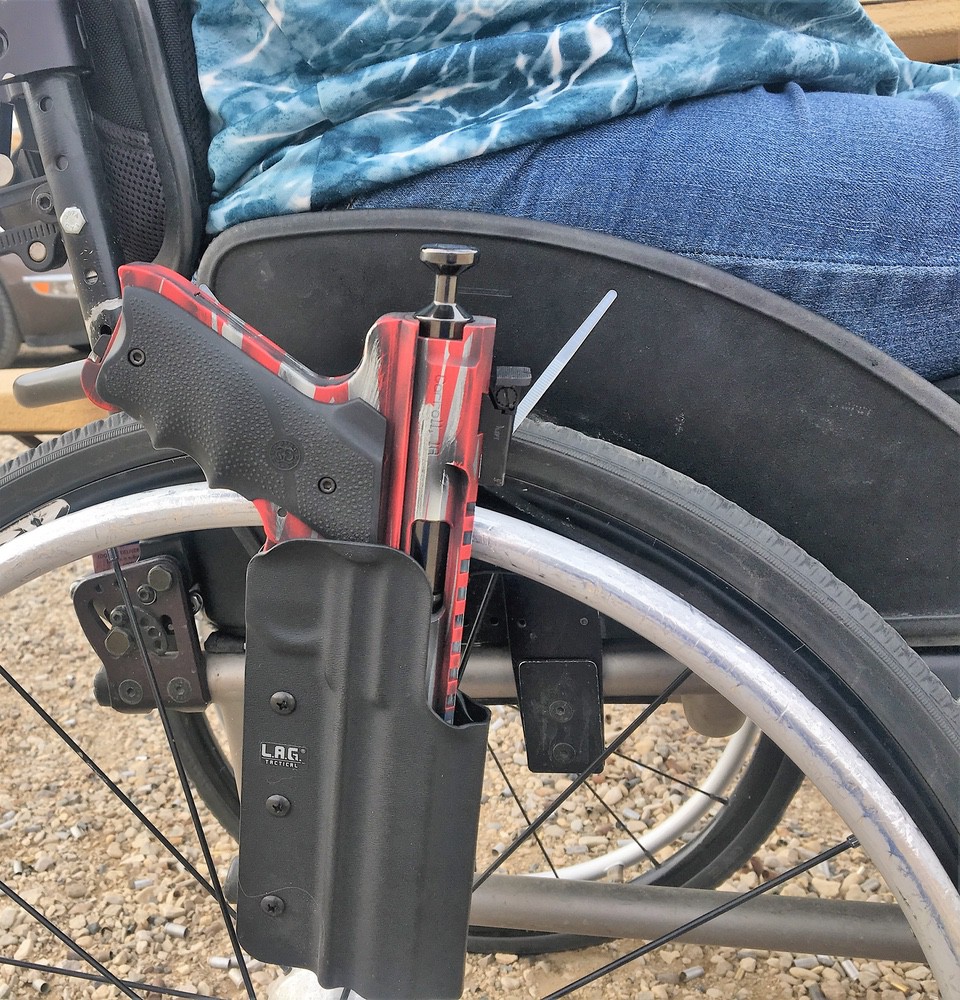 Once I was satisfied that the belt option would work, I wanted to see if I could mount the holster to my wheelchair. I unloaded the pistol and grabbed a large bag of zip ties from my range bag. I ended up trying 3 different configurations before finding one that was both safe and efficient. I mounted the holster to my tire rim, and with my brakes locked, the opening of the holster rested snugly against my tire, which made for a very stable foundation. Again, it wouldn't work unless I was completely stationary, but I was happy to have found a starting point to build towards a more permanent solution.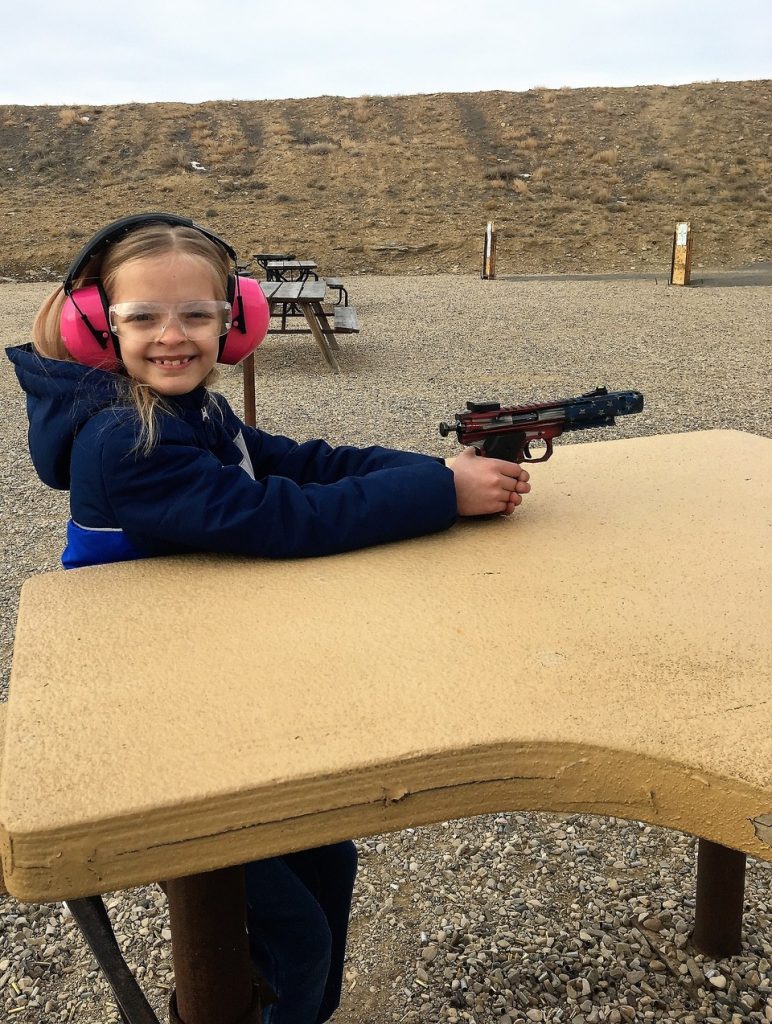 After I finished my experimentation and practice, I had to let my daughter, Addison, shoot a magazine. She loves going to the range with me, and I always enjoy the time for education and familiarizing her with the firearms I am using. She had been loading magazines for me in between rounds of shooting, so I let her load the mag she would shoot as well. We had a safety refresher course, since it has been a few months since she last shot the Scorpion. She really enjoys shooting the steel plates, so it made me smile as her little face lit up every time she heard the plink of the metal. Give her a few years and she'll be ready to try out the Volquartsen holster as well!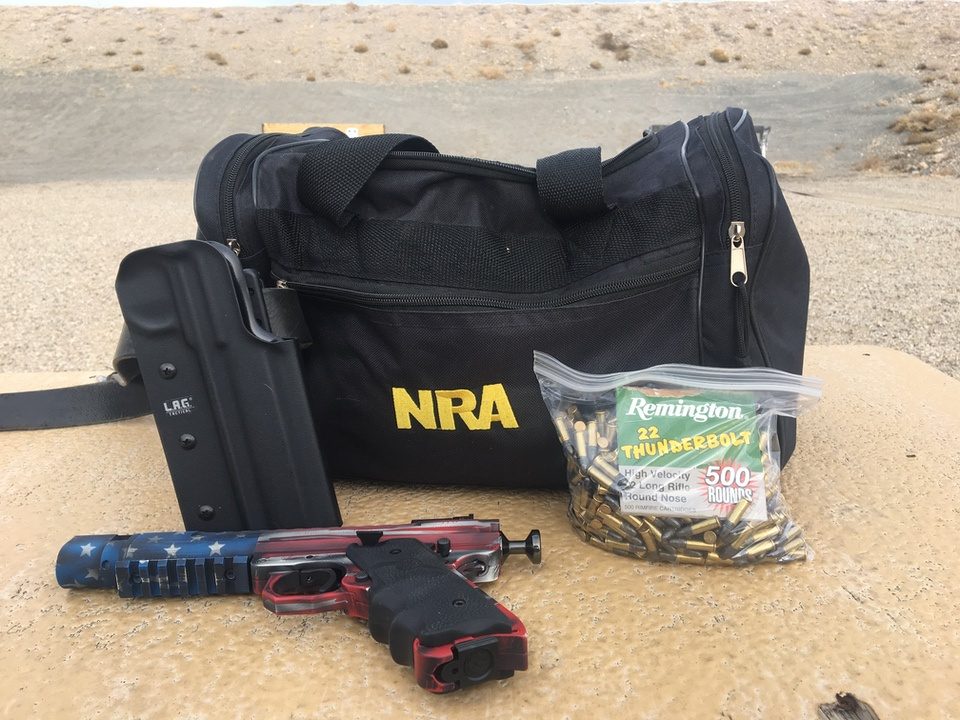 I really enjoyed my experience with this holster. It was easy to use, durable, and with practice, I was drawing smoothly and firing accurately in a very short amount of time. I look forward to getting back out and finding new ways to adapt it to my wheelchair, as well as continue to improve my skills as a shooter.
Target 22 Style, Blade-Tech TEK-LOK Scorpion Holster, MSRP $80
For more information on the Volquartsen Scorpion .22 LR pistol, please visit this link. The pistol comes with 2 identical 10-round magazines.
American Flag edition MSRP: $1596.50
About Ashlee Lundvall

Ashlee Lundvall writes a blog titled "Redefining Life,"  that follows her rise from a debilitating injury as a teenager to Ms. Wheelchair USA in 2013. Her first book, "A Redefined Life," was published in February of 2016, and she is on National Pro Staff for Mossy Oak and the NRA's Disabled Shooting Sports committee. Ashlee is also the recipient of the 2017 SCI Foundation Pathfinder Award. Ashlee truly shines as a keynote speaker at outdoor industry and disability related events and conferences. She is passionate about mentoring newly injured patients, and loves to pass on her love for adapted outdoor recreation! View all posts by Ashlee Lundvall →