Eva Shockey on Her Forever Home and Raising Outdoor Kids
I recently had the opportunity to interview famed outdoorswoman Eva Shockey about all-things life, family and the outdoors. With just a few weeks until she and her family move into their brand-new forever home, and even fewer weeks before her baby boy arrives, she's got one heck of a crazy schedule. As a working mom in the outdoor industry myself, I wanted to pick her brain about everything — from living in the country, to designing a home, to raising outdoor kids.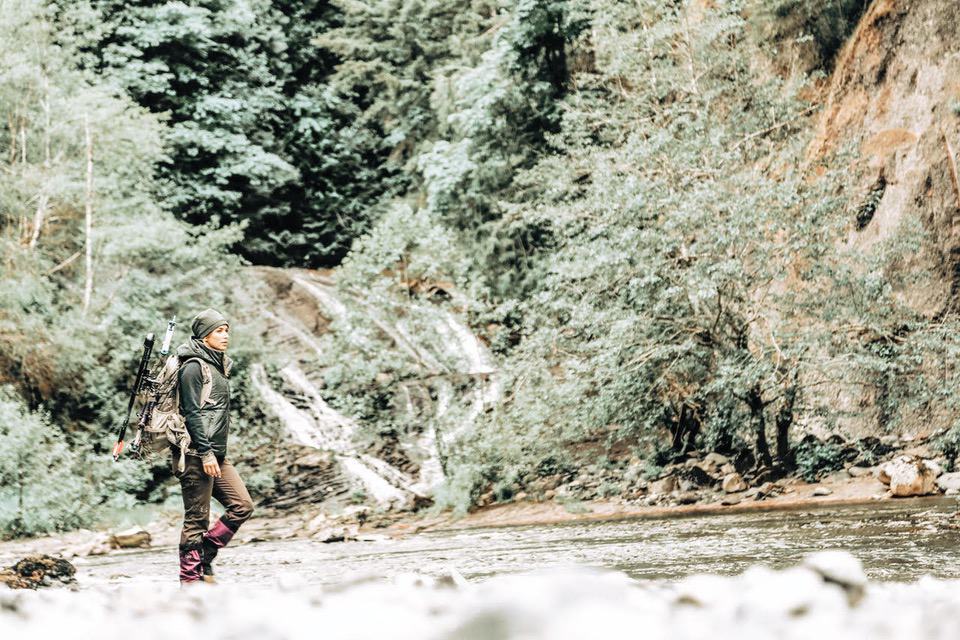 The WON: You've lived in the South for a while now — how do you like it versus other places you've lived, especially growing up in Canada?
Eva Shockey: We absolutely love it. My husband [Tim Brent] and I are both from Canada, on opposite ends. I am from the west coast, British Columbia, and he is from the eastern side, outside of Toronto. Honestly, we love Canada, and we're big, proud Canadian supporters, but at the same time, we love being in the States — for both of our jobs, and just how it has worked out better for us. We've lived in Pennsylvania together, we've lived in Ontario, we've lived in Florida, we've lived in Russia … Tim was a professional hockey player for years, so we kind of bounced around for his hockey career, and then we settled in the South.
For both of us, it is just so, so perfect as far as our lifestyles and it suits our personalities. It's so healthy and outdoorsy, and the Southern charm reminds us a little bit of Canadian kindness — it's just very welcoming, polite and friendly, which is what we are accustomed to. It's also a little slower paced than some of the other places we've lived. We've fallen in love with North Carolina. As soon as we got here, we just knew that this is where we wanted to settle down – we haven't changed our opinion since then, and that was 3-1/2 years ago.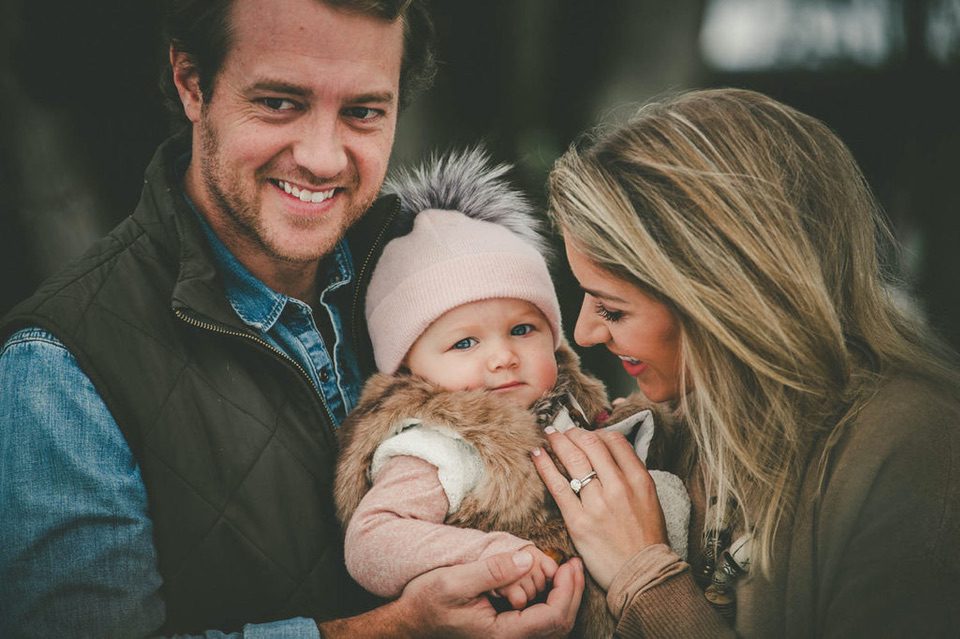 The WON: I'm from a small town in South Carolina, so I love to hear that. What made you decide to build your forever home out in the country?
Eva Shockey: What got us to Raleigh in the first place was that my husband played for the Carolina Hurricanes, an NHL team based in Raleigh. He played for them for a couple of years and we met right after he finished his last season there. He always talked about Raleigh being a great Southern city and he could see himself living there … Long story short, he got a commercial real estate job in Raleigh with an old friend he had met while playing for the Hurricanes. When we moved, I was actually 5 months pregnant with my daughter, Leni, at the time. I didn't know anyone from Raleigh and we just kind of bought a quick house just so we could settle in. But both of us had always dreamed of living out in the country and having space, fresh air, wilderness and adventures for ourselves and our kids. Where we bought our current home when I was pregnant with Leni was just not what we'd imagined; it was a temporary city-suburban hybrid location, right in the heart of everything.
Since our first week of dating, we've talked about the fact that we both wanted to live out in the country eventually. We're about to have our second baby and the timing of our move could have been a little better. The house that we've been building for 2 years is about to be done, but 2 weeks after the baby is born. Other than that, the big picture timing is great — because we will be in this new house out in the country with our little family. I think we're finished at 2 babies, so it just kind of worked out how we've always wanted.
I grew up in the country in Canada and I remember just loving that upbringing and being so free in the outdoors, and away from all the hustle and bustle. Tim and I agree that that's exactly how we want to raise our kids.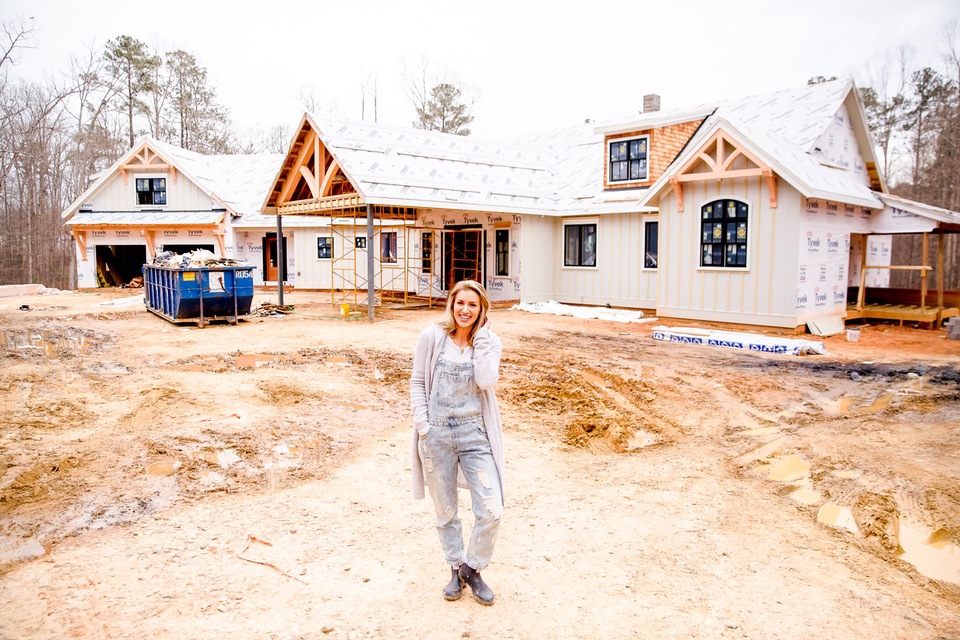 The WON: When you started designing the house, were there any big "must-haves" in the initial design phase? Has that changed over the course of building?
Eva Shockey: The biggest thing that we wanted from the start, and that stayed really solid throughout he home build process, was that we love the outdoors so much. The outdoors is so beautiful and so natural, we really built our house around that concept. We tried as much as possible to bring the outdoors in, so we have huge windows, and we kept all of our views wide open. I'm not doing a ton of landscaping because I want to keep the trees in their natural state. We barely cleared any trees. We bought a lot in a wooded area and we've cleared just enough trees to have a home, yard and a driveway. We wanted to keep it as close to the original natural surroundings as possible. For instance, we have a big outdoor porch that opens into our kitchen. The kitchen doors are wide, like 16-feet wide, so there is an interior/exterior vibe. You'll feel like you're outdoors when you're underneath the roof, so that was our #1 mission.
We originally looked to buy a house, but we're not the traditional Southern family with a need for a traditional dining room and other more formal areas. We're very relaxed and laid-back as far as our living space goes, so we couldn't find anything that really suited our casual Canadian style. We didn't want a formal dining room, we didn't want closed-in rooms, so we built our home so that we're co-existing together. It's open-planned. We don't have any rooms that aren't going to be used or that kids can't go in. It's really comfortable and relaxed, and it reflects our personalities.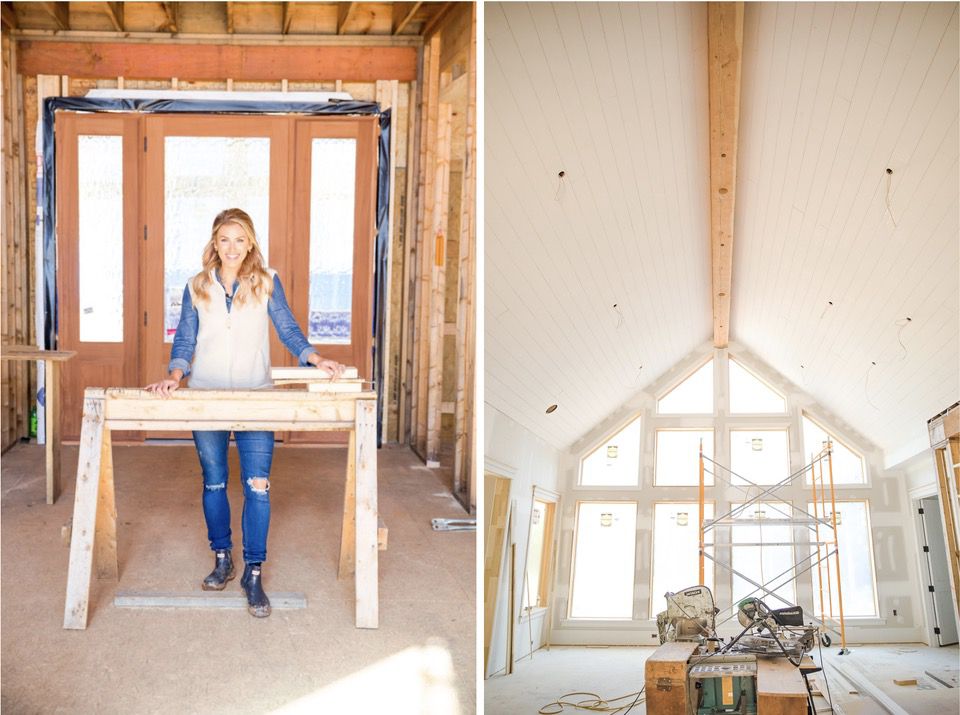 The WON: So how do you plan to incorporate the outdoors and y'alls' outdoor passions into the actual interior design, as far as decor?
Eva Shockey: We're using a lot of rustic elements. It's a modern farmhouse style, but my husband and I love the rustic wood planks and wood beams. We've actually gone and hand-picked different beams from different lumber yards, where they've pulled them off of the ceiling 200-year-old barns, and those are going to be our mantle for the fireplace and on our ceilings in the master bedroom and above the island in the kitchen. These beams have these amazing backstories to them — the history of where they came from, who touched them, they're hand-hewn from hundreds of years ago. Elements like that are just really cool to us.
My mom thinks that, because I'm such a busy person, I really like simplicity in my house. I don't put a lot of stuff on the walls. Everything is just clean and simple and very, very organized to keep up with our fast-paced lifestyle. We've built a lot of storage areas, where things can have a home and aren't left out on the counters. Otherwise, I find, with how busy we are with both our jobs, 2 babies and a million other things, it's just a lot to keep up with.
All of our interior is pretty much farmhouse style, so lots of big wood furniture. Our furniture is from Amish country — big, chunky wood pieces. There are rustic elements all throughout the house, with clean, white shiplap and wood floors. It's pretty simple, but it's exactly what our little family needs.
I had to do everything in my power to hold back, otherwise every wall would have been shiplap if I had my way. My husband isn't quite as obsessed with it, so I had to think of it in terms of accent walls. Then again, if he had his way, everything would be like a log cabin. We kind of combined his log cabin with my modern farmhouse.
The other thing we have is a lot of really beautiful natural stone on our fireplace and on our decks. We've incorporated a lot of natural elements, mixed in with the obvious products you need to build a house and to hold all those natural elements within it. That would probably be the best description of our home.
The WON: I've been following along on Instagram with your stories and a few days ago you showed us your kitchen, which looks amazing. It looks like you're going to do a side kitchen with freezer space to fill with game, and use for entertaining. Tell me about that.
Eva Shockey: The other thing about us is that we love people, we love having guests, friends and family over. Because our families are both from Canada, they don't just come over for one dinner, they come for a month at a time. The house is definitely built for that, where they get their personal space, and then there are social areas. The whole house is built around that.
The kitchen was also important to me. I love to cook. It's one of my favorite things. To be fair, I'm 9 months pregnant right now, so my cooking has been on the back burner but, in my normal life routine, I cook all the time. I love to host dinners, so I do have a very nice-sized kitchen in our new home. It was one of my requests that I didn't really waver on and wouldn't let anyone cut down the size of it at any point.
We have the back kitchen, which is more for prepping and organizing, and then we have a lot of fridges and freezers. In our current house, we have 2 massive deep freezers filled with just wild game, so we're going to move all of that over. There will be plenty of food for anyone that ever comes to our house. No one is going to leave hungry!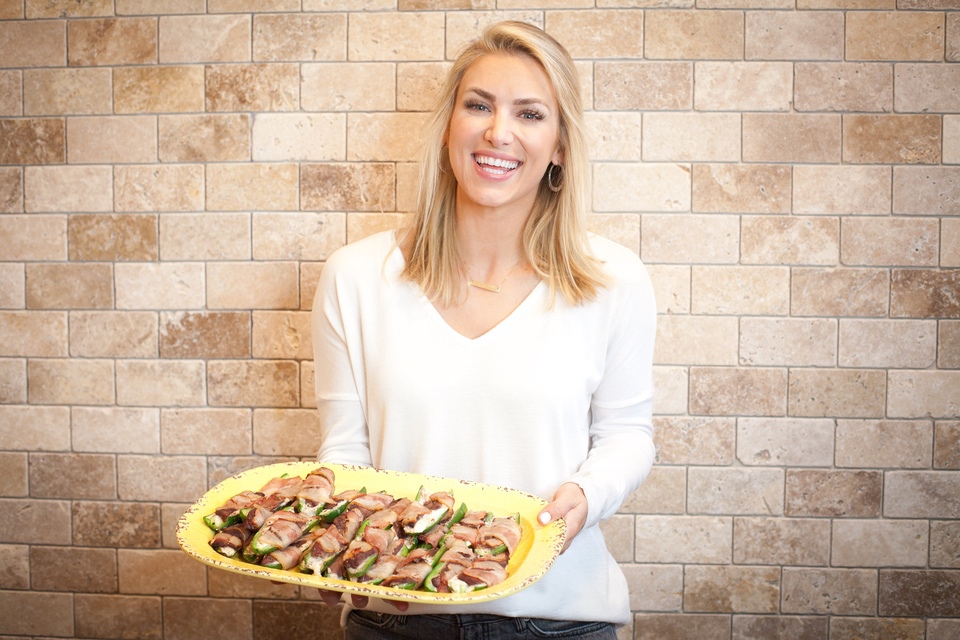 The WON: Between you and Tim, you definitely have a lot of camouflage and gear. Do you have any organization tips for how to keep all of that together, since you will be able to start with a clean slate at your new house?
Eva Shockey: We're only keeping and bringing with us the stuff that we're going to use. I said nothing is coming to our house that we don't need, and everything else is getting donated. I donated all kinds of baby gear to the local women's shelter. We donated all kinds of camouflage to youth hunting programs in the area. Everyone has stuff they don't need, and there are always people that need it more than them. We try really hard to make sure we're consistently putting our stuff in the best location. If we need it, then we need it. And if we don't need it, we don't. I always say, if you put something down for a month and don't use it, give it away. That was important, to make sure we don't enter our new home with anything unnecessary, because moving is enough work!
Regarding hunting gear and outdoor gear, your average enthusiast can store it away and bring it out once a year. We're constantly using our gear, so we actually have a whole room that's basically our outdoor stuff. For packing, everything is pre-organized — Tim has his side, I have my side. We can come in the room with a suitcase, put it down, and easily pack because all of our gear is right in front of us. Again, you have to just make sure you're down to the essentials.
In our garage, we are going to have a big area with our bows hanging up for easy access. I think one of the things that makes it hard to practice your love for the outdoors is when stuff isn't accessible, and it takes an hour to just get everything unpacked. The amount of times you're going to do that is minimal, whereas if it's right there in front of your face every time you walk into the garage, you'll use it. I'll pick up my bow and shoot 10 times or 50 times, whatever I have time for, and then throw it back on the shelf. So that's bring up another point. We currently reside in a little neighborhood. We shoot in our back yard, but it's frowned upon, and I imagine that our neighbors think we're crazy. That is one thing I am just dying to do – shoot where no one can see you, and wonder why are you shooting in your 20-yard backyard. We're going to have our own outdoor archery course, and cut into the trees some little archery lanes. So just ways do what we love a little easier. That's what we're aiming for with this whole transition.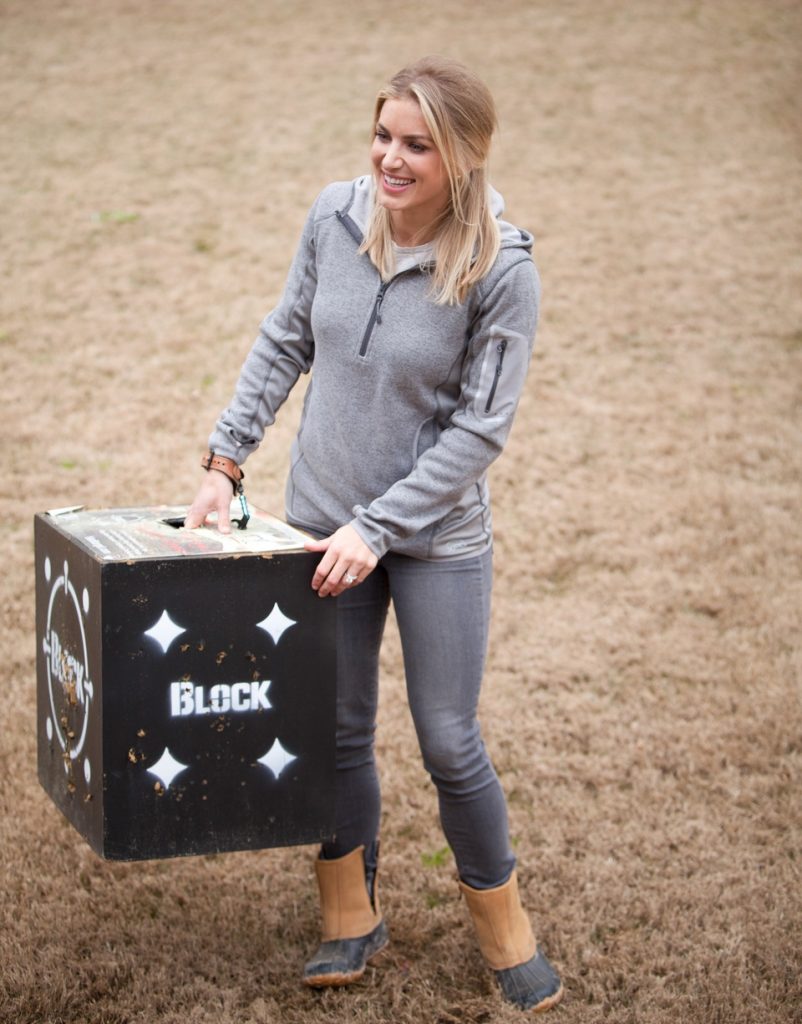 The WON: Do you have any tips for keeping those weapons out of reach of kids? I know Leni is still pretty small, but she's starting to get to the age where things that were not very accessible are within arms' reach now.
Eva Shockey: So, I was raised with guns, bows, and all of the hunting gear you can imagine. I think the first thing, regardless of where you store them (which is important), is teaching children the importance of such gear. If they're in a mischievous mood, they might think, "I'm not supposed to touch this, so I'm going to go touch it." That's not what they [weapons] are about. It's about teaching them the importance of safety and making sure they have a healthy respect for them. Guns and bows are weapons and can do serious harm if not handled properly. She [Leni] is only 2-1/2, but we already teach her that about guns. We don't let her play with fake guns. We explain that if someone has a toy gun, we don't aim it at anybody and that there are no games you can play where you do aim it at people, stuff like that. I think that's the basis of it.
Beyond that education, we obviously have a safe, a couple of safes actually. We have a big one for the rifles, which stays locked all the time and Leni knows she's not allowed in there. Then we have a biometric safe, where you put your thumbprint on it for handguns. I think it's a combination of knowledge and then also protective measures because you can't count on a 2-1/2-year old. We can do our best, our very best, to teach her so when she is 6 or 7 and wants to go shoot a gun with us, which I am sure she will because she loves that stuff, she'll understand the basis behind it, how important it is and to take it seriously.
The WON: As far as the kids go, are you doing anything in particular in your house for kids gear? Just with my 8-month old, I know the amount of gear she comes with. I can't imagine how it grows exponentially age and with 2 of them.
Eva Shockey: Because we got to design the house ourselves, and because I am just super, super organized (that's how I've always been), there are places for everything. I actually had a really beautiful office because I work from home when we first determined the layout of the house. It was important for me to have an office with a window and feel like I could sit there for eight hours and not go stir crazy. But that was one of the few things I changed. In the last maybe month of our design process I was like, you know what? There's nowhere in the main area where a bunch of toys can be stored and, if there's nowhere to store them, they are just going to be sprawled everywhere and that's going to drive me crazy. So, last minute, I changed my office to a playroom. But, by then, it was too late to redesign the layout, so my office went into this teeny space where I can't even fit my current desk and chair It's basically a closet, which is the opposite of what I wanted. But, anyone with children knows there are so many kids things around all the time, and when there's a mess, I feel like my life is unorganized. In the end, the kids get my office and I have a closet, which I'll be working 8 hours out of when I have to work. I think at the end of the day, I'll still be happy about that decision.
The WON: As far as raising your kids in the outdoors, what are some of your must-haves, in terms of daily activities and just being able to get them outside? I know not every day can be spent in the deer stand or out on the water teaching kids.
Eva Shockey: Exactly. I think the first thing would be to make sure they see you having fun. Just sending kids out because they're acting up inside, is not right. It's sort of a backwards way of thinking "you're making a mess," or "you're talking back, so go outside." It's not a punishment to go outside; it's a luxury. Every parent parents their own way but, for us, we want our kids to grow up outside and not in front of a Nintendo or a laptop, or whatever screen technology comes out in the next 10 years. Us leading by example and spending time outdoors is really important. As I said, we're moving to the country because that's how we want to raise our kids, but we totally understand that's not in the cards for everybody. It hasn't been in the cards for us until this coming fall. We've been in a little subdivision with no space and no privacy and no woods near us, but we make an effort on the weekends to go out wherever we can get to. Whether it's the lake, or a river, or a forest, or a property that has some trees around it to go on an adventure. Even if you live in New York City, you can take your kids to Central Park, head out on a picnic, play in the grass, look up at the trees, follow the squirrels and point out different animals you're hearing. There are different ways in which everyone can enjoy the outdoors – and it doesn't have to be hunting or fishing; it can be camping, hiking, etc. So, yes, if you live out in the country on a bunch of acreage, you can step out in your own back yard, but if you live in New York, in the middle of everything, you can still do it. I think for some people, heading outdoors may be a little harder than letting your children sit on the couch and watch TV. But at the end of the day, I think it's important to get outdoors. For us, we've made an effort but moving forward we will have easier access to the outdoors.
If Leni is anything like I was, and she already seems to be, she'll continue to love being outside. I doubt she's going to ever want to be inside once she realizes her love for trees and adventures, and all of the things that are just natural versus having toys or a screen in front of her.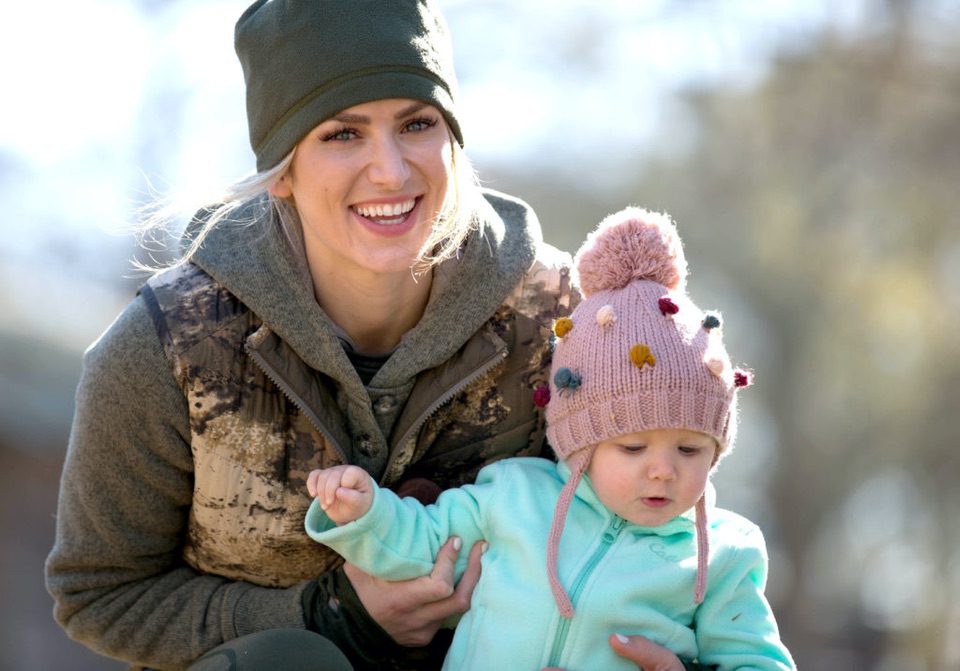 The WON: You mentioned y'all are going to put in an archery range outside of your house. Are there any other exterior elements that you're going to try and incorporate, both for you and Tim and for the kids?
Eva Shockey: Eva Shockey: We have a couple of quads and off-road, ATV-type vehicles. Because we have some acreage surrounding our new home, we're going to try to find pathways through the woods that we can go on. Leni loves being on the ATVs. There are few things I love more than getting on one of them with Tim and Leni, and driving around looking for animals, like turkeys and deer. So, that will be a big aspect of our new home life. Other than that, just with how we built it, you have to kind of wind through the woods to get to the house. The hope is that by the time you actually get to our house, whatever stresses you had from the day will disappear. For example, Tim has very busy job and he's got lots of stuff going on all the time. On the drive home, I feel like he's going to get to our house and to the front door already having that sense of relief that one gets from the fresh air and the trees. You just have no choice but to take a minute and relax. We're just excited to move in. Right now, I'm just trying to make 800 million decisions to try to get us into the house, but once we're settled in I am sure I'll be able to take a moment to enjoy all the effort it took to put this home together.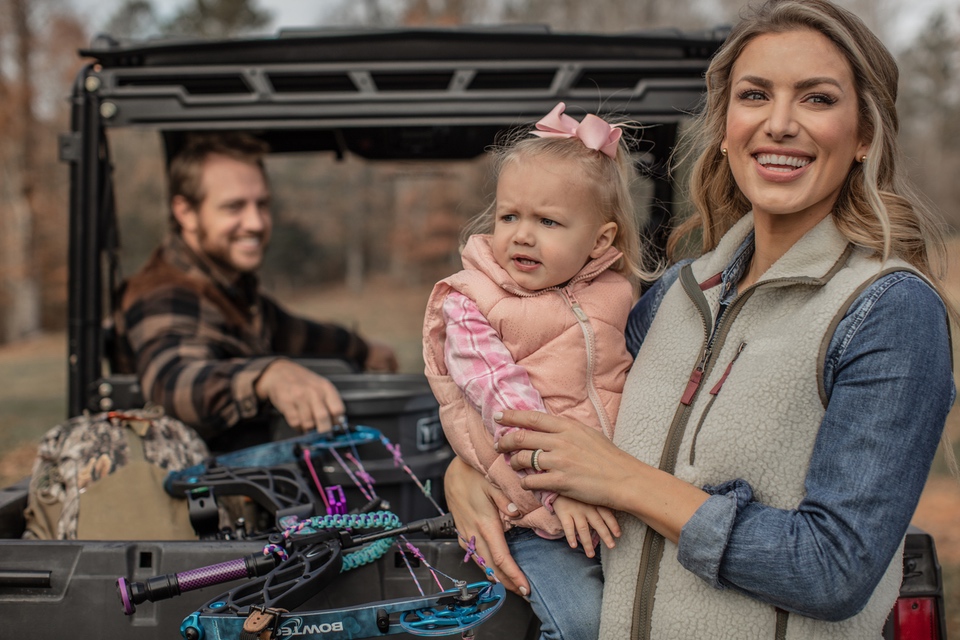 The WON: You and Tim obviously have a ton of things going on all of the time, but as far as being a working mother in the outdoor industry is a totally different ballgame. How is that shaping the way y'all are bringing your kids up?
Eva Shockey: It's been a huge part of how we raise our daughter. My husband obviously isn't in the outdoor industry like I am. He's a commercial real estate broker, so he's in development. But we have the same mindset, and he's a hunter and fisherman and loves the outdoors just like I do. It's been great to bring Leni along and introduce her to the outdoors. I think it's made me realize how difficult it is to bring kids along on hunts than to leave them at home with a babysitter.
My parents brought us along, my brother and I, my whole life. Until you're an adult yourself with kids and understand what it requires to bring a toddler to hunting camp for a week, you don't fully appreciate your parents. I've thanked them multiple times. I mean the cost is one thing, but the effort and the planning and the amount of luggage you have to bring, like a crib, a highchair and the millions of other things you'd never need otherwise. Also, when you're out in the middle of nowhere, you can't simply run to the grocery store. That's one thing that showed me the importance of including our daughter on our adventures, and I'm sure it will be the same once we have 2 children. As long as she's been alive, she's loved the outdoors. She loves picking up sticks and rocks and looking at the grass. She's not afraid of getting a little bit dirty. I truly believe that's because we brought her along as much as we possibly could from the start, rather than shielding her from it and expecting her to step outside for the first time and love it at the age of seven. Parks, zoos, nature centers – just think of the possibilities with a little bit of effort on the parents' part. They could be raising future nature lovers and outdoor adventure seekers – or even simply respectful stewards.
Follow Eva Shockey's life and times at her website, with links to her social media outlets and Pinterest.
About Hollis Lumpkin

Hollis Lumpkin writes that she is a "simple girl living in the Lowcountry of South Carolina, but I happen to have a great love for the outdoors, particularly hunting and fishing." She is a duck-hunting freak. Hollis pens an exclusive version of "The Bright Side of the Road," for The WON. View all posts by Hollis Lumpkin →
The Conversation