Night Fision: Pistol Night Sights Review
A couple of months ago, I got myself a new Glock 48. You can read my review here to see what I thought about it. Like many others, I looked forward to changing the standard notch and post sights with something more user-friendly. I prefer to put night sights on all my carry guns but also like the higher visibility of fiber optics. I came across a relatively new company called Night Fision and was intrigued by their claims that they were "brighter than leading competitors through use of 30% more tritium", so I decided to give their pistol sights a try.
Sponsored by GLOCK
"When it comes to tritium gun sights, aluminum sleeves and painted-on white rings are the norm. Night Fision breaks the mold, literally. Our patent-pending injection molded sleeve design not only holds our tritium vials securely in place, it creates a brighter and more durable ring, we call The Perfect Dot™, that provides maximum visibility both day and night."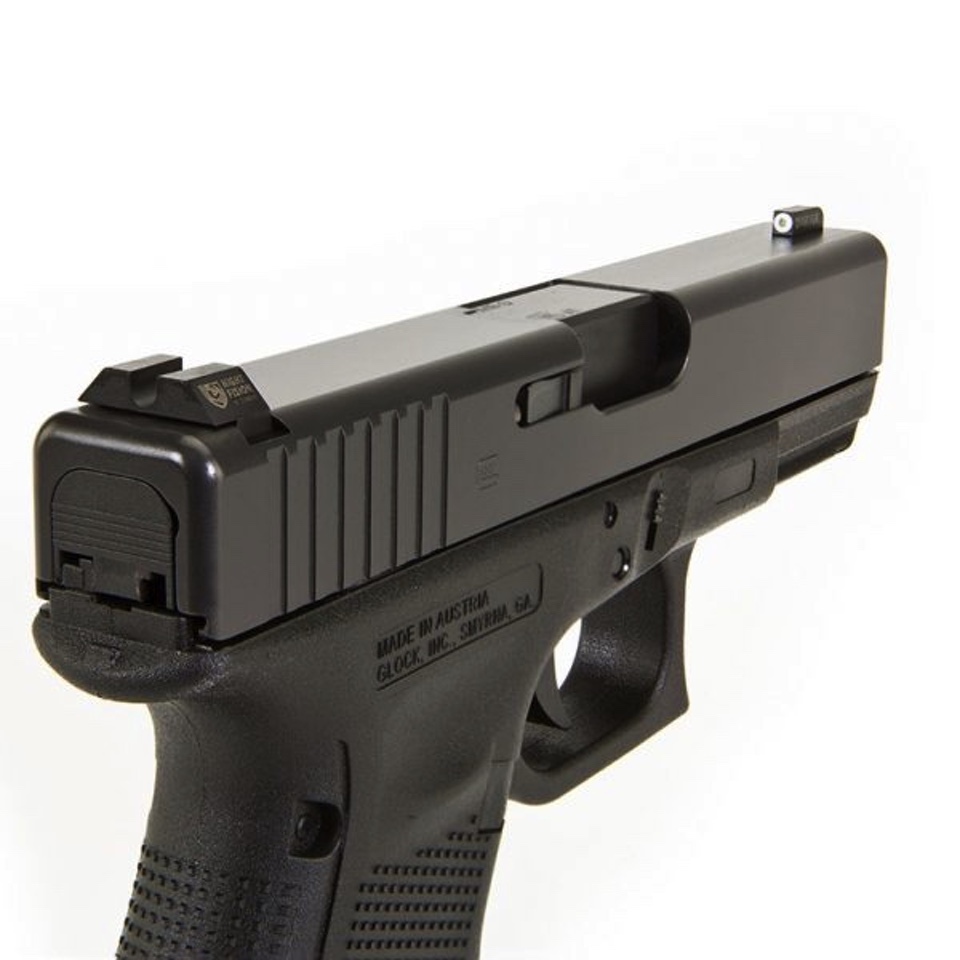 First of all, I was impressed with the variety in selection. You can choose from five different colors for the front sight ring, and square or U-notch for the rear. For the front sight, I chose the yellow ring as I can usually acquire green or yellow better during the day. I opted for the rear without rings, just tritium on a U-notch so that they wouldn't compete with the front sight. I really like the combination. I can line them up without too many dots vying for my attention. The price varies from $48 for front sights only to $117 for the set. The price on my particular combination was $108.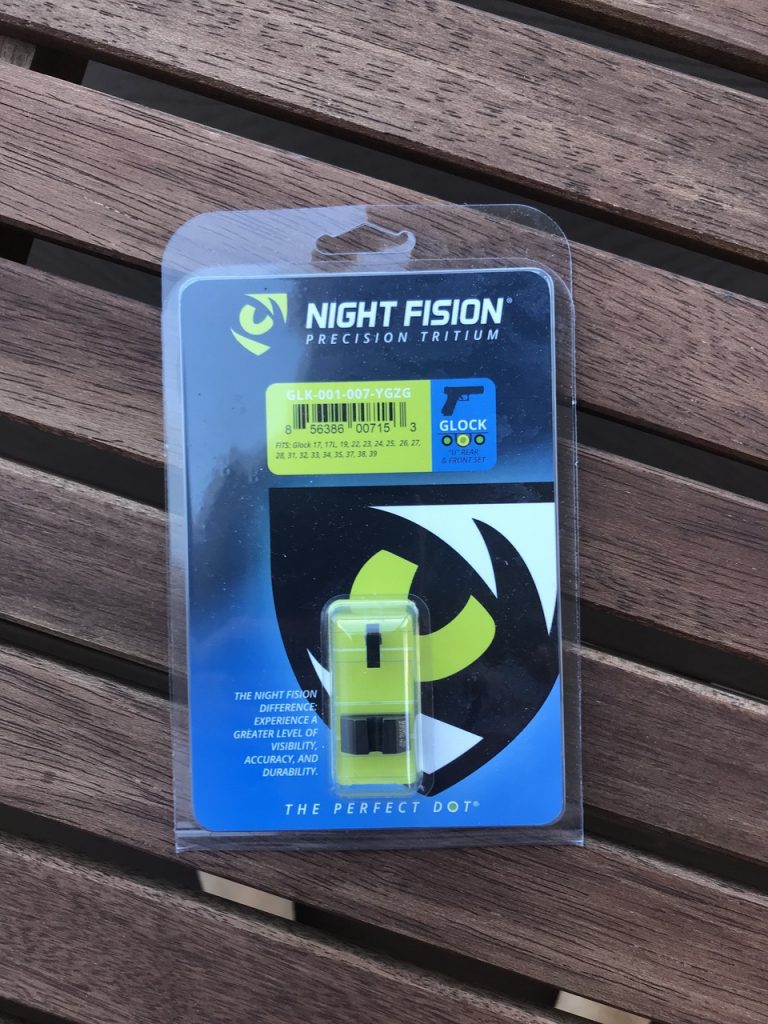 The sights arrived quickly in a simple package with no tools but you can buy a kit on their site for $30. If you do have the proper tools, there is a video on their website that walks you through how to put them on. It looks pretty straightforward and should take about 20 minutes. As recommended, I let my local gunsmith handle mine and got it back within a day.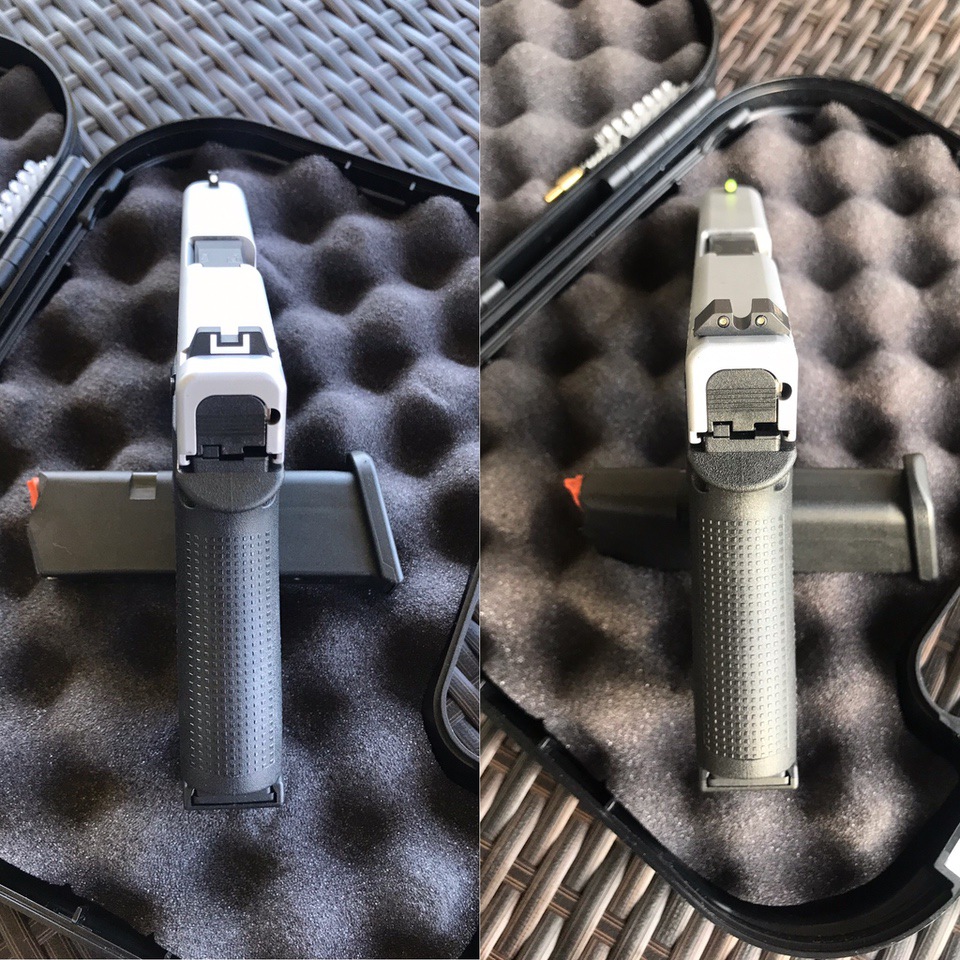 My first impression is that the yellow front sight is very easy to acquire. Some prefer a smaller front sight but for these tired old eyes with terrible astigmatism, I prefer them big. I don't have to hunt for them because they're super bright! I like the low, smooth profile on both the front and rear sights – no snagging! They're fixed sights, fit nice and snug, made out of noticeably high quality steel. It has black nitride coating and their tiny logo on the sides. They're made in the USA with Swiss Tritium.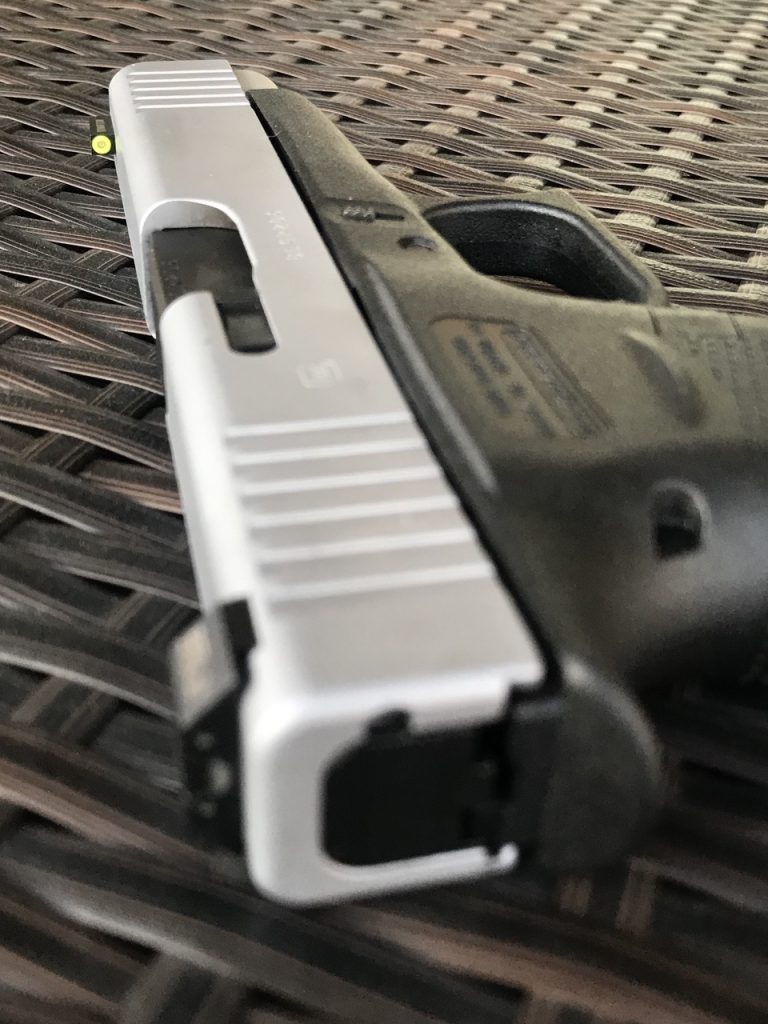 Although they're a relatively new company making pistol sights, they are not new to the tritium world. Their sister company, Cammenga, has been manufacturing the U.S. Army's Tritium Lensatic Compass so they have extensive tritium expertise. I love supporting U.S. made products especially when they are made so impressively.
Overall, I am very pleased with the quality and brightness of these sights and will be replacing some of my current ones with these.
Read more about Night Fision here.
MSRP: $48 – $117
About Julie Park

Julie Park was born in South Korea, raised in Canada, and is now living in her beloved Rockies in beautiful Colorado Springs with her husband and 5 kids. An attempted break-in transformed this stay-at-home, unassuming woman into a pistol-packin' mama serious about the safety of herself and her loved ones. She is a certified NRA pistol instructor and Chief Range Safety Officer, and has been teaching and training women (and men!) just like her for the past several years. She has been a chapter and state leader in women's shooting organizations and an instructor at her local range. She loves discovering new guns and products for women and sharing her passion with others. If she's not shooting and training, she is homeschooling her kids, enjoying travels and connecting with her favorite books and people. View all posts by Julie Park →
The Conversation