GWG Clothing's Highland Hunting Apparel Rocking the Fields this Fall
It's here and I must say, I'm feeling slightly responsible for this line from Girls with Guns Clothing of its Highland Hunting Apparel, since walking Kansas pheasant fields 2 years ago with the 2 boss ladies of Girls with Guns Clothing – Jen O'Hara and Norissa Harman. I wore my traditional field clothes, made by Eddie Bauer, and Jen immediately noticed the clothing. Later, she told me that the trip (part of the Kansas Governor's Ringneck Classic) inspired her and Norissa to act – which meant, to design a new line of upland apparel – and here it is … the GWG Clothing's Highland Collection.

Sponsored by GWG Clothing
We witnessed the unveiling of the collection while at the SHOT show last January in Las Vegas. It got applause from those of us who know how few and far between field wear is for women in the world of upland bird hunting. Let's see what they've got, and most of it still looks to be in stock.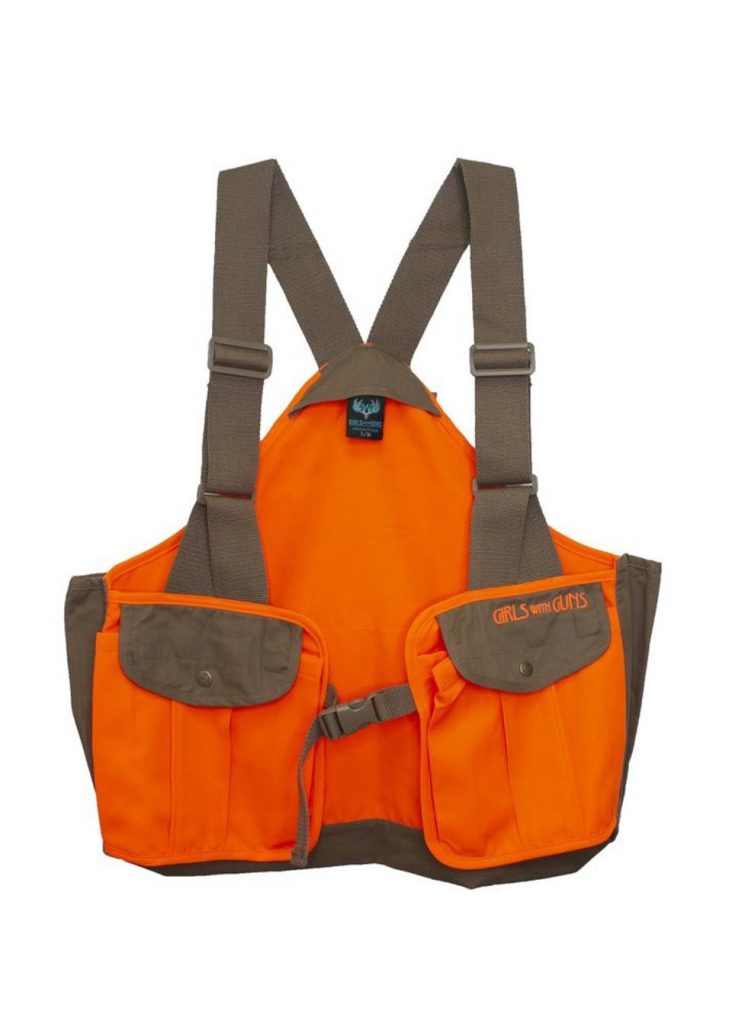 Highland Vest
Made of peached twill in 98% cotton and 2% Spandex in the body and 100% polyester twill for the blaze orange, this Highland vest has adjustable straps and moves with you. Swinging on a pheasant should not be a problem while this is on your back. It comes with 2 front flap pockets for shells, dog whistles and other things, and a back opening for bird storage. It is offered in S/M and L/XL.
MSRP: $89.99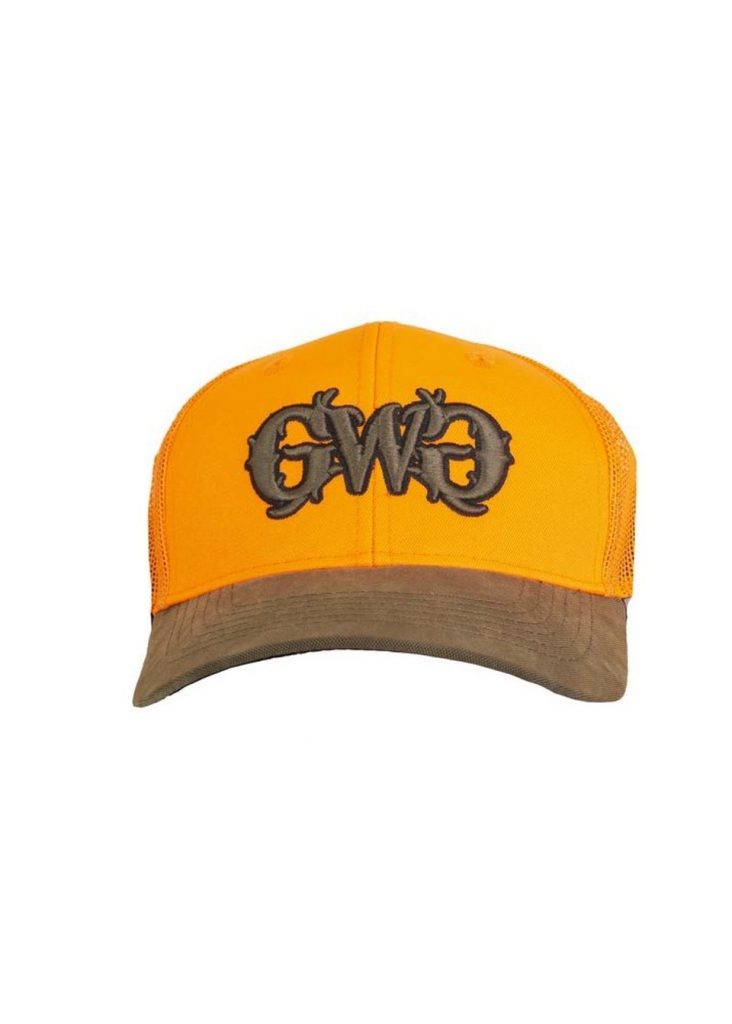 Highland Blaze Hunting Hat
You must check the back to see what's special about this hunting hat. First, though, note its traditional blaze orange, combined with field brown, to get that look. You know, that look that says you belong in the field and you didn't buy your hat at the local convenience store on your way into South Dakota at 3 a.m. in the morning. Made of 100% polyester, the sweat should wick right away – and … you will sweat after the first few miles of hoofing it through tall grass, no matter what shape you're in. The back features a "peekaboo high ponytail" hole. It's there if you want it and now you can fly your power pony high and mighty. It also has a plastic snap closure, so no extra bits hanging out, and of course, it is adjustable. Seriously, even if you don't go afield, get this one and get the look.
MSRP: $19.99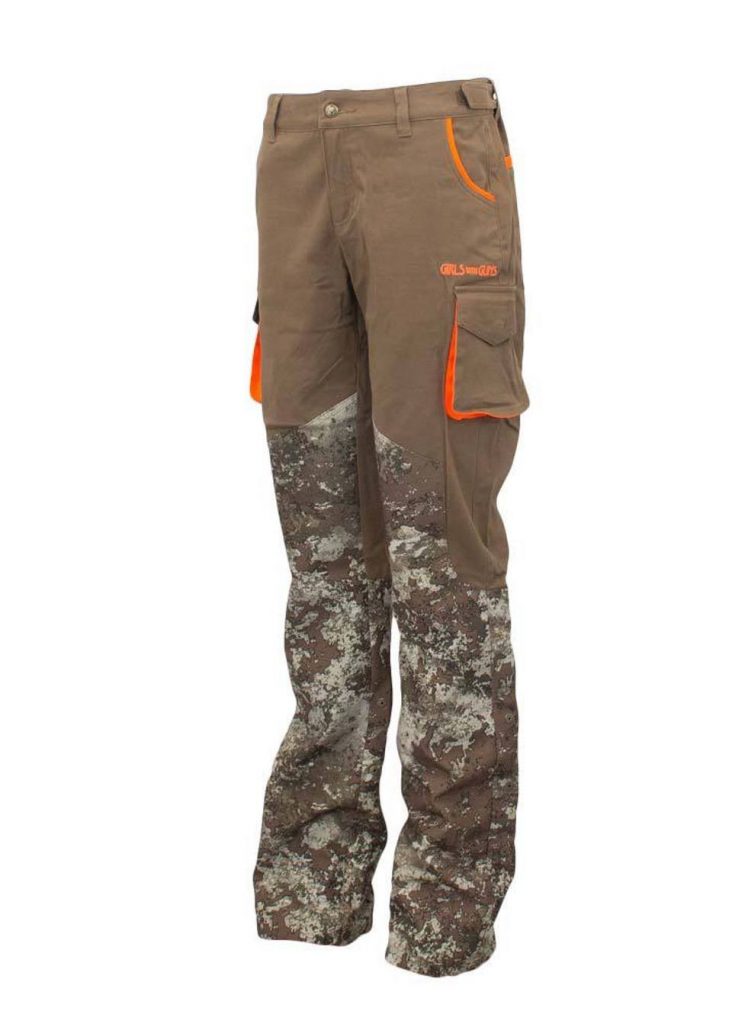 Highland Hunting Pants/Sienna
Featuring the well-reputed adjustable inseam –included in all of GWG's hunting pants (from 28 to 35 inches), these pants have been designed with burrs, cockles and stickers in mind. I know Jen wants to thank me for inviting her to join us in grass that went over her head in many places while we were in Kansas (which is another good reason for that blaze orange hat). These Highland pants were well thought out, with peached twill of 98% polyester and 2% spandex on top where the curves and the movement happens, sewn onto an oxford with PU coating on the legs of 100% polyester. These pants also come with 2 cargo pockets, 2 front pockets and 2 generous-sized back pockets. As with all GWG pants, they are fitted and feminine and they won't look like a guy's pants or fit like one's. They come in XS to 2X.
MSRP: $89.99 and $99.99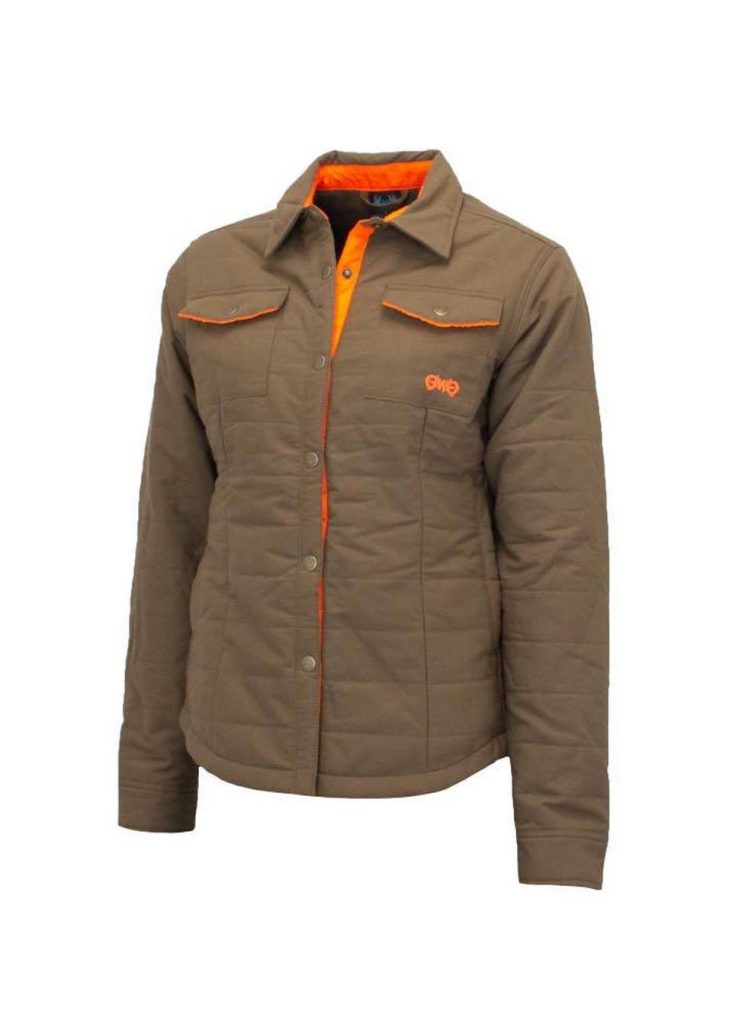 Highland Shacket
Is it a shirt? Is it a jacket? No, it's the Highland Shacket! Made from a quilted Oxford shell of 55% cotton and 45% polyester, with a 100% polyester fleece lining and taffeta-lined sleeves, this piece of apparel should go the distance. I like the blaze orange accents. It's breathable, and comes with 2 side-seam pockets and 2 logo snap pockets. Again, it's fitted and functional. I'd wear this for fall yard work, too, to give it that "broken in" look. It comes in XS to 2X.
MSRP: $109.99 to $119.99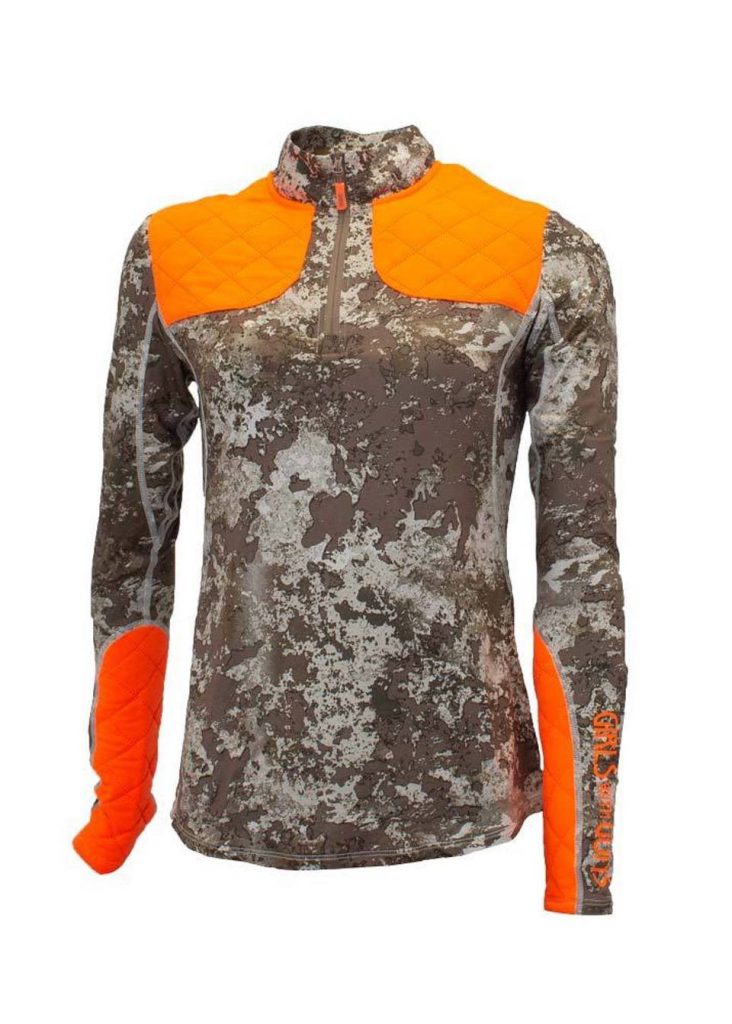 Highland ¼ Zip Long Sleeve/Sienna
You could also wear this one deer hunting. Just sayin'. It's an athletic top, the Highland ¼ zip long sleeve shirt, made of 92% polyester and 8% spandex. It's been designed to show off 2 blaze orange, quilted insulated piecings on the shoulders and forearms. It also features a ¼-zip for ventilation and an antimicrobial finish. Seriously, this piece could crossover to big game hunting so easily (along with the pants and the shacket). Again, the sizes range from XS to 2X and seriously, where are you going to find that range in the outdoor world for women hunters?
MSRP: $69.99 to $79.99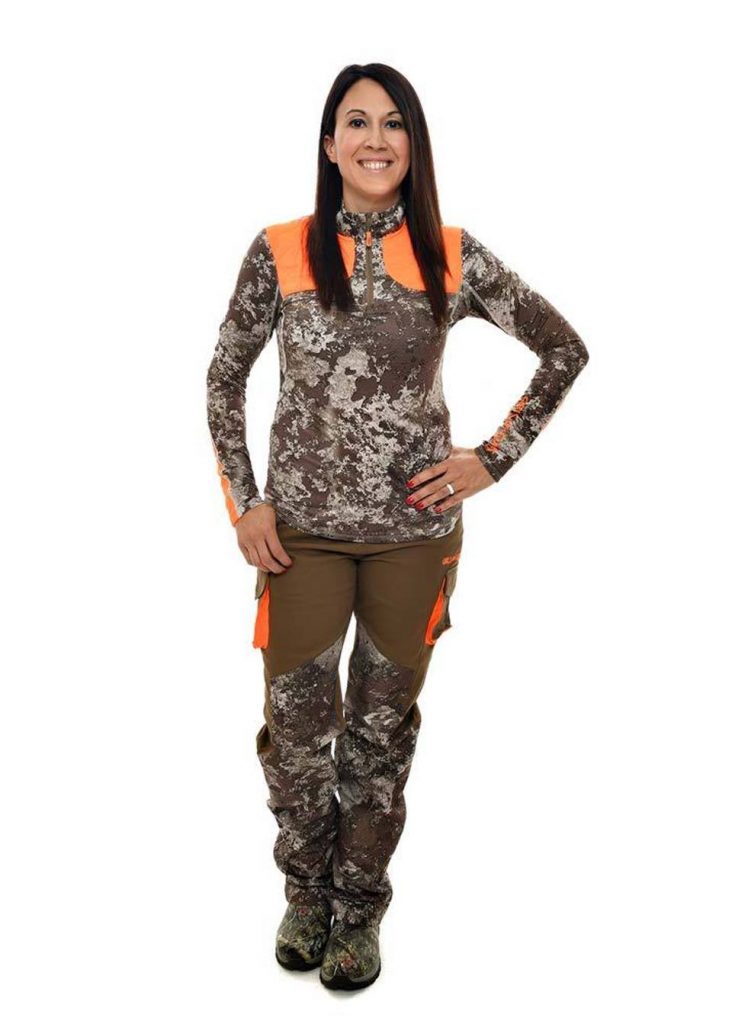 The Sienna camo is part of Girls with Guns Clothing's line of camo. According to GWG Clothing's description of this shade, "Sienna trades in the gray-green tones of Shade 1.0 for sandy brown tones, perfect for blending into tall, dry grass and drier climates."
We agree, and are looking forward to many years of pounding pheasant fields in the Highland Hunting duds.
Visit GWG Clothing here.
About Barbara Baird

Publisher/Editor Barbara Baird is a freelance writer in hunting, shooting and outdoor markets. Her bylines are found at several top hunting and shooting publications. She also is a travel writer, and you can follow her at https://www.ozarkian.com. View all posts by Barbara Baird →