Kristy Titus on Hunting with the First Lady of Indiana
Kristy Titus invited Janet Holcomb, the First Lady of Indiana, to join her on an elk hunt this past October. Set in Colorado, Kristy and Mrs. Holcomb's hunt appeared on Kristy's YouTube Channel, in her show "Pursue the Wild." Ruger is one of Kristy's sponsors for this series.
Sponsored by Ruger
We asked Kristy, who is a well-respected hunter, a few questions about hunting, and she also gave us a few tips.
The WON: What did you learn from this experience?
Kristy Titus: Each hunt brings its own unique learning experience. For me, on this hunt, it was a great reminder that no matter where you are in life, it is never too late to become a hunter. The first-hand experiences that are had while afield change the life of a new hunter. They create memories that not only last a lifetime but fuel the desire to ensure a better future for wildlife and wild places.

The WON: How can you explain what it's like to be a hunting mentor and why should people invest in this experience?
Kristy Titus: It is important to become a mentor and introduce others to hunting and the outdoors because that is the key to inspiring movements that broaden the reach of conservation. Educating people of the benefits of hunting via the North American Wildlife Conservation Model and how hunters fund over 75% of state conservation budgets is a message that we should all be proudly sharing. The world should fear the ramifications from hunting bans as a massive ecological negative to the world.
The WON: What gear would you recommend for a first-time hunter — what must she bring to the mountains?
Kristy Titus: The best piece of gear that any new hunter can take afield really isn't gear. It is making the investment in learning to shoot in situations that you will encounter while afield on the hunt. Knowing their personal limitations and honoring their individual comfort level with a firearm is absolutely critical for any hunter. If you are a first time hunter and you aren't comfortable taking a shot, don't allow yourself to be pressured into doing it. Having positive experiences will create a lifetime hunter and that begins with confidence in themselves.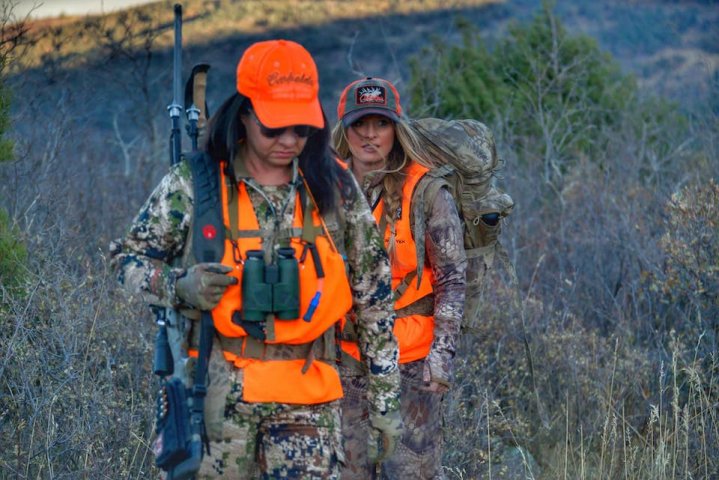 The WON: You're an advocate for physical fitness — please give us a few tips for hunters who don't live out West … how do you get ready for a hunt such as this one?
Kristy Titus: Western big game, spot-and-stalk hunting can be extremely taxing on the body, especially if you aren't accustomed to high elevations. Having strong legs and cardiovascular conditioning are key to mountain hunts. Squats and lunges are a great way help prepare your legs for the workload of the mountain and require no specialty equipment. Cardiovascular conditioning on a machine that works the large muscles of your legs and glutes like a stair mill is a great way to condition your heart, lungs and legs. Circuit style weight training programs will also strengthen muscles and increase cardiovascular endurance.
About Kristy Titus
Kristy Titus is one of the most well-respected and well-known female hunters in America. Along with her YouTube show, "Pursue the Wild," she serves on the NRA Board of Director, NRA Hutning and Wildlife Conservation Committee, NRA Youth Shooting Sports Committee, and holds NRA certifications as a an instructor for Basic Pistol, Refuse to Be A Victim and Range Safety Officer. Visit Kristy Titus at Pursue the Wild.
About Barbara Baird

Publisher/Editor Barbara Baird is a freelance writer in hunting, shooting and outdoor markets. Her bylines are found at several top hunting and shooting publications. She also is a travel writer, and you can follow her at https://www.ozarkian.com. View all posts by Barbara Baird →