Remington V3 and Me: The Waterfowl Pro on an Arkansas Duck Hunt
I've been shooting Remington V3s since they rolled off the assembly line in Ilion, New York, and that has been a few years now. I've never met one I didn't like – whether it was in a duck blind or a pheasant field. Recently, I had the opportunity to try the new Waterfowl Pro at one of the world's best duck hunting places, Stan Jones Mallard Lodge, in Arkansas.

Sponsored by Remington
Since the lodge is only a few hours from my home in the Ozarks of Missouri, I loaded up the Subaru with lots of warm clothes, insulated waders, pheasant clothes, a cooler and other necessities for the trip. Eric Suarez, who manages PR and PA with aplomb these days for Remington Outdoor Company, sent me a Waterfowl Pro earlier this fall, so I had been on the range with it and knew what it could do with an improved cylinder choke in place.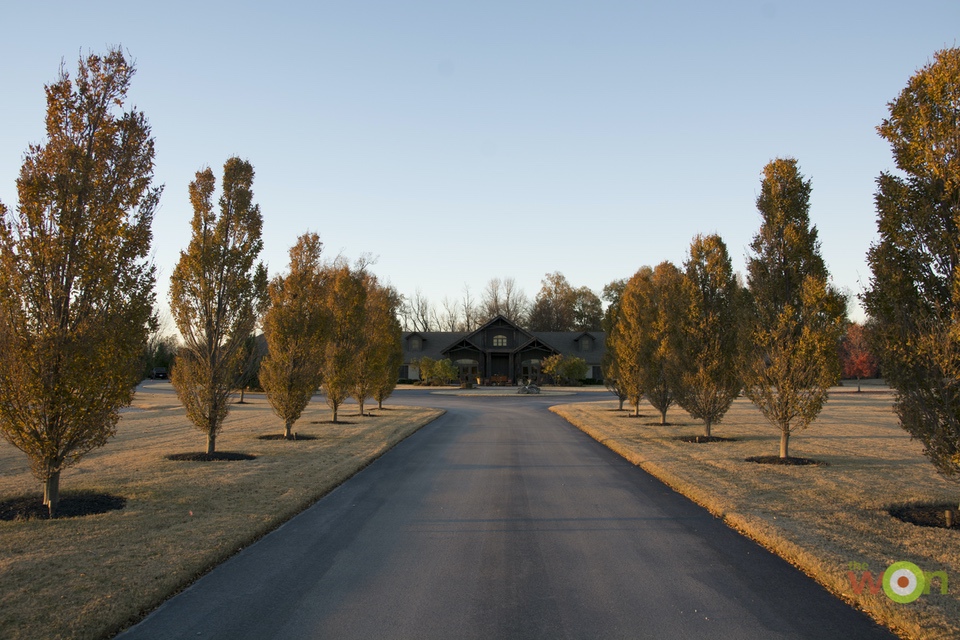 The Lodge
There are duck-hunting outfitters and then, there are duck-hunting outfitters. I'd call this one "swanky and classy." Hunters don't get corralled into bedrooms with 2 or 3 bunk beds here and a communal toilet down the hall. They get double rooms (queen beds) with "crisp white linens, large flat screen TV and a Bluetooth alarm clock." According to the lodge's website, each room comes with a marble bathroom, private toilet and hairdryers. I saw boot dryers onsite, too. I didn't actually stay in the lodge, since I was the solo female hunter. I stayed over in Stan Jones' home, in the lap of luxury there. However, the other hunters raved about the accommodations.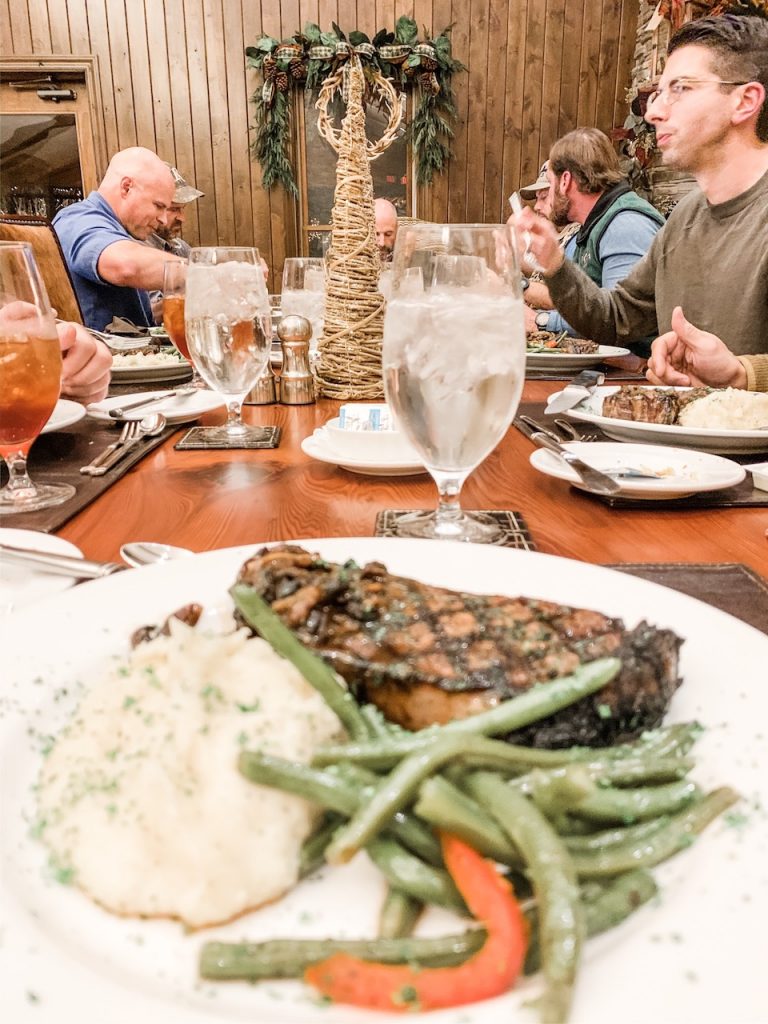 And the food? Chef Jay Taggart pulls out all the stops for the daily breakfast – served late morning after hunters start straggling back in from duck blinds – and for the nightly sit-down, a full-service dinner. Wine flows and laughter permeates the air. Mahi mahi might be flown in from Hawaii, and served on a bed or rice as the main course. Stan always addresses the guests each evening, and introduces them to each other and re-introduces them the next night, making it a congenial gathering of people who have 1 thing in common: a love of waterfowl hunting.
Ample-sized lockers hold guns and equipment, and the lodge also offers a skeet and trap range, aqua golf and hatchet throwing.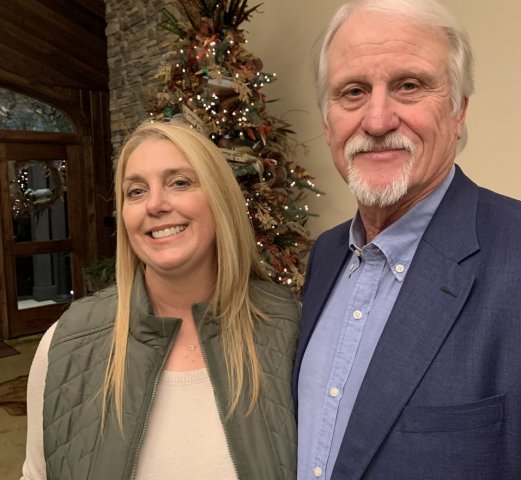 The Hunting
This outfitter's accomplished hunting guides have access to more than 2,000 acres of prime duck hunting, and if you know duck hunting, you will know that Arkansas reigns supreme. From oak trees to rice and corn fields, and over to the timbers, there are several set-ups available, and Stan says the guides don't overwork the blinds. Most of our hunters limited out every morning, quickly.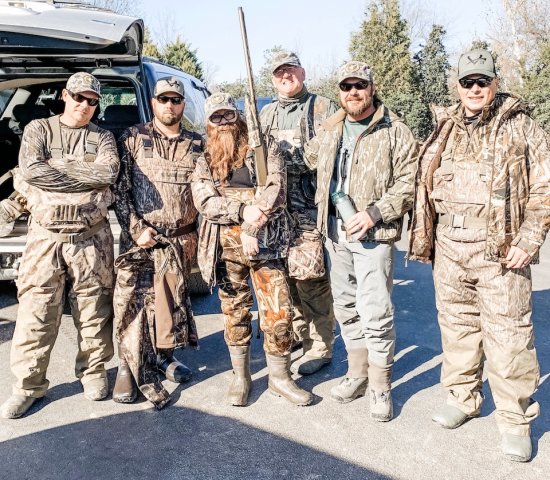 We hunted in a blind overlooking a pond near cut corn on the first afternoon, yes afternoon, of the hunt. It didn't take too long for our 6-hunter crew to down teal, mallards and spoonies.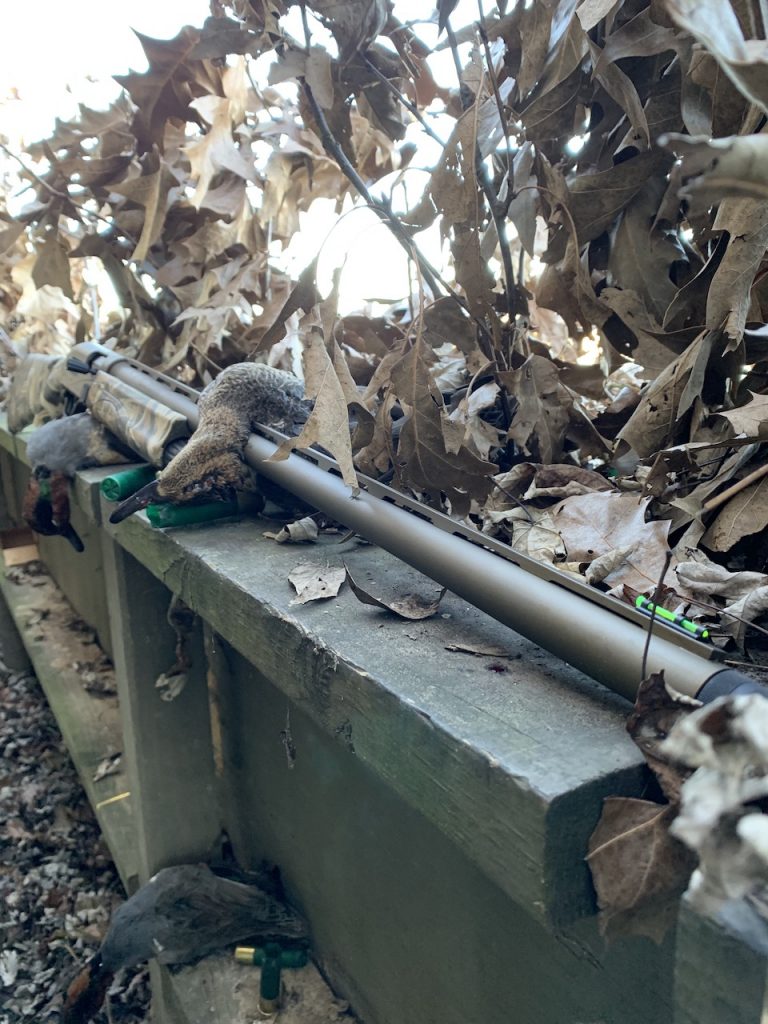 On the second morning, we got up at oh-dark-30 and headed out to the woods, where oak trees stood in water in rows, and a huge blind accommodated us. We called it the "Tiki Room," with its grassy interior hangings. We got 20 down for our morning's efforts, and frankly, it was a slow morning for most of the hunters – which meant, the ducks weren't cooperating.
As with all bird hunting, the combination of gun plus load matters. For this trip, we used Remington's Hypersonic Steel loads, which claim to compensate for the fact that most ducks are missed from behind. How does it do that?
The load's souped-up velocity allows a hunter to make more head and neck shots on ducks, resulting in quicker kills and not as many misses. At 1700 feet per second, the shot will get an 8-inch average lead at 40 yards. Remington calls it "in-flight brain surgery," and Stan Jones Lodge only buys, yes buys, Remington shotshells for its hunters.
On Pheasants and Chukkar
The lodge also offers time afield, with pheasant and chukkar hunts. For this task, I switched over to the Remington V3 Field Sport in walnut. For me, this gun works and swings and has a nice balance.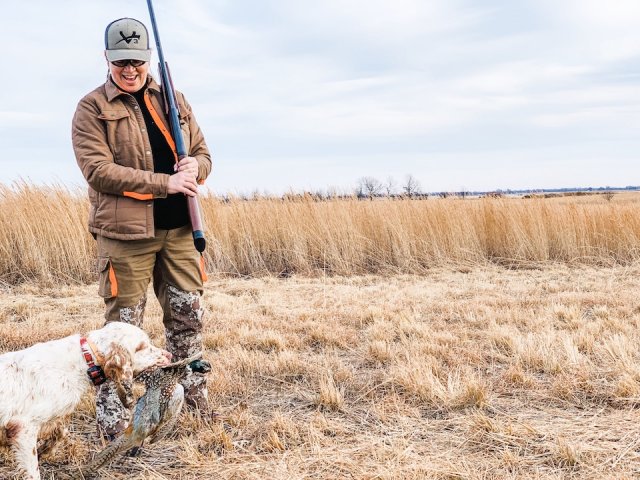 Combined with the load – Remington's Nitro Pheasant loads – I saw success, especially playing "clean up" hitter on the edges of the fields. My compatriot, Larry Case (Guns and Cornbread fame) and I were shocked when I knocked down 2 chukkars, 1 at a time, at 55 yards.

This version of the Remington V3 Field Sport starts at $995.
About the Gun: V3 Field Sport Waterfowl Pro
It's got a long name, but a short reason for existence: knock-down capability. A few of the writers were not familiar with the V3's Versaport gas system. This model, in 12 gauge, will accept 2 ¾-inch-to-3-inch magnum loads, and self-regulates the gas pressure based on shell length. That means far less recoil on the shoulder, too, which matters shot after shot.

Women will especially appreciate the drop-and-cast adjustment shims included with the guns, and any duck or other bird hunter who wears gloves will respect the gun's design with an oversized bolt handle, release and safety. I have always liked the V3's loading port, with the lock-back capability for faster loading. Note: While wearing gloves, make sure you fully seat the second round into the chamber, or it will not load for another shot. A couple of hunters didn't do this, and missed on shot #2 until they realized that their shells were protruding a bit.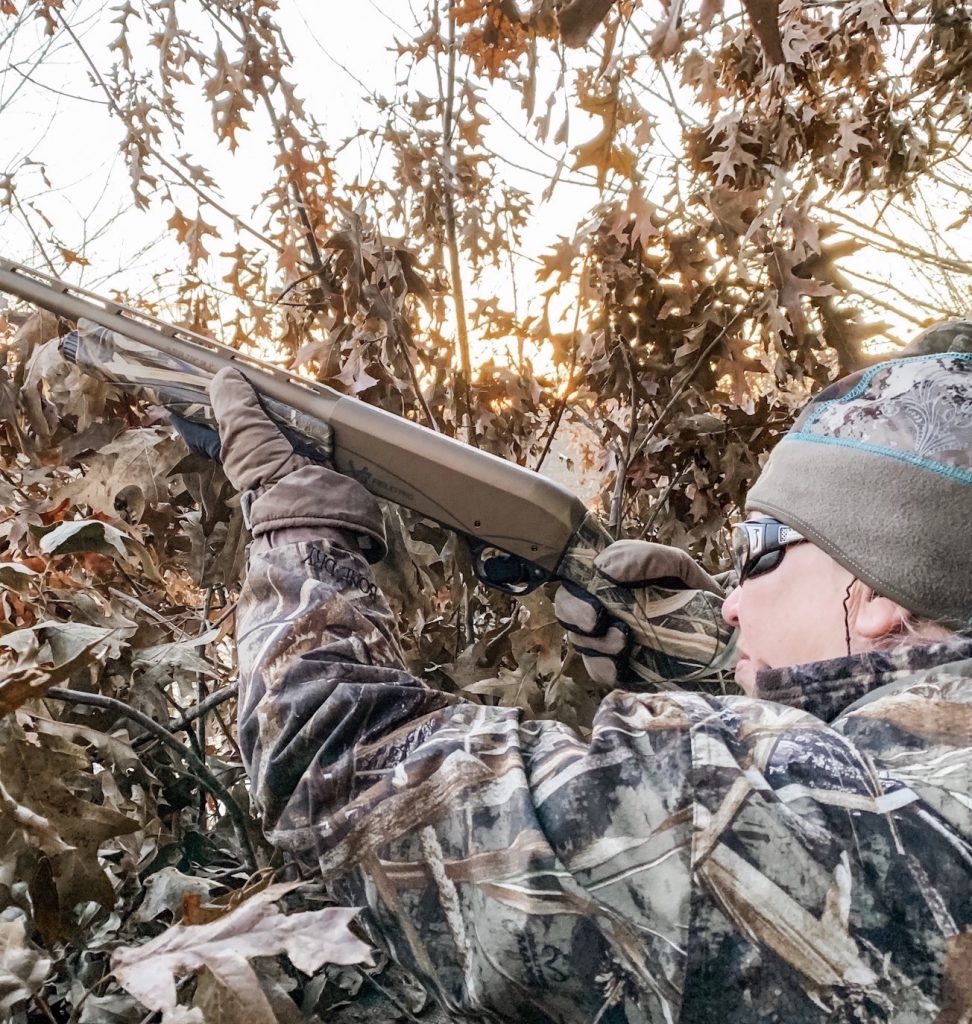 Several of dyed-in-the-wool duck hunters approved of the burnt-bronze, cerakoted barrel and receiver – such a super idea for conditions found while duck hunting, aka wet.
For me, I saw some wicked wild shots come through with this gun and load, and frankly, I surprised myself a few times. You know those times, when no one else is shooting and you decide, "Why not try?" Well, it worked for me.
So, this gun? It's staying in my safe and I'll be giving myself a nice Christmas present this year, too.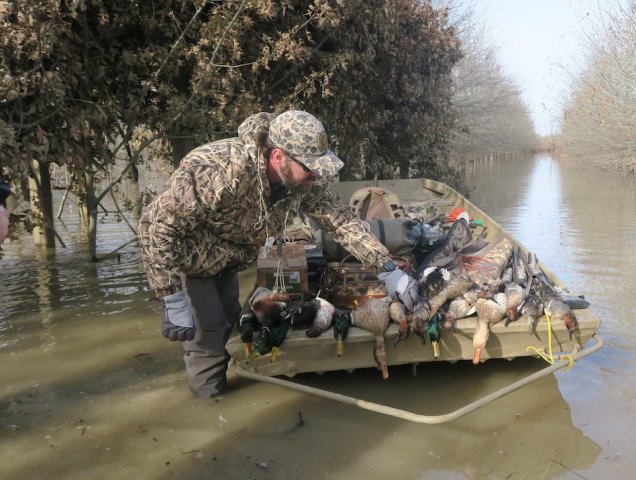 The V3 Waterfowl Pro starts at $1195.
Want to learn more about hunting with the V3? Check out these posts: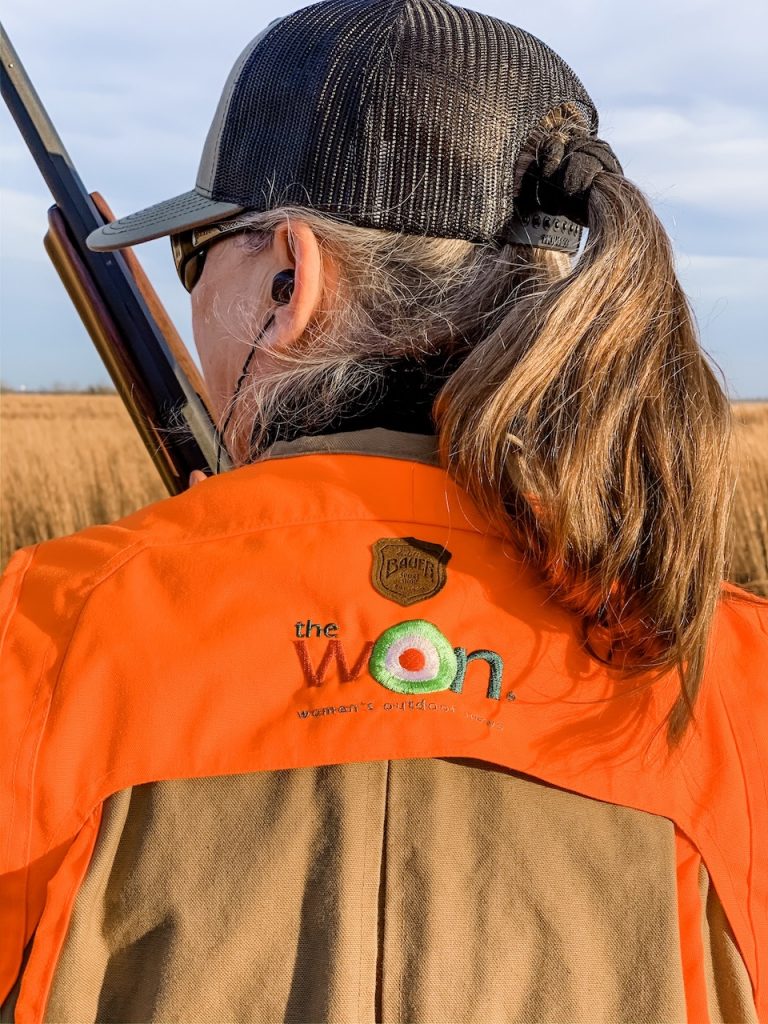 The V3 and Me on a Louisiana Teal Hunt
The V3 and Me on a Dove Hunt, Texas Style
On the Hunt in Colorado for Merriam's Monsters
About Barbara Baird

Publisher/Editor Barbara Baird is a freelance writer in hunting, shooting and outdoor markets. Her bylines are found at several top hunting and shooting publications. She also is a travel writer, and you can follow her at https://www.ozarkian.com. View all posts by Barbara Baird →
The Conversation