Meet Denean Tomlin, Founder of LadyGuns of Canada
We knew that a movement of women who love the shooting sports had begun in Canada. Two years ago, at the Shooting, Hunting and Outdoor Trade (SHOT) Show, held annually in Las Vegas, we met Denean Tomlin, founder of LadyGuns. This past January, we met with Denean and her business partner, Kacie Gavinchuk, to find out more about this exciting organization created for women by women. Here's what you need to know about LadyGuns.
Sponsored by Jagemann Sporting Group
The WON: When and why did you create LadyGuns?
Denean Tomlin: LadyGuns was created in 2014 as a sporting clays ladies night league. I had been shooting, competing and instructing in the sport surrounded mostly by men. I couldn't find other ladies to shoot with, so I decided to organize a weekly ladies night at our local club. We came together every Thursday night, enjoyed a fun social round of sporting clays; we had speakers and presentations on guns and gear and we always wrapped up our evening with snacks and refreshments. Even on the nights we were rained out we shared stories, held mini workshops on gun fit, gun cleaning, gun shopping etc. and just enjoyed each other's friendship and common love of the sport. Lots of laughs and tons of fun!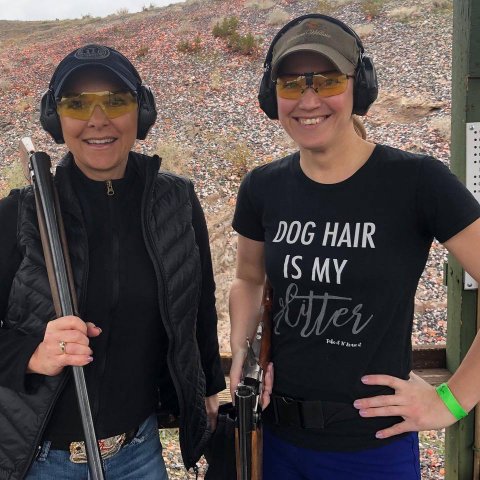 The name LadyGuns came about when I started the Facebook page for the league so we could share photos and other information. Since 2014, I have added to my shooting disciplines (and gun locker) and as such found more women that like to shoot or want to learn how. It was only last year (2019) that the LadyGuns webpage, events and Instagram posts came together.
The vision for LadyGuns is to get more women and youth out participating in the shooting sports and increase the awareness across Canada that we are a big part of the shooting industry.
As it says on our business cards, "A community of shooting, hunting and outdoor enthusiasts." We have called our community our #ladygunstribe.
The WON: Where is this based?
Denean Tomlin: We are currently based in and around Calgary, Alberta, Canada. We are hosting events at many of the indoor and outdoor ranges, shotgun clubs and even a few private ranges. We are planning for more clubs to get involved and be able to extend our reach across the Province through a network of likeminded LadyGuns ambassadors.
The WON: What's been the response so far?
Denean Tomlin: The response and participation for our activities are so positive and encouraging. We have really been overwhelmed with the levels of interest and support. So many women want to give shooting a try, but are apprehensive and intimidated by the ranges and the large population of men that populate them. We try to ensure that our events provide a softer approach, where women are teaching women with female range officers and instructors. The ladies who already have experience like to join us to have a "Ladies Night Out" as an option to going to the range with their "other halves." We have monthly events that are selling out with waiting lists, so now it's time to look at ways to expand and have more activities on the calendar.
The WON: Your background in the shooting world — how does that play into this set-up?
Denean Tomlin: How did I get into shooting? In a way, I was born into it. Being a farm kid in Canada, my parents were both into hunting and fishing. They were also both trap shooters at our local club. My first memory of shooting a gun was a family day trip in the mountains where my brother and I shot battle caps off bushes using Dad's .22 rifle. It was an amazing afternoon of family fun, learning about gun safety and spending time in the great outdoors.
Other memories include my brother and I being trappers at the gun club (setting clay targets on the machines) and many hunting seasons where my parents would head to the mountains to fill the freezer. These trips would often include family friends, so shooting and hunting were always a very social activity. Guns were a normal part of our life, our farm and our community.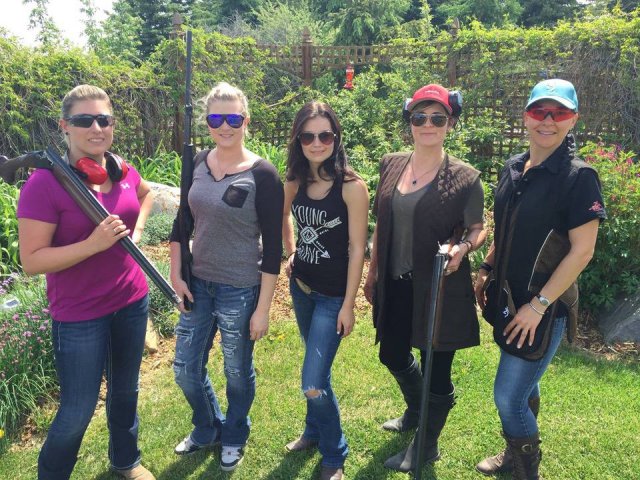 My second phase of shooting started in my 40s when I was introduced to sporting clays while on a date. It has since become a passion, a sport I was immediately hooked on and one I have immersed myself in wholeheartedly. Taking lessons, buying guns, participating in competitions and enjoying international shooting vacations are just some of the highlights over the past 8 years. I have a sporting clays family, a huge support network and a fellow LadyGun bestie named Kacie who is as crazy about the shooting sports as I am.
Kacie and I have been on this journey together since we met at a sporting clays club (we were both on shooting dates and the boys introduced us). Since that time, we became instructors, travelled to competitions together, added handguns, carbines and long-range rifles to our interests, attended even more training courses and now run the LadyGuns activities together.
Alongside all this sport shooting, I took to upland bird hunting and water fowling, as well, which included getting a bird dog and joining 2 very active dog clubs for hunt training and trialing. Big game season follows bird season here in the West so in reality, shooting season is the warm up to hunting season which returns us back to shooting season … and so on.
The WON: Tell us about Kacie.
Denean Tomlin: Kacie Gavinchuk is a beautiful woman and an amazing friend. She married that guy she was on the shooting date with and now they have the cutest little 3-year old running around the house. Kacie embraces everything shooting, loves to go on adventures and shares my vision to change the world of shooting and hunting for women across Canada. She is an excellent shot, patient instructor and makes everyone feel welcome to the sport. We share a vision of responsibility to educate our youth shooters and to empower women, bringing them into the sport with integrity and compassion, as they are next generation of hunters and sport shooters and the future of our shooting sports.
The WON: What do you envision for the future of LadyGuns?
Denean Tomlin: We would like to see LadyGuns become a community of women that come together for various types of events and activities and who are also connected virtually to share advice, seek inspiration and showcase experiences. In Canada, we currently have 2.2 million registered gun owners and many of those are women. We already know that women represent the fasted-growing demographic of hunters and shooting sports and we also know that women are the largest influencers of family activities, driving most of the consumer purchasing in the household. Yet in Canada, we barely see the face of women in the firearms industry; we still aren't seeing quality products directed to lady shooters and hunters, and most of the participation at shooting events and gun ranges is still largely male dominant.
With the support of a strong network, we feel women will feel much more empowered to get out and try shooting sports, become educated in the process and likely promote family participation. We need to encourage active engagement to show it is something women can do, women can lead in and women can succeed in. There are already pockets of events and great leaders in women's shooting sports happening across the Canada; how amazing would it be to unite these women and those that follow to become an active voice in Canada's gun culture?
With a vision of uniting women in shooting sports across Canada, we know we have a long road ahead and it will be critical to partner with likeminded groups to build momentum.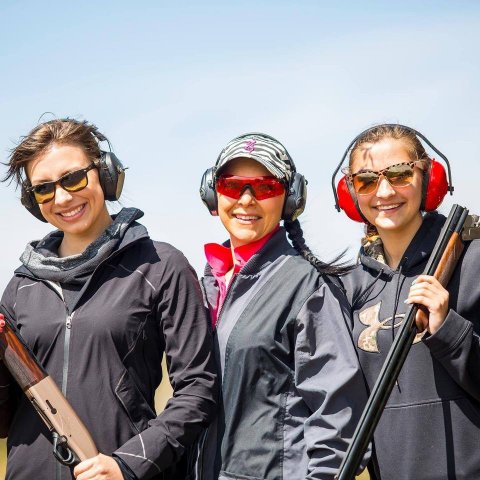 The WON: Any special events that you're working on?
Denean Tomlin: Our first steps toward this goal includes hosting ladies nights at shooting ranges, mentoring activities for shooting and hunting, as well as hosting workshops and social gatherings. Youth activities that encourage our LadyGuns to bring their kids to fun shooting events have started as well. Next will be social media campaigns and an ambassador program.
The WON: Do you partner with any other women's outdoor groups in Canada?
Denean Tomlin: We have not partnered with any women's outdoor groups in Canada only because we are very young as an organization and haven't connected with any yet. We have met with some from the US that are very excited to work with us and will continue to pursue that. Many of our gun ranges and clubs in Canada are hosting annual women's events and we are reaching out and connecting with these groups to offer support, promotion and participation.
The WON: Anything else?
Denean Tomlin: We feel it is so important to celebrate our tribe (#ladygunstribe) and our accomplishments as women in the shooting and hunting industry. We have big plans and big dreams for LadyGuns and we know this will take time. With patience, a plan and the drive to succeed we will get there. We look forward to surrounding ourselves with likeminded individuals throughout our journey where we will shoot, hunt, build friendships, share stories of our adventures and empower each other to be even more amazing than we already are.
The WON: How can people find out more about LadyGuns?
Denean Tomlin: We have a website, Facebook page and you can find Kacie and me on Instagram at @ladygunyyc_kg and @ladygunyyc.

About Barbara Baird

Publisher/Editor Barbara Baird is a freelance writer in hunting, shooting and outdoor markets. Her bylines are found at several top hunting and shooting publications. She also is a travel writer, and you can follow her at https://www.ozarkian.com. View all posts by Barbara Baird →