Jennifer's New Coupon Gun: The Walther P22 Q
You may remember the stories surrounding new shooter Jennifer and her "coupon guns." These are guns that she purchases, and justifies, by saving money through a coupon app. When she accrues enough in savings through the app, she applies the money saved to buying another gun – always a Walther. So, when it came time for Jennifer to purchase a beginner firearm for her son, who turns 12 this summer, she naturally looked at Walther's offerings in .22.

Sponsored by Walther Arms
She found a great deal, at Palmetto State Armory. It's a Walther P22 Q, chambered in .22. Jennifer's son has been accompanying her to the range recently, and has shown an interest in learning to shoot. She also arranged for training for him from a fine local firearms instructor in our area. That activity has instilled confidence in her son, and also, taught him the rules of firearms safety.
Teaching Kids to Shoot Real Guns
On the subject of firearms safety and children, before we allow our grandchildren to shoot, we always go over the 4 basic rules of firearm safety and ask them to explain what the rules mean. They're smart. They know that if they want to pull triggers, they need to be able to recite these rules and then, practice them while on the range. We also purchased eye and ear pro in their sizes, so that they aren't struggling with adult-size versions while trying to master basic shooting fundamentals.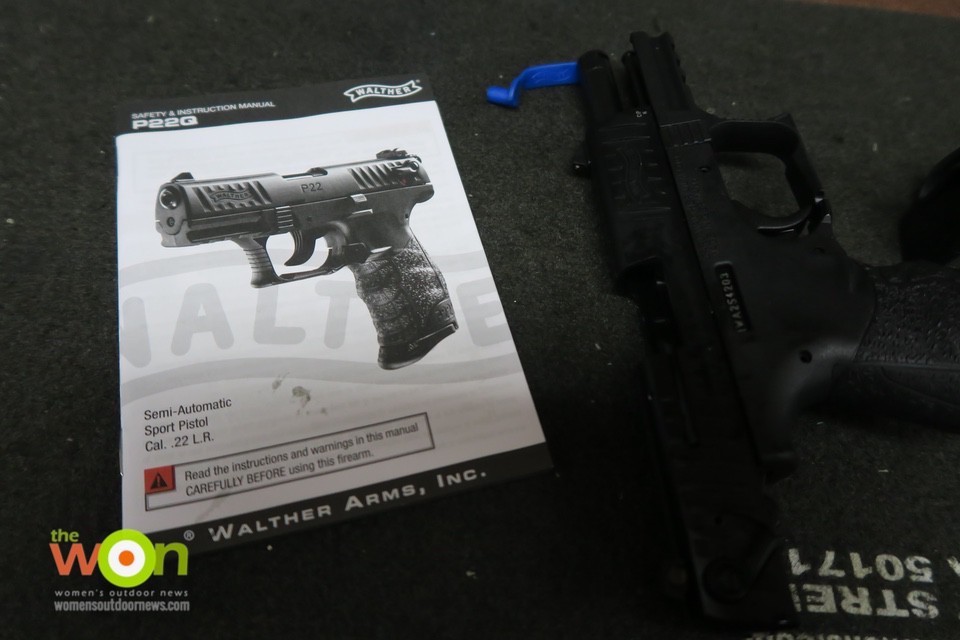 Before Heading to the Range
Whenever you purchase a new handgun and bring it home – whether it's brand new or used – make sure it's clear (meaning no ammo in any of the magazines and definitely not in the chamber). This is a great lesson for new shooters, and drives the importance of pointing a gun in a safe direction home again. Also, after you have cleared the gun, ask the new shooter to imitate your steps. Then, take it to your cleaning bench, and take the gun apart – called disassembly in your manual – and your child should be old enough to read the manual and take the gun apart. (Seriously, have you seen some of the Lego manuals out there?) It's the perfect time to start talking about the anatomy of a firearm: grip, action, barrel, trigger, sights, frame, etc. Use the terms all the time – on and off the range.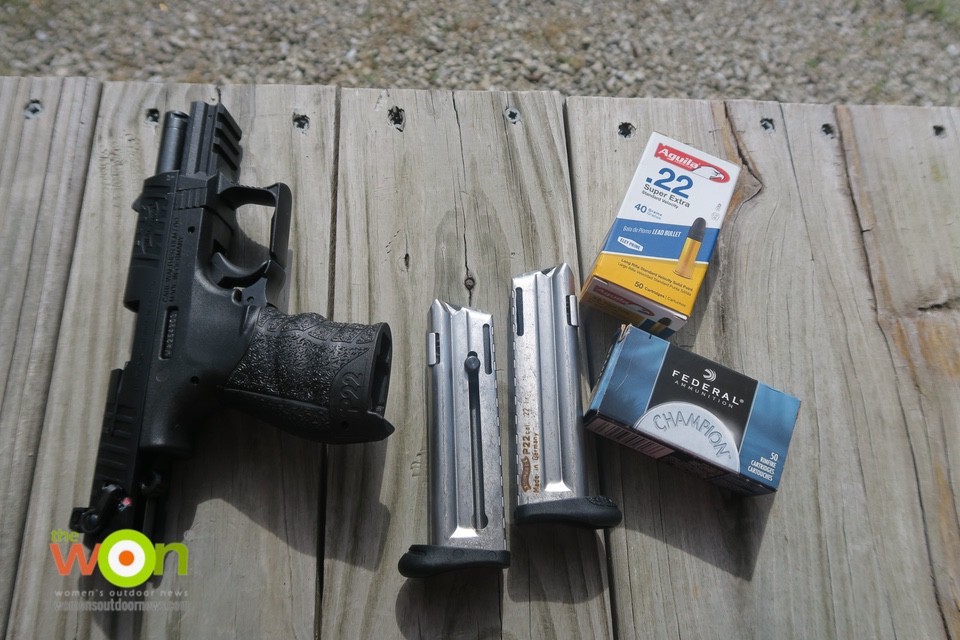 On the Range with the Walther P22 Q
First of all, regardless of whether you're on a commercial range or your own range, make sure your kids knows the rules. Again, go over the 4 basic rules of safety and how these now apply here. Where is downrange? Where are the targets? There will be range rules, too. Make sure everyone knows them.
The Walther P22 Q
This is truly a good choice for a first gun. It's lightweight, and nicely balanced, and as you saw, the price is perfect.
There are more reasons to like Walther's P22 Q, though. Here goes:
It's history is rich. First of all, it's made by a great company with a stellar reputation. Walther made this gun – the first ever polymer frame semi-auto.
It comes with interchangeable backstraps, so you can adjust the grip size.
The rear sight can be easily adjusted on the range for windage (left and right).
Barrel length: 3.42 inches
Trigger pull: 11 pounds
2 aluminum magazines with 10 round capacity
Overall length: 6.5 inches
Height: 4.5 inches
Safeties: Manual and auto
Weight: Empty – 1 pound
Width: 1.1 inch
It is built with bi-lateral safety manuals and a European magazine release, located at the back of the trigger guard, so it can be operated with either hand.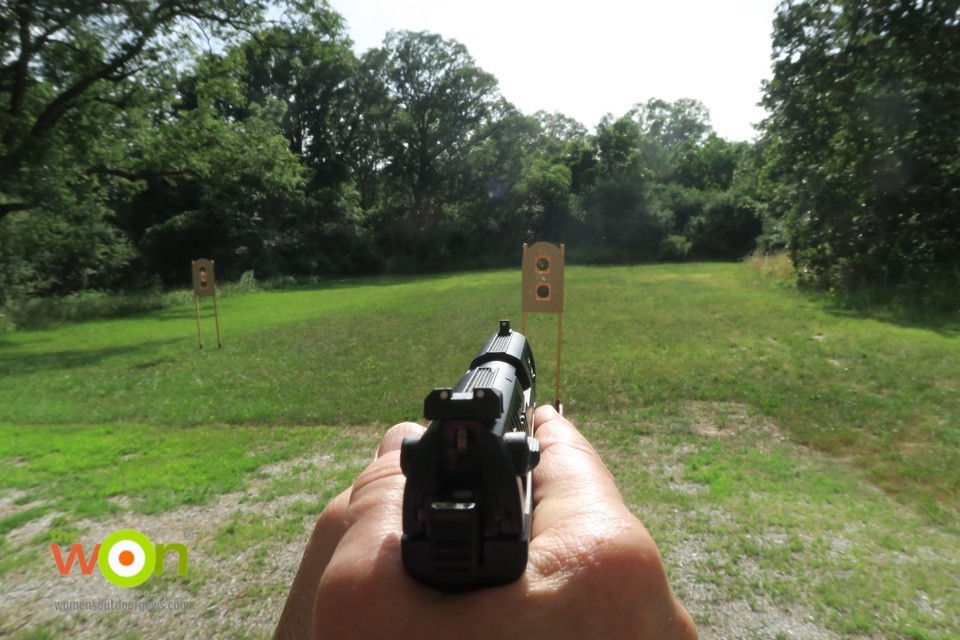 The Walther P22 Q comes in several options, including a nickel model, and in some colors, such as Angel Blue and Tactical FDE. Or, you may purchase it with a laser. It also comes with a threaded barrel and you can purchase a P22 threaded adaptor as an option.
MSRP: As low as $250 (Jennifer's price that she paid) for the basic black model.
Learn more about the Walther P22 Q here.
About Barbara Baird

Publisher/Editor Barbara Baird is a freelance writer in hunting, shooting and outdoor markets. Her bylines are found at several top hunting and shooting publications. She also is a travel writer, and you can follow her at https://www.ozarkian.com. View all posts by Barbara Baird →