East Texas Thermal Hog Hunt with SilencerCo AR Lower
Thermal hog hunting is an adrenaline-filled adventure all hunters should try at least once. Wild hogs are one of the most destructive invasive species in the country, more than half of the entire population in Texas. These feral hogs wreak havoc on our land and terrorize our wildlife and natural resources. Our goal is not to eradicate them entirely, which might not even be possible at this point, but at the very least to control them.

Sponsored by SilencerCo
Feral hogs are intelligent, adaptable and unpredictable if they've had any hunting pressure whatsoever. Pair that with stepping out to chase them in pitch darkness, and you've got an adventure on your hands. While Texas is plentiful in hogs, finding them in the thickets of the Pineywoods presents a true test for hunters.
Friday Night Hog Hunts
My husband, Derrick, and I have been on a roll lately, hunting every Friday night we can; it's our thing. We look forward to spending Friday nights together hunting and enjoying the great outdoors. My dad hunts several times a week, but lately has been tied up on Friday nights. That's when Derrick and I get our 1 chance-of-the-week to chase pigs. On a good night, we might see 20 or more pigs; on the other hand, we may not see any. The past couple of weekends we returned home empty-handed, so you can imagine how ready we were to put a good hunt in the books.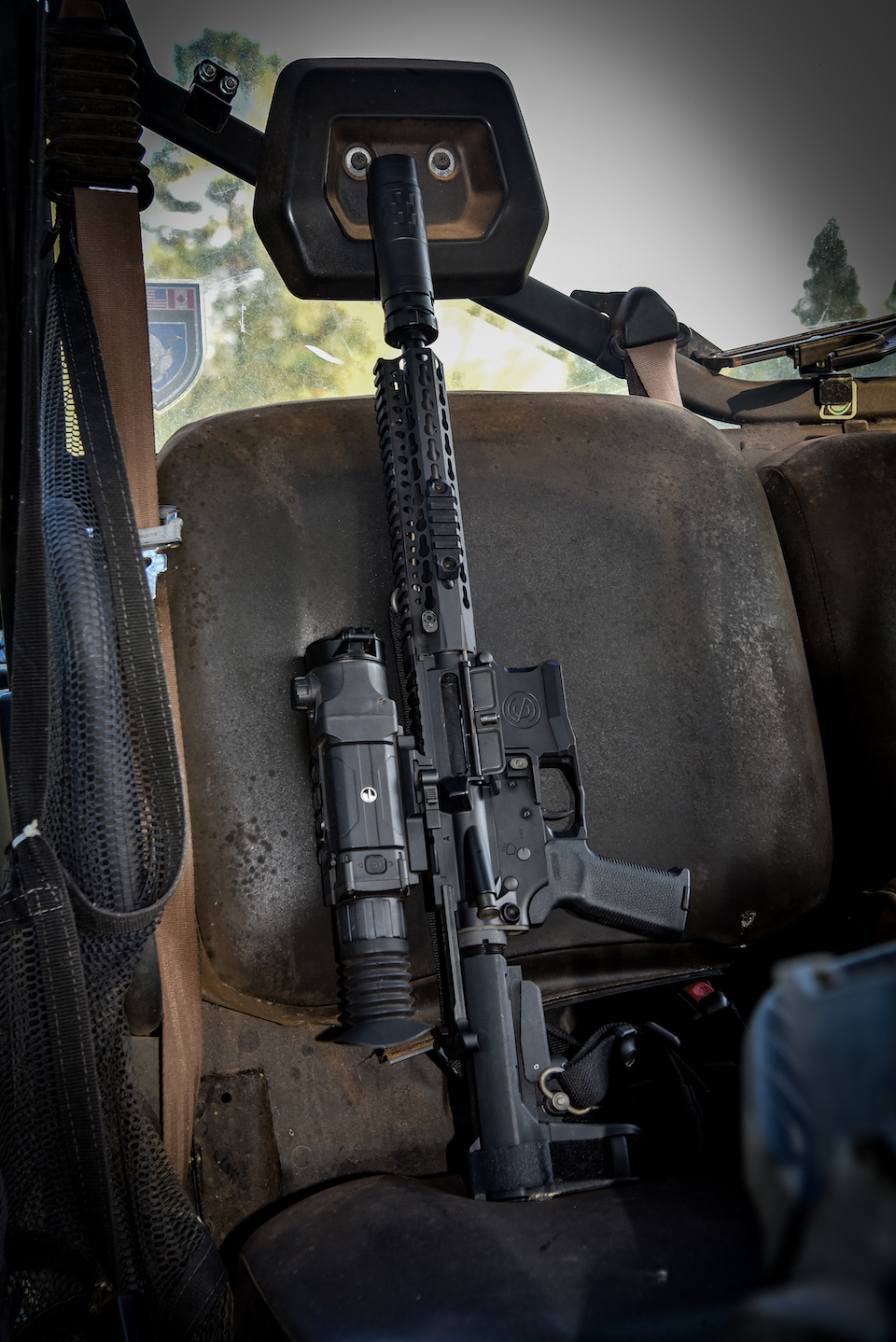 After dinner we headed home to gear up for a night of hog hunting. I had to change clothes first. Pro tip: never wear anything you're fond of on a hog hunt. With briars, barbed wire, mud and blood, there's honestly no telling what you might get into. Derrick went outside and pulled the CanAm defender around to the front of the house while I finished cramming my jeans into my snake boots. We loaded up our shooting sticks and rifles, then double-checked for extra magazines and ammo before setting out for the night.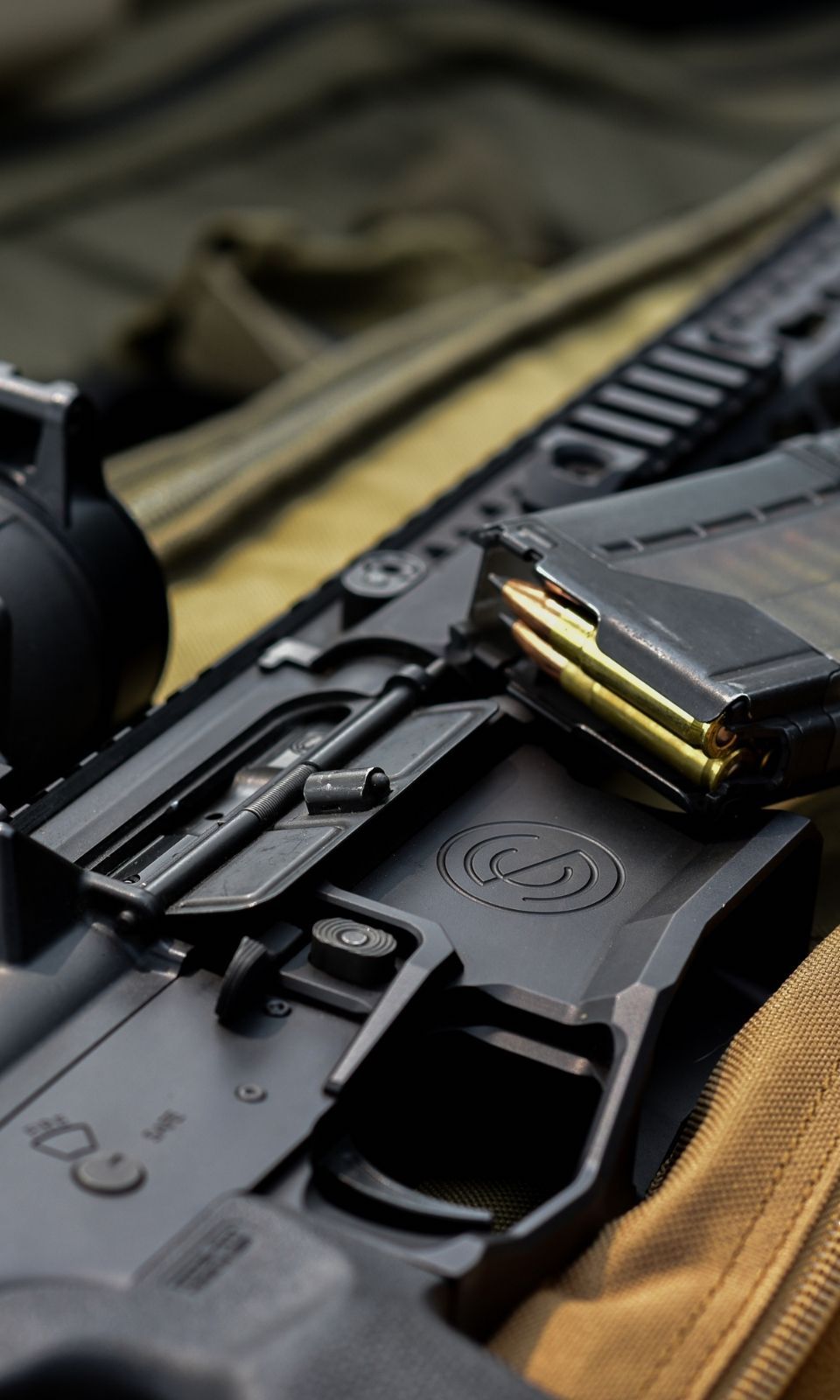 Hog Hunting Gear
I was especially excited to test out my new AR pistol build that my husband and I built together. It's a solid setup, built on a firm foundation using SilencerCo's new lower receiver (MSRP $249), SilencerCo bolt carrier group (MSRP $199) and paired with these items from AeroPrecision: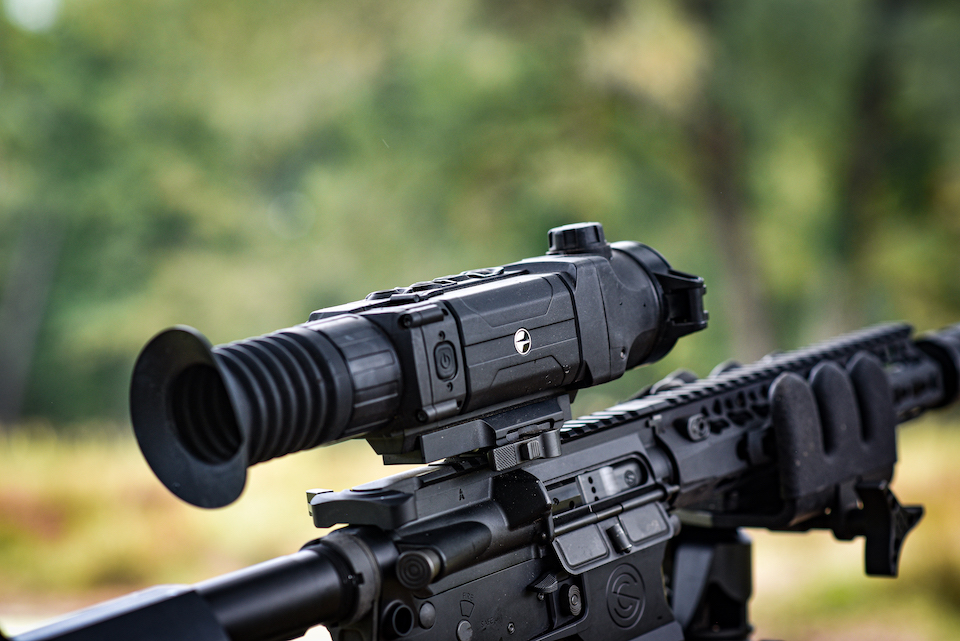 I also used these parts to build the super duper AR: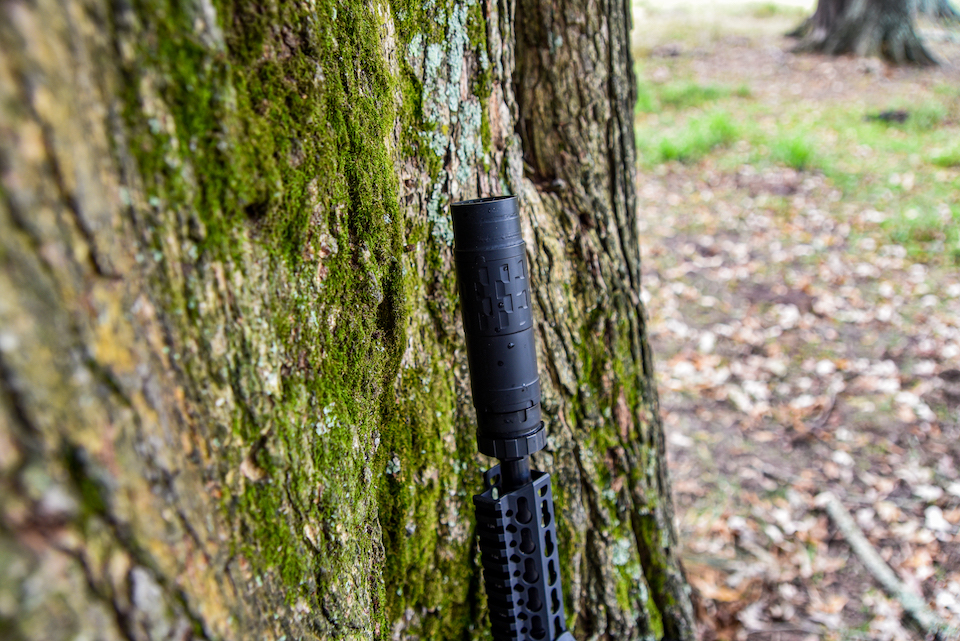 The Finishing Touches
I added a SilencerCo Omega 36M suppressor (MSRP $1,187). The gun is chambered in .300 Blackout and topped off with a Pulsar Trail thermal. The best part of my new gun is that it's easy to maneuver. Hunting like we do, using a spot-and-stalk method, so we constantly move in and out of the Can Am, making long guns a pain. My new AR pistol is the perfect option and allows me to move around more comfortably, while not sacrificing accuracy and reliability. I chose .300 Blackout Nosler 110 grain Varmageddon as the perfect ammo for this task.
The Hog Hunt
We decided to hit up 1 of our favorite properties that backs up to the Angelina River bottom in Nacogdoches County. You have to take a farm market road and then, 3 different county roads just to get there. That means you're about as far back in the woods as you can get. As we pulled up to the gate, I killed the headlights and proceeded to navigate my way up the dirt trail, relying on memory and a little bit of moonlight to keep me on the road. When we reached the top of the hill, I killed the side-by-side and let Derrick take up the scanning duties while I prepared my equipment. I could tell by the way he was hurriedly walking back to the side-by-side, that there was a hog or coyote in the field below us. We've hunted at night together so long, I can tell by his walk whether or not there's an animal in the field. He told me there was a single boar rooting at the bottom of the hill in the same spot I had killed a big lone boar before. This guy was probably the same boar that eluded us the previous weekend.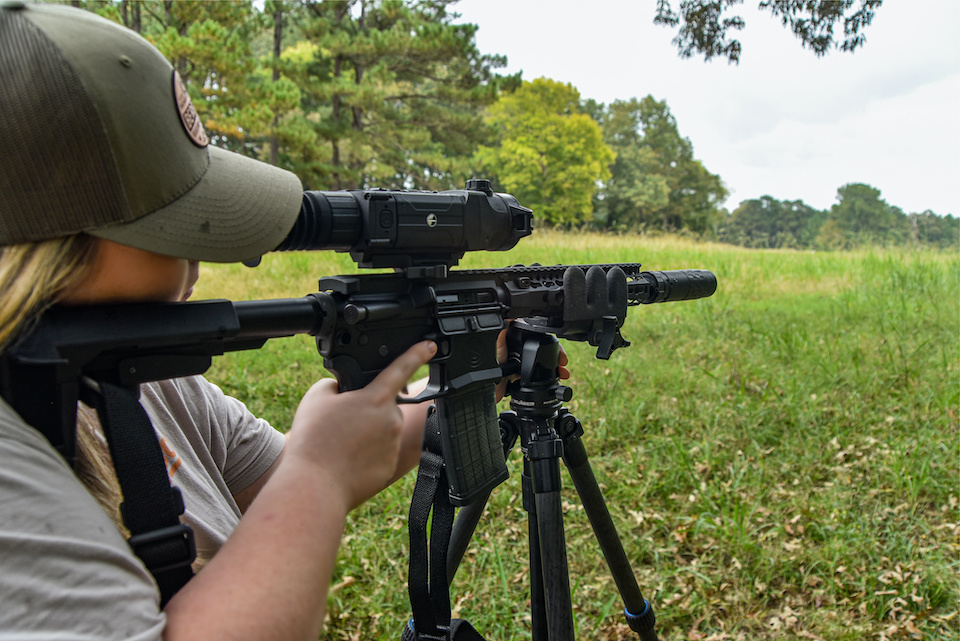 I grabbed my shooting sticks, adjusted my sling and began walking as quietly as possible down the hill toward the pasture. At the bottom of the hill, the trail opened up to a large hay field that had been recently baled. I placed my AR on my shooting sticks to scan for possibilities. Right beside the road, about 75 yards away rooting his little heart out, stood a lone boar, seemingly unconcerned with anything other than tearing up Dad's pristine hay meadow.
We had 2 options: continue down the road running through the middle of the field, or go straight in toward him. I prefer to go straight in, close the distance and get a shot off as soon as possible. I decided to move from 1 hay bale to the next, evaluating the boar's position as we moved closer to see if there were any changes in his stance or where he was looking. You have to be careful with hogs, because they can smell so well that all it takes is a change in wind direction and our cover would be blown.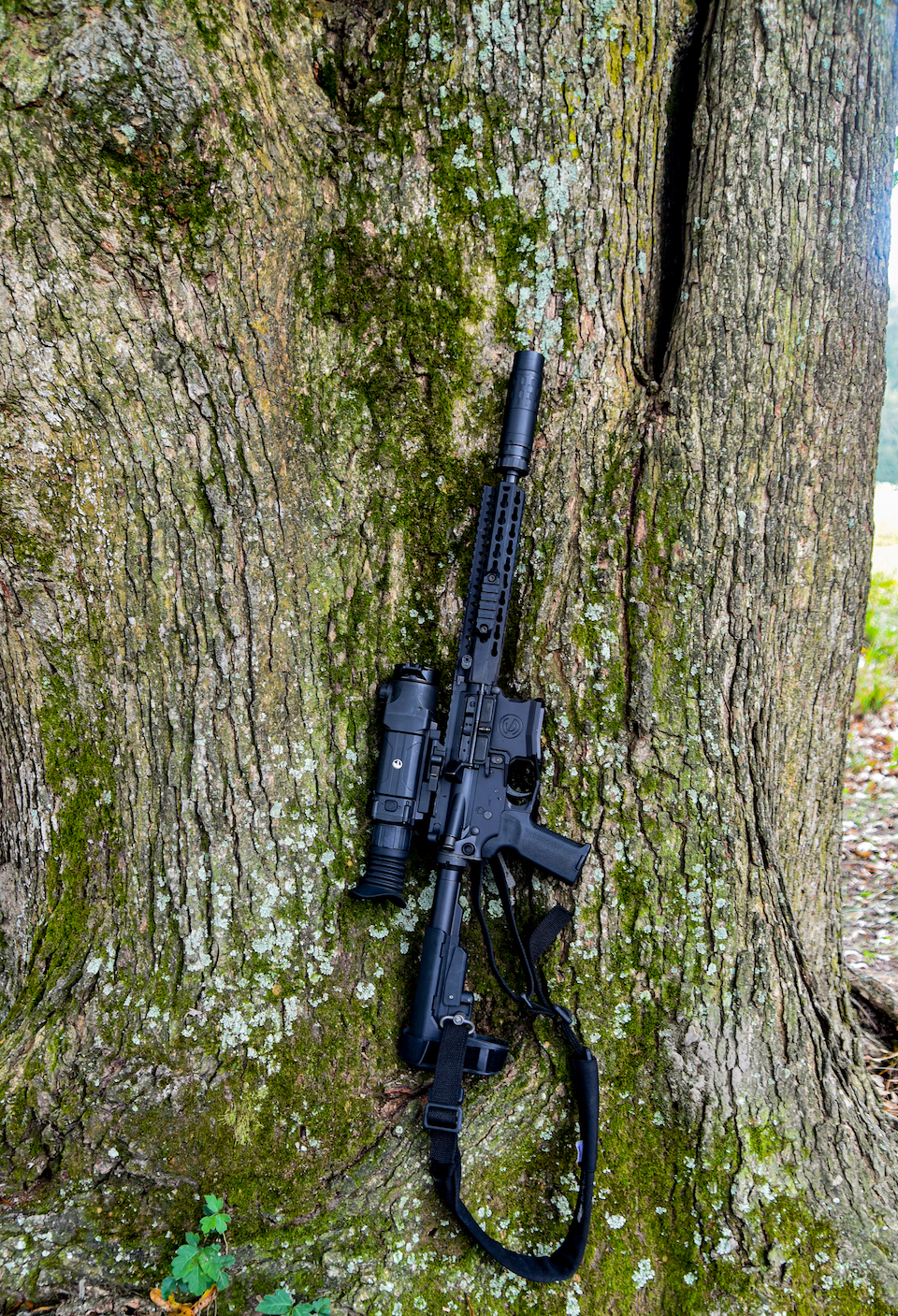 After closing the gap to around 50 yards, I quickly and quietly adjusted my shooting sticks and placed my AR onboard. Next, I made sure my thermal had the picture-in-picture setting on, so I would be able to take a headshot. The picture-in-picture feature allows you to open a small screen at the top of your display that shows a magnified image of the reticle. One thing about hogs is they're tough and if you don't hit them in just the right spot, you might lose them. I've become a little spoiled and greedy using the picture-in-picture function because headshots are just so much easier with a zoomed-in image.
Between walking in and my adrenaline pumping, I tried to take a few deep breaths in an attempt to slow my heart rate before taking the shot. For a moment, the hog picked his head up, which had me worried that maybe, he smelled us. Before giving him an opportunity to run, I placed the crosshairs on his head and squeezed the trigger. THUMP! Since I used the suppressor, I could hear the round hit hard and down he went. I kept the crosshairs on the pig just to make sure he was down and done. No squealing, no kicking, nothing.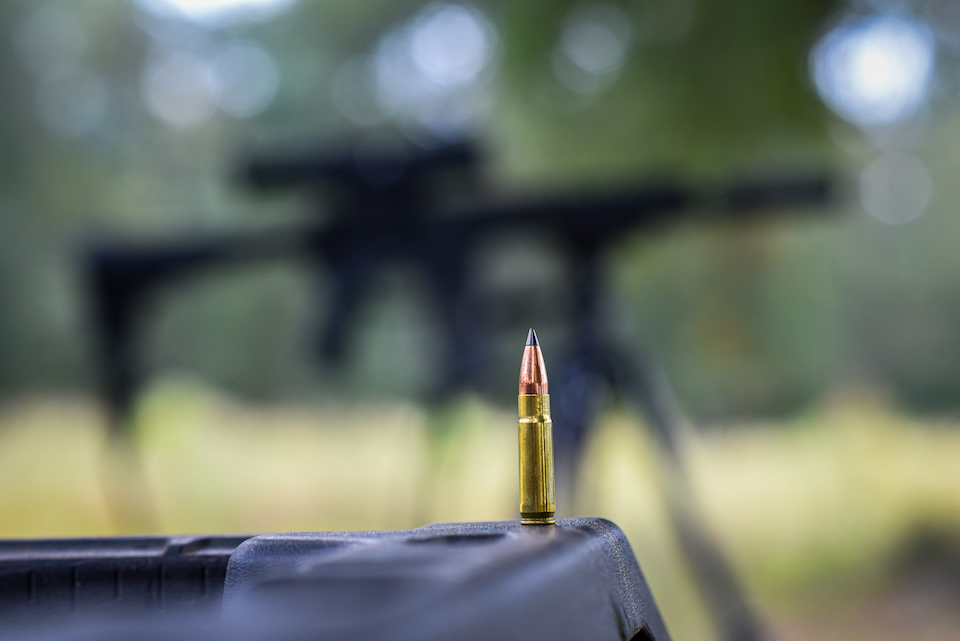 Wow, the .300 AAC Blackout Nosler 110-grain Varmageddon really did work on him. Derrick and I felt equally impressed with my new pistol and its performance. No need to sell me on another AR; this build fit the ticket perfectly for the way we hunt. Thankfully, we helped eliminate another pasture terrorist and had fun in the process, making hunting memories together. Hunting with thermal at night is always an adventure and you never know what you'll see keeping the hunt exciting.
If you've never had the opportunity to hunt with thermal and a suppressor, I encourage you to give it a try. Looking through a thermal at an outdoor show doesn't hold a candle to putting it to work in the field. Same thing with shooting suppressed. You have to experience it to believe it.
About Brooklee Grant

The great outdoors has always been a mainstay in Brooklee Grant's life. She grew up hunting whitetail and fishing in the Pineywoods of East Texas. Ever since childhood, her life has revolved around being active in nature, and not a day goes by that she's not thinking about hunting. She is a duck hunting fanatic; in fact, in the fall, you might just catch her trying to squeeze in a hunt before work. When she's not busy chasing deer or ducks, she enjoys hunting turkey, feral hogs, and dove. She also casts the occasional line for big bass. She and her husband enjoy building guns and target shooting (including long range shooting). Brooklee is active in her church and community. She belongs to many wildlife conservation organizations and is the social media committee chair at the Texas Outdoor Writers Association. In her spare time, Brooklee settles down to cook, garden, write and spend time with her friends and family. View all posts by Brooklee Grant →
The Conversation