Ruger's Mark IV 22/45 LITE: Plinking Like the Grands
I'm always on the lookout for tools that will make introducing our grandchildren to shooting a bit more fun, as well as safe. Ruger recently released the Mark IV 22/45 Lite, a lightweight handgun that would be perfect for plinking.

Sponsored by Ruger
Ruger sent me this firearm to test, in .22 caliber. Before I took it out to the range, I cleaned it. This is a practice everyone should do with any new (or new-used) firearm. Disassemble the gun, using the manual or online resource so you can do it properly. Believe me, the take-down of this gun couldn't be any simpler. Push a button, lift up and voila! (No special tools required.)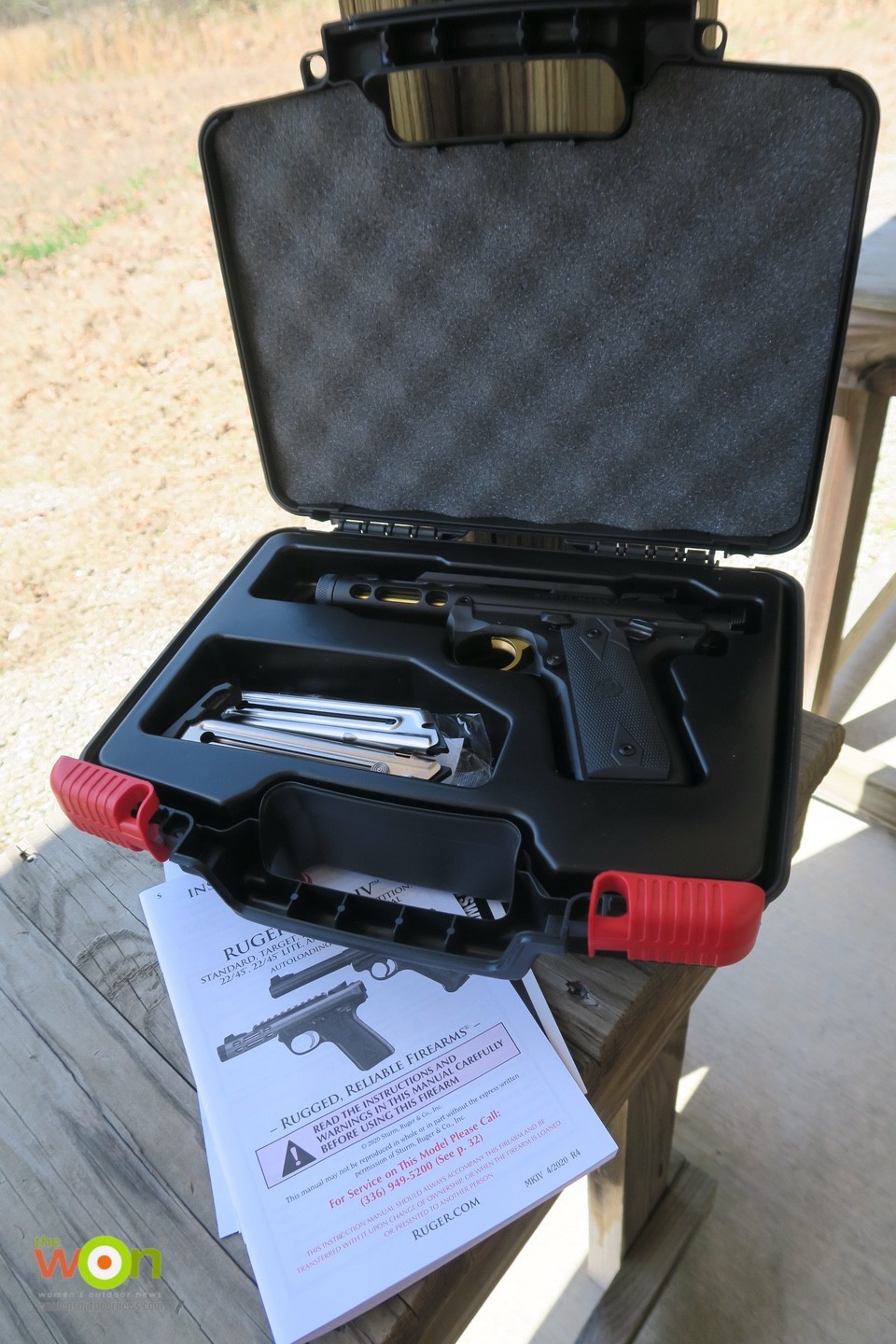 After running a few patches through the gun and inspecting it, I reassembled it and took it out for range time. I wanted to imitate plinking like the grands. They love to come to Granny and Papa's place and spend time with their dads and us on the range. We offer all types of targets – spinners, zombies, paper, splash targets and even, spinning gophers.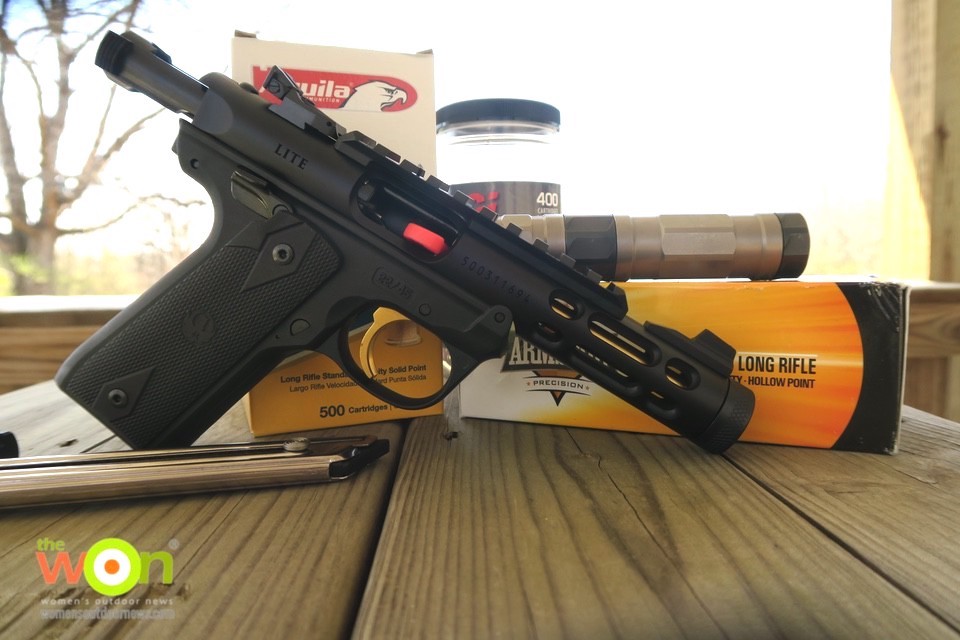 But first, as is a good idea for any new gun, we shot this one at a paper target about 15 yards away to check the sights. After a slight adjustment – easy enough to do with a screwdriver – we brought the point of impact slightly down and to the right.
Ruger Mark IV 22/45 Lite Specs
The Mark IV looks like something a storm trooper might carry, but in black with gold accents. It's quite sharp looking.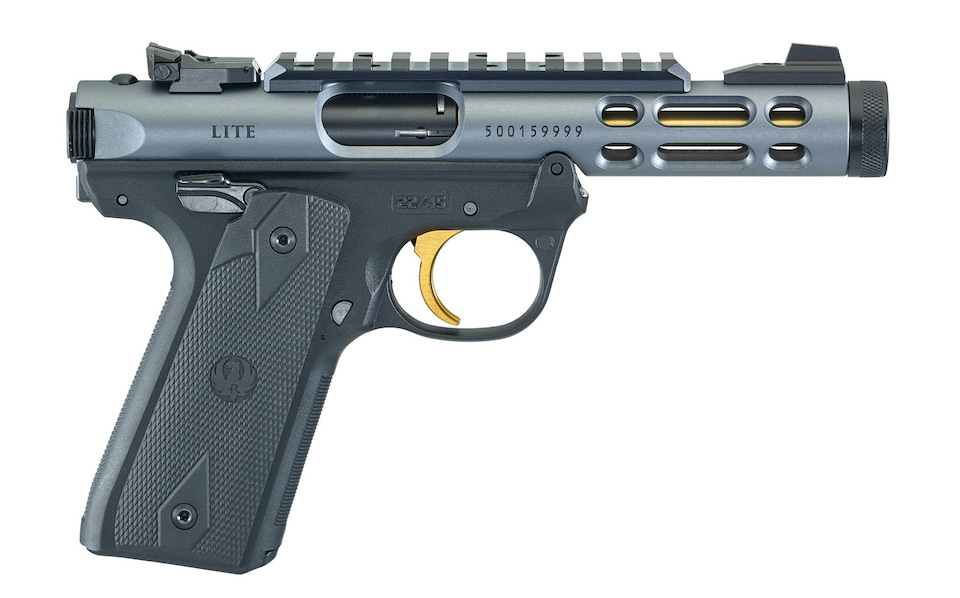 Here are some of the other specs about it that make it appealing:
It's light. It weighs only 25 ounces unloaded.
It comes with a threaded barrel, which we mounted a SilencerCo Switchback 22 onto, and enjoyed suppressed shooting.
It's only 1.22 inches wide.
Barrel length is 4.4 inches.
It offers checkered, 1911-style grip panels with a not-too-abrasive feel, but just enough to keep a great hold on the gun in hot weather, too.
The easy-to-grip bolt ears would be great for beginning shooters to work with, instead of some slides that are on the market.
Bilateral manual safety – this is a real plus when working with new shooters and stressing the importance of safety on and safety off.
Built with a cold hammer-forged barrel and a ½"-28 thread pattern (thread protector is included).
Serrated frontstrap and checkered backstrap.
Two, 10-round magazines.
This model (43934) has a gold trigger and gold barrel, which contrasts nicely with the gray and black on the gun.
MSRP: $559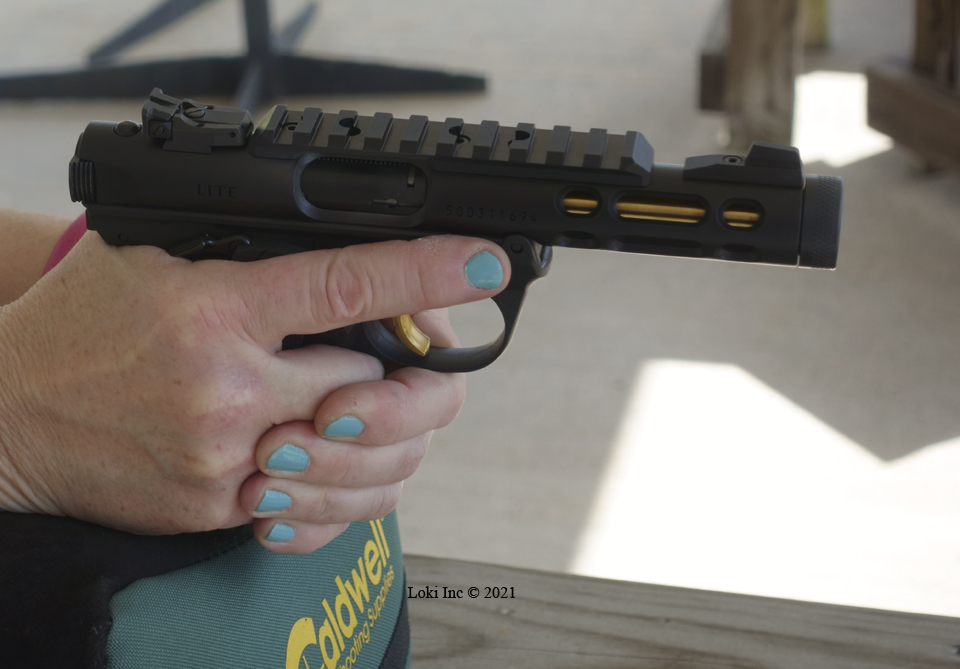 Plinking Like the Grands
Now it came time to have fun. Usually, when I'm reviewing guns, I'm running all different makes of ammo, checking velocity with a chronograph and generally, working and recording shots. This time, I decided we would plink like the grands, and just enjoy a sunny spring afternoon at the range.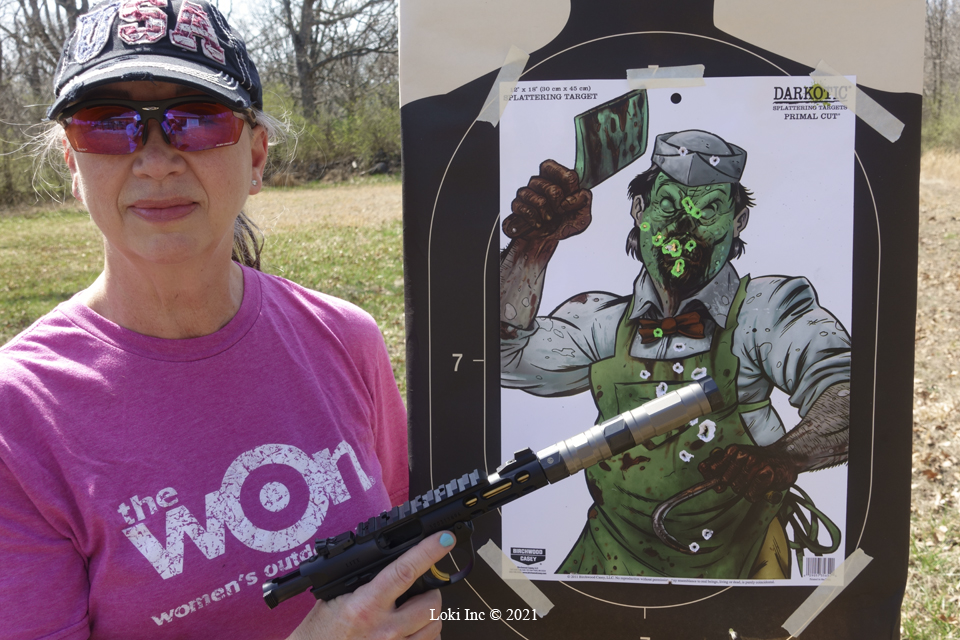 We shot at metal spinners, and made it a competition. We then got out the zombie targets, which our grands love to shoot. "Can you hit his bowtie?" I asked my husband, aka Grandpa.
We challenged each other to hit various parts of the zombies, and put spinners out a little farther for even more fun.
After a couple of hours of shooting, and thanks to our fairly healthy supply of .22 ammo, we had thoroughly enjoyed our afternoon at the range – a little down time turned into fun time.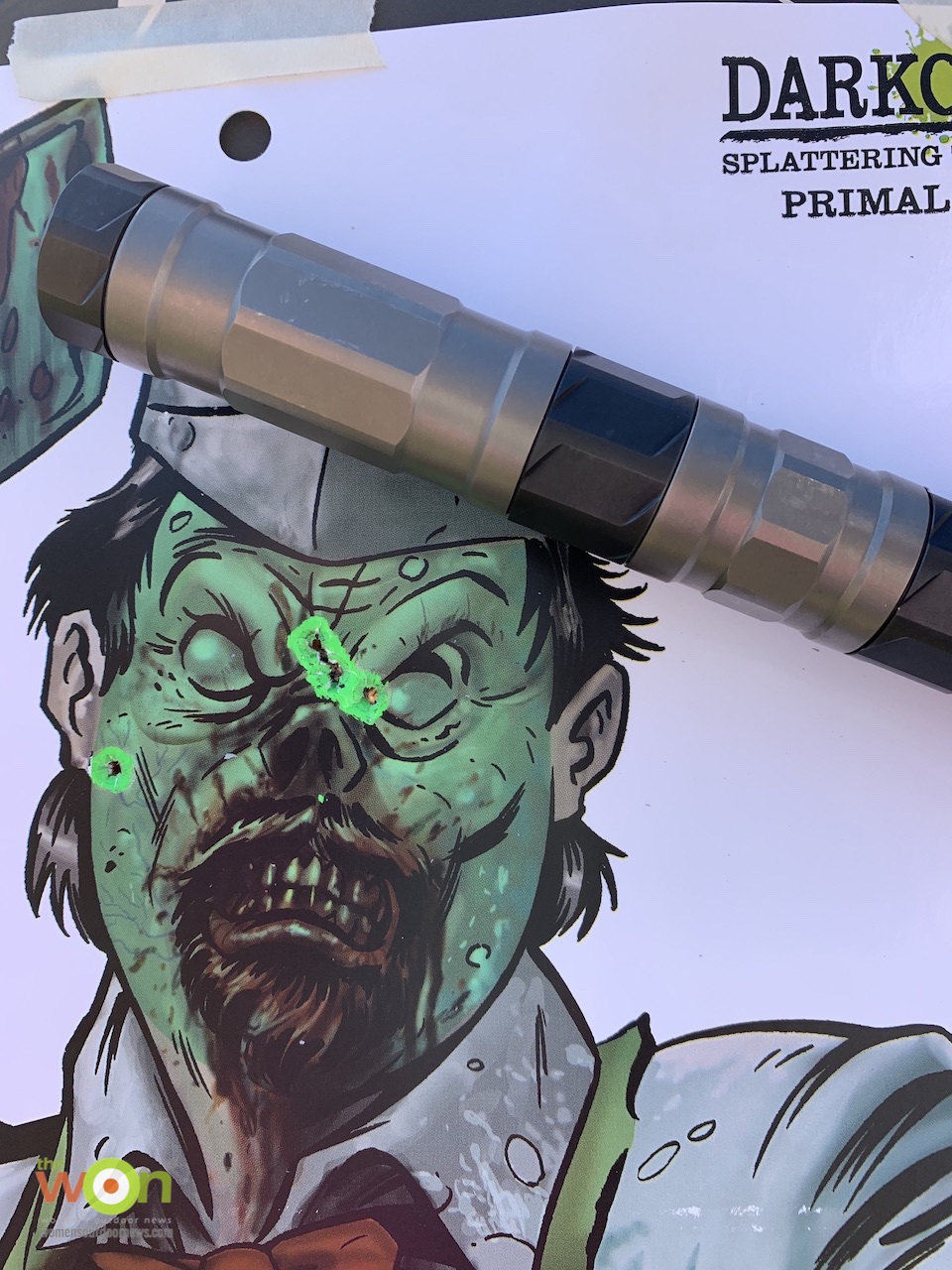 Also, we ran three types of ammo through the gun, and a few hundred rounds and not one malfunction occurred.
We ran the gun, as mentioned, with the SilencerCo suppressor on it, in various configurations of the Swtichback 22 – short, medium and long. Using a suppressed gun is a great way for the grands to be able to not have to wear ear and eye protection at the same time. Sometimes, it's a lot for a little head to have a ball cap, eye and ear pro!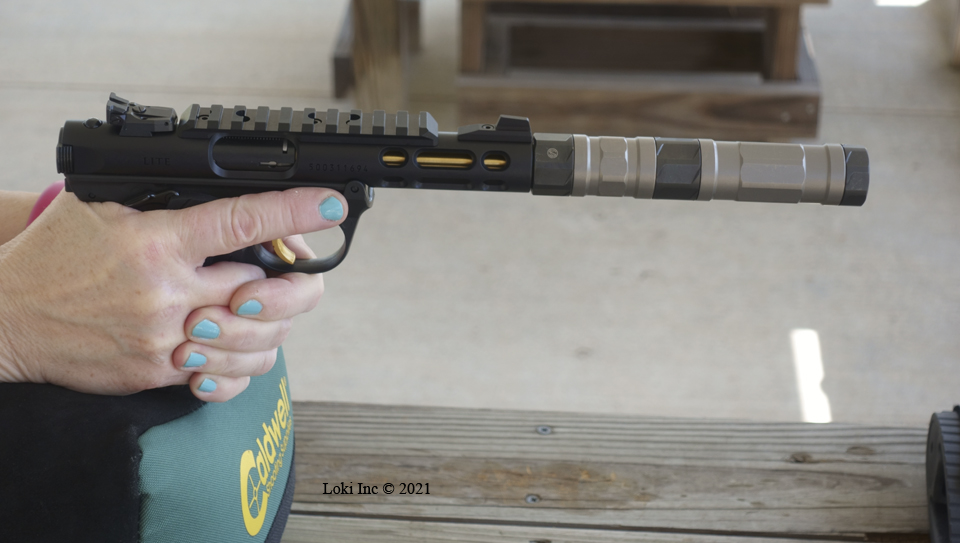 It's easy to see that Ruger's engineers wanted to make an affordable gun that could become a staple in a training regimen.
This one is not going back to Ruger, and I plan on purchasing it.
See more about the Ruger Mark IV Lite here. It is available in several attractive colors, and would make great first handguns for new shooters.
About Barbara Baird

Publisher/Editor Barbara Baird is a freelance writer in hunting, shooting and outdoor markets. Her bylines are found at several top hunting and shooting publications. She also is a travel writer, and you can follow her at https://www.ozarkian.com. View all posts by Barbara Baird →
The Conversation