Truck Gun II: AR Pistol with a SilencerCo Saker ASR 556
If you live in rural America, or if you travel the highways and byways of this great land, you might be the perfect candidate for a truck gun. Of course, you will more than likely already be carrying concealed if you're thinking of going big. A truck gun is a gun that you store securely in your truck and you can either fight your way back to or … if you already are in your truck and need to take a shot on a predator or for a defensive reason, you're prepared.

Sponsored by SilencerCo
Recently I wrote about another AR pistol build – featuring an AR pistol chambered in .300 AAC Blackout. For the build that I'm writing about here, we (the hubs and me) went with what might be called a standard AR caliber, the 5.56 NATO. Since I wanted a great silencer, I chose to pair the gun with a SilencerCo Saker ASR 556.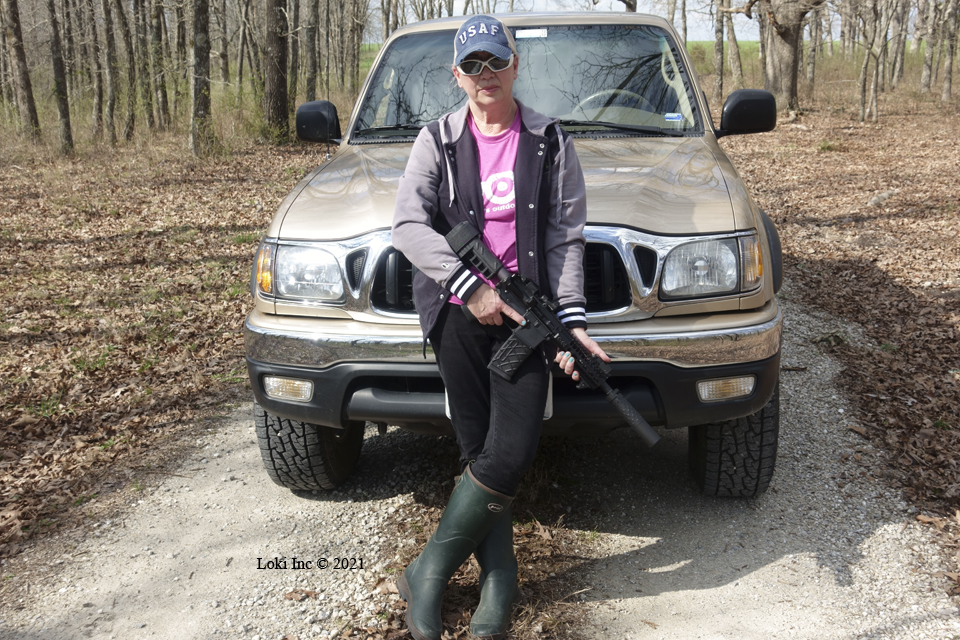 The Build
Lower – Palmetto State Armory (PSA) PA-15
PSA multi-fire control and bolt carrier group
SIG/SAUER SB x 15 pistol brace (No longer available, but you might be able to find substitutions.)
PSA upper with 8-inch long barrel, 1 in 7 twist
Burris FastFire 3 red dot optic
Troy Industries backup iron sights (folding)
SilencerCo ASR Flash hider ($92)
SilencerCo Saker ASR 556 ($770)
Training is Paramount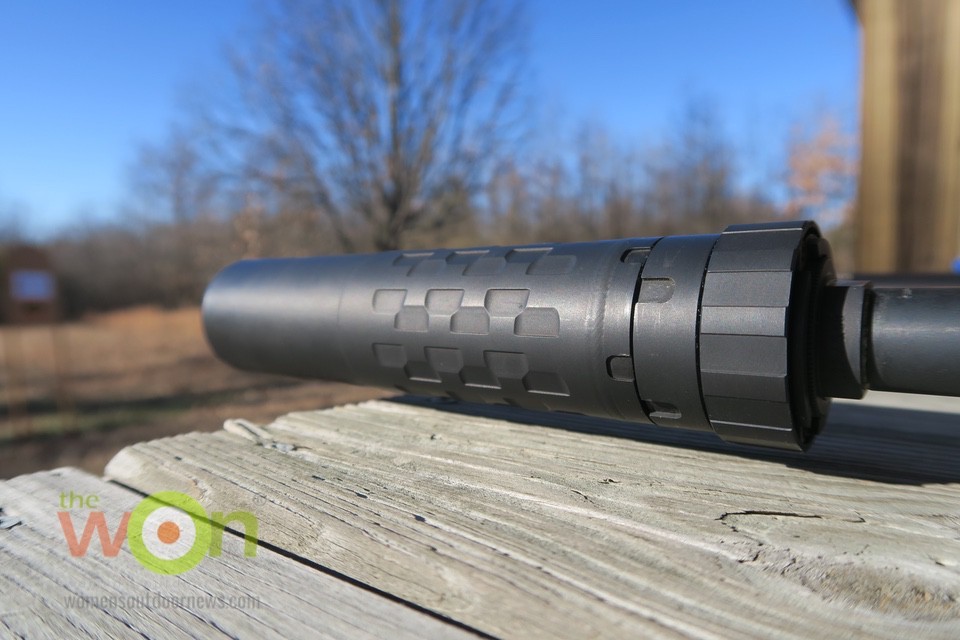 If you decide to build or buy a gun such as this one, you must train with it and preferably with something that either simulates your truck or with a truck on a safe range or in a safe location.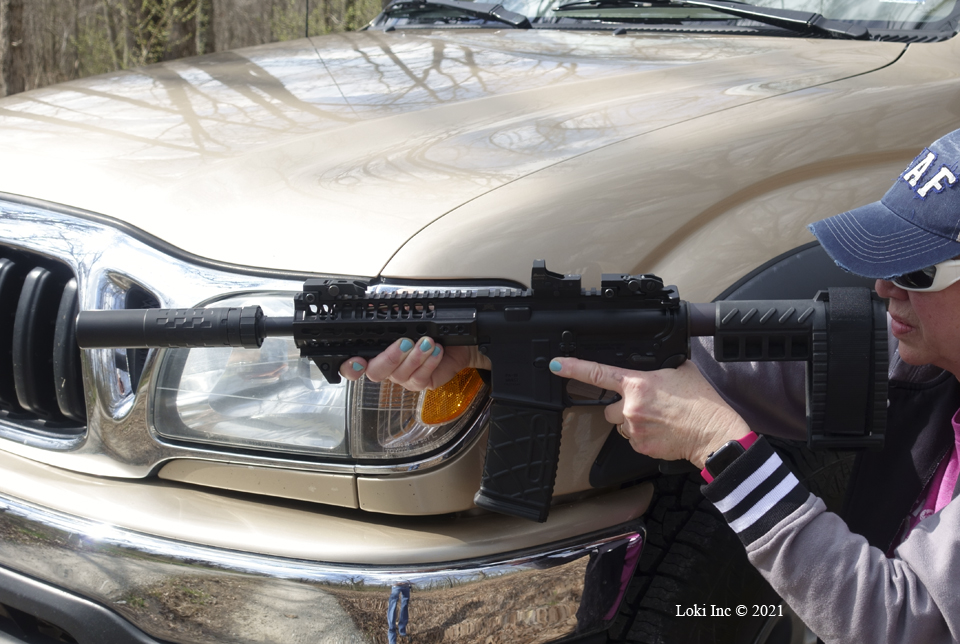 Learn how to shoot effectively from several positions around your truck, using the truck's major engine area for cover. One thing that shooters tend to forget when shooting from cover or concealment (even when not in a life-threatening situation) is that your gun's sighting system puts your line of sight above the path of projectiles from your gun. So, don't shoot your truck!
At this point, it's important to explain the difference in the world of shooting between the terms "cover" and "concealment."
Cover is the actual protection from projectiles. Consider its engine block as the best part of a vehicle that might stop a bullet from reaching you.
Concealment is protection from being observed.
Why Attach a Suppressor to a Truck Gun?
Also, I would highly advise attaching a SilencerCo suppressor to a truck gun. You won't have time in a defensive situation to put on ear protection, and should you be shooting an AR pistol inside your vehicle … that's going to hurt.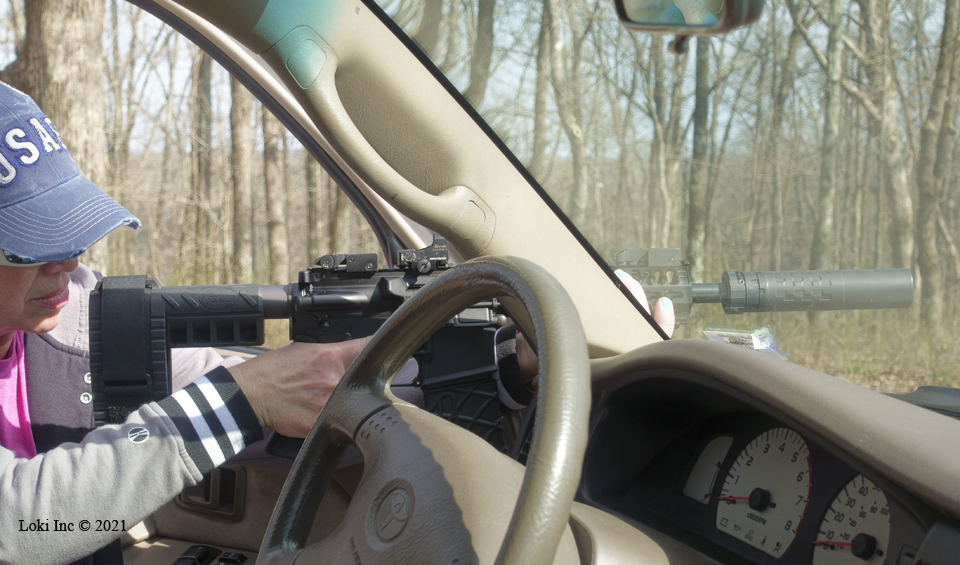 The SilencerCo Saker ASR 556
The SilencerCo Saker ASR 556, constructed of cobalt 6 and stainless steel, is such an all-around tool, designed for bolt-action, semi- and full-auto rifles. You can see a white paper on the particulars here. In fact, read the full review of the Saker ASR 556 here.
Considering modern day politics, perhaps it's now or never for you to consider putting one of these ultimate defense tools together.
Visit SilencerCo for more info on its supreme line of silencers.
About Barbara Baird

Publisher/Editor Barbara Baird is a freelance writer in hunting, shooting and outdoor markets. Her bylines are found at several top hunting and shooting publications. She also is a travel writer, and you can follow her at https://www.ozarkian.com. View all posts by Barbara Baird →