Instant Pot Venison Cabbage Rolls
Recently our Managing Editor, Michelle Cerino, penned an intro to another venison recipe. She reminded our readers that it's time to start cleaning out the deep freezer, in preparation for deer season. I'm following her recommendation, and tried a twist on an old classic. I've always baked cabbage rolls in the oven, which is time consuming and heats up the house. This time, I found a recipe online which utilized my favorite kitchen appliance: the Instant Pot.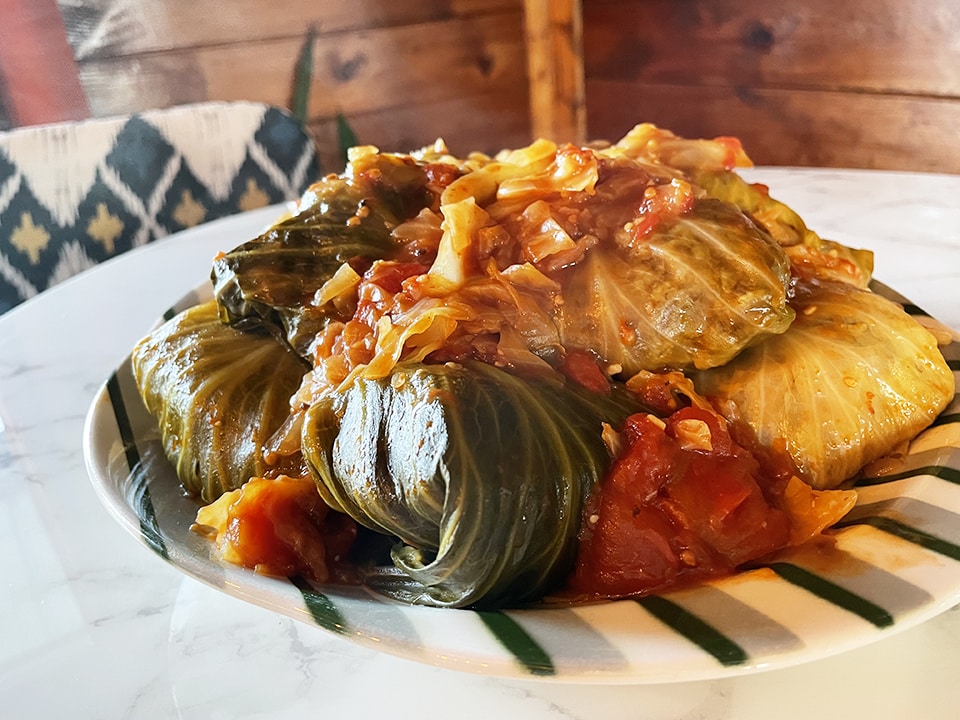 If you, too, have an Instant Pot and venison from last year that needs to be used up – follow along below.
Getting Started
Gather your ingredients and cooking implements. I was fortunate enough to have whole, canned tomatoes that my mom and I put up this summer. I also had eggs from the farmers market, and venison from my parents' property. These wholesome ingredients really add a depth of flavor to this classic comfort dish.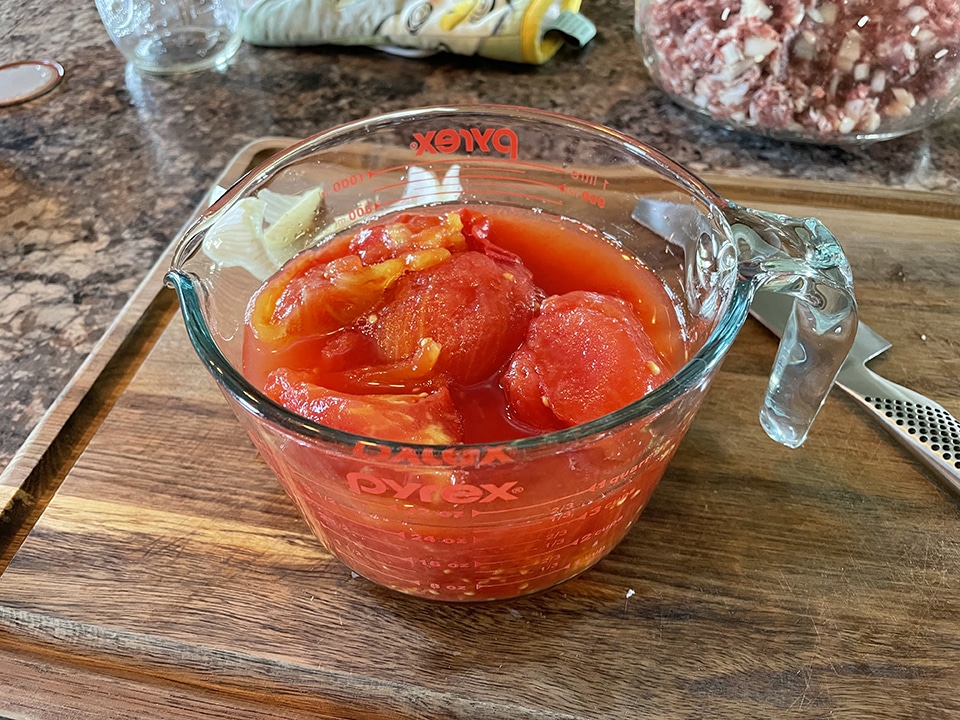 These tomatoes were processed and canned during an afternoon when we also made a fantastic coffee cake, containing wild blackberries picked on the property.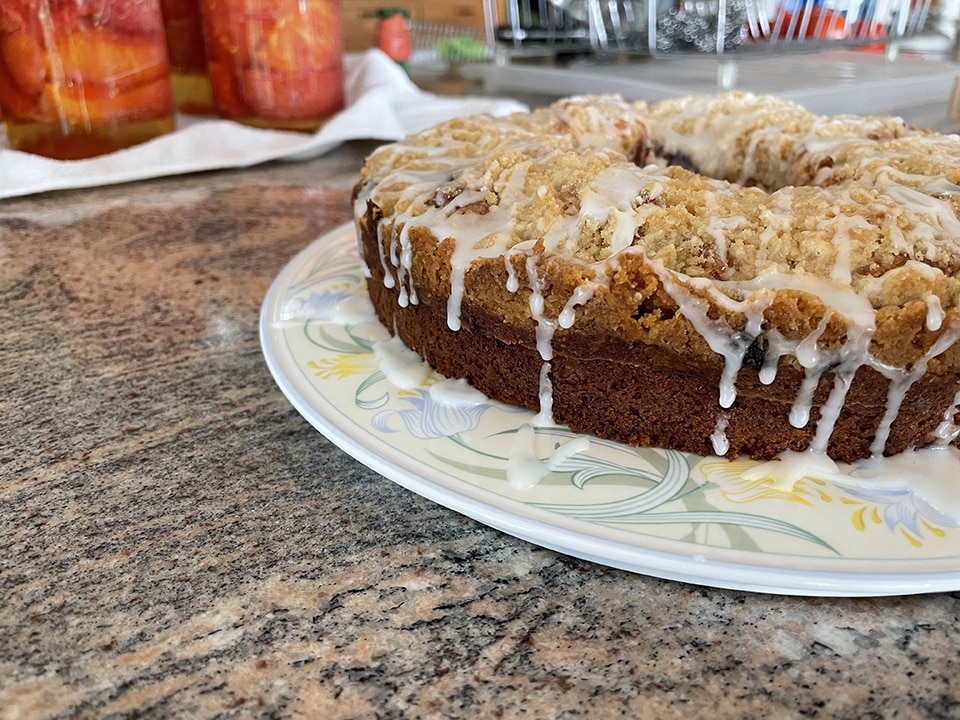 Instant Pot Venison Cabbage Roll Ingredients
1 large head cabbage
2 pounds venison
1 cup chopped onion
1 cup rice (uncooked) – I used Jasmine rice
3 teaspoons minced garlic
1 large egg
1 teaspoon salt
½ teaspoon freshly ground black pepper
For the Sauce
2 tablespoons olive or vegetable oil
1 cup chopped onion
3 teaspoons minced garlic
1 quart whole canned tomatoes (can also use 2 x 14.5 oz cans diced tomatoes)
1 cup beef broth
¼ cup white vinegar
2 tablespoons tomato paste
½ teaspoon freshly ground black pepper
½ teaspoon Worcestershire sauce
1 tablespoon cornstarch
2 tablespoons cold water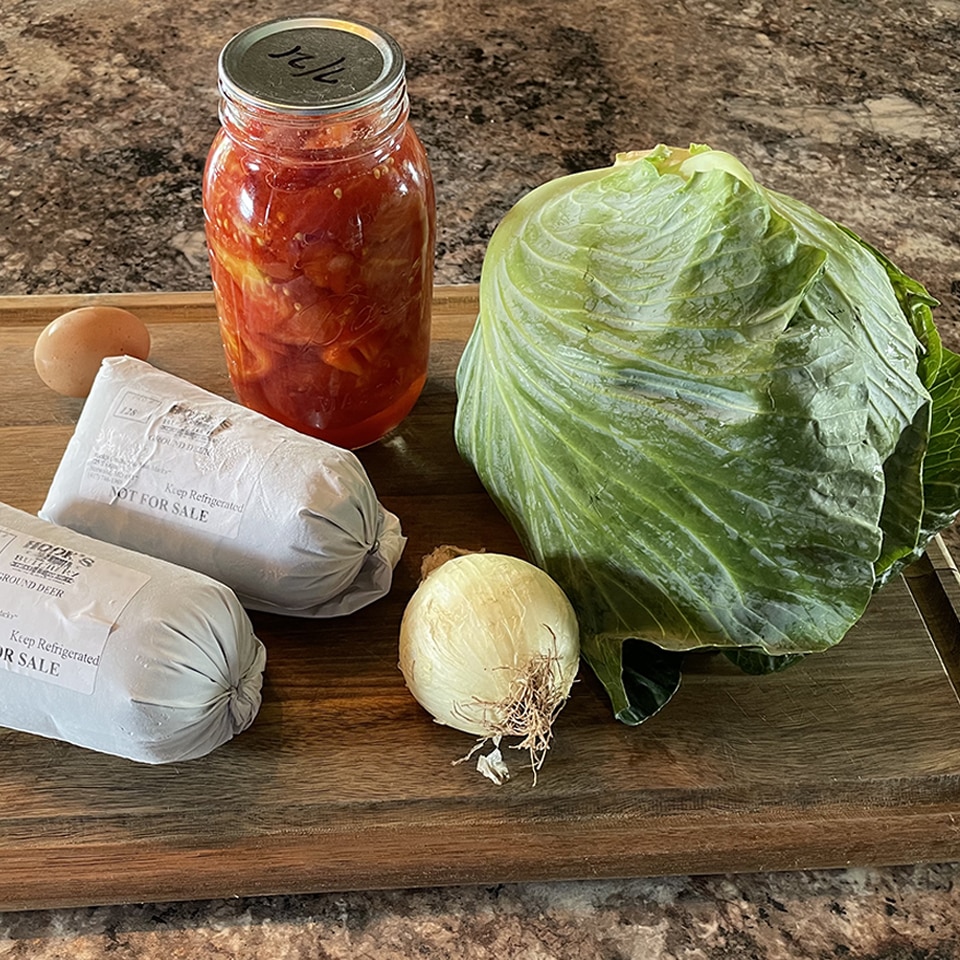 Making the Venison Cabbage Rolls
1. Fill Instant Pot with water to the halfway mark. Turn on Sauté and bring water to a boil. Add the cabbage to the pot, and boil for about 5 minutes. Use a spoon to carefully move the cabbage around in the pot as it boils.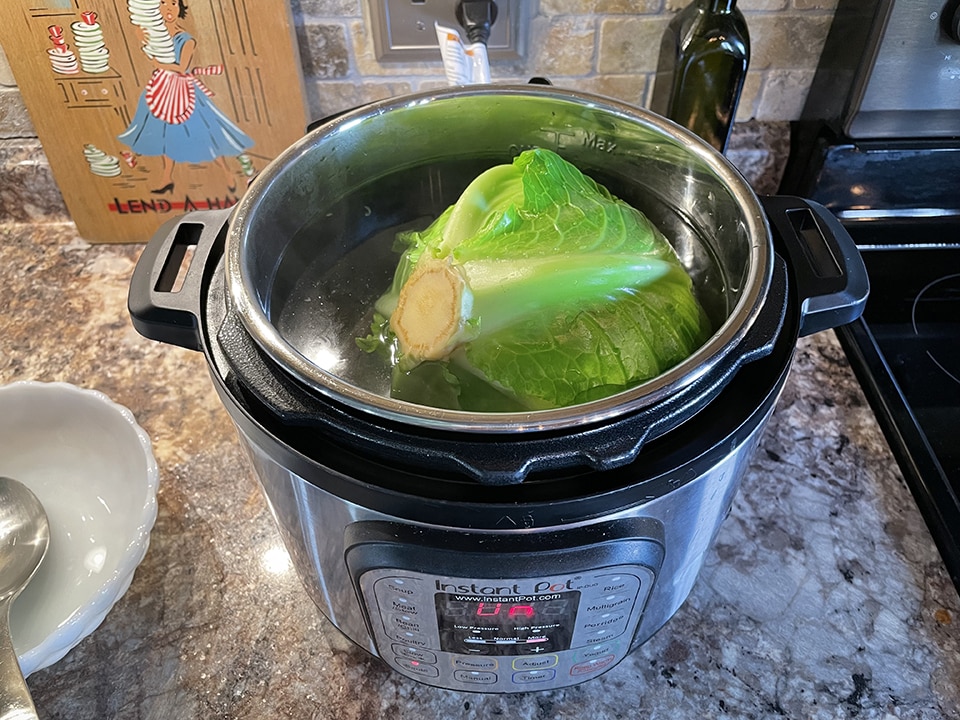 2. Using hot pads, dump the cabbage head into to a colander, and drain remaining water from the pot. Remove as many outer cabbage leaves as possible; I was able to get 12 off before they started to tear. Chop some of the remaining cabbage (about 2 cups worth) and set aside for the sauce.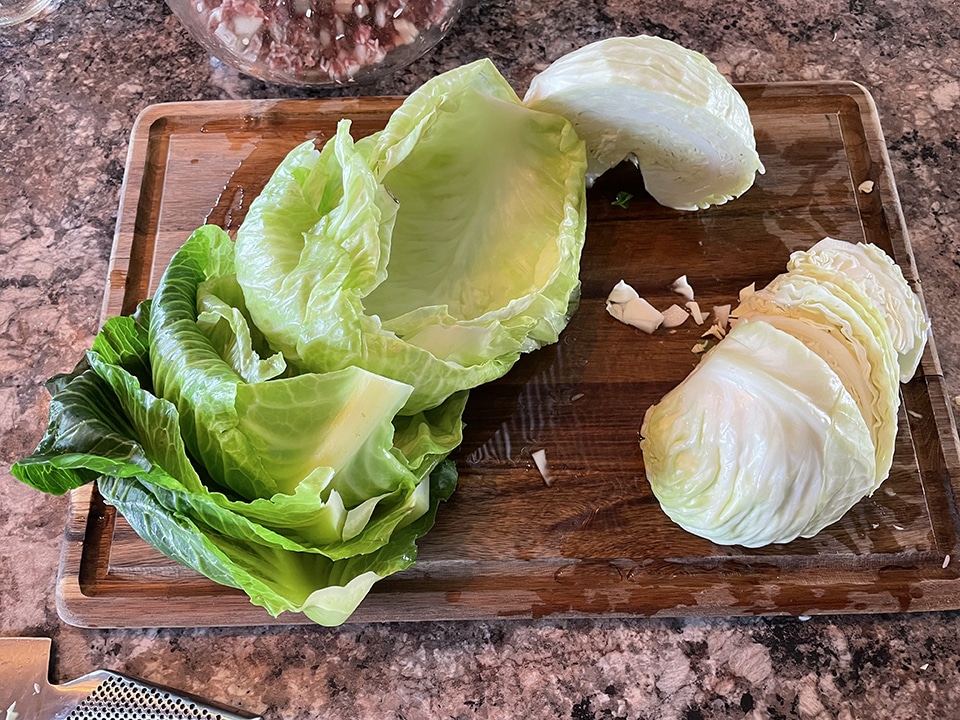 3. In a large bowl, use your hands to mix the following: venison, chopped onion, rice, garlic, egg, salt and pepper. Stir until well blended, but take care not to overmix.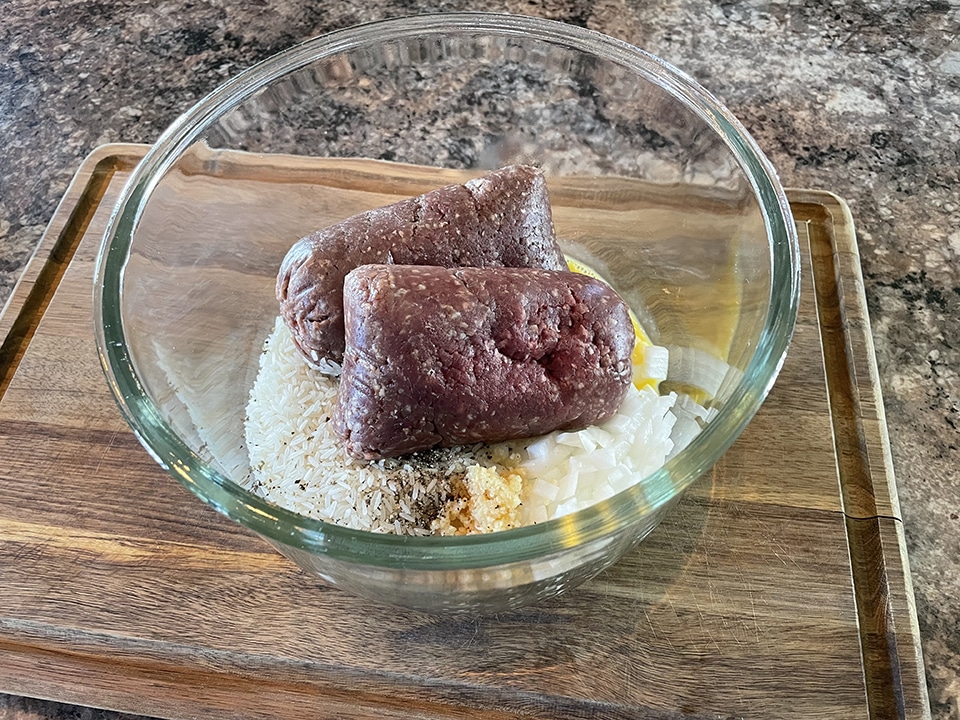 4. Place 6 cabbage leaves on a clean work surface. Guestimate even portions of the filling, so that each leaf receives the same amount of meat mixture. Fold over the stem side of the leaf first, tuck up the sides and finally finish rolling up each cabbage leaf.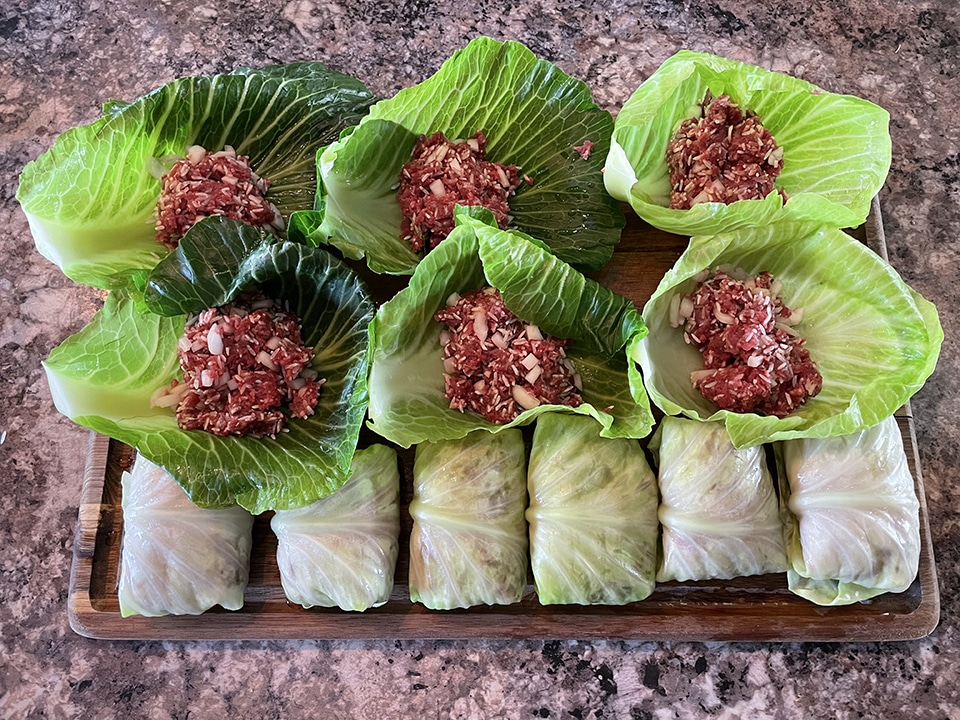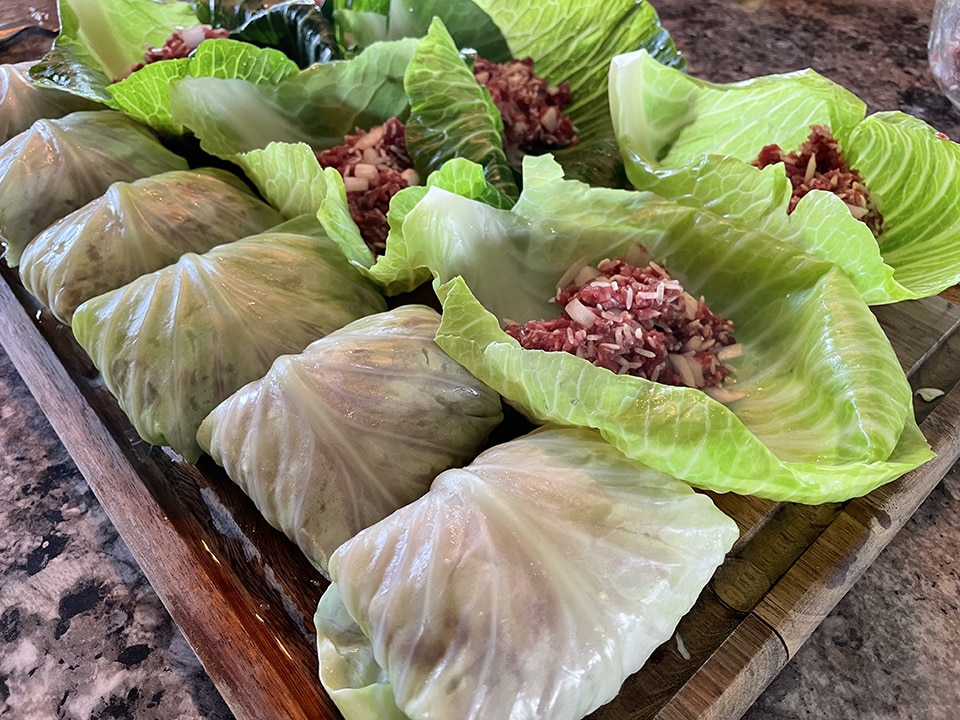 Keep stuffing and rolling until all leaves are filled. I had a little bit of meat mixture left, which I saved to cook up with breakfast the next day.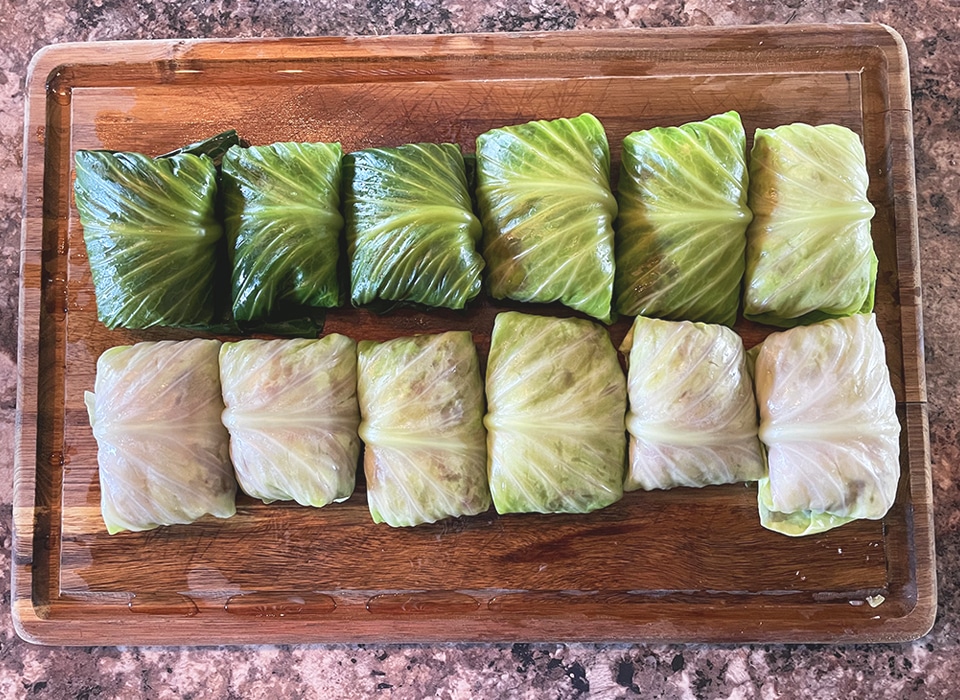 5. Turn your Instant Pot on to the Sauté setting. Warm your oil, then cook your onions and garlic until onions begin to soften.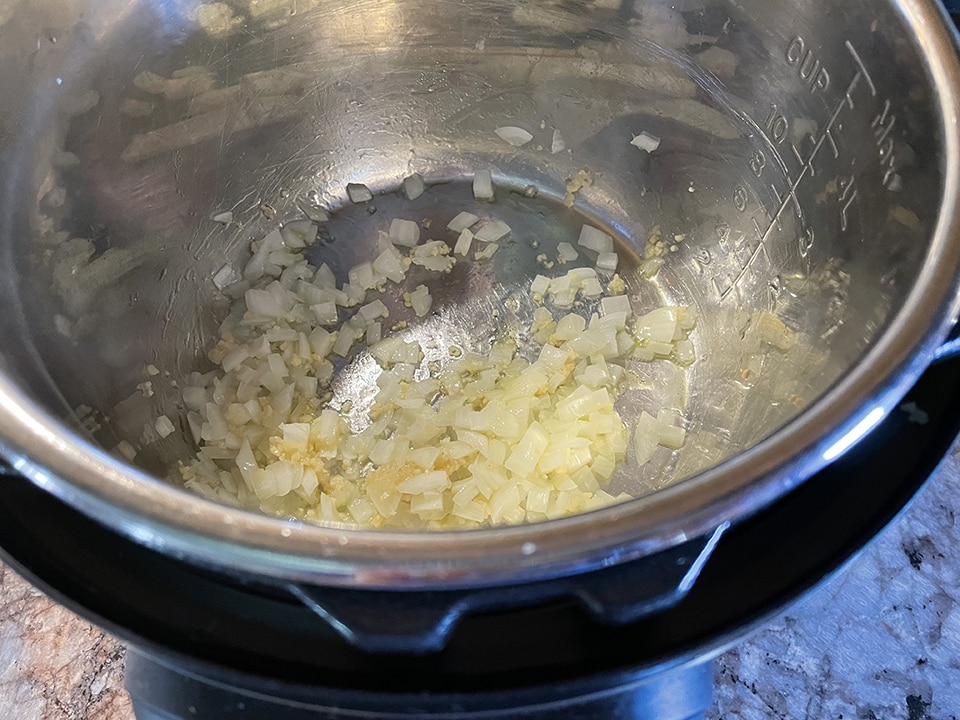 6. Turn off your Instant Pot, and add: tomatoes, beef broth, vinegar, tomato paste, pepper and Worcestershire sauce. Stir, then scatter in your reserved, chopped cabbage.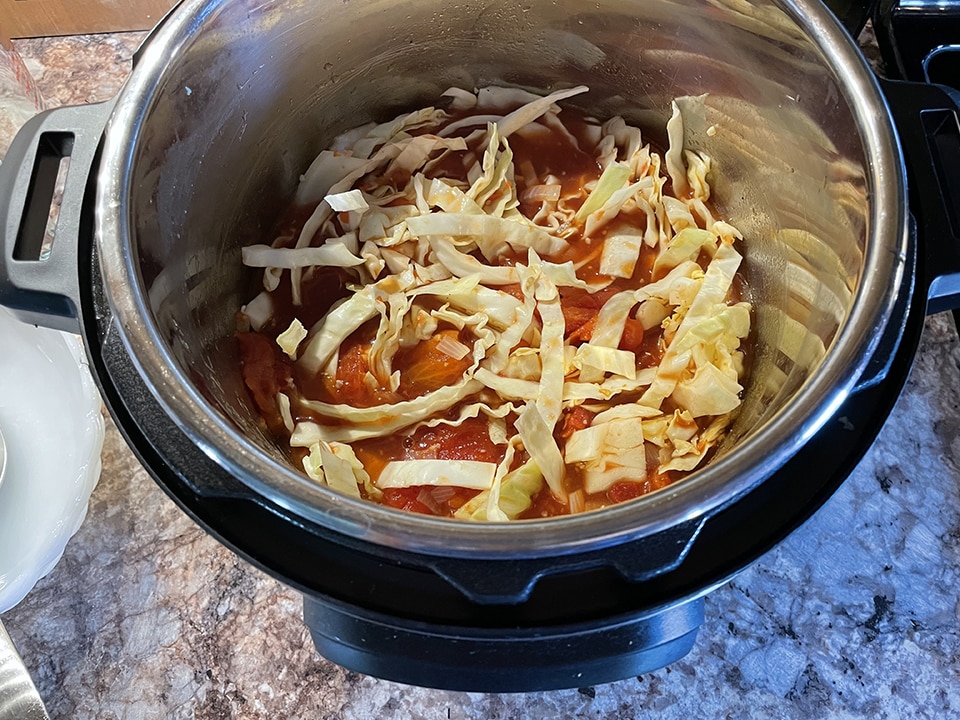 7. Pile your cabbage rolls gently on top of the sauce (don't stir). Lock the lid in place and select High Pressure with a 20 minute cook time. When the cooking completes, allow the Instant Pot to naturally release for 20 minutes, before using a quick pressure release.

8. Using a slotted spoon, carefully transfer the rolls to a serving platter (one that has a lip, if possible).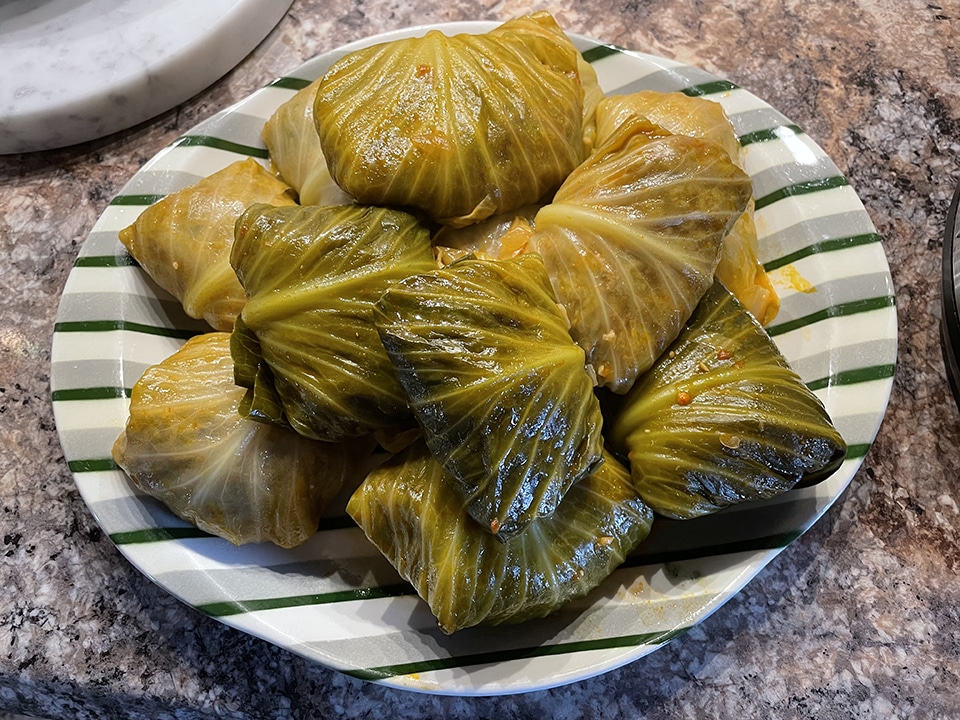 9. Turn on the Sauté function on your Instant Pot. Whisk together the cornstarch and cold water, and stir into your sauce. Cook and stir until sauce thickens slightly.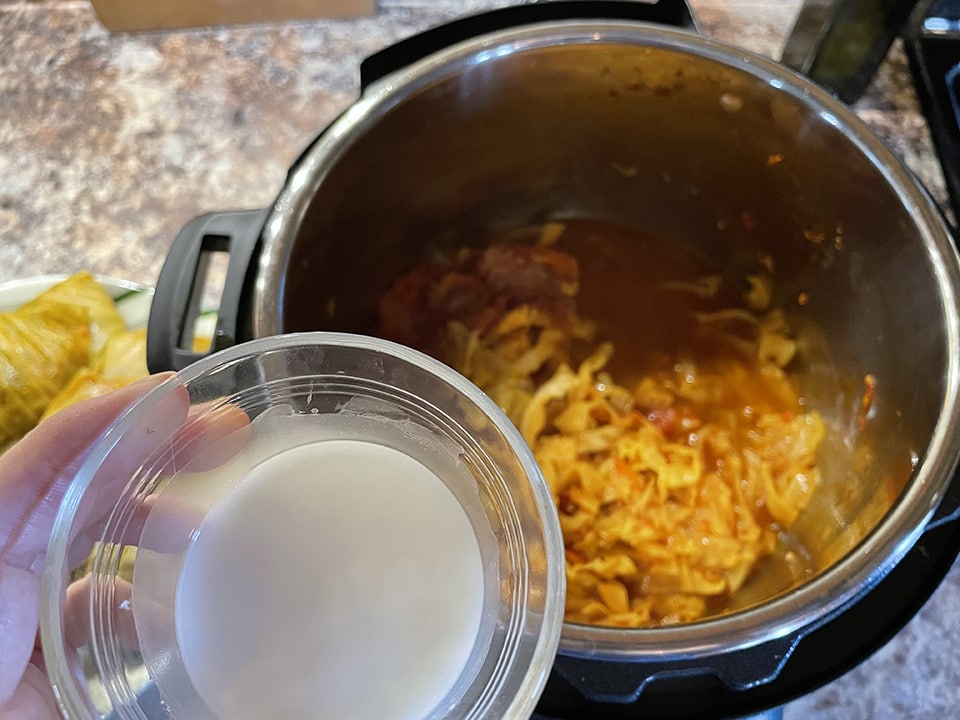 10. Spoon the sauce over your cabbage rolls, and serve!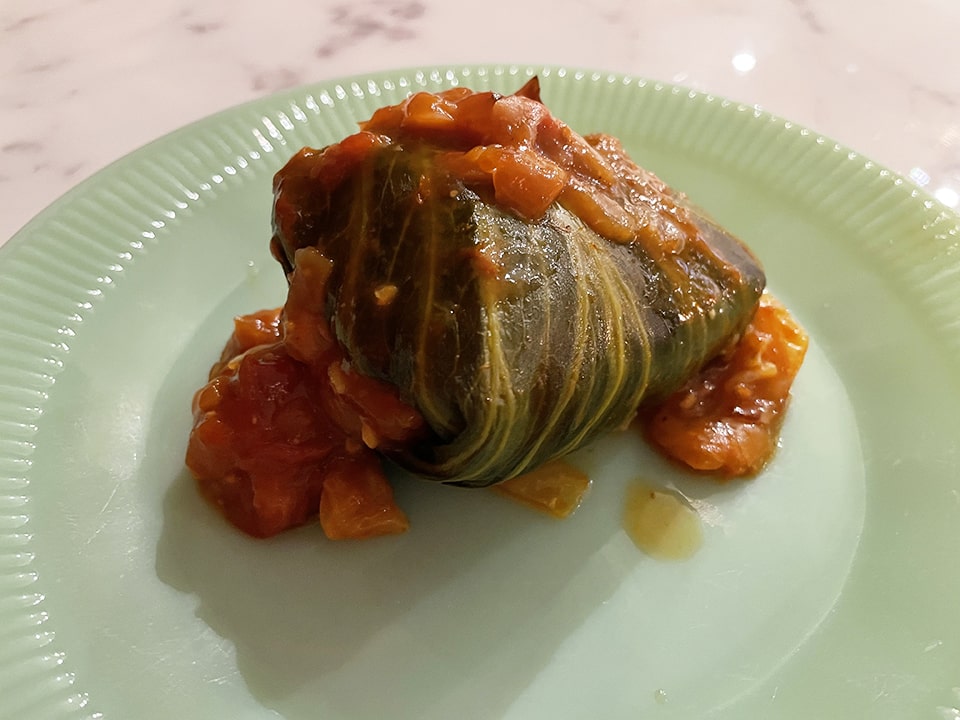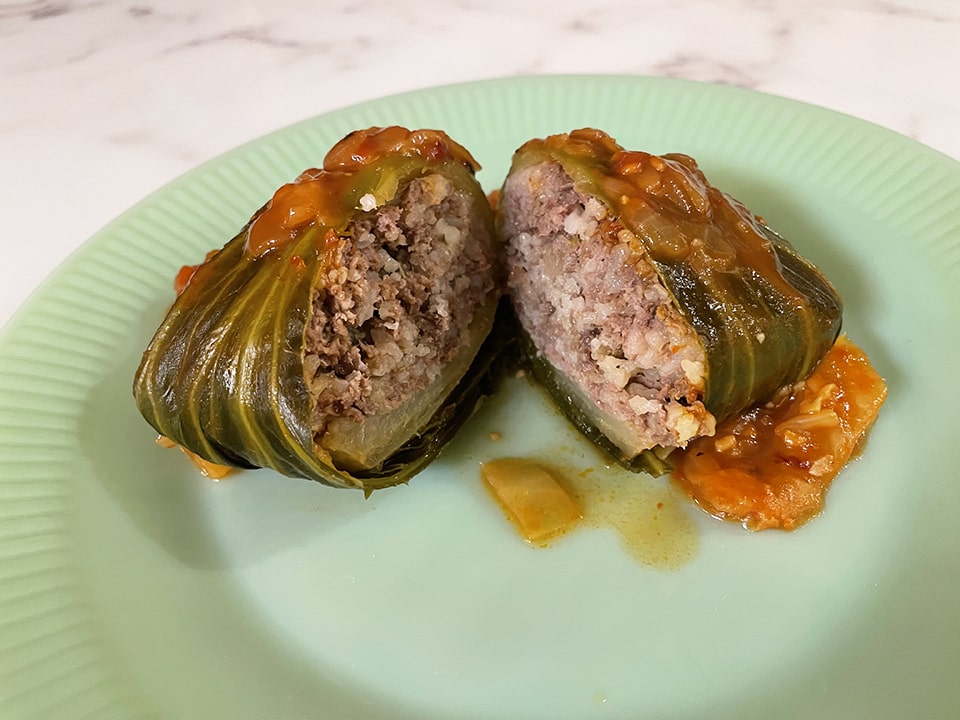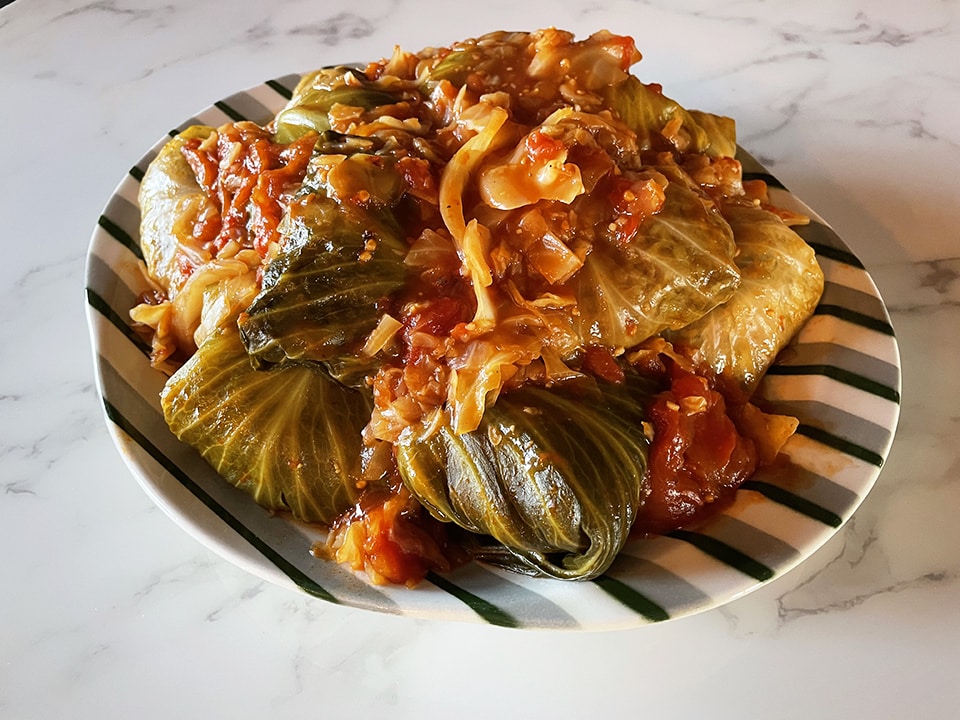 Accompaniments to Venison Cabbage Rolls
Another great thing about this recipe is the cooking and natural release period leave a good window of time to clean up the kitchen before dinner, and to make an easy side and dessert. For this particular meal, I sliced and buttered some take-and-bake bread from my local grocer. I baked the bread in the oven with (gasp!) blondies. I used this recipe, and substituted mini chocolate chips and chopped pecans for the butterscotch chips. Yum!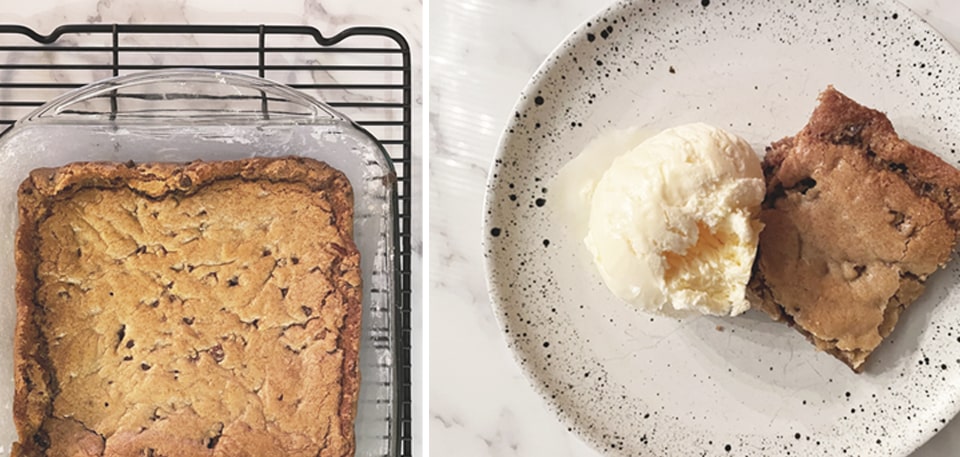 [mv_create key="4″ type="recipe" title="Instant Pot Venison Cabbage Rolls" thumbnail="https://www.womensoutdoornews.com/wp-content/uploads/2021/08/Finished-Cabbage-Rolls-1.jpg"]
About Jackie Richardson

Jackie Baird Richardson is an interior designer, editor at The WON and avid junker. Watch for her design tips and occasional crafting ideas, bringing the outdoors indoors. View all posts by Jackie Richardson →