Setting the Thanksgiving Table
This year I am determined to set our Thanksgiving table a little different. A little simpler. I'm not sure if it's my age, the fact that I have two small kids, or that I recently moved across several states with all of our junk, but I am determined to only put things on the table that mean something to our family. Our family suffered tremendous losses this summer – both of my maternal grandparents passed away within a span of a week. So, with all of these things in mind, it feels right to set a simple table full of things that bring us joy or remind us of joyful times.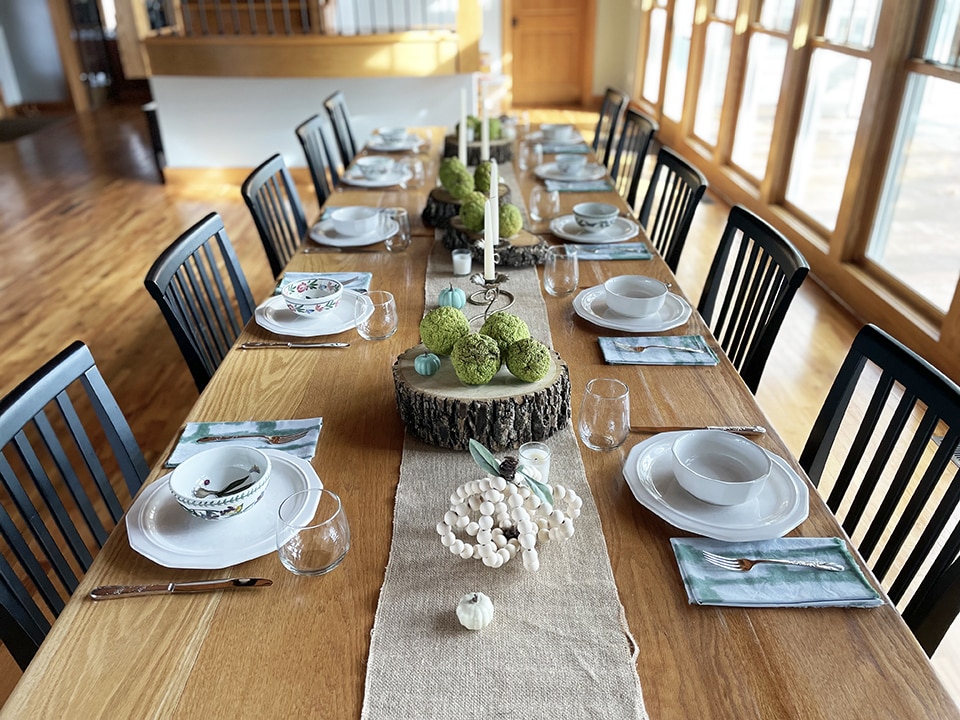 Thanksgiving Table Decor Materials
burlap runner
mini foam pumpkins – these decorate Granny's china cabinet in the fall
Modern Farmhouse Style Wooden Beaded Pumpkin
Osage orange balls
cut wood rounds
mixture of votive and taper candles
brass candlestick holders – used for Advent wreaths, birthday parties, etc. over the years
Shibori Napkins
sentimental plates, bowls and silverware
Beaded Pumpkin
Last fall, our Babbs created this cool Modern Farmhouse Style Wooden Beaded Pumpkin. It works well for fall decor, and is an adorable version of this holiday's favorite squash. It would be fun to make with kids, too. Dig the modern farmhouse or Scandinavian aesthetic? This pumpkin is right up your alley.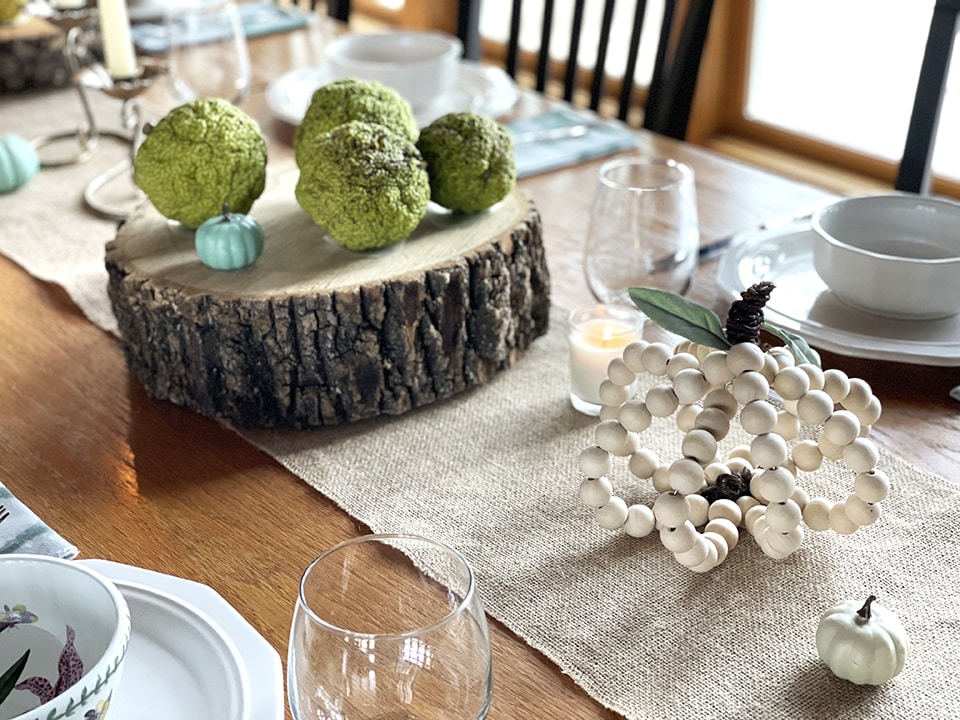 Shibori Napkins
The Shibori Napkins that I made for last week's craft also have a spot on this year's Thanksgiving table. I am proud of them (and should be, they took a little longer than my other crafts to create). I love that they each have a unique, earthy design.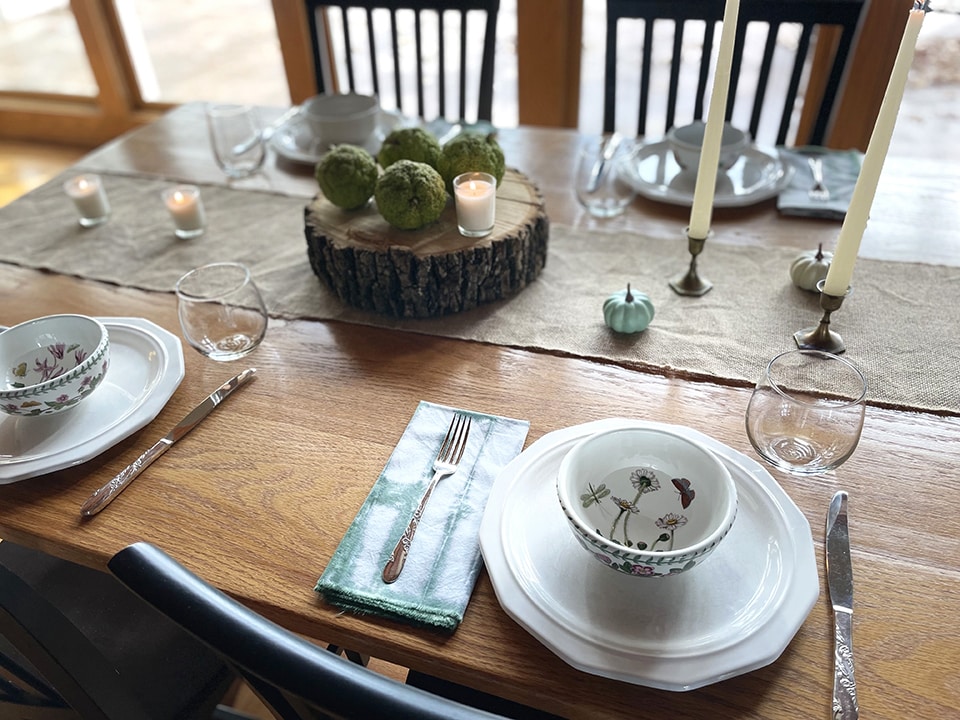 Osage Orange Balls
I live in the Ozarks, and we have Osage orange trees here. These trees bear inedible fruit called Osage orange balls, or more commonly, "monkey balls." I'm not sure about the latter nickname, and will probably just continue calling this round green fruit the former name.
Supposedly this inedible (to humans) fruit was eaten by wooly mammoths and a few other now-extinct mammals. We don't eat them, but instead use them as decoration. They also have a place on the Thanksgiving table this year. They have a great smell, like a hint of citrus. However, be careful to protect whatever surface they sit on, as they are sticky and will leave behind a residue. To protect my wood rounds I placed small circles of waxed paper under each Osage orange ball.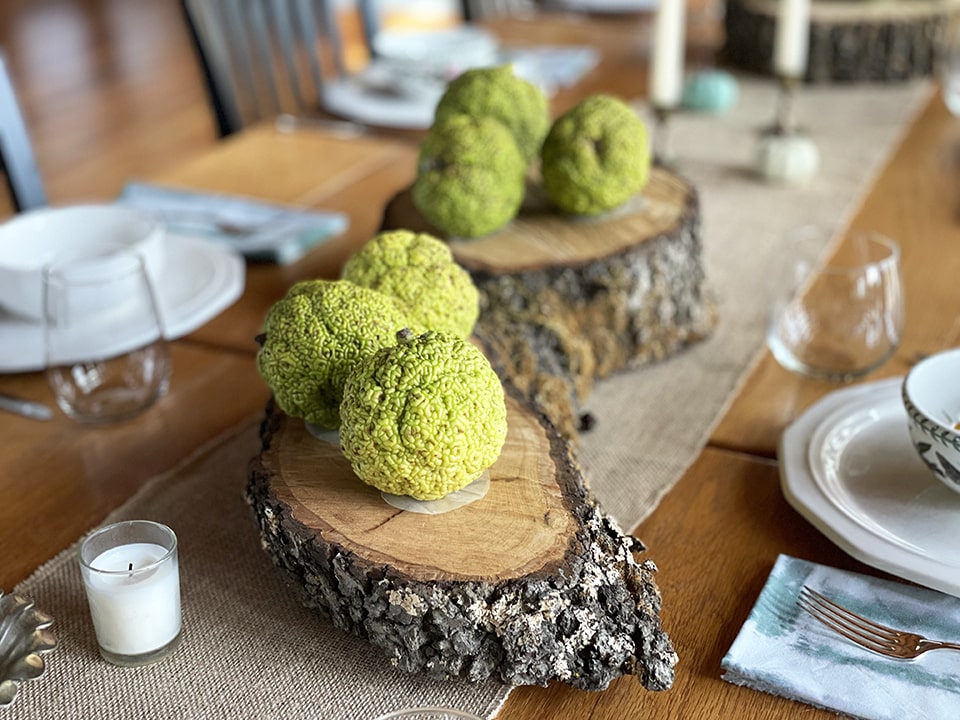 Wood Rounds
To add texture and more local materials, wood rounds cut by my dad anchor the center of the table. They provide great spots for my Osage orange balls to rest, too. This is wood cut from his property from down where one of our favorite springs runs practically all year — filling a big pond nearby — and he cut a round for each of his kids.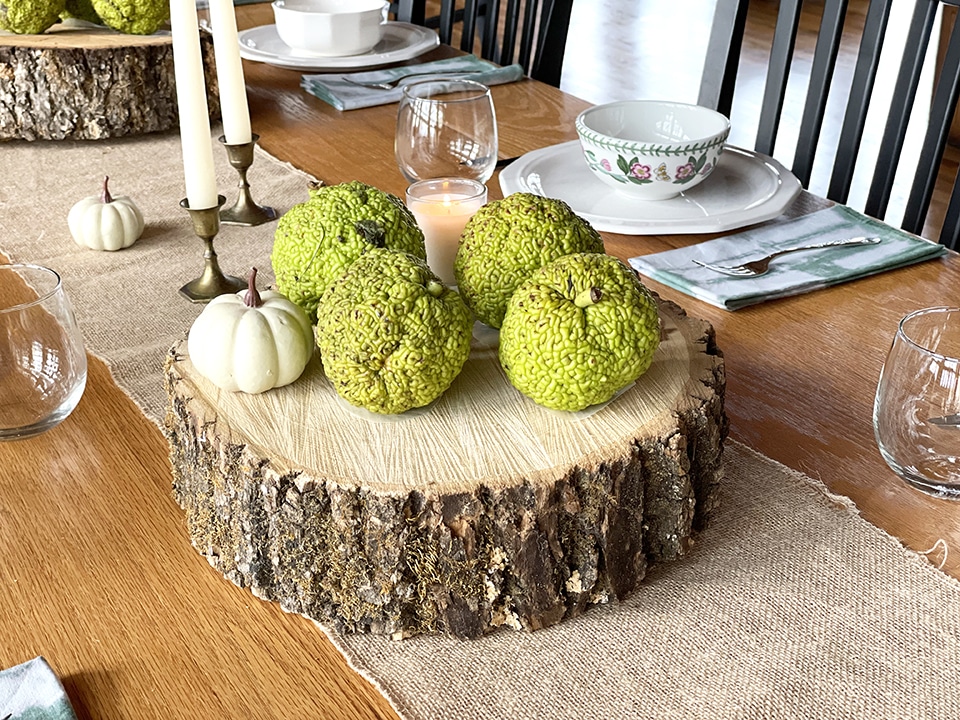 Place Settings
The table will host 10 to 12 people, but there aren't enough matching patterned small bowls to top all of the white Pfaltzgraff plates from my childhood. So, a mixture of bowls looks lovely (white and patterned), and all have meaning to our family. I am sentimental about the bowls — they are treasures my mom purchased while we lived in England when I was young. I felt the Portmeirion Botanic Garden pattern needed to be included in this special table setting; growing up we used this china pattern for any extra special occasion. The silverware is from my paternal grandma — I would love to be able to share the dinner table with her again.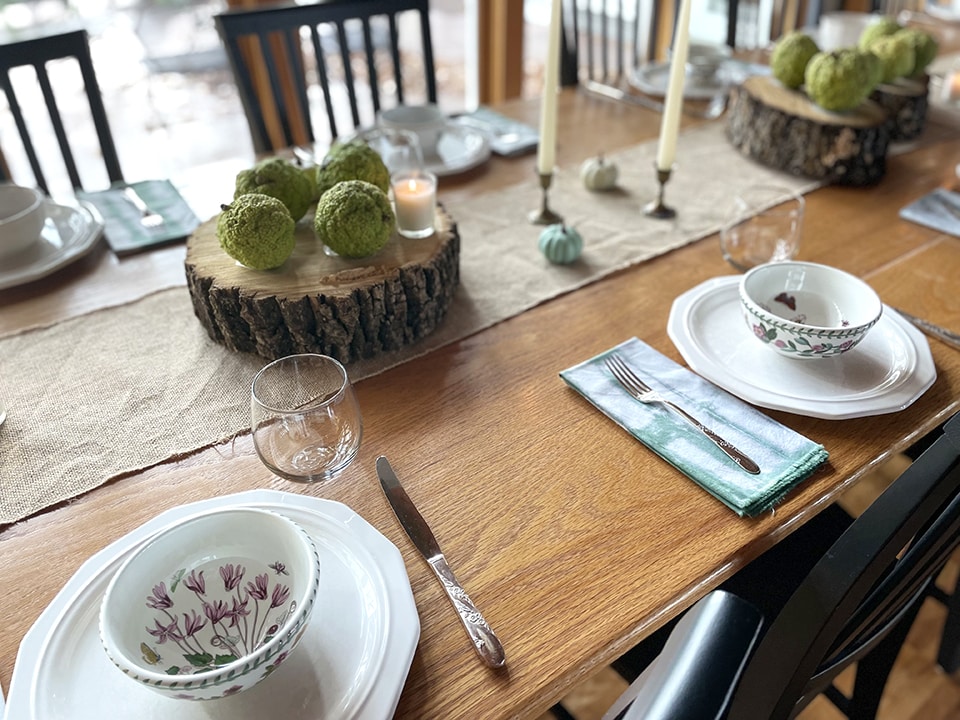 The Pumpkin Table
An array of pumpkin crafts adorn our dessert table this year. This Wine Cork Pumpkin Decoration sits next to our Falling Leaf Pumpkins. To round out the display, we've been using a Sharpie marker to record items we are thankful for on a plain pumpkin: health, coffee, books, words, junkin' … just to name a few.
Thankful at Thanksgiving and Beyond
Thanksgiving is a wonderful time of year to reflect on my many blessings. I hope that you are able to set your table with items that remind you of joyful times, and share a meal with those who helped create those memories.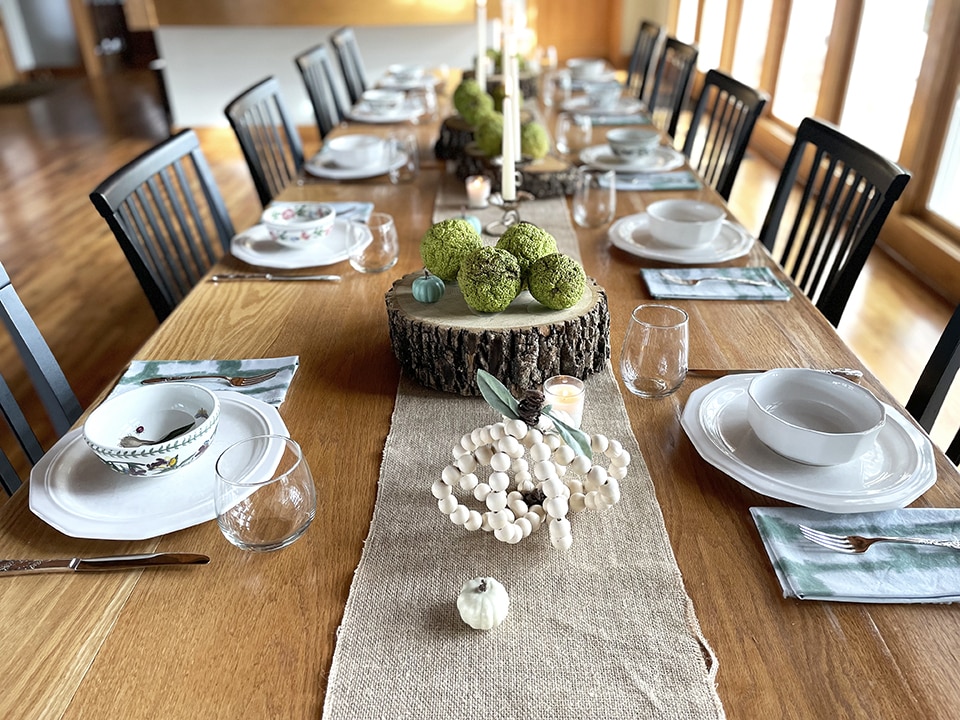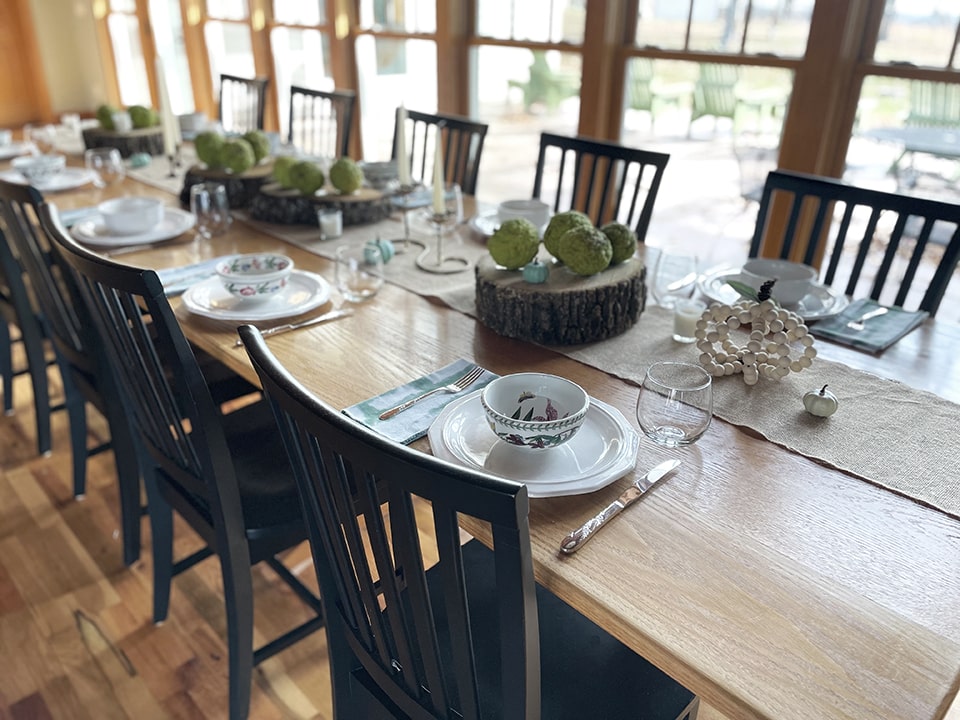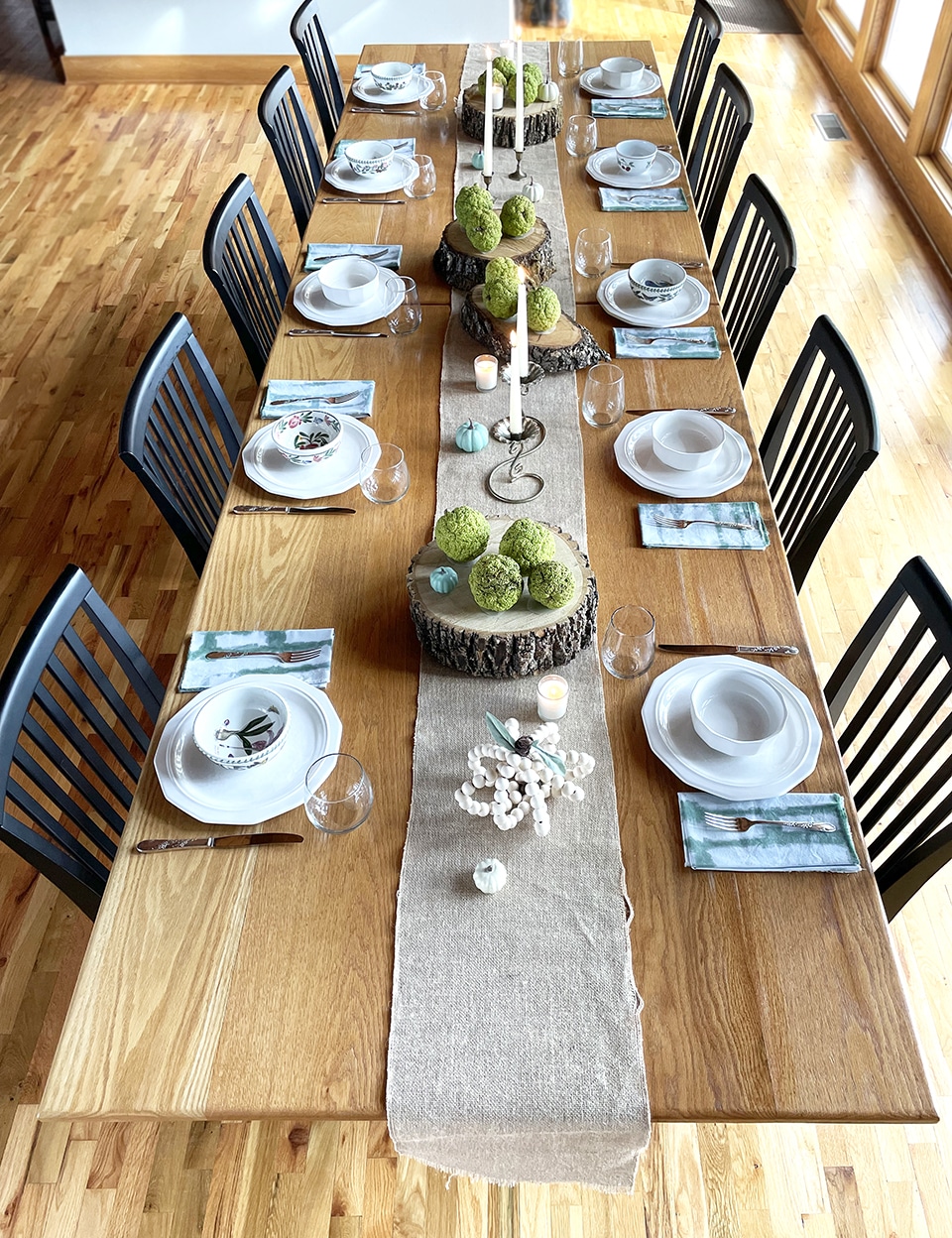 About Jackie Richardson

Jackie Baird Richardson is an interior designer, editor at The WON and avid junker. Watch for her design tips and occasional crafting ideas, bringing the outdoors indoors. View all posts by Jackie Richardson →