DIY: Chocolate Thrift Store Bunnies, Bunny Cake and Spindle Carrots
It's that time again, when chocolate morphs from heart shapes into the form of Easter eggs and bunnies. Also, if you are into junking, you'll see all the tchotchke bunnies cleaned out from little old ladies' front parlors and curio cabinets – in ceramic and porcelain. No one wants to dust these tiny creatures any longer, but you could give them a quick chocolate brown spray, and repurpose them in your own modern (farmhouse, perhaps) décor? Here's how to do chocolate thrift store bunnies, and I threw in some of our other Easter favs – namely a tried-and-true traditional bunny cake and spindle carrots.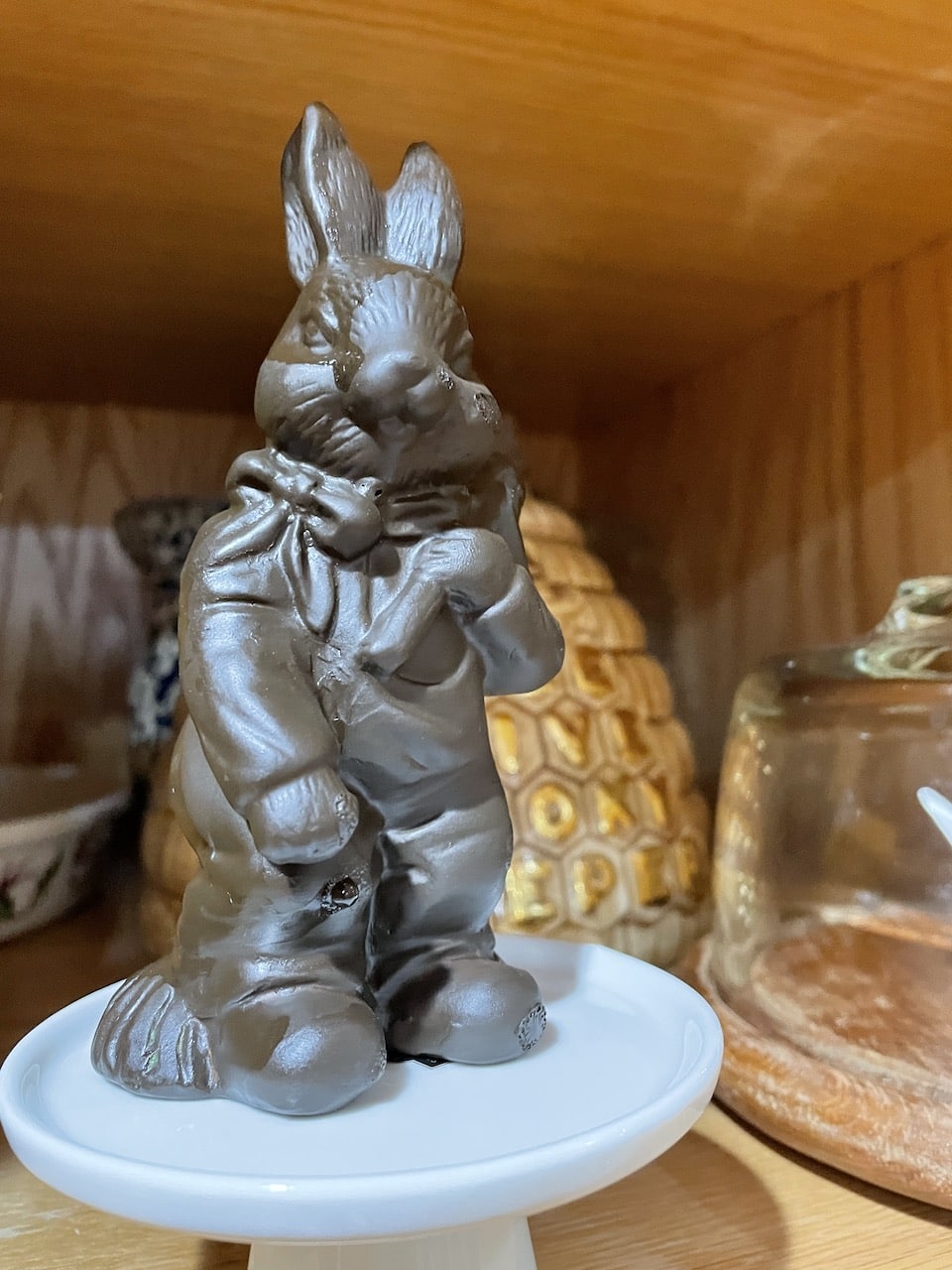 How to Make Chocolate Thrift Store Bunnies
I can't give credit to any crafter in particular, because I've seen these fake fudge bunnies in several places. So, it's easy. All you need are two things:
Assortment of bunnies
Spray paint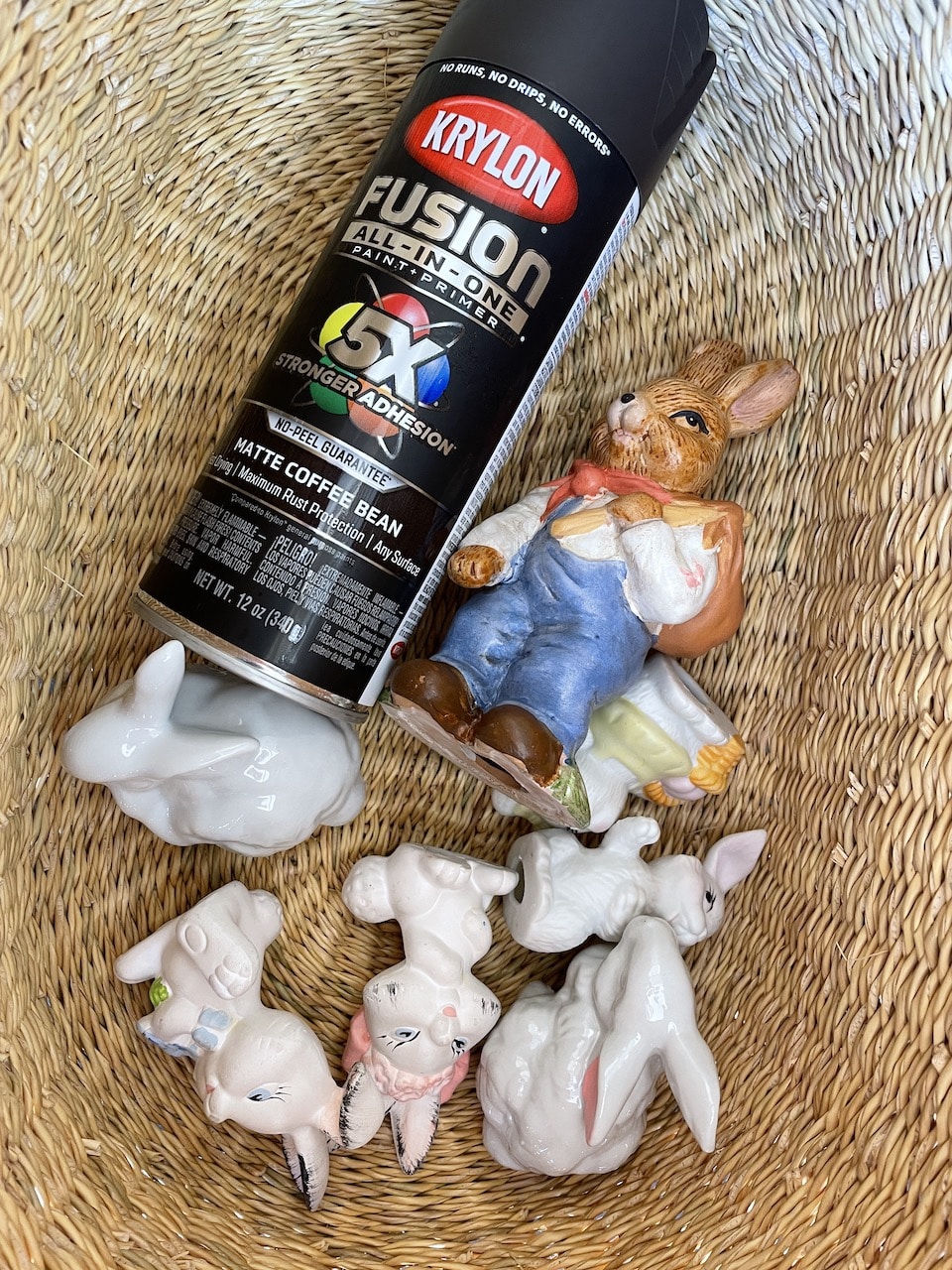 First of all, stop by a thrift store, flea market or yard sale and find a few bunnies of various sizes. Maybe, if you want to pay full price, you could check a dollar store for seasonal rabbits. Then, take them home and pop them into your dishwasher – after you've removed any sticky tags, of course.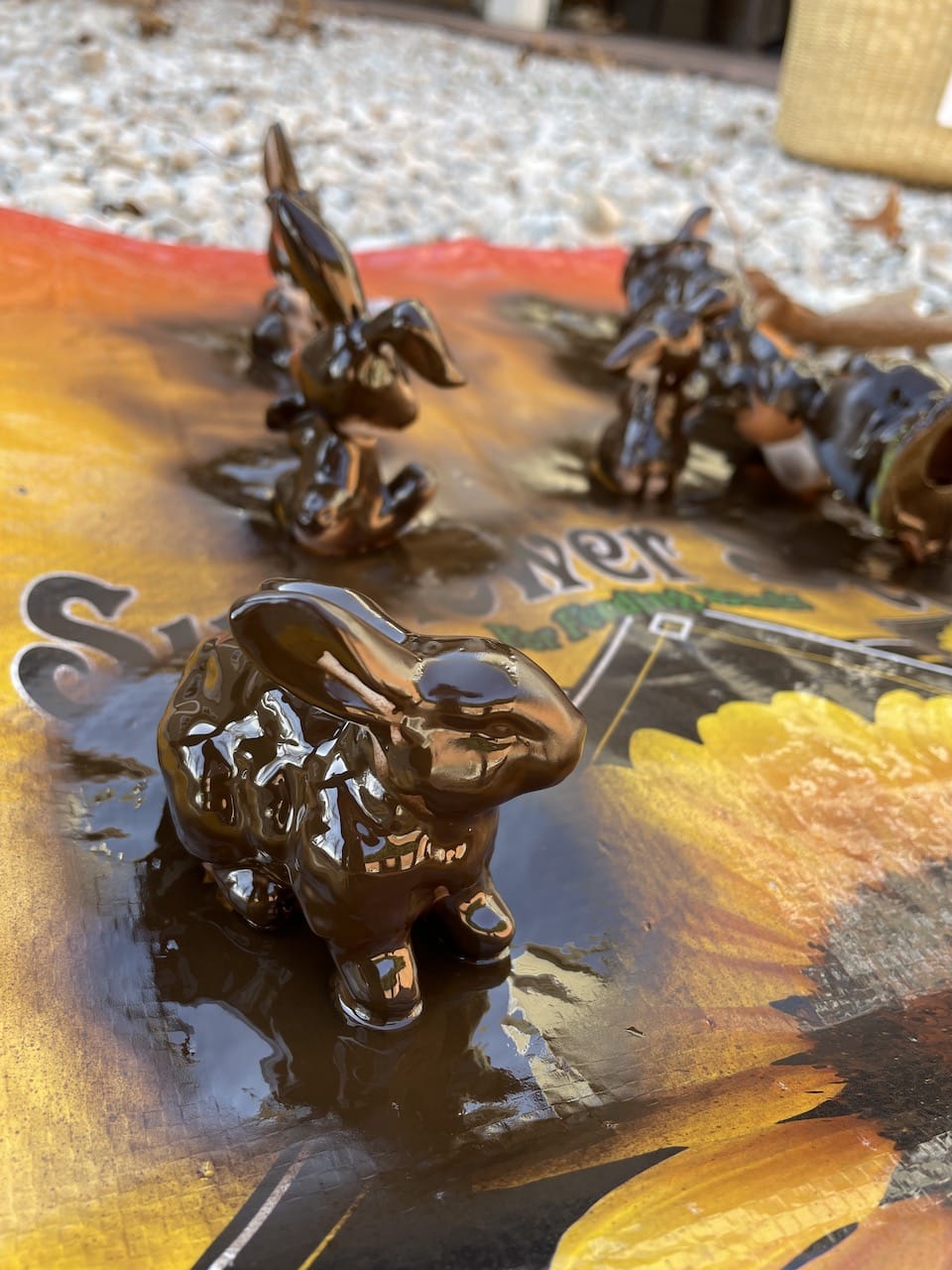 Second, when the bunnies are good and dry, take them outside or into a well-ventilated area. Plop down a piece of plastic or, as I do, a trusty birdseed bag, and get out your spray. Shake the can well, and proceed to cover the doohickeys in "chocolate." Be generous. No one likes a shallow chocolate bunny.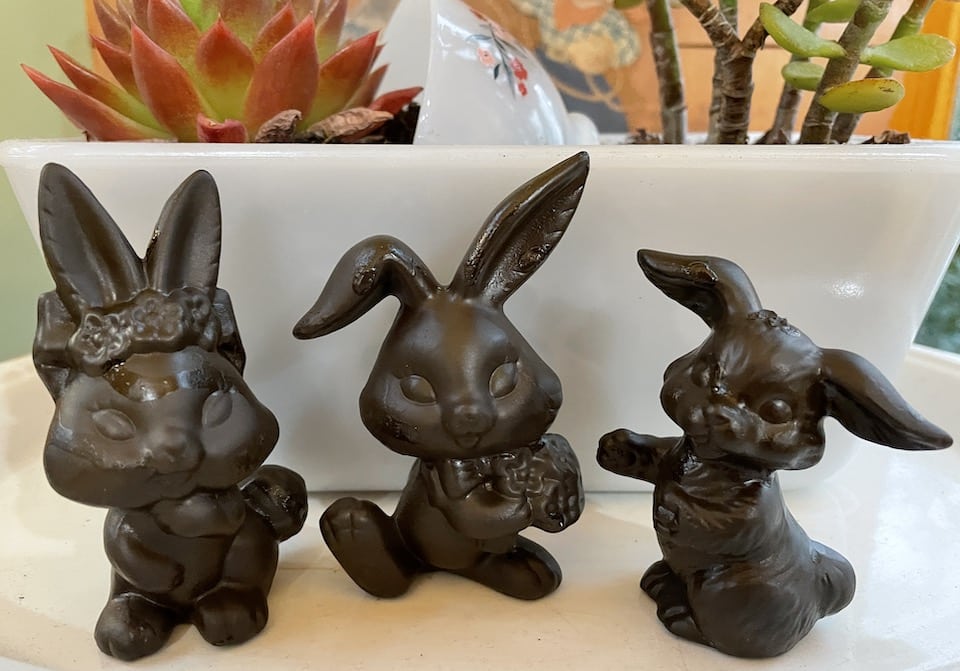 Wait for the bunnies to dry, turn and do the other side and/or cover missed parts.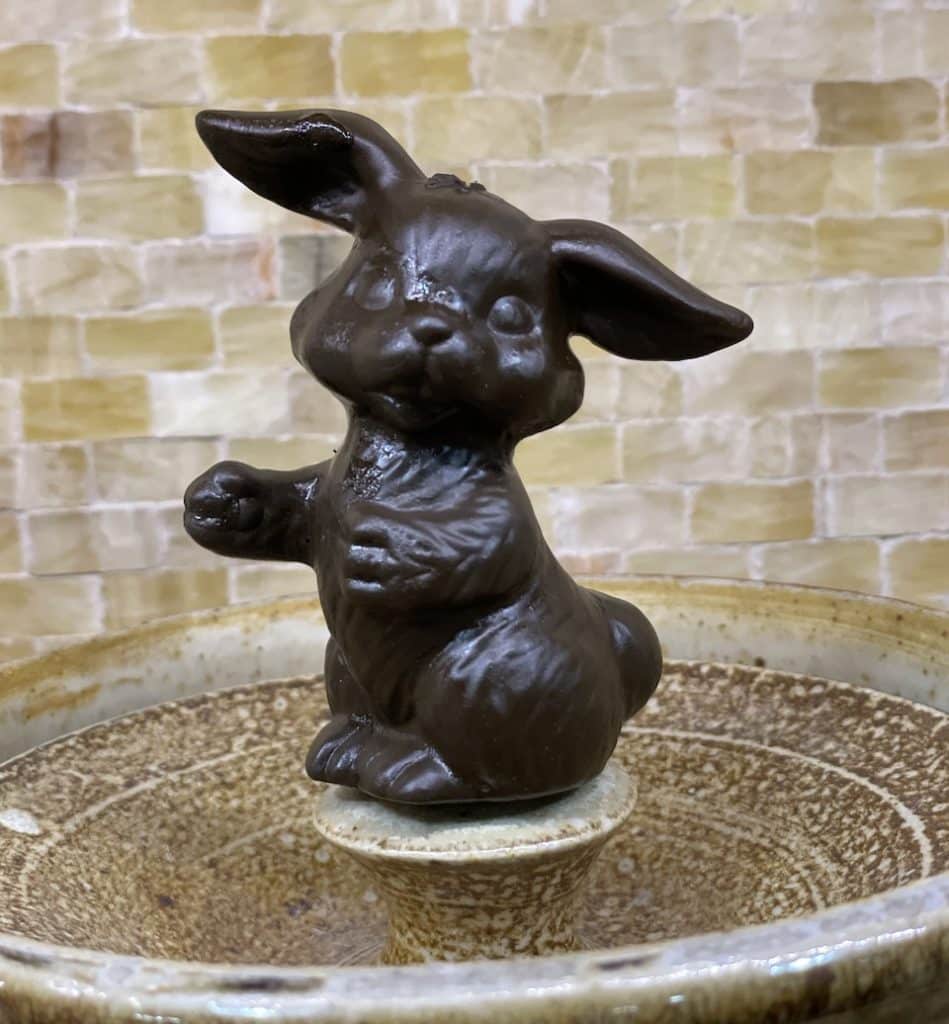 Then, add to your décor for Easter.
Easter Bunny Cake
This DIY Easter Bunny cake warms my heart, because my daughter wrote about it last year, and how much it meant to her to have this cake. (See, what you do sometimes matters to your kids!) I believe that the fact that the kids helped (and remember, when you're a kitchen helper, you get to partake of the frosting and other cake accoutrements) is what really made this cake so special.
You just need a cake mix, two round cake tins, icing (homemade or premade), candy, coconut, parchment or waxed paper and green food coloring. Jackie Richardson goes through all the steps, and frankly, if your cake doesn't look like this one, you need to go back to basic drawing and scissor-using school.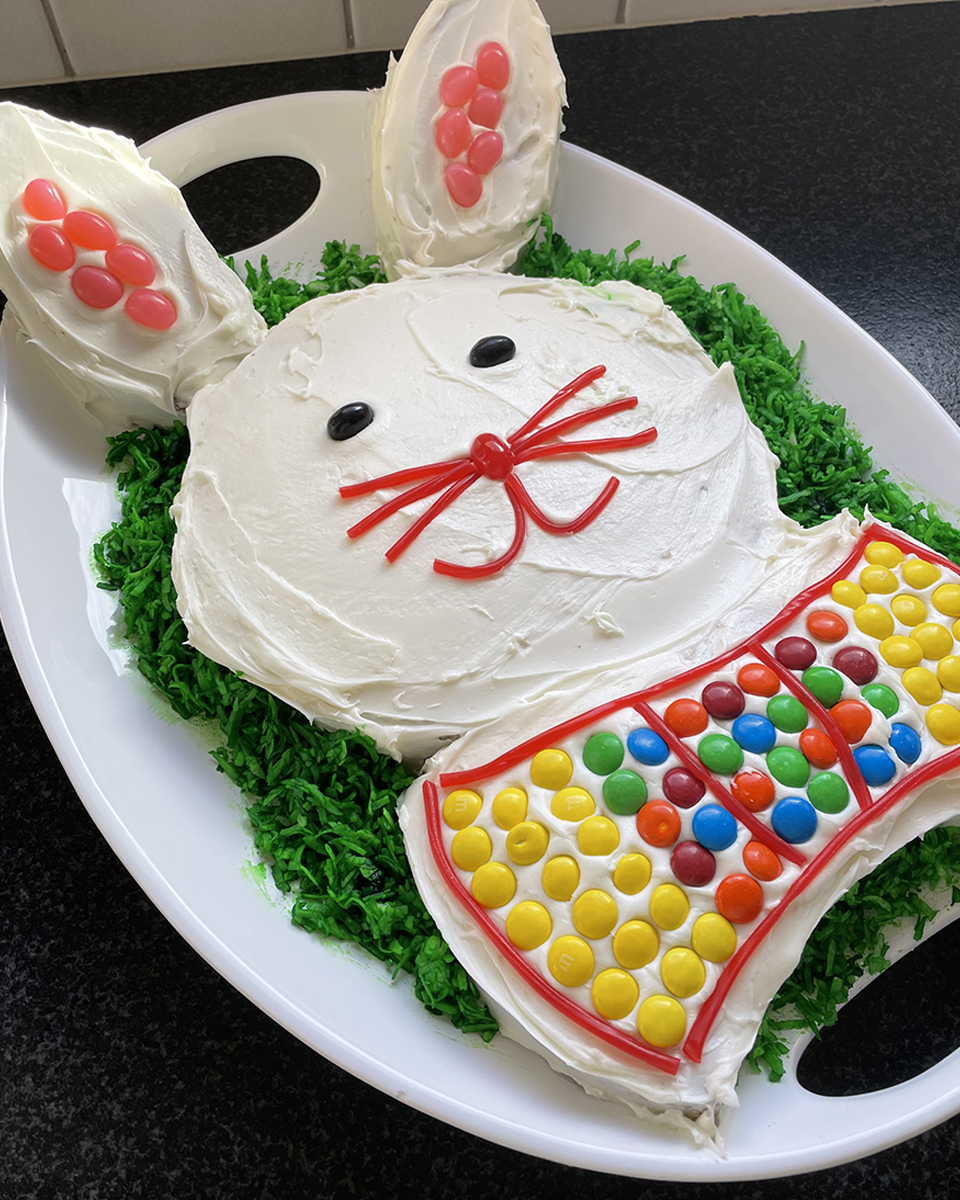 It's that easy.
And also, it's tasty and no two cakes will ever look the same.
Spindle Carrots
Here's how I began this craft explanation last year: "It started on a goose hunt in Arkansas. I came home with two goose breasts and five crib spindles. I'm still deciding how to fix the breasts, but most definitely wanted to make DIY spindle carrots craft."
It was one of those times. Somewhere in the back of my mind, as always with this department at The WON, I had a notion that I wanted to make some spindle carrots. Of course, I had seen these done to perfection somewhere.
My goose hunting buddy, Jen Barcklay, and I spent our afternoons driving around in Arkansas, exploring towns with names such as "Weiner." We wound up at a great junk sale in Harrisburg where the owner had cleaned out her attic and a million storage units. I mean, stuff poured out onto the sidewalks, and lo and behold, there lay a few Jenny Lind crib spindles.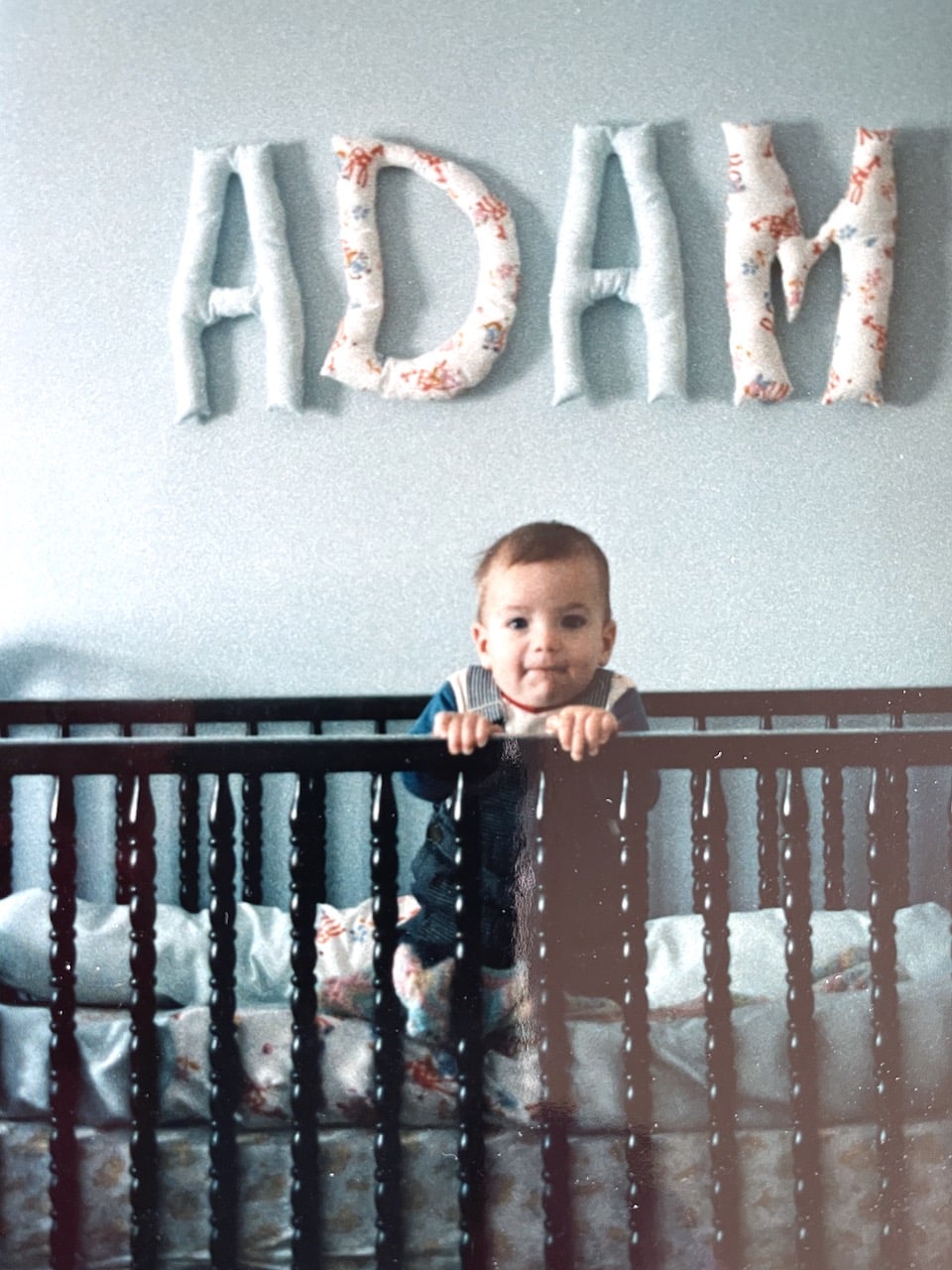 Now, if you had a baby in the '80s, you know all about Jenny Lind cribs, with their fancy spindles that made for ideal teething devices. At least, my kids thought they did.
I brought the whole batch of spindles home, and Jackie and I made these spindle carrots. For this project, you'll need the spindles, a hot glue gun with glue sticks, spray paint for the carrots, green felt or something green for your carrot tops and the rest of what you need is right here.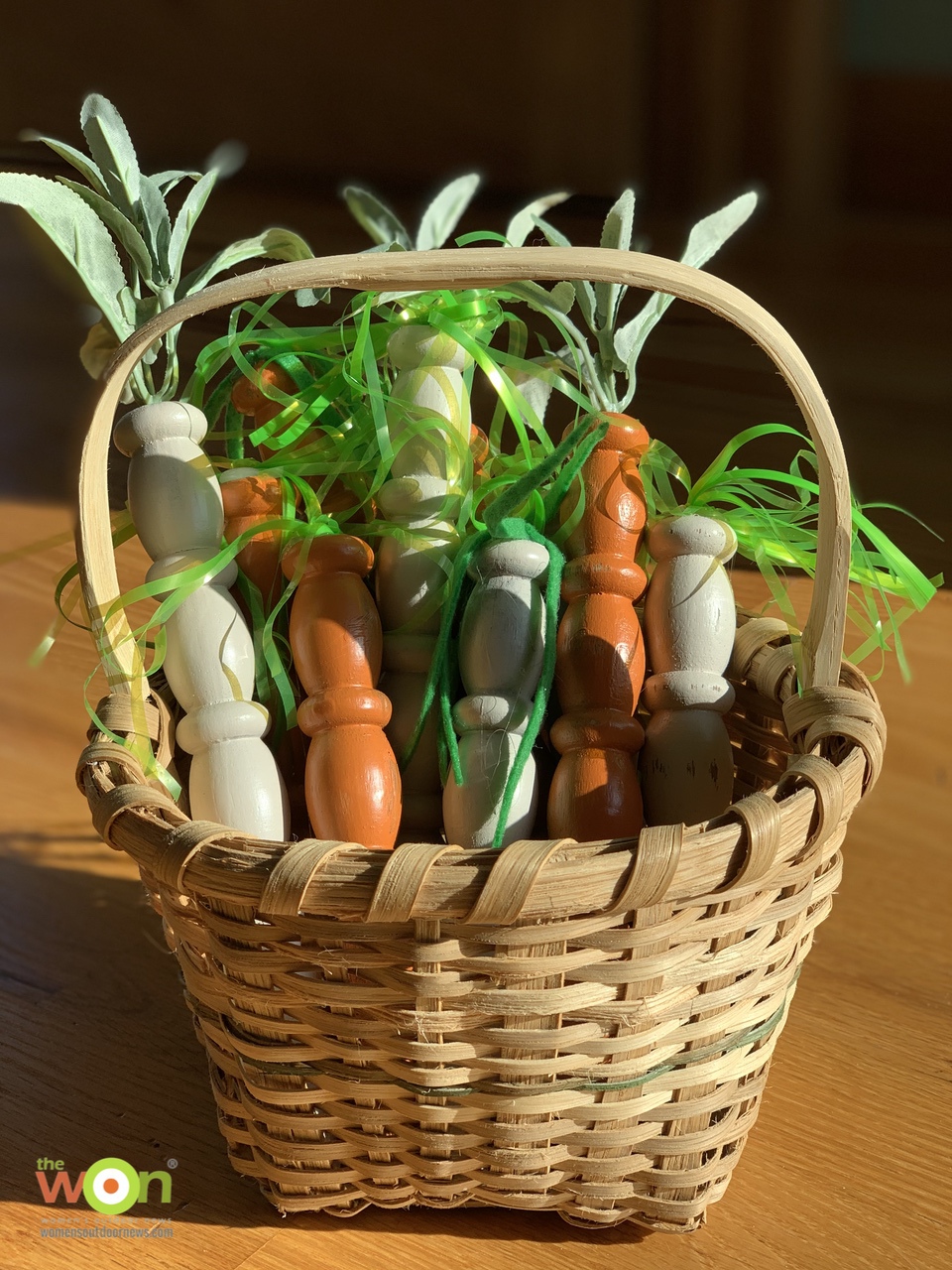 As always, we'd love to see what you do that's all crafty-like, and especially if you try any of our DIY projects or crafts or recipes, show us on Instagram with #WONphoto as your hashtag and we'll share it.
About Barbara Baird

Publisher/Editor Barbara Baird is a freelance writer in hunting, shooting and outdoor markets. Her bylines are found at several top hunting and shooting publications. She also is a travel writer, and you can follow her at https://www.ozarkian.com. View all posts by Barbara Baird →