SilencerCo's Harvester EVO: A Great Addition to a Ranch Gun
I live on an old cattle ranch here in the Ozarks, where scrabble and hollers make for rough-and-tumble outings. When out on my property, I carry firearms – usually a sidearm and a rifle. Lately, it's been the Ruger American, chambered in 300 BLK. I used to attach the SilencerCo Harvester 300 suppressor, because as you know if you hunt, the percussion from firing a gun may hurt unprotected ears. SilencerCo sent me its newly released Harvester EVO, so I put it on my American rifle and took them out last weekend while checking fence lines. Here's why I'm calling it a great ranch gun addition.

Sponsored by SilencerCo
SilencerCo Harvester Evo
I didn't think the Harvester could be improved. I've been working with that suppressor (the Harvester 300) for more than a year now, and frankly, I've taken quite a few varmints with this gun while out, especially armadillos. I started taking out an AR with the Saker ASR, but then I switched over to the Ruger American rifle using subsonic Hornady ammunition to avoid the loud "crack" that comes from firing bullets traveling at supersonic speeds. Also, for small animals, the big .30 cal bullets tailored by Hornady for good terminal performance at subsonic speeds kill varmints better at the ranges we see (less than 100 meters).

The EVO model is shorter and lighter than the original Harvester 300. Here's how they compare:
Harvester 300: 1.38-inch diameter, 8.86 to 6.6 inch length and 10.8 to 13 ounce weight.
Harvester EVO: 1.57 diameter, 6.24-inch length and 11.1 ounce weight.
The main difference, though is the materials used. This one, the EVO, is made from Cobalt-, Inconel and 17-4SS, whereas the older model was created with aluminum and stainless steel.
The EVO also comes in a tad cheaper than the former models, which had MSRPS of $724 (Harvester 300) and $1,199 (Harvester 330). It retails for $680.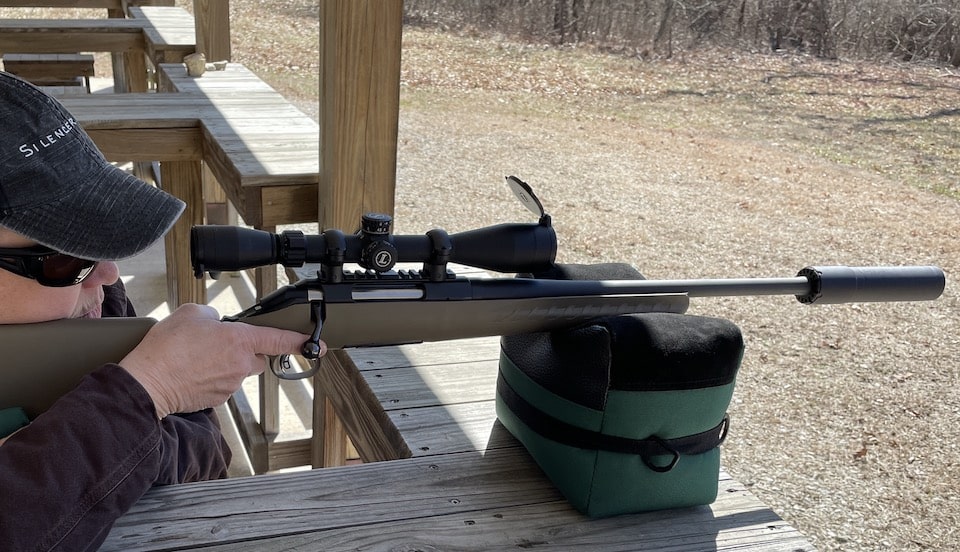 Like its predecessor, the Harvestor EVO can be mounted on common centerfire rifle calibers, including .223 REM, 300BLK, .243 WIN, .260 REM, .308 WIN, 6.5 Creedmoor, etc., pretty much anything up to .300 WIN. According to SilencerCo's description, "The Harvester EVO is rated down to 16" barrels for 223 Remington/5.56mm NATO, 16" barrels for 308 Winchester/7.62mm NATO, and 20" barrels for 300 WIN. The Harvester Evo is compatible with all SilencerCo Bravo Mounting accessories, including the Bravo ASR Mount, Bravo Direct Thread Mounts and all ASR Muzzle Brakes and Flash hiders."
My American rifle uses a direct thread attachment for muzzle devices and suppressors. I haven't installed an ASR mount on it, so I have to make sure my suppressor stays tightly threaded onto the gun when I'm using it.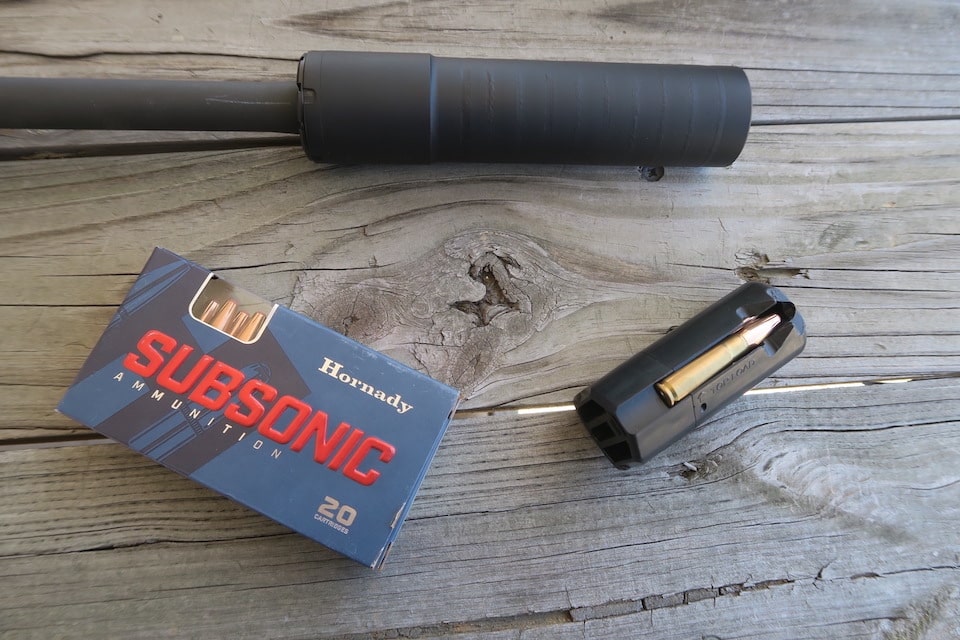 Range Time with the Harvester EVO
As with any new attachment to a firearm – be it a suppressor, red dot, scope – it's imperative that you know how the gun shoots after adding something to it. I shot the set up with my Ruger American from a bench rest at a 50-yard range. Why choose 50 yards? Because that's about the right distance on my property for shooting varmints, such as armadillos and anything else. As it turns out, my rifle scope needed a minor adjustment for windage, and that was the only thing.
Armadillos 2022
My husband and I set out on ATVs to check out things such as fence lines on this old place, and maybe, to shoot an armadillo. Why are we so insistent on eradicating the armadillo population? Firstly, armadillos are non-native invaders around here, so they compete with the other wildlife. Missouri's turkey population is down by about 50% in the last decade or so, and our armadillo population is way up. Turns out, armadillos love turkey eggs, and they are easy pickings since turkeys nest on the ground. Our quail population has also suffered in the last several years, and I can't imagine an armadillo turning down a quail egg because it was too small.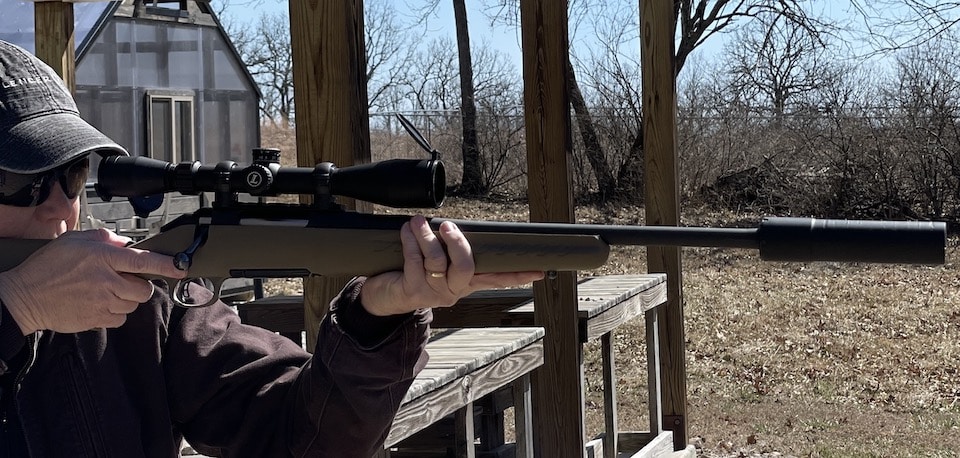 As we traversed a valley, we noticed a large armadillo playing possum. My husband wondered if it might already be dead, since it just sat there, about 10 yards away. When I dismounted from the ATV, it moved, and ran into its grave – a shallow hole. The rest was easy. A shot into the grave, a twitch and it was over. I liked the fact that this lightweight and short suppressor maneuvered with me through scrubby brush and rose briars to get to the soon-to-be armadillo gravesite.
Learn more about the SilencerCo Harvester EVO.
It ships with Bravo Direct Thread Mounts for ½ x 28 and 5/8 x 24 barrel threads.
About Barbara Baird

Publisher/Editor Barbara Baird is a freelance writer in hunting, shooting and outdoor markets. Her bylines are found at several top hunting and shooting publications. She also is a travel writer, and you can follow her at https://www.ozarkian.com. View all posts by Barbara Baird →