Take Along a Taurus Raging Hunter for Hunting and/or Hiking 
It's getting to be that time of year again – time to start planning your fall hunting or hiking season. Game tag draw results have been announced in most states. Also, there is still time to get out and hike in the fall. We heartily recommend acquiring a Taurus Raging Hunter to be your sidearm for hunting and hiking, to defend yourself against all predators – the kind with two legs, four legs and don't forget, the ones that slither.
Sponsored by Taurus
The need for a sidearm, and/or a companion who also knows how to carry and shoot one, came to my attention a few years ago, when I spent time in Wyoming with Ashlee Lundvall. We spent a wonderful day on ATVs in the mountains, and stopped for a picnic and a bathroom break. Ashlee reminded me to take a bathroom buddy along as I headed for the trees, someone who could quickly respond with a firearm if a grizzly bear decided to interrupt my break.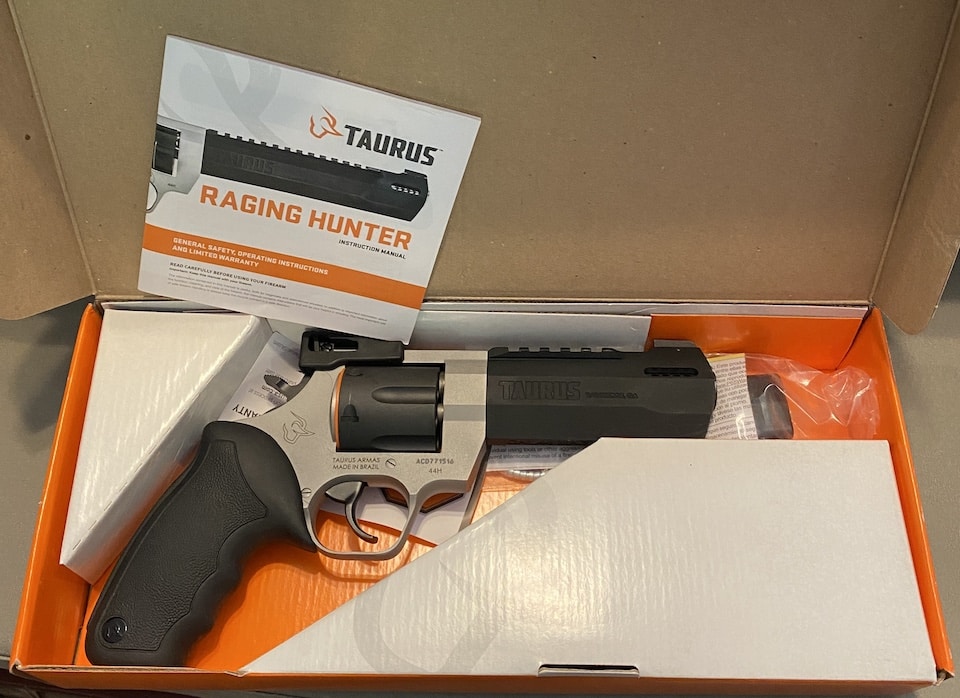 Last year, Taurus sent Raging Hunter revolvers, both chambered in 44 Magnum, to two of our contributors to review. As both of our reviewers are petite women, they also needed chest holsters for hands' free carry of the big guns. They liked the guns so much that each wound up purchasing them afterward.
In fact, Nancy Keaton wrote this in her review about seeing the gun for the first time: "When I first opened the box, my eyes got big and I exclaimed, 'WOW! This sucker is bigger than I am!'" In her testing of the Raging Hunter, Nancy chose a commercial 190-grain hollow point 44 Special ammo for her practice and carry. That's one of the great things about the .44 Magnum chambering – a shooter can use lighter-recoiling .44 Special ammunition as well as .44 Mag fodder that has stiffer recoil. Some shooters choose to use the Special ammo for target practice and firearm familiarization, before moving on to the Magnum cartridges. Others stay with the Special ammunition, considering it sufficient for their needs.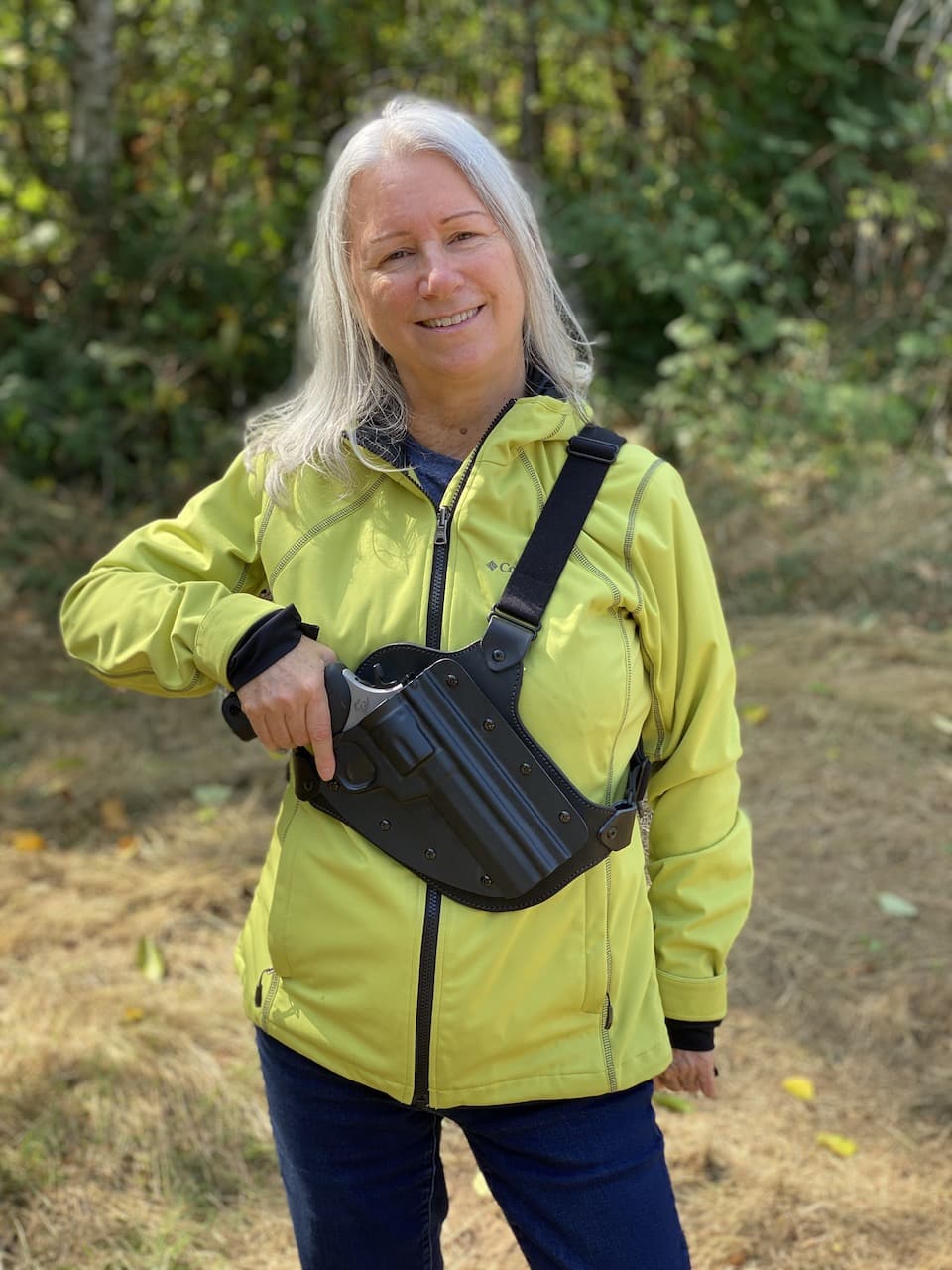 After spending time on the range with the gun, Nancy wrote, "While a woman may not want to do a lot of plinking with it, mainly because of the cost of ammo, she can easily practice with it to increase confidence and skill. I think it's a great gun for a woman to carry outdoors in order to defend herself and her family, even against something as large as a bear." Nancy carried the gun as a personal defense firearm while out panning for gold in Washington State.
After Nancy's review appeared, we ran another review – this time by hunter Amy Hall. She and some of her friends had arranged for a mule deer hunt in Montana, right in grizzly country. Again, the size of this gun surprised our writer, but she put it in a chest rig and dealt with it, knowing she would have some of the best personal defense protection available for her circumstances.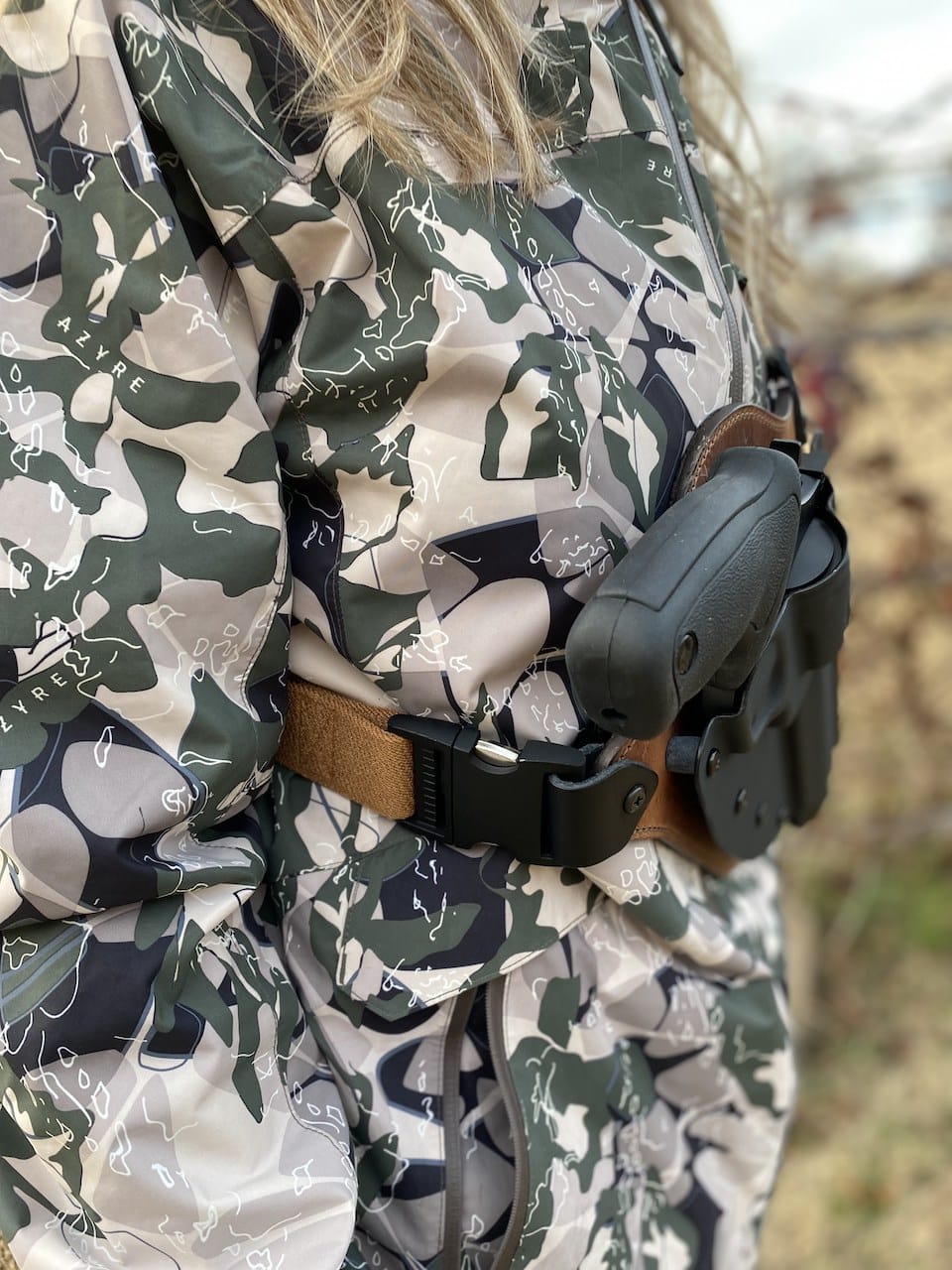 Here's what Amy thought about the gun after shooting it: "This revolver at the range surprised me on the first shot. I think I was expecting a higher muzzle lift as I shot. It still lifted, but not as dramatic as I believed it would. I think when we look at revolvers, we expect that hard to control lift and this one was much easier to control. I shot target ammo and then two rounds of 300-grain 44 Magnum Jacketed Flat Nose ammo to be prepared for the full kick. This gun would effectively take care of a bear if faced with a situation of danger to life or if hunting. I would 100 percent keep it by me in the tent and at camp."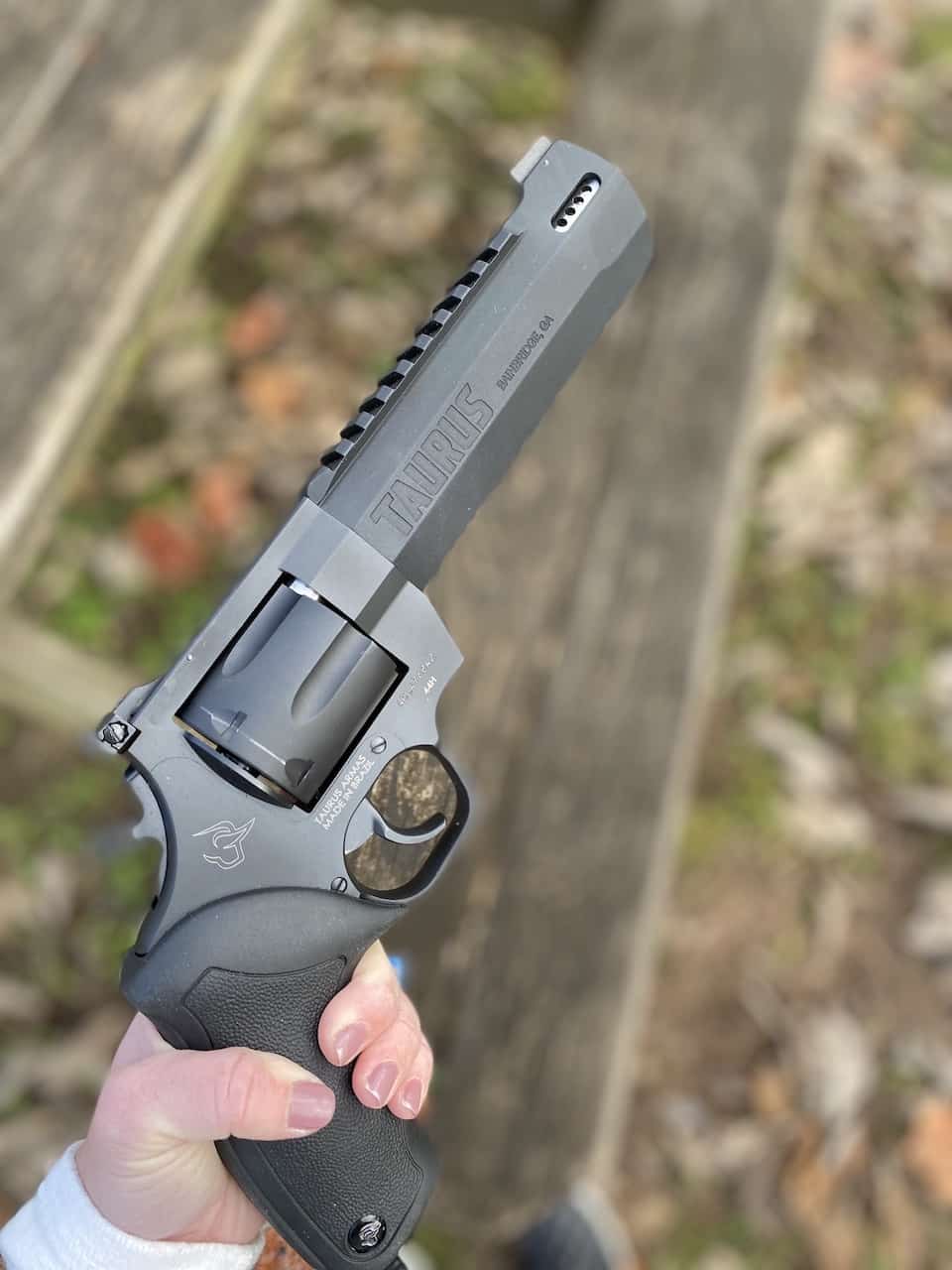 Amy reported that she would choose a shorter barrel length – the 5.12-inch as opposed to the 6.75-inch provided by Taurus for this evaluation – but overall she liked having the protection and would recommend this revolver.
Taurus Raging Hunter Series
The Taurus Raging Hunter is an award-winning revolver that comes in a wide variety of models, chambered in calibers including the .357 Magnum, 44 Magnum, 454 Casull and 460 S&W Magnum. Note as mentioned above that revolvers firing the .44 Magnum cartridges also can handle the .44 Special round. In addition, guns in .357 Magnum can also fire .38 Special ammunition, and guns chambered for the .460 round can fire .45 Colt and .454 Casull ammunition. These are definitely multi-use firearms! The Raging Hunter offers barrel lengths from 5.12 inches to 8.37 inches, and finishes that include Matte Black and Two-Tone. You can choose models with scope mounts, Picatinny rails, ported barrels and dual lock-up cylinders (providing stability under extreme pressure from ammo).
You can see the entire line of Taurus Raging Hunter Series firearms here.
We also recommend doing what the reviewers did – buy target ammo in .44 Special for training on the range. Also, make sure that you shoot a few of the actual defense ammo rounds through the gun before going to the field to hunt or using the revolver for personal protection. You always want to make sure that you can operate the gun when faced with more recoil, that the gun will chamber the ammo, and that the gun will fire the ammunition accurately.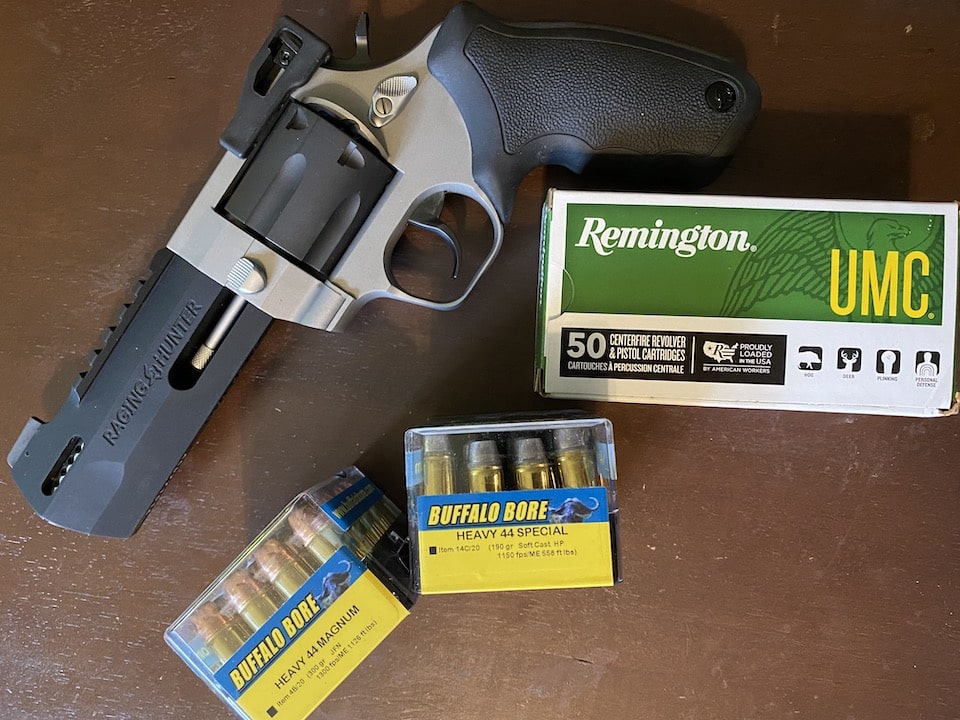 Furthermore, check out the chest rigs that the reviewers wore. Remember that a holster of the right size for a Raging Hunter might not fit on your outside-the-waistband holster and belt combo, especially if you're wearing a jacket and/or are short-waisted. You may opt for a chest rig, too. Make sure to try it out if you can on the range. Or, practice dry fire with the gun with no ammo around, after drawing the gun from its holster.
Watch for our third review of this essential hunting or hiking tool, from Amy Ray, founder of The Sisterhood of the Outdoors. She already has made plans to carry this as her personal protection sidearm this coming fall on her Colorado and Wyoming hunts.
Visit Taurus online to see the line of Raging Hunter revolvers.
About Barbara Baird

Publisher/Editor Barbara Baird is a freelance writer in hunting, shooting and outdoor markets. Her bylines are found at several top hunting and shooting publications. She also is a travel writer, and you can follow her at https://www.ozarkian.com. View all posts by Barbara Baird →