Introducing Springfield Armory's 1911 DS Prodigy Handgun
Have you ever been sworn to secrecy about something and are just bursting to tell someone … anyone? It happens often in the firearms industry with those darn NDAs (non-disclosure agreements). Unlike many secrets though, you know … the ones you're never supposed to share, these secrets have a specific launch date … thank goodness! I've only had to keep my lips sealed for a few weeks now about Springfield Armory's newest 9mm handgun, the 1911 DS Prodigy.

Sponsored by Springfield Armory
The Unboxing
When it comes to new product launches, Springfield Armory does an amazing job of beautifully packaging the product and generating my initial excitement. Who would think a simple, nondescript black box is as exciting to open as those ornately-decorated presents on Christmas morning?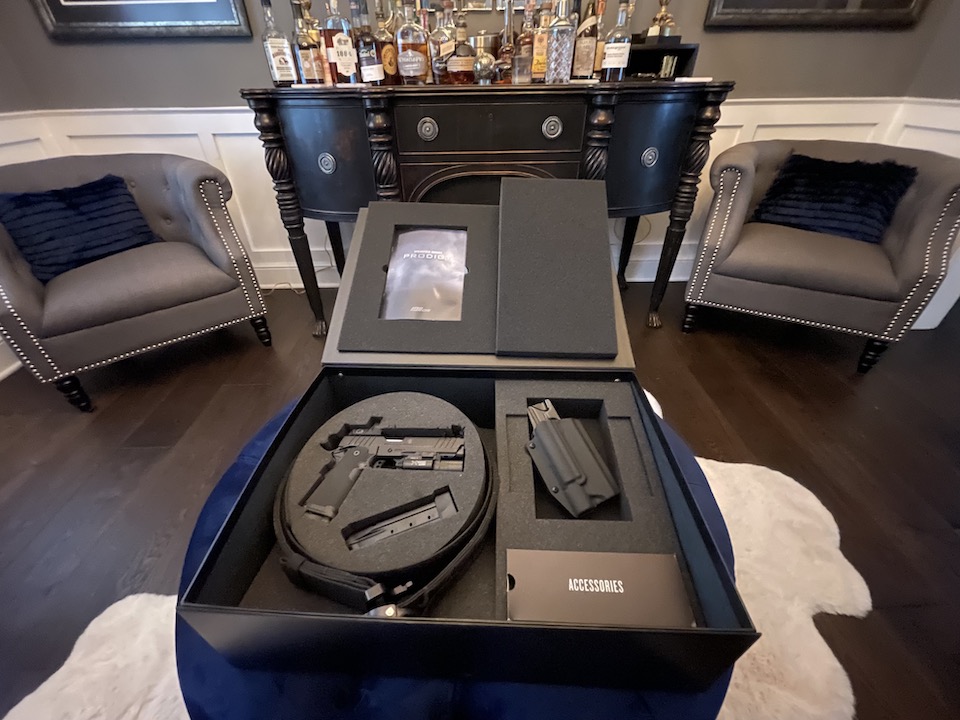 Inside the box I found all the items needed (except the ammo) for a day (or evening) on the range: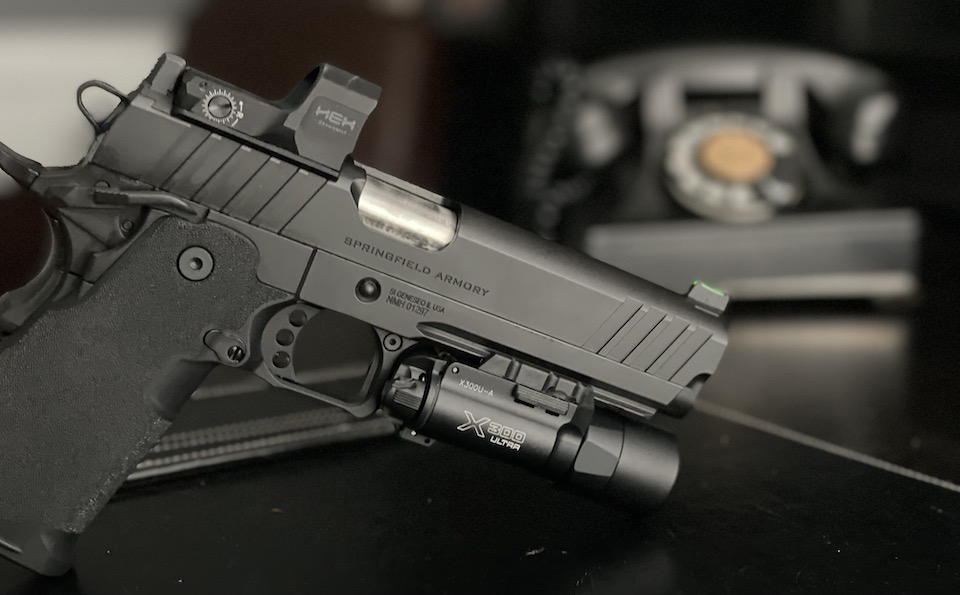 The Springfield Armory 1911 DS Prodigy Handgun: Springfield Armory took the 1911 platform and enhanced it with double-stack capacity of 17 + 1 and 20 + 1. An ambidextrous safety makes it appealing to both right and left-hand users. Its Picatinny rail and optics-ready slide allow for easy mounting of additional accessories. This particular model is the 1911 DS Prodigy AOS 9mm with a five-inch barrel. MSRP: $1,499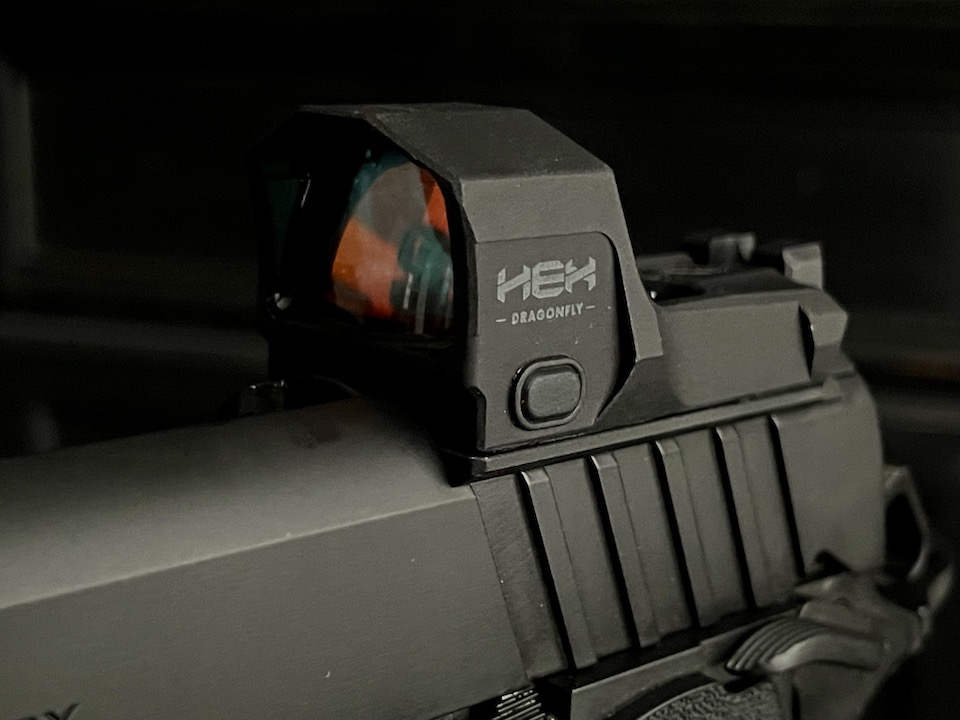 HEX Dragonfly Optic: Springfield Armory's reflex sight offers a 16 hour auto-off feature, which is perfect for those of us who may forget to shut it off and thus drain the battery. (Ask me how I know.) Its manual brightness adjustment and 3.5 MOA dot are very desirable for lightning-fast target acquisition and faster follow up shots. MSRP: $1,699 (pistol and optic) $299 (optic only)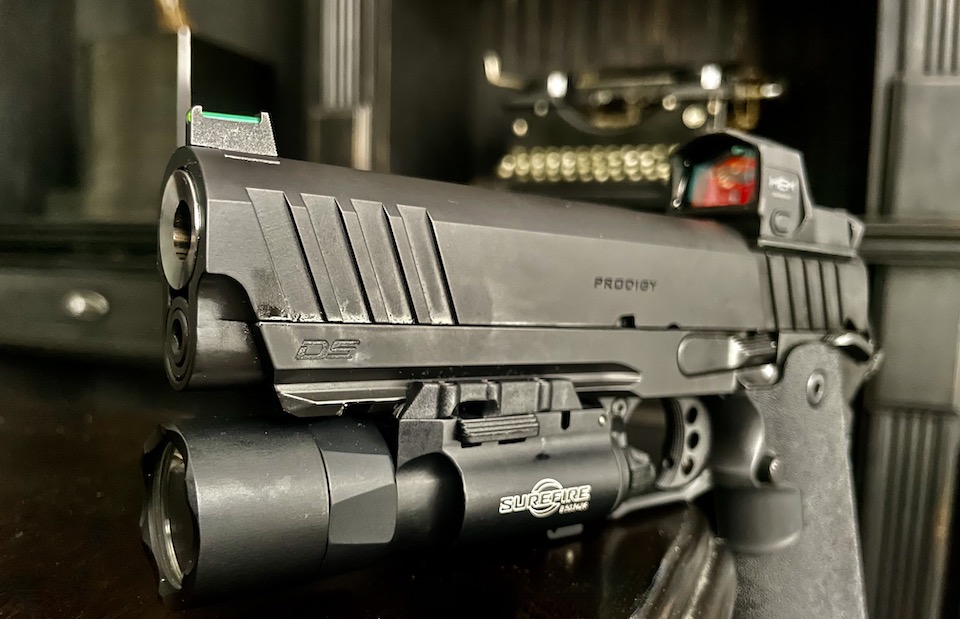 X300U-A WeaponLight: Surefire's Ultra-High-Output LED Handgun WeaponLight generates 1,000 lumens. An intuitive switch allows for instant activation without altering grip, while a Rail-Lock system permits rapid attachment and removal. I'm looking forward to working with this light and practice manipulating it. My support hand thumb immediately found the path to the momentary on switch. Available in black and tan. MSRP: $359 — $369
mu™ OWB-LM Holster – 1911 DS 5″ w/ Surefire X-300: Blackpoint's new mu (multi-use) OWB (outside the waistband) holster offers a variety of belt attachment options. The holster in my kit arrived with a Blade-Tech Tek-Lok attachment. MSRP: $84.99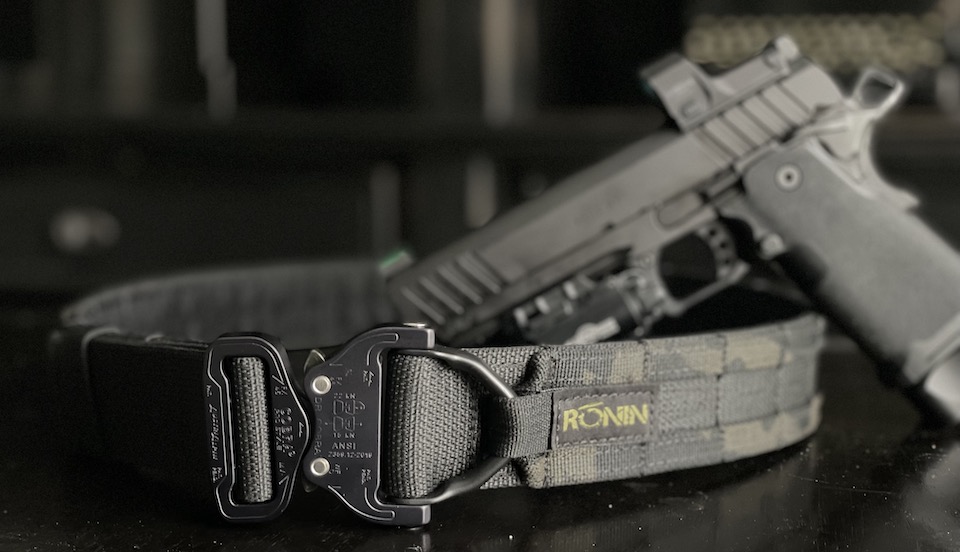 SENSHI Belt: Ronin Tactics SENSHI tactical gun belt has an inner Hook-and-Loop Fastener webbing belt and a tactical load-carry belt. I find having an inner belt makes it much easier when using a port-o-potty on the range. I safely remove and secure the entire outer belt before I step inside, thus avoiding the possibility of dropping any items. The outer belt has two rows of half-inch webbing to allow for an assortment of MOLLE attachments. A two-inch Cobra Buckle (my favorite design) and D-Ring ensure more options for the wearer. MSRP: $188 — $193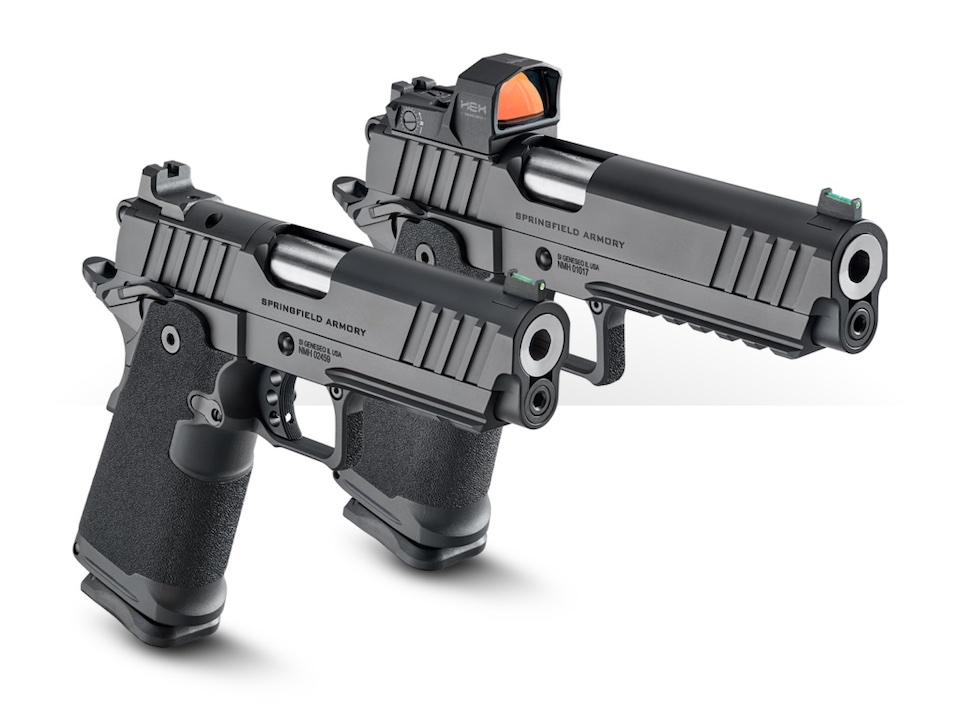 1911 DS Prodigy
Yes, you read it correctly above, the Prodigy is a double-stack, 9mm 1911. The forged steel slide, match-grade bull barrel and frame (although I must admit are heavy at 33 ounces), make for a softer shooting firearm. This helps increase recoil management, allowing for faster follow-up shots. The 1911 DS Prodigy arrives with a flush-fitting, 17-round magazine and an extended 20-rounder. There is also an optional 26-rounder available online.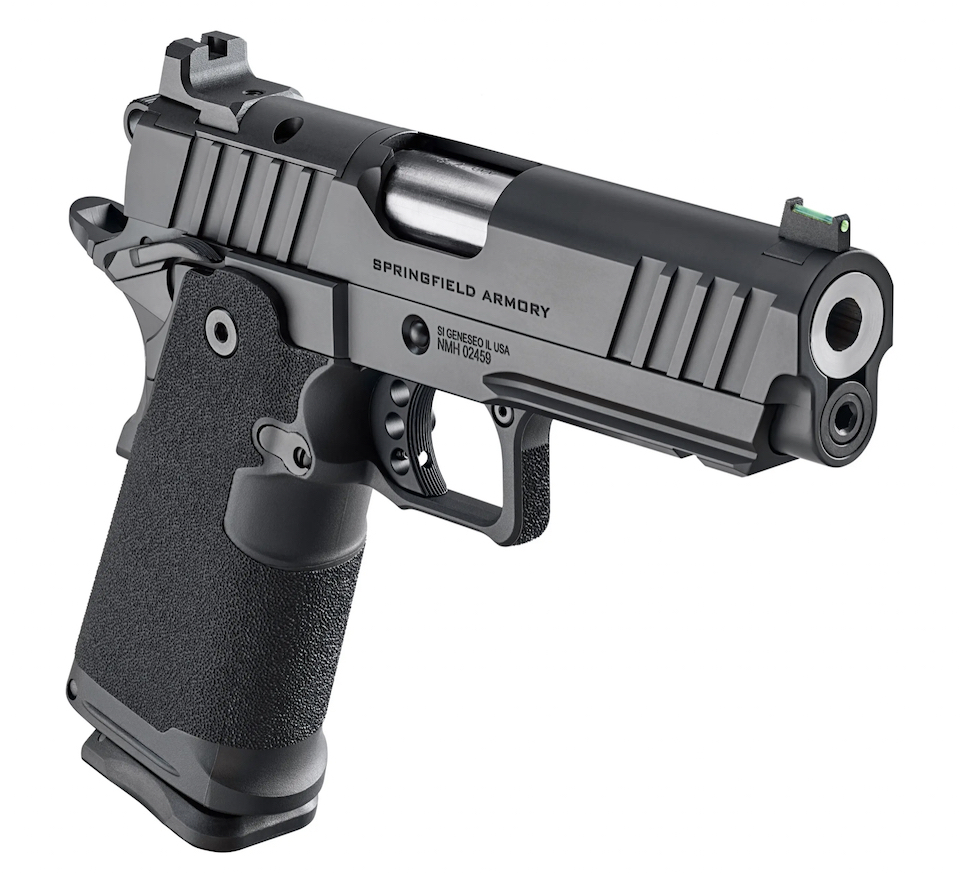 Available in two versions:
1911 DS Prodigy™ 4.25″ AOS 9MM Handgun MSRP: $1,499 (handgun only) $1,699 (handgun with HEX Dragonfly)
1911 DS Prodigy™ AOS 9mm Handgun with 5-inch MSRP: $1,499 (handgun only) $1,699 (handgun with HEX Dragonfly)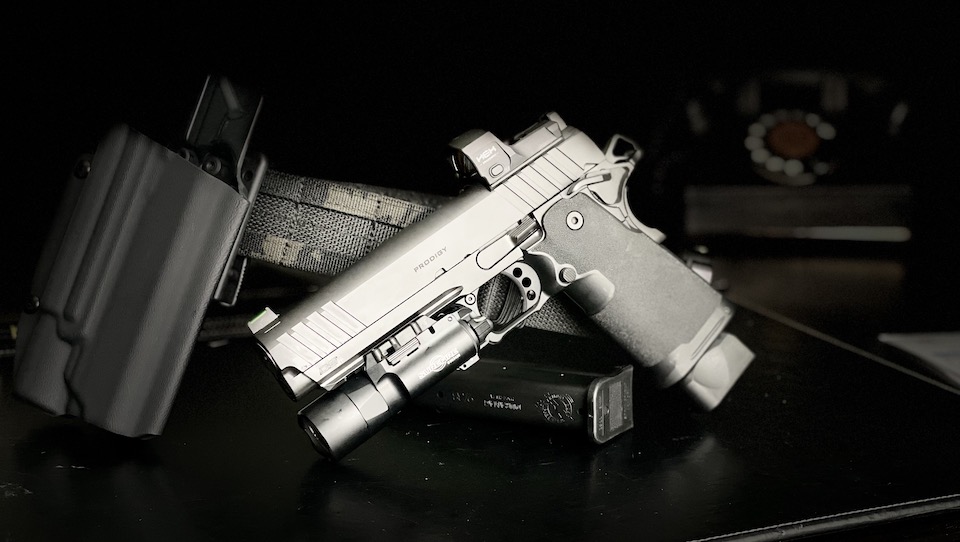 I'm super excited to get on the range with my new Springfield Armory 1911 DS Prodigy. However, in preparation for range day, I'm going to dry-fire practice drawing from the holster, working the safety and finding the red dot. Plan on reading more about the Prodigy and how I intend to use it in upcoming articles.
Learn more about Springfield Armory's 1911 DS Prodigy here.
About Michelle Cerino

Michelle Cerino, aka Princess Gunslinger, entered the firearms industry in 2011 when Cerino Training Group was established. She immediately began competing in both 3-Gun and NRA Action Pistol, becoming a sponsored shooter. Michelle is currently a columnist and Managing Editor of Women's Outdoor News, as well as owner of Pervenio LLC. She also manages social media for Vera Koo and GTM Original. Michelle encourages others to step out of the comforts of home and explore. View all posts by Michelle Cerino →