Getting a Ruger Precision Rifle in .308 WIN Set Up
One of our sons has been interested in precision rifle shooting for a while now, and therefore, so am I. I like to be able to participate in and fully understand some of the things my adult children do. And, this type of shooting is interesting to me. A few years ago, Ruger sent me a Precision Rifle chambered in 6.5 Creedmoor to evaluate, and I was impressed with the rifle. My son, however, wanted a rifle in .308 Winchester for the competitions he planned. Therefore, I asked Ruger to send me a Precision Rifle to purchase, but instead of being chambered in 6.5 Creedmoor, I asked for a .308.

Sponsored by Ruger
Why a .308 WIN? According to my son, an engineer, this caliber is trending in the precision shooting world. The .308 has been around since the late 1950's, and is NATO's standardized .30 caliber ammunition, so there is quite a bit of ammo out there with lots of different loads available. Our son says it's the prepper's precision rifle, as it will be his go-to during the apocalypse. He also believes it's easier and cheaper to find the ammo, and if you're interested in shooting out to 1,000 yards, it will do the job.
We, at the WON, have been working with Ruger's line of Precision Rifles for a few years now. In fact, you may read some of our other reviews and tips for getting a precision rifle set up correctly here.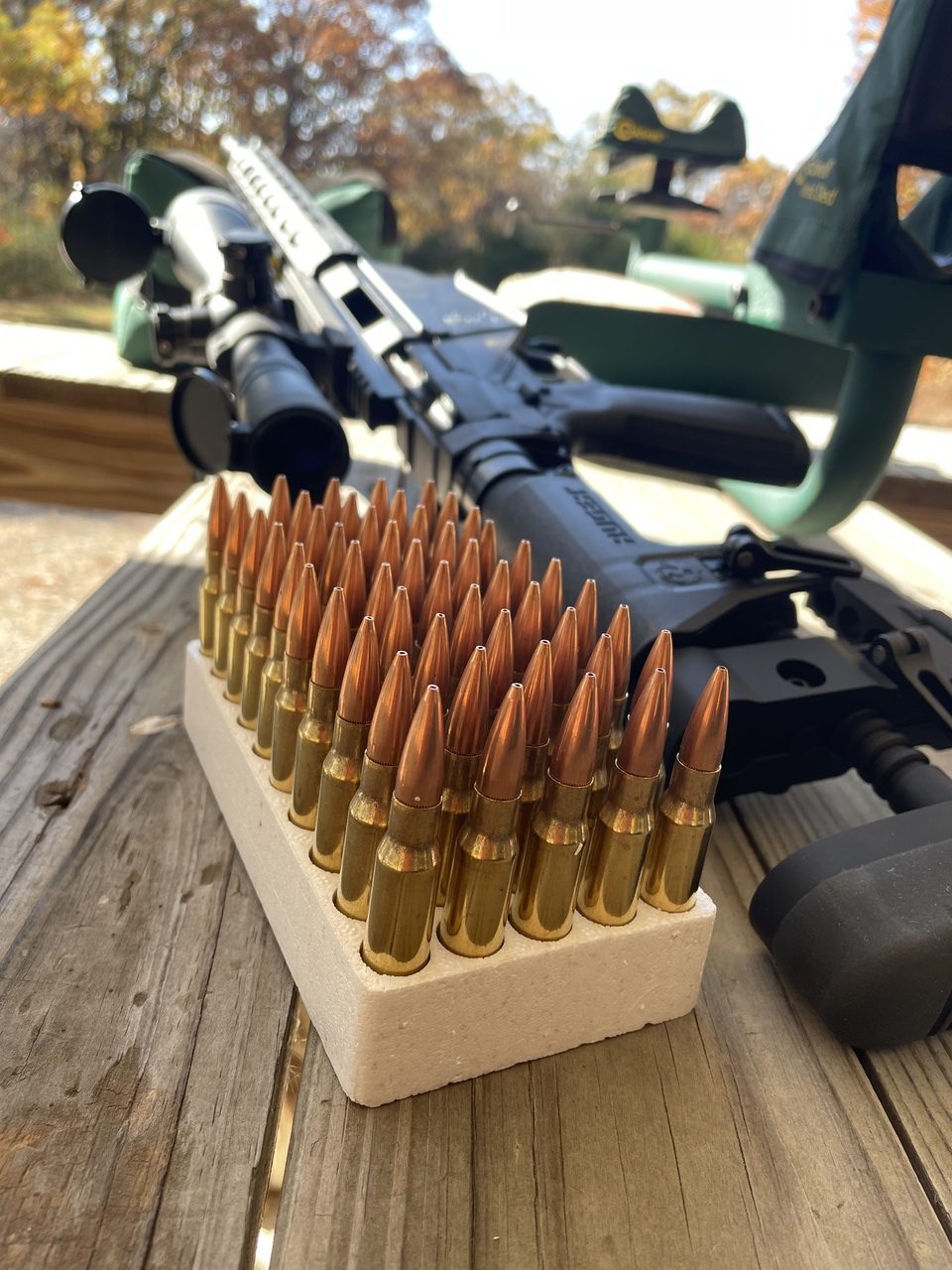 Ruger refined its Precision Rifle, since the first one rolled off the line in July 2015. As I mentioned, we had one of those early guns on the range, with the female engineer who was part of the design team there to shoot it and describe some of it's interesting qualities.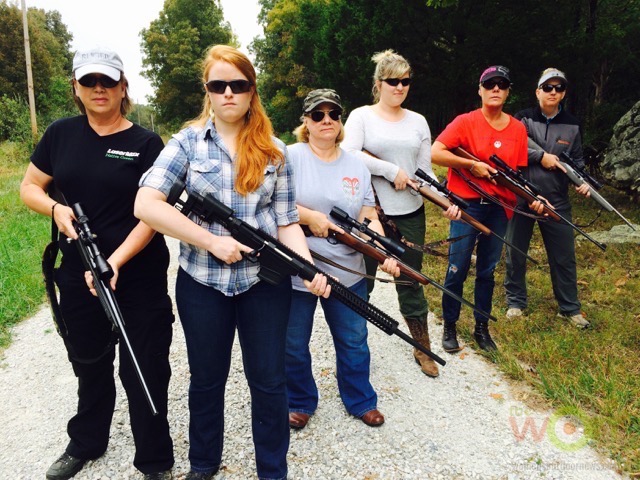 If you're interested in the specifications of this model, here's what Ruger published at its website:
Medium-contour (.75″ at the muzzle) barrel features a Ruger Precision Rifle Hybrid Muzzle Brake to reduce recoil effectively while minimizing noise and blast to the sides of the shooter.
Patented multi-magazine interface functions interchangeably with AICS and M110/SR-25/DPMS/Magpul-style magazines (and it works with some M14 magazines).
Ruger Marksman Adjustable™ trigger is externally adjustable, with a trigger pull range of 2.25 to 5 pounds; the wrench is stored in the bolt shroud.
In-line recoil path manages recoil directly from the rear of the receiver to the buttstock, not through a traditional bedding system, providing maximum accuracy potential.
Ruger Precision MSR stock with QD sling attachment points features a bottom Picatinny rail and soft rubber buttpad. The left-folding stock hinge is attached to an AR-style buffer tube and accepts any AR-style stock. Length of pull and comb height are adjustable.
Cold hammer-forged, chrome-moly steel barrel with 5R Rifling at minimum bore and groove dimensions, minimum headspace and centralized chamber.
15″ aluminum free-float handguard is black hard-coat anodized aluminum and features Magpul® M-LOK® slots on all four sides for improved scope clearance for long-range scopes and easy mounting of M-LOK-compatible rails and accessories.
Ambidextrous manual safety for left- or right-handed lever manipulation.
20 MOA Picatinny rail secured with # 8-40 screws for increased long-range elevation capabilities.
"Upper" receiver and one-piece bolt are precision CNC-machined from pre-hardened 4140 chrome-moly steel to minimize distortion.
Three-lug bolt with 70° throw features dual cocking cams and a smooth-running, full diameter bolt body. Bolt body is nitrided for corrosion resistance, smooth operation and durability.
Barrel can be replaced easily by a competent gunsmith using headspace gauges.
Magazine well front is contoured for a positive grip when bracing against shooting supports.
Oversized bolt handle for positive bolt manipulation, with a 5/16″-24 thread pattern for easy replacement. Bolt disassembly tool is stored in the Ruger Precision Rifle Billet Aluminum Bolt Shroud for easy striker channel cleaning.
"Lower" magazine well halves are precision machined from aerospace-grade 7075-T6 aluminum and are Type III hard-coat anodized for maximum durability.
Extended trigger-reach AR-style grip and 45° ambidextrous safety selector. May be configured with any AR-style grip and selector.
Also includes: two, 10-round Magpul PMAG® magazines.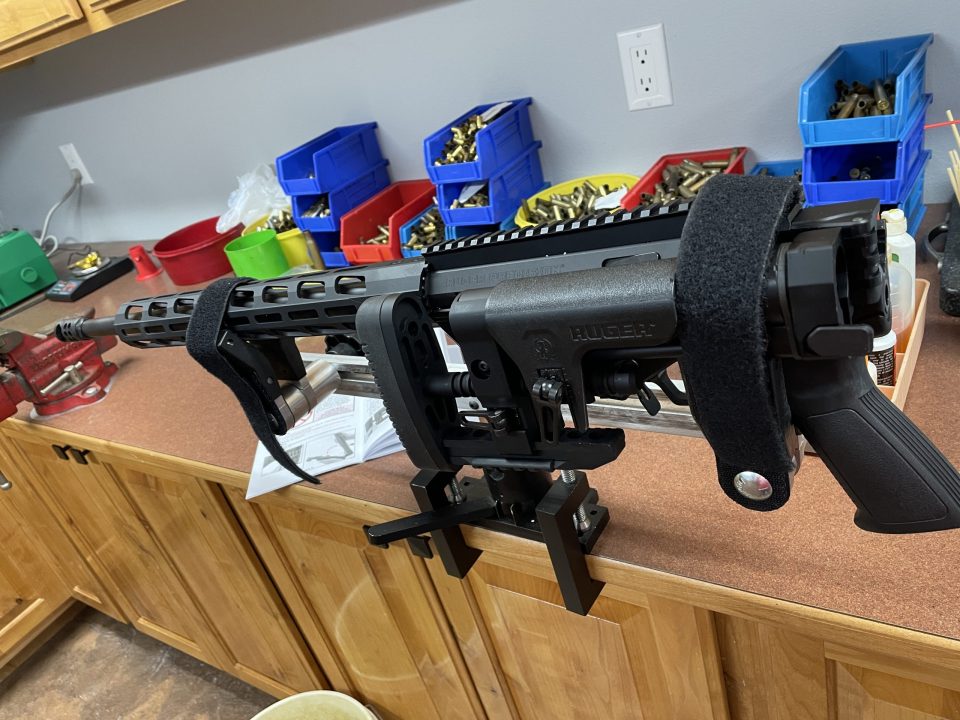 I started at the gun cleaning bench, folded back the collapsible stock and got the barrel cleaned before taking it to the range. I borrowed a scope from my husband that was already fixed in a quick release Picatinny mount; therefore, the scope easily attached to the Picatinny rail. I took the gun to the range, checked the gun was clear by making sure it didn't have any ammo in it or near it, and boresighted it on the range. Being able to fold the stock and remove the bolt made it easy to boresight the gun. Simply put the gun in a solid mount (I used front and rear shooting bags to hold the rifle), point it at your target and look through the gun's bore. Find a point on the target or target frame that you can easily identify, center that point in the bore, and without moving the rifle look through the scope. Adjust the scope's crosshairs with their adjustment knobs so the crosshairs are centered on the point you chose while looking down the bore, all the while double-checking through the bore that you have not moved the rifle. Voila! The gun is boresighted. Insert the bolt into the rifle's receiver, unfold the buttstock and you are ready to shoot.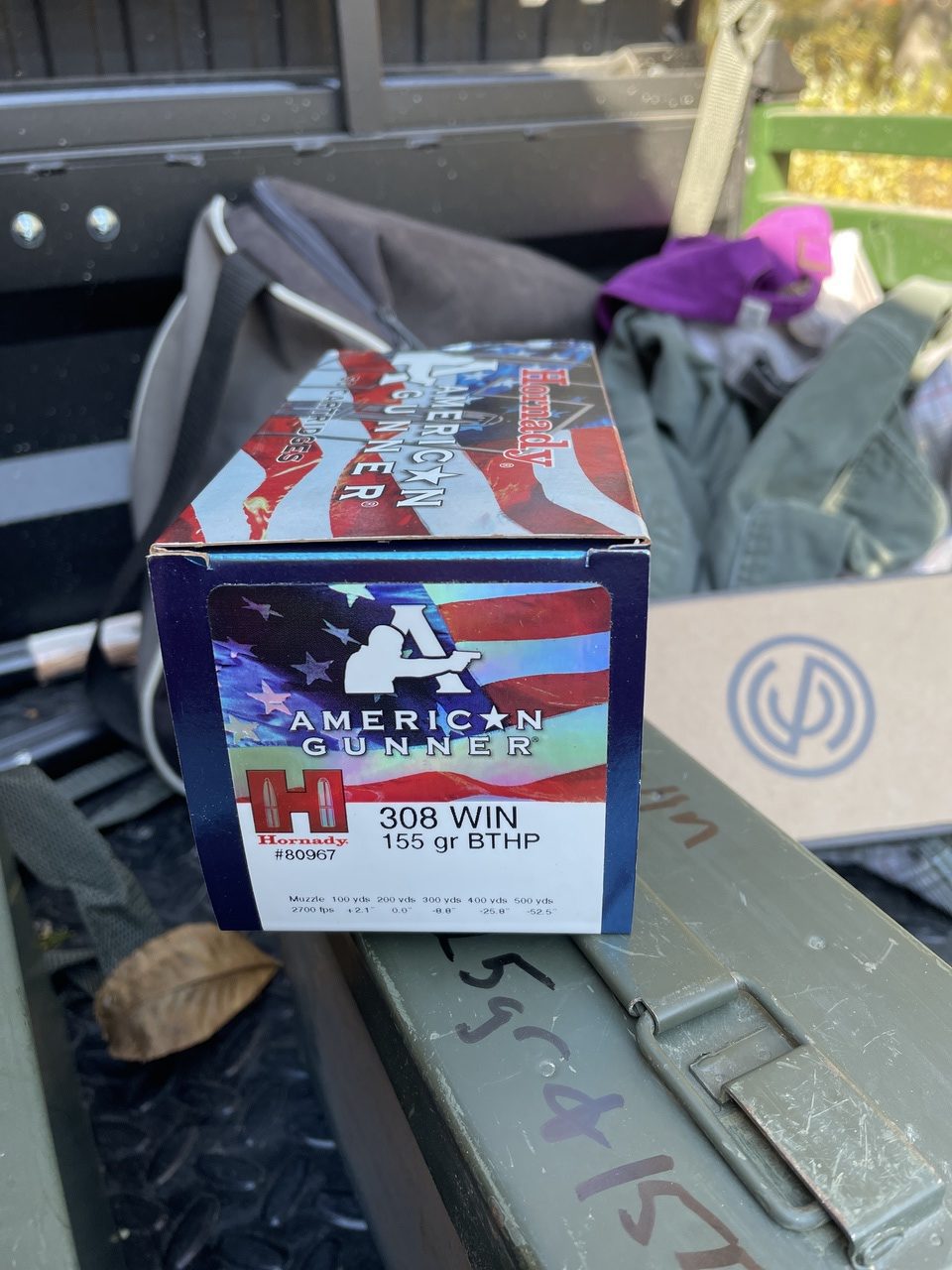 Then, I started shooting Hornady American Gunner, .308 WIN with 155-grain BTHP (boat-tail hollow point). After checking the sighting-in at 50 yards and shooting some decent groups, it came time to work on a longer range. So my crew and I packed up and headed out to a 400-yard rifle range. Now, a precision rifle such as this one should be useful out to 1000 yards, so my husband reminded me during my 50-yard exercise with this gun, "You should be hitting in the same hole, Barb."
Mother Nature had other ideas, though. She blew a south wind right in our faces at the range, at about 40 miles per hour with side gusts. After working with the gun for a while, and getting inconsistent results, and after shooting through a chain on a metal swinging target at 100 yards, I decided to give it a break as I wasn't getting anywhere.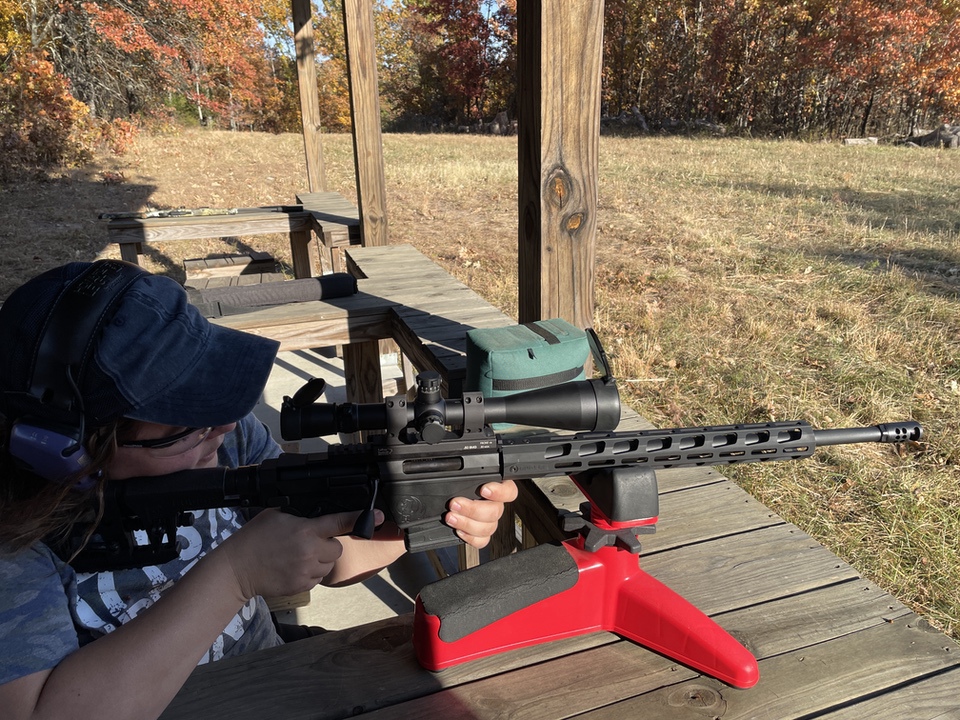 Second Range Day
With very little wind to deal with, we (hubs and me) could spend an afternoon at the range, adjusting the stock to fit and fine tuning the scope to hit. We started shooting the Precision Rifle at 50 yards, and aimed for a tight group and achieved bullet hole within bullet hole after moving the target to 100 yards. It then came time to stretch out to the 24-inch plates, located at 200 and 300 yards. Again, with slight adjustments, the rifle performed well.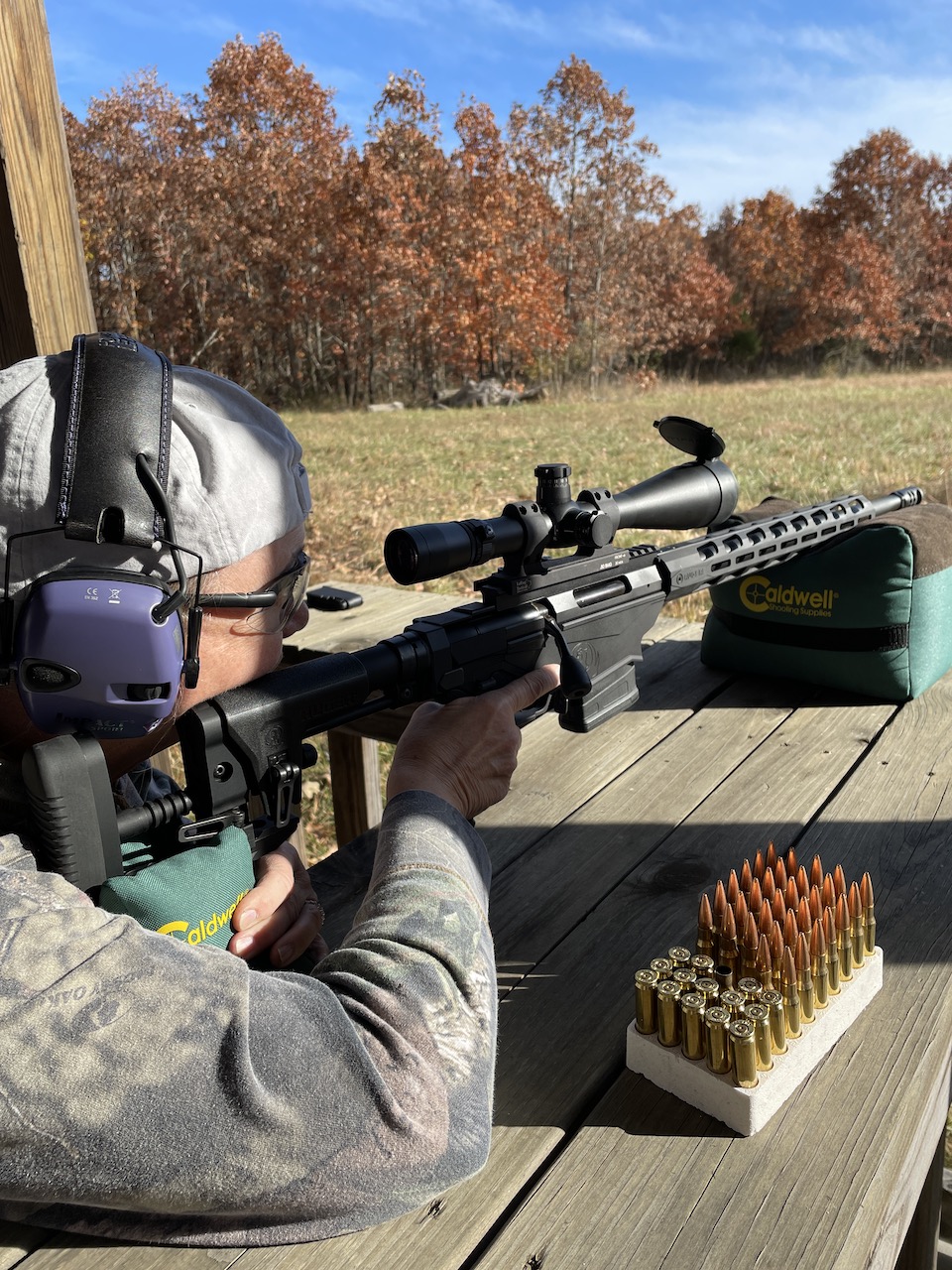 Granted, should we want to enter a real competition, it would take more fine tuning and working with different loads and brands of ammo. Every rifle has its "favorite" ammunition, and this gun actually performed better with standard 7.62 x 51 mm M80 NATO Ball ammo (148-grain bullets) at the short ranges. Unfortunately, we ran out of time to do more testing because we were sighting-in other guns in preparation for deer season and didn't shoot the 168-, 175-, and 180-grain match ammo we had in reserve. We did shoot the Precision Rifle enough to sight it in, evaluate it at different ranges, and to tell that we had a real shooter on our hands.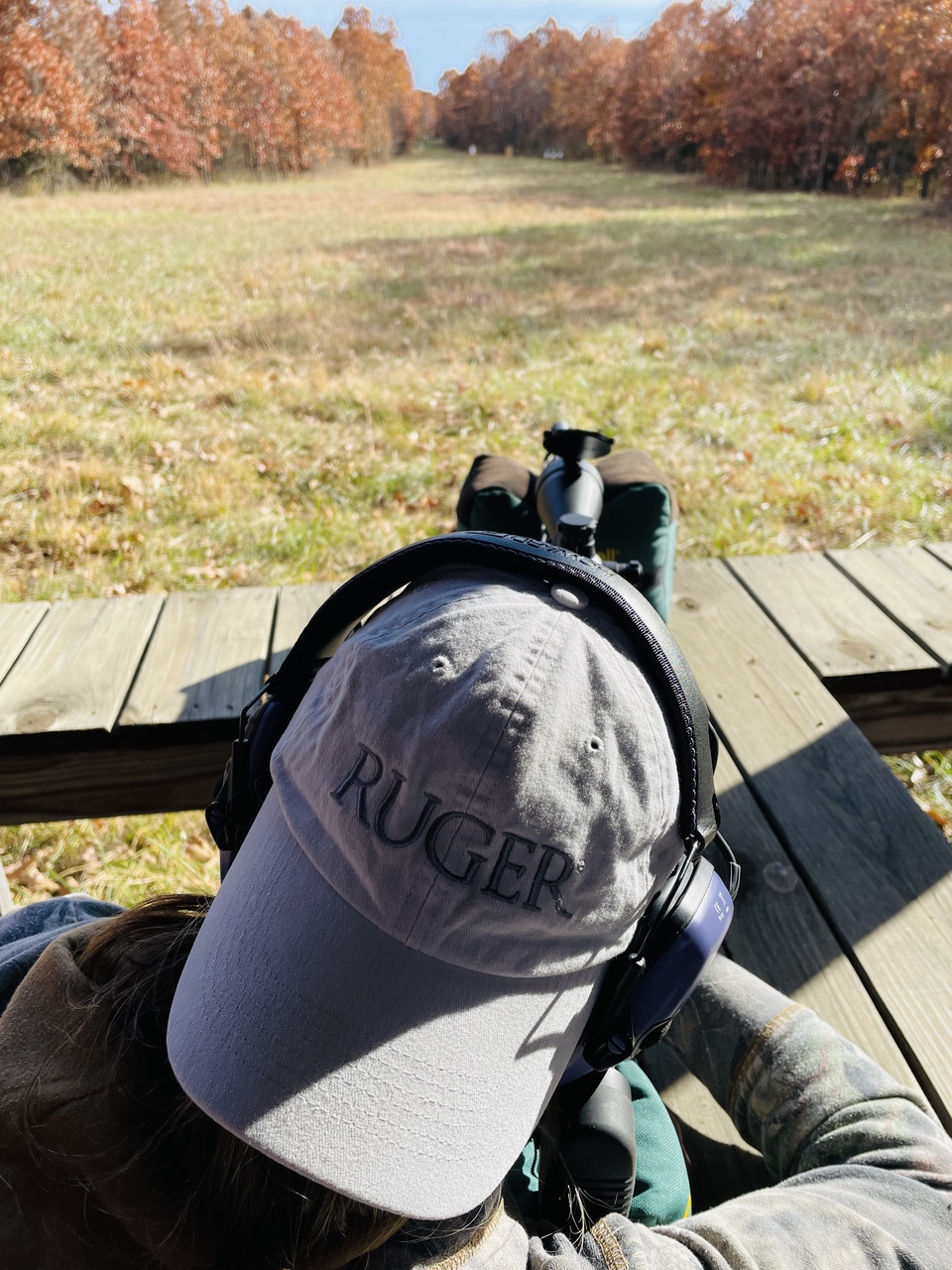 Our next trip out to the range with the Precision Rifle will happen when the big kids come home for Thanksgiving. We're hoping for good range day weather and a shoot-off at 400 yards. Then, the gun will travel to North Carolina, when I hope to join my son on the range and go even farther on target next year.
In the meantime, this Precision Rifle has been around long enough to prove itself. It came roaring out of the plant as a winner, and continues its streak as a go-to, affordable and accurate rifle for long range shooting.
See the options for the Ruger Precision Rifle here.
About Barbara Baird

Publisher/Editor Barbara Baird is a freelance writer in hunting, shooting and outdoor markets. Her bylines are found at several top hunting and shooting publications. She also is a travel writer, and you can follow her at https://www.ozarkian.com. View all posts by Barbara Baird →