Family Day at the Range: Ruger Precision Rifle Time
We planned to smoke two turkeys while together this past Thanksgiving, and we also planned to do other things than eat. Our big family (14 in total this year at the table, adults and children) set aside time for play. To us, that could mean a game of pool, a board game with the kids or … family day at the range. We opted for all three, and decided to take our new Ruger Precision Rifle, chambered in .308 WIN, out for some family range time during the holiday.

Sponsored by Ruger
Ruger Precision Rifle Time
Before taking this Precision Rifle out, I spent time getting it prepped. You can read about that process here, and learn or reacquaint yourself with steps any responsible gun owner should take in order to assure success on the range with a new firearm.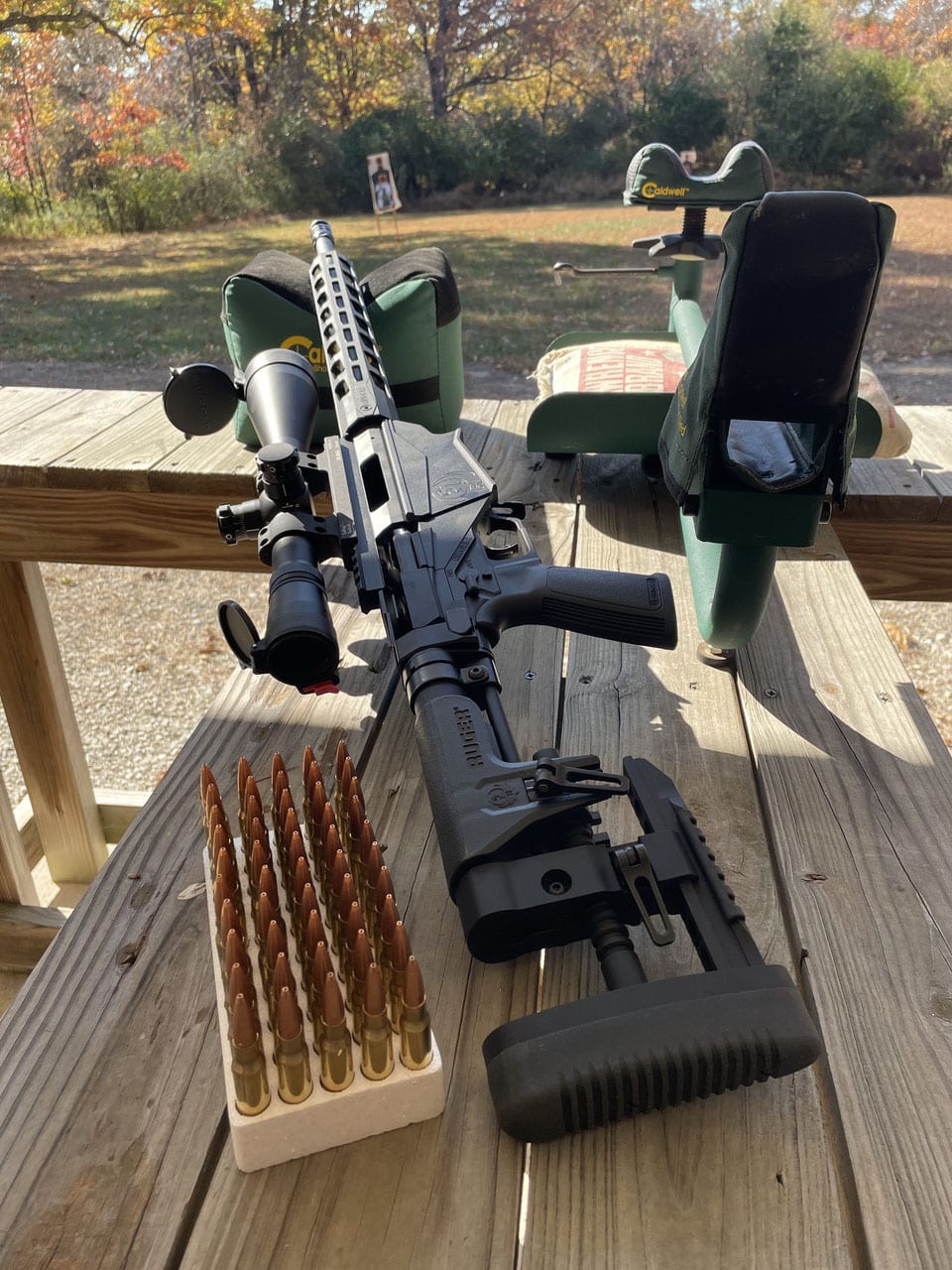 This isn't the first time we've had our hands and trigger fingers on a Ruger Precision rifle. In fact, we shot one of the first ones off the assembly line a few years ago, in 6.5 Creedmoor caliber, along with one of the project engineers – Emily Houston Monroe – who happened to be at our place at the time. She was rightly proud of the rifle, as it handled and shot very well.
Our writer, Jen Barcklay, extols the virtues of this gun – in its 6.5 Creedmoor and .22 caliber (Ruger American Rimfire Long Range Target Rifle) versions. She has since purchased the guns and continues to compete with them. In fact, she wrote a helpful primer regarding how to get started in the world of precision rifle shooting.
We have a 400-meter range on our property, and in this case, I wished it were longer so we could see how the Ruger Precision Rifle would perform at the longer ranges. Since we live in the hills and hollers of the Ozarks, however, that's just not possible on our piece of property – unless we shoot from hilltop to hilltop.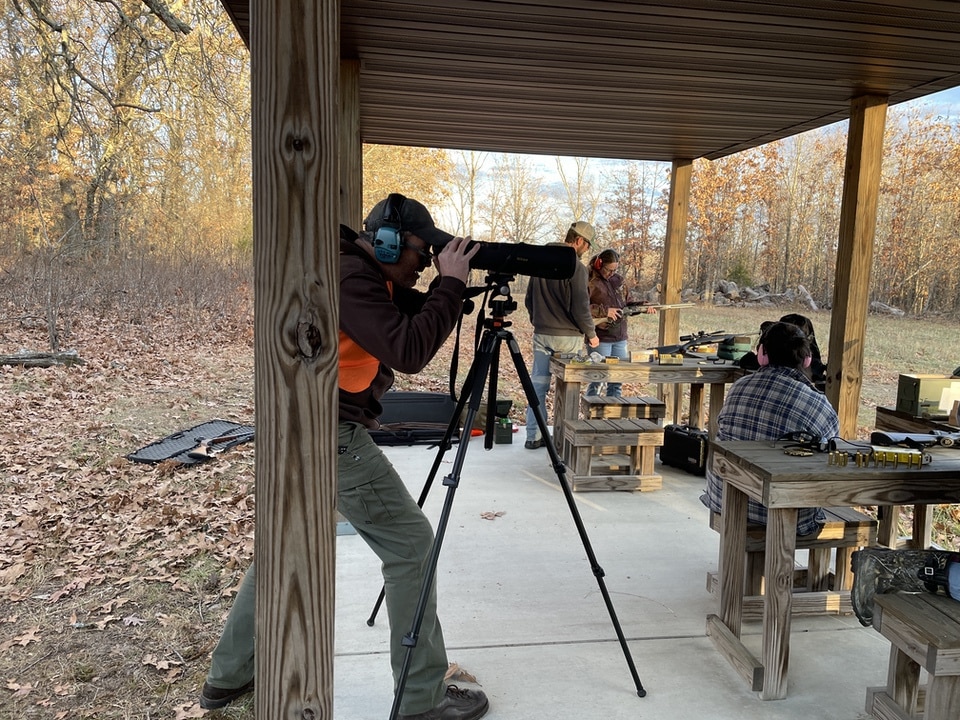 Our range is a great starting point, though, for a new shooter – such as my daughter-in-law, Paige. Paige feels comfortable behind a deer rifle and an AR-15. She can shoot those well all day long. How would she do with the Ruger Precision Rifle?
I had no doubts that she would enjoy it. Being a large rifle, and sporting either a muzzle brake or a suppressor, there's very little noticeable recoil, and the stock can be adjusted to fit nearly any shooter. Here are several of the specs listed by Ruger at its website:
Medium-contour (.75″ at the muzzle) barrel features a Ruger Precision Rifle Hybrid Muzzle Brake to effectively reduce recoil while minimizing noise and blast to the sides of the shooter.
Patented multi-magazine interface functions interchangeably with AICS and M110/SR-25/DPMS/Magpul-style magazines (works with some M14 magazines).
Ruger Marksman Adjustable™ trigger is externally adjustable, with a trigger pull range of 2.25 to 5 pounds; wrench is stored in the bolt shroud.
In-line recoil path manages recoil directly from the rear of the receiver to the buttstock, not through a traditional bedding system, providing maximum accuracy potential.
Ruger Precision MSR stock with QD sling attachment points features a bottom Picatinny rail and soft rubber buttpad. The left-folding stock hinge is attached to an AR-style buffer tube and accepts any AR-style stock. Length of pull and comb height are adjustable.
Cold hammer-forged, chrome-moly steel barrel with 5R Rifling at minimum bore and groove dimensions, minimum headspace and centralized chamber.
15″ aluminum free-float handguard is black hard-coat anodized aluminum and features Magpul® M-LOK® slots on all four sides for improved scope clearance for long-range scopes and easy mounting of M-LOK-compatible rails and accessories.
Ambidextrous manual safety for left- or right-handed lever manipulation.
20 MOA Picatinny rail secured with # 8-40 screws for increased long-range elevation capabilities.
"Upper" receiver and one-piece bolt are precision CNC-machined from pre-hardened 4140 chrome-moly steel to minimize distortion.
Three-lug bolt with 70° throw features dual cocking cams and a smooth-running, full diameter bolt body. Bolt body is nitrided for corrosion resistance, smooth operation and durability.
Barrel can be replaced easily by a competent gunsmith using headspace gauges.
Magazine well front is contoured for a positive grip when bracing against shooting supports.
Oversized bolt handle for positive bolt manipulation, with a 5/16″-24 thread pattern for easy replacement. Bolt disassembly tool is stored in the Ruger Precision Rifle Billet Aluminum Bolt Shroud for easy striker channel cleaning.
"Lower" magazine well halves are precision machined from aerospace-grade 7075-T6 aluminum and are Type III hard-coat anodized for maximum durability.
Extended trigger-reach AR-style grip and 45° ambidextrous safety selector. May be configured with any AR-style grip and selector.
Also includes: two, 10-round Magpul PMAG® magazines.
Family Day at the Range
We had a wide range of guns on the range that day, along with this rifle. One daughter-in-law honed her skill of being able to sit on the ground and shoot a deer rifle. That might come in handy in the near future for her, back in the mountains of North Carolina. Our 11-year-old granddaughter rang the gongs with an AR-15 at 300 meters. Paige, meanwhile, shot a few of the other rifles, but kept eyeing the Precision Rifle over on the far bench.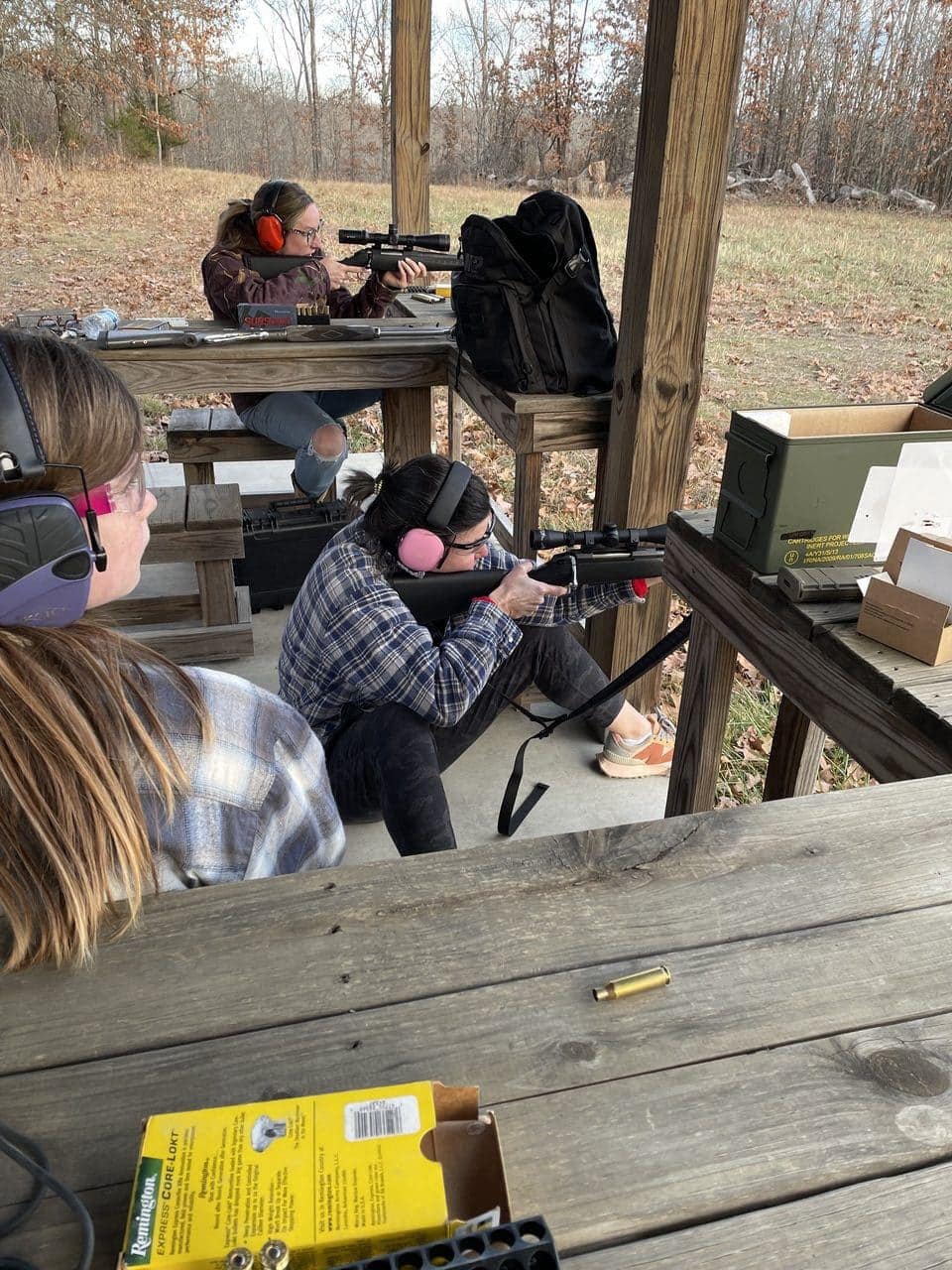 We have metal gongs (AR-500 steel plates that measure from one to two feet in diameter, depending on the range from the shooting point) suspended from stands at 100, 200, 300 and 400 meters away on our range. We'd already worked on checking the scope at 50 and 100 meters a few weeks earlier and then, zeroing it at 200 meters with the rifle, and we knew how the gun shot with various ammunition brands and loadings.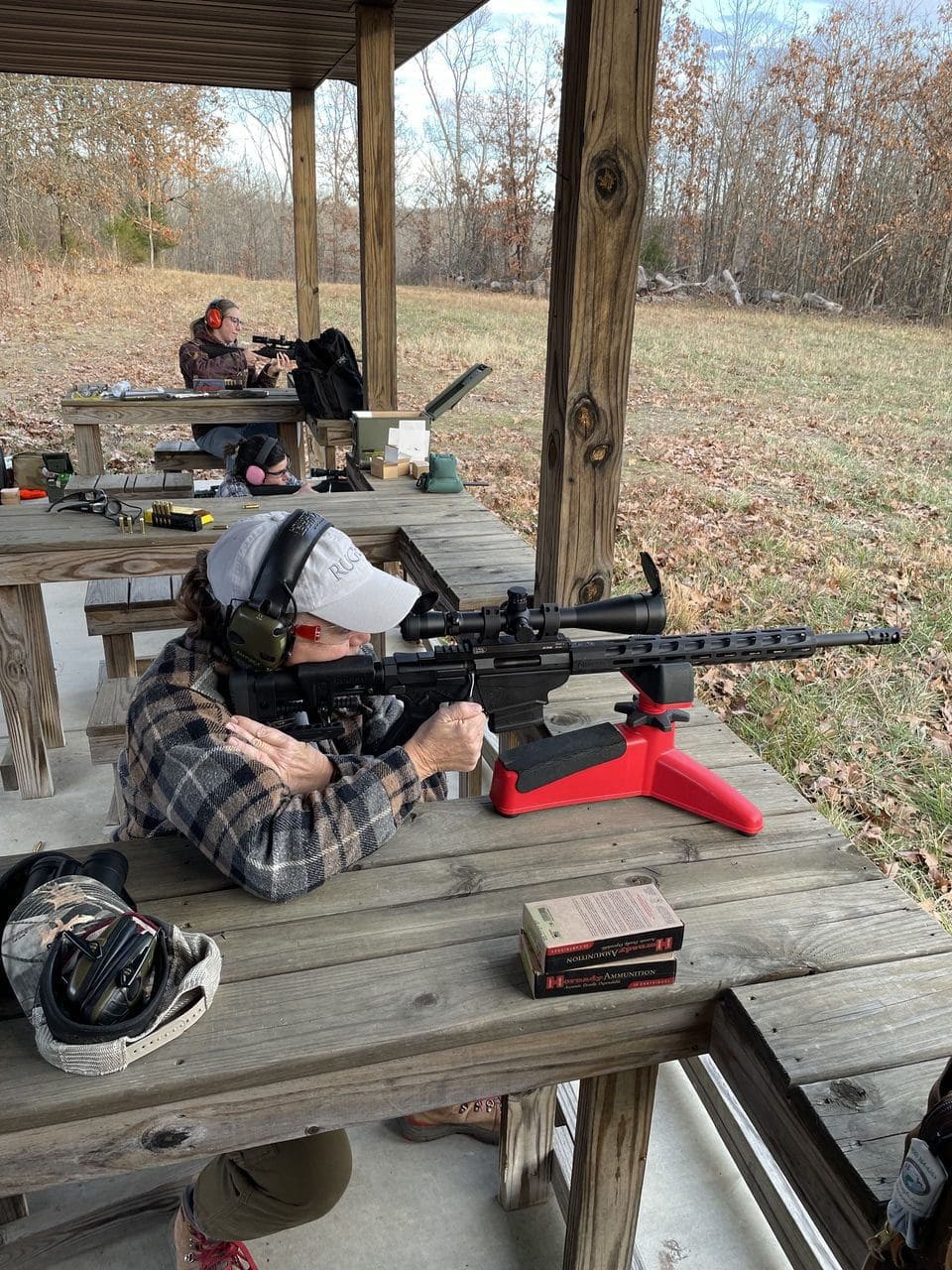 Our sons (one was Paige's husband) grew up shooting, and they became huge fans of this gun over the course of this range day. So, we set Paige up for success with the first shot. It was up to her, and her execution of good shooting fundamentals.
Bang. She hit the first gong at 100 meters, and then readjusted for 200, 300 … and ultimately 400 meters. She never missed, even though she used the scope reticle to determine hold-overs rather than adjusting the elevation turret. She took instructions well, especially when it came to scope use at the different distances and understanding how much more the bullet would drop at 400 meters versus the shorter ranges.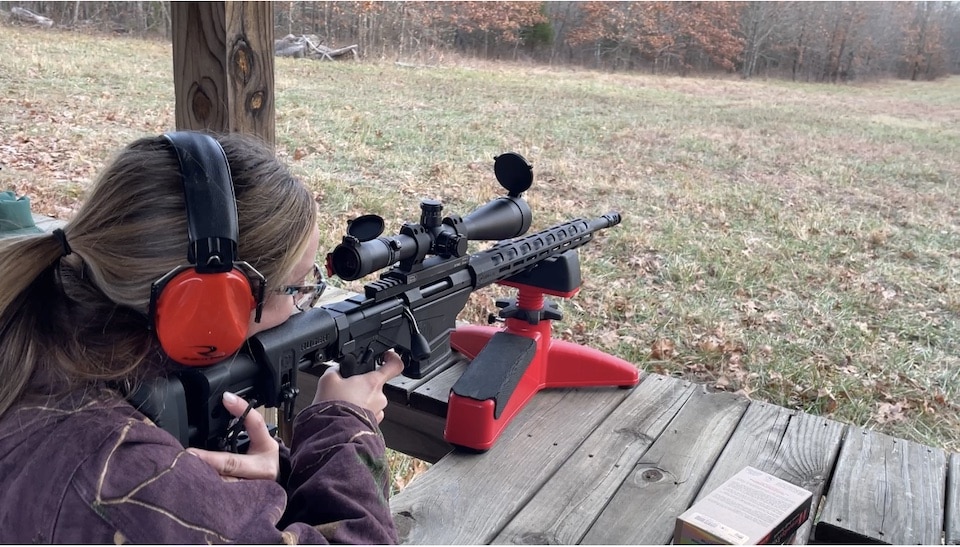 Because of her delight as a new shooter with the (nearly) instant gratification because of the ding-dongs of the gongs, and how easily she adjusted to shooting the Ruger Precision Rifle, it's clear this rifle could be the perfect addition to anyone's collection of guns for days such as this one.
This will long be remembered by our family as the day Paige made the gongs sing.
Check out Ruger's extensive line of fine precision rifles.
About Barbara Baird

Publisher/Editor Barbara Baird is a freelance writer in hunting, shooting and outdoor markets. Her bylines are found at several top hunting and shooting publications. She also is a travel writer, and you can follow her at https://www.ozarkian.com. View all posts by Barbara Baird →