Gun Review: Walther PPQ SC
A few years ago, I reviewed the Walther PPQ M2, and liked it. I've been carrying that firearm for a while now, especially in colder temperatures and under coats and jackets for concealed carry. Walther asked The WON to review its sub-compact version of this striker-fired pistol, the Walther PPQ SC, in the Law Enforcement (LE) version, chambered in 9mm. It did not disappoint.

Sponsored by Walther Arms
Walther PPQ SC
First, it's got the look. The Walther look. The "I'm related to the PPQ M2 look," and that's a good thing. Walther calls it "distinctive styling." I call it sleek and frankly, rather sassy. All black, with Tenifer coating on its slide and barrel, and in a matte finish, it looks like business and it is business. At a 1.3-inches width, it's narrow enough to conceal inside-the-waistband for summer carry. It stands 4.4-inches tall and measures 6.6-inches long, with a 3.5-inch barrel. This LE version came with 3 magazines – a 15-round extended mag and a couple of 10-round magazines. One of the 10-round mags fits flush and the other has a slight extension at the end (not as long as the 15-rounder's).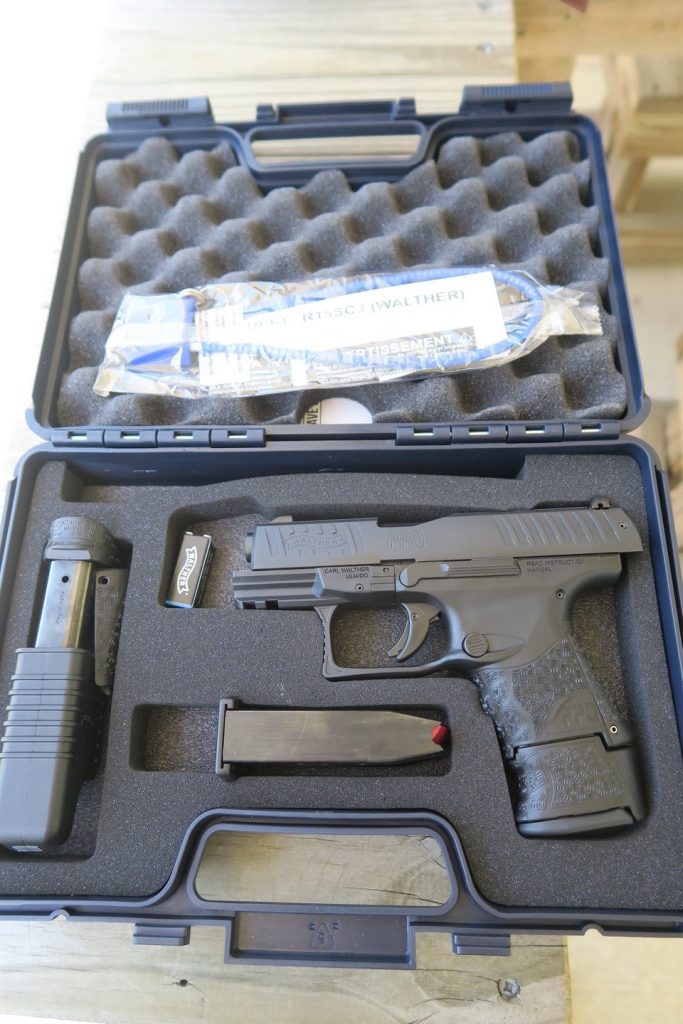 About those magazines … I can fit my whole hand around the grip when I use the 15-round magazine, almost my whole hand with the extended 10-round magazine and 2-1/2 fingers on the flush fit. None of the magazines caused my performance to be any better than the other, especially with the type of defensive-style shooting that I did with this gun. It's nice to have the options for different size/style magazines.
Here are a few other strong points of this version of the PPQ:
Front and rear slide serrations, which allow for easier gripping
Extended slide stop (especially useful if you're wearing gloves)
Bilateral magazine release (comes with the right-handed button)
Standard and large backstrap grips (I used the regular)
Picatinny rail mount under front frame for light or laser
Low profile sights, with 3-dot polymer combat sights (won't catch on clothing or bag)
Tenifer coating on the gun's metal parts, to help prevent corrosion and damages from impact.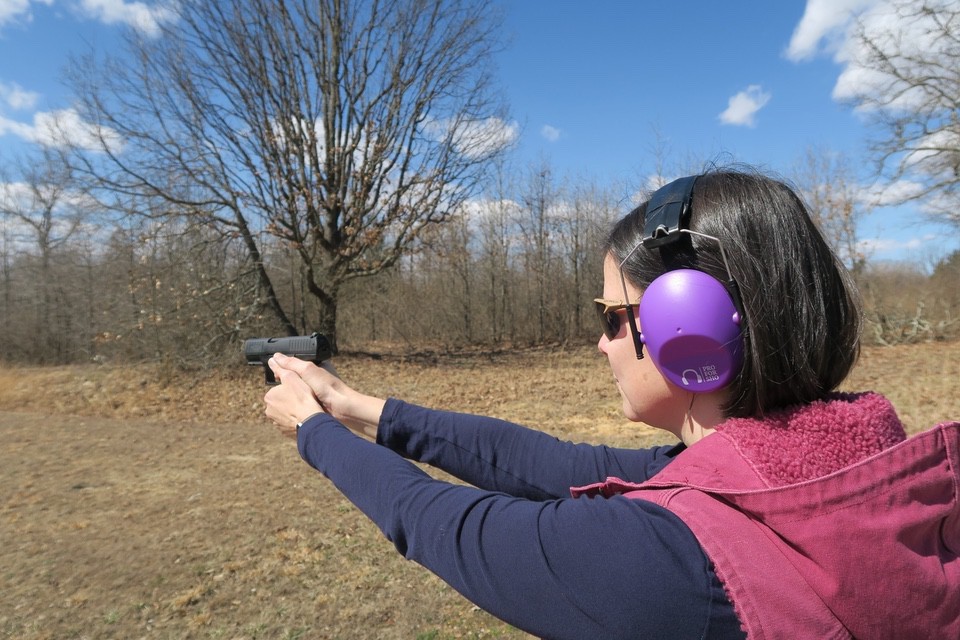 On the range with the Walther PPQ SC
After breaking in the gun with 200+ target rounds, it was time to get to work on accuracy testing with 5, 5-round groups per ammo used, at 7 yards, from a bench rest position. There were no malfunctions.
Aguila 9mm Luger, Full Metal Jacket, 124 grain: largest group – 1.5; smallest group – .5; average – .85.
Remington High Terminal Performance, Jacketed Hollow Point, 115 grain: largest group – 1.25; smallest group – 1.o; average – 1.1.
Remington Golden Saber Black Belt, Jacketed Hollow Point, 124 grain: largest group – 1.25; smallest group – .75; average – .95.
After the accuracy testing, I returned for another day on the range and another 150 rounds, practicing again with 3 types of ammo on a tombstone target at 7 yards (concealed carry distance) and being quite happy with rounds falling in the center mass area (and head shots), even with rapid fire.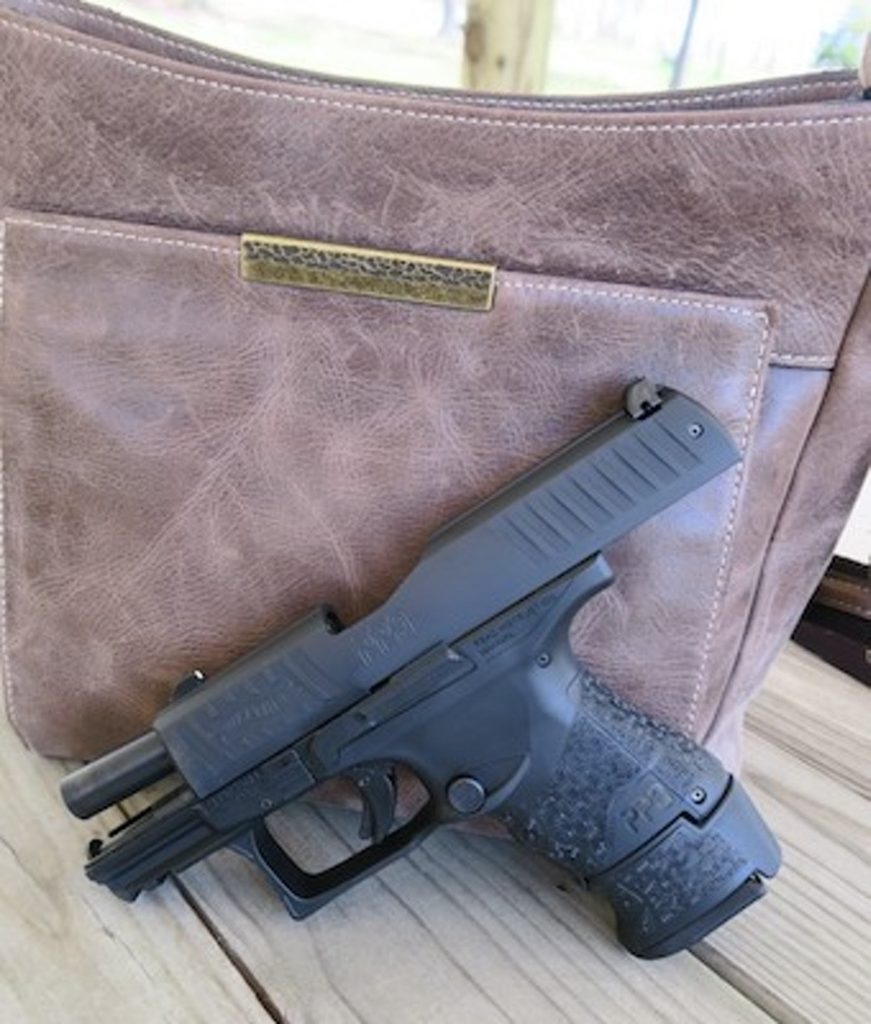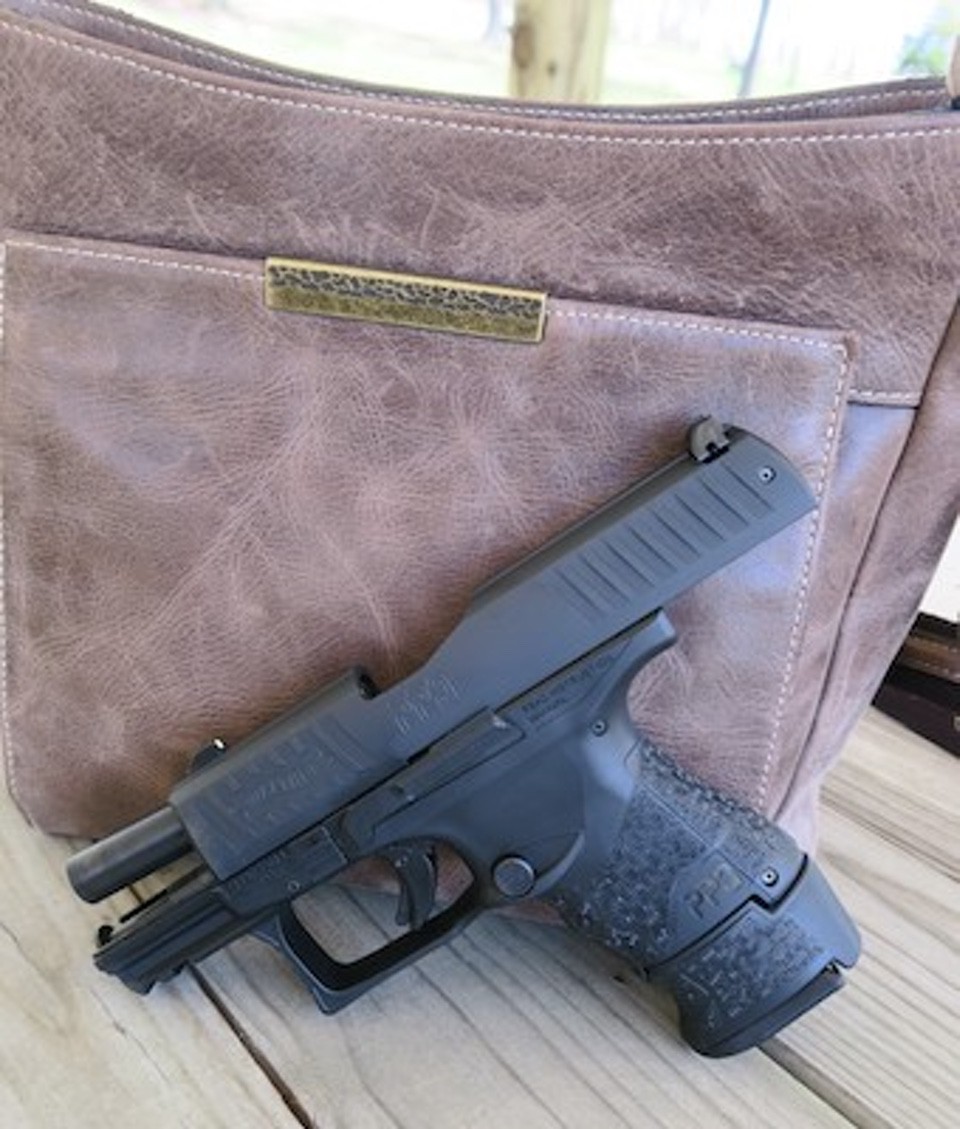 Back indoors, with no ammo anywhere near the gun, I practiced dry fire drills with it, pulling from one of my favorite carry bags, a GTM/CZY–98. I tried it with all the mags and it worked fine in the draw.
Why women love Walther
So why will women like this gun?
Walthers are known for smooth single-action triggers with very little travel. This model comes with a superior 5.6-pound trigger. In fact, the trigger bears the company's name, the "Carl Walther signature quick defense trigger" – designed specifically for the PPQ and different from other lines of Walther pistols. When you pull the trigger, the trigger system releases the fully pre-loaded striker assembly, firing the pistol. Pulling the trigger does not partially load the striker spring as with the Glock and many other striker fired pistol designs. Therefore, the PPQ trigger pull is absent that springy, spongy feel of typical striker-fired handguns.
Disassembly is uncomplicated an easy. No flying springs. Similar to cleaning a GLOCK.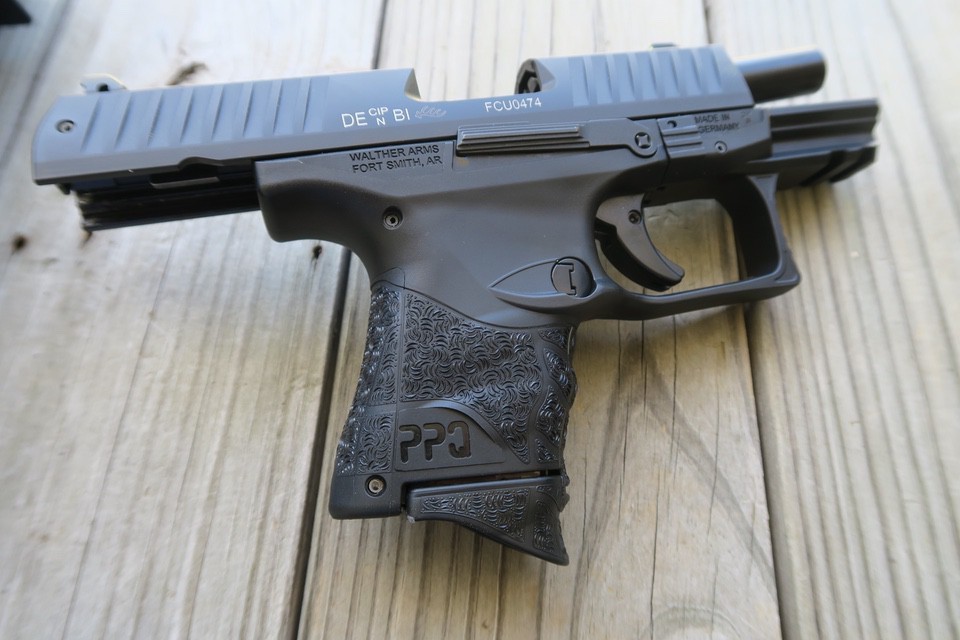 The PPQ SSC comes in 3 versions: Standard sub-compact, W/XS F8 Night Sights and the LE edition. It also comes with a magazine loader.
Visit the Walther website to see this firearm.
MSRP: $469
About Barbara Baird

Publisher/Editor Barbara Baird is a freelance writer in hunting, shooting and outdoor markets. Her bylines are found at several top hunting and shooting publications. She also is a travel writer, and you can follow her at https://www.ozarkian.com. View all posts by Barbara Baird →