Smith & Wesson Knives: The Ace of Blades
The world of knives is vast and old and can look somewhat daunting to an untrained eye (such as mine). If you've seen the popular TV series, "Forged in Fire," you'll understand just how much tradition and technology have melded throughout the years to create these marvelous and sometimes deadly tools for us to use. Smith & Wesson offers a vast line of affordable knives to choose from. Here's a run-down of five items, including aces and blades, from a box of knives that they sent to me to review.
Sponsored by American Outdoor Brands
One of the first things I noticed about knives is the wide variety of blade shapes. I found a resource at Knife Buzz that details the various reasons for the shapes. The blade of each knife is made of 8Cr13MoV, a Chinese stainless steel designed for all-purpose use and easy sharpening, but of higher quality than no-name cheap stainless.
Smith & Wesson Knives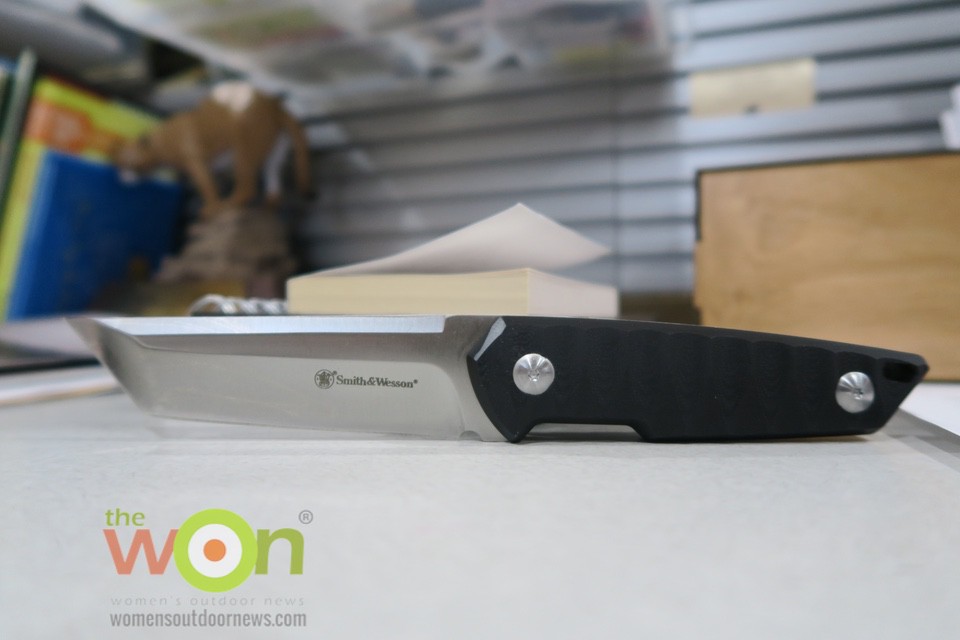 24/7 Tanto Fixed Blade
A Tanto blade heralds from the age of Japanese Samurai and their swords. It resembles a broken Samurai sword, with a chisel edge. According to Knife Path, Tanto is Japanese for "short blade." It was originally intended to be a stabber, a dagger. This Smith & Wesson 24/7 Tanto Blade Knife can do that, with its 4-inch blade and weight of 6.4 ounces. It also comes with a sheath.
Knife Path further breaks down the Tanto into 5 blade styles: Shinogi, Hira, Kanmuri-Otoshi, Moroha and Kubikiri. My guess is that the 24/7 is a Moroha-type blade because of its diamond-shaped cross section.
It has a G10 (glass-based epoxy resin laminate) handle, which would be tough and good for a sweaty palm – which I would have, no doubt, if I needed to deploy this tactical knife.
I would give this one to my son who was a combat engineer in the Army. It's made for EDC (aka "every day carry"), so I'm sure he knows how to use it.
MSRP: $39.99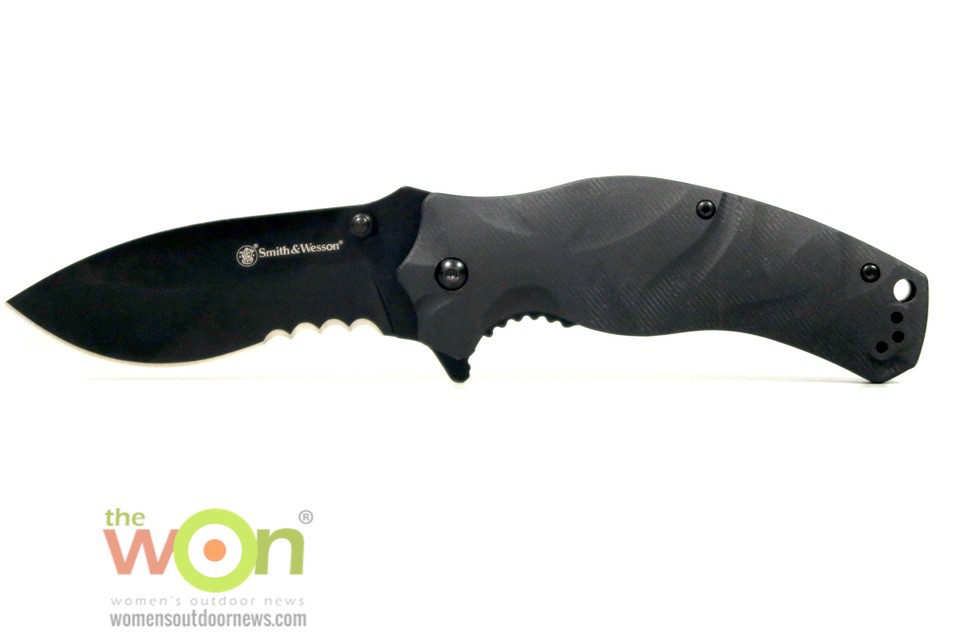 Black Ops Recurve
My soldier would probably like this one, too. And so will I. This Black Ops Recurve model is a drop point knife that opens with a thumb stud at the base of the blade, and has a liner lock. It's definitely tactical in its appearance, with a black blade made from 8Cr13 MoV steel. The handle curves to fit in my hand, and it's another sturdy G-10 grip. It also comes with a pocket clip and hole at the end for a lanyard. It measures 8 inches overall, with the blade taking up 3.5 inches. It weighs 4.8 ounces.
MSRP: $29.99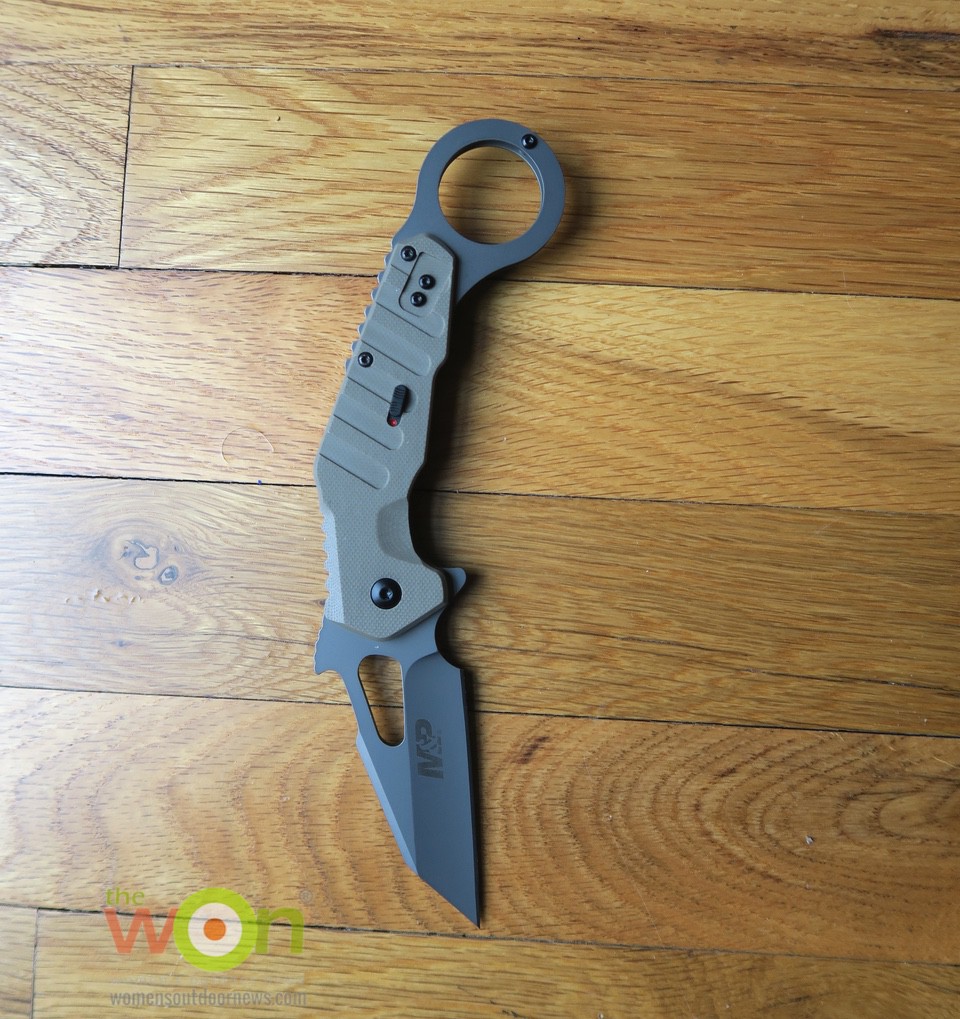 Extreme Ops Karambit Folder
This type of knife, as I discovered at BladeHQ, is constructed for self-defense, and in particular, close combat situations (which, seriously, what else would there be in a knife fight).
This knife style features an arched shape overall and a safety or retention ring at the back of the handle, allowing the user to insert a finger through the ring before gripping the knife's handle.
The Extreme Ops Karambit Folder comes with a blade made of 8Cr13 MoV steel. In addition to a liner lock, it has an additional sliding lock in the handle – for when the blade is closed or extended. I like this 8-inch folder because of its curved shape and secure locking capability; frankly, because of its length, I'd use it as a mushroom knife for cutting delicious morels from their stalks. It only weighs about 4.1 ounces, so it wouldn't be a load to carry along with everything else I need for this task.
The blade on this knife seems to have a sheepsfoot/Wharncliffe combination.
MSRP: $29.99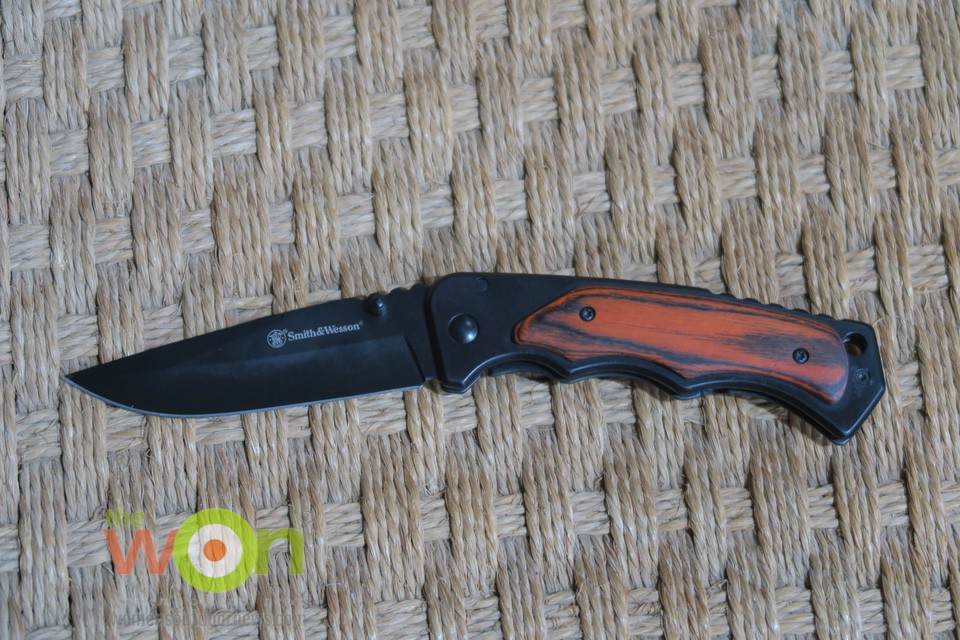 Wood Handle Folder
A larger knife with 8.5 inches total length, this one is meaty and includes lovely wooden scales that resemble tiger fur on its sides. It's pretty, and in keeping with this line of budget knives, it's not expensive. The knife comes in the aforementioned steel, in a drop point design, which is very versatile. It opens with a thumb stud at the base of the blade, and has a liner lock. It's probably the prettiest knife of this group, and therefore, it's a keeper to me. It weighs 5.8 ounces.
MSRP: $19.99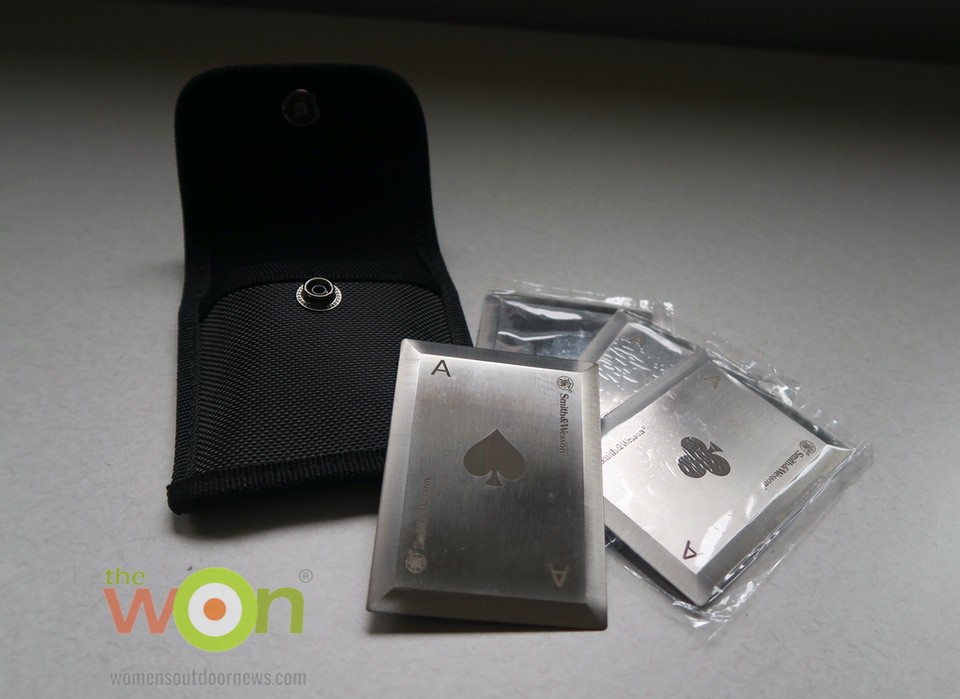 Throwing Cards
Deal me in! If you're holding all of these particular cards, it's going to happen. Smith & Wesson added throwing cards to its lineup of popular knives and axes for outdoor recreation. For fun, my contact at American Outdoor Brands threw in a pack of Smith & Wesson Bullseye Throwing Cards. If you're up for a challenge, these might be a great addition to add for those summer barbecues in the backyard. These cards measure 2.5 inches wide by 3.5 inches tall. The Aces on the cards (Of course, what else would they put on them?) are laser etched. The four cards come in a Cordura snap pouch.
MSRP: $23.99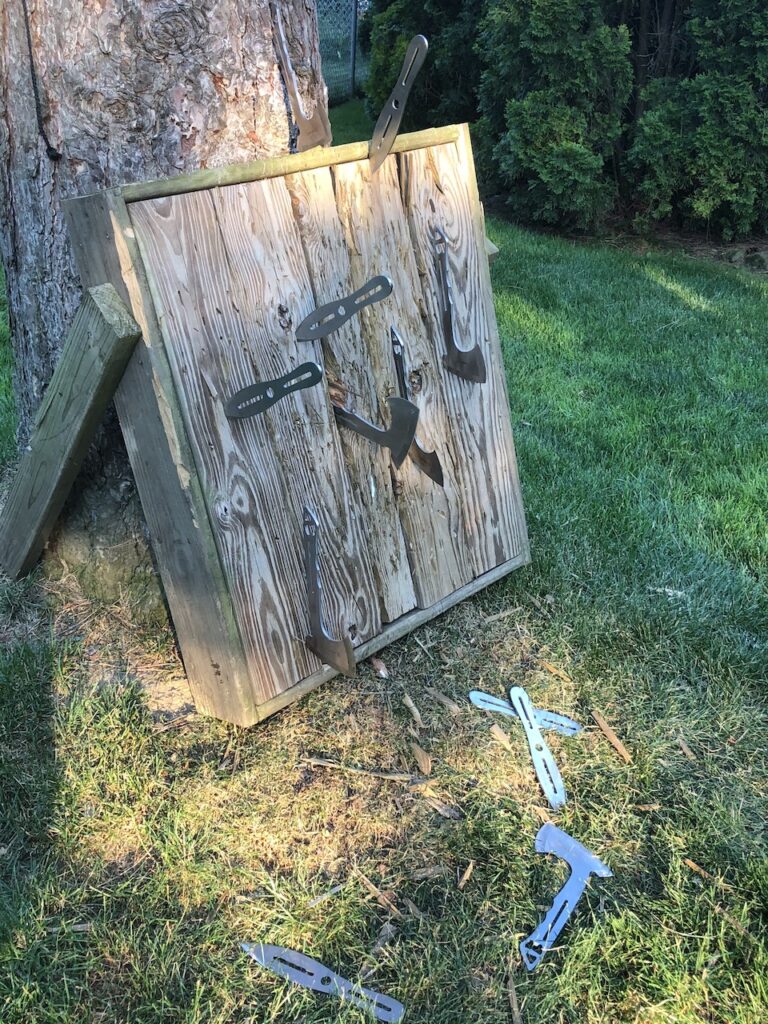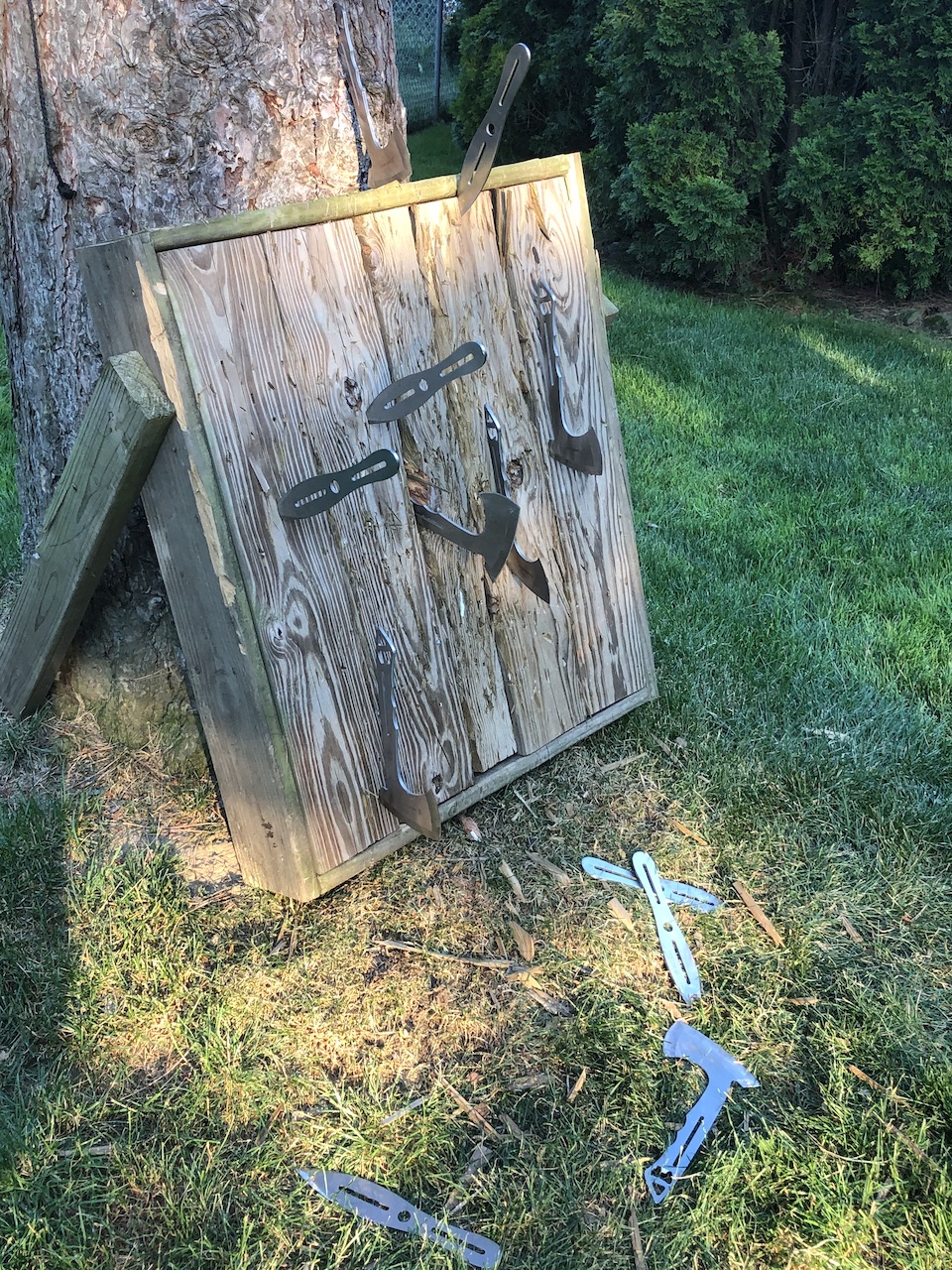 Be sure to find out what happened when our managing editor, Michelle, took to the backyard with Smith & Wesson throwing knives and axes. Let's just say, it kept the big kids entertained.
Smith & Wesson offers hundreds of knives in all shapes, sizes and budgets. Visit the Smith & Wesson online knife store.
About Barbara Baird

Publisher/Editor Barbara Baird is a freelance writer in hunting, shooting and outdoor markets. Her bylines are found at several top hunting and shooting publications. She also is a travel writer, and you can follow her at https://www.ozarkian.com. View all posts by Barbara Baird →
The Conversation