Ice Fishing Camp 101
Imagine watching the sun setting on a frozen lake while making s'mores around a campfire. But at the end of the day instead of heading back home, you walk a few steps into your fish house where you settle in for the night. It's nice and toasty inside because the heat has been cranking all day. You're excited to curl up in bed, but not before you drop a minnow down the hole to catch one last walleye – and then you call it a day. That's ice fishing camp, or at least one of my favorite versions of it.
Sponsored by Camping World
I think the most wonderful part about the coldest time of the year is the ability to stay on a frozen lake overnight and keep fishing. It can be blizzarding outside with sub-zero temperatures, but inside my ice fishing shelter, it's wonderfully cozy, relaxing and fun because I'm not only camping, but I'm fishing while I camp.
To truly enjoy ice fishing camp, your shelter is the most important factor. A warm overnight accommodation on the ice not only means you'll sleep and fish comfortably, but you'll also get much more time on the ice.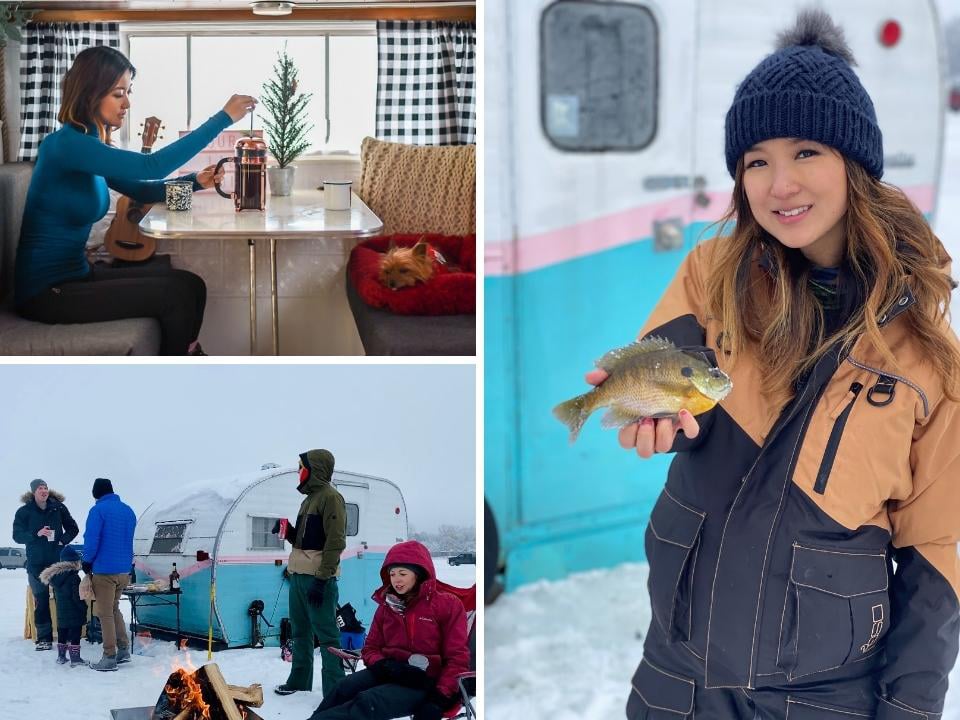 The ice fishing camp experience happens many different ways, whether in a fish house (also known as an ice house or wheel house), a portable ice shelter or an RV that's prepped for winter.
Fish House Camping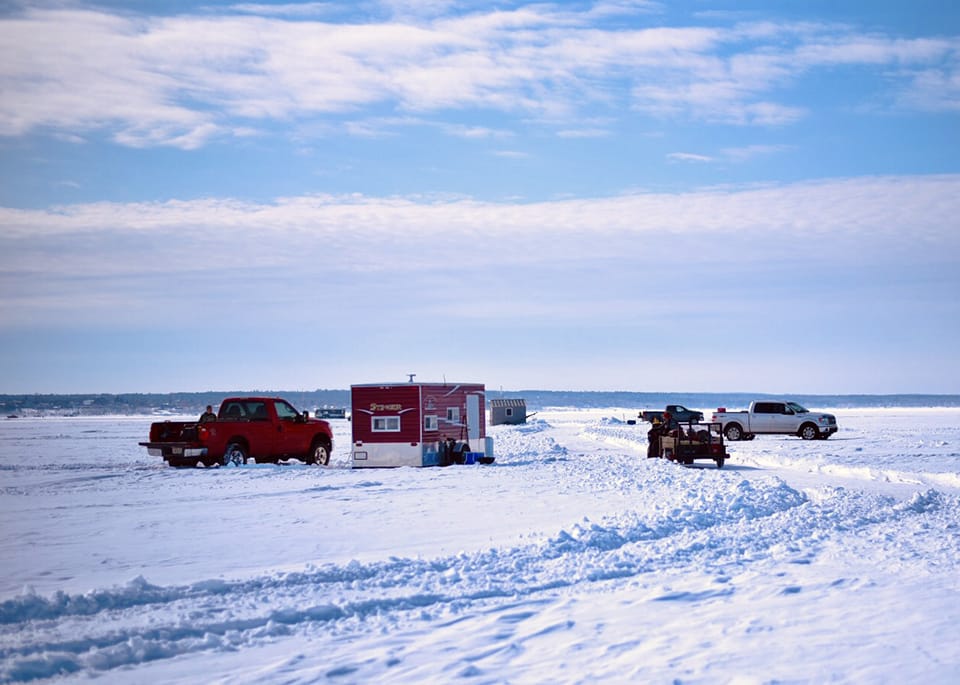 A fish house is the ultimate home on ice. It's like a travel trailer but has holes in the floor and can be lowered so that the trailer is flush with the ice. It typically comes with winter-rated insulation, a strong propane heat source and can also have overnight accommodations like a bed, kitchenette and bathroom. Some fish houses are made for year-round use with air conditioning and an electric awning.
Today, there are many commercially-made fish houses to choose from. Some are basic and have several holes and one bed, while others come with beds for ten people, a fireplace and all the bells and whistles. Camping World has a wide selection of fish houses to choose from this ice fishing season.
Some handy people go the DIY route and build their own fish house. Home-built fish houses are often more affordable and entirely customizable, but it takes time, patience and good craftsmanship. We got lucky and acquired a home-built fish house off Craigslist. It has two beds, five holes and a camp stove. The Lil Hotdish, as we call it, has served us well for ice fishing and ice camping for several years.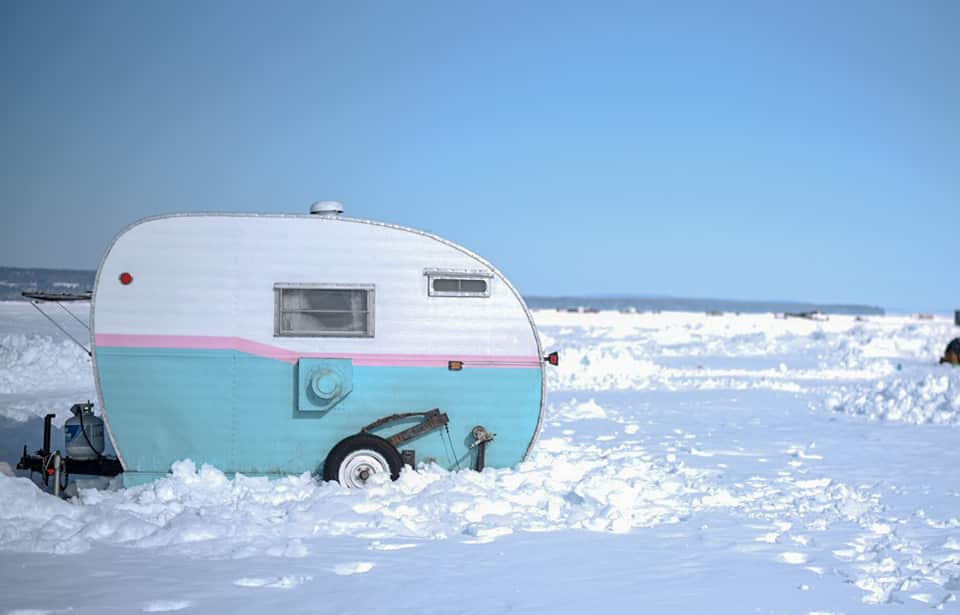 Portable Ice Shelter Camping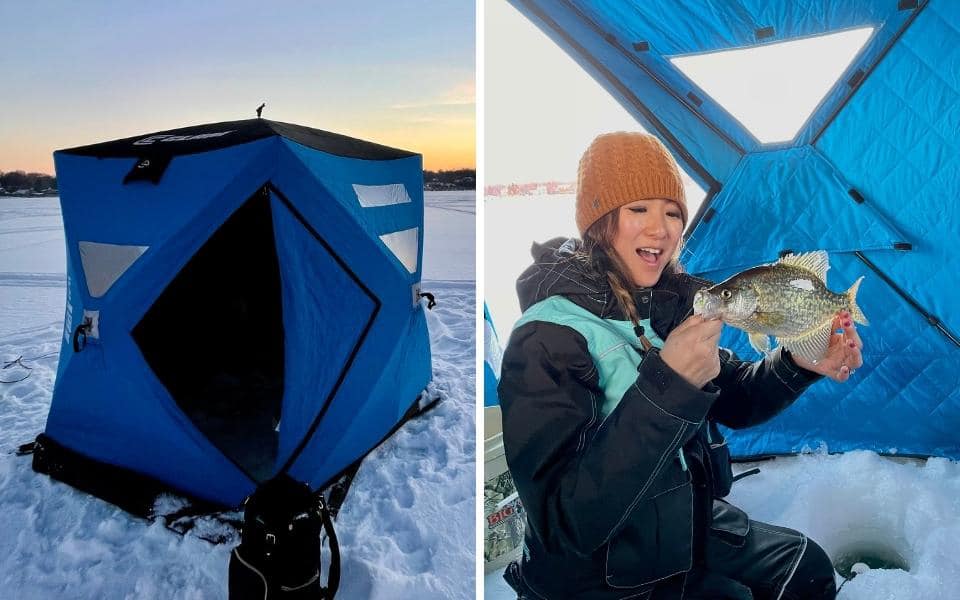 Camping with a portable ice shelter is just like tent camping but on a frozen lake. Portable ice shelters are typically hubs that easily pop open and anchor down into the ice. They are made to withstand winter conditions like snow, sleet and wind. Fold it down and pack it back up into its travel bag when finished.
Portable ice shelters come in different sizes, shapes and weight. But they are typically lighter weight, hence the fact that they are "portable."
To keep yourself warm in a portable shelter, you need a propane heater. An insulated ice shelter helps contain that heat while avoiding condensation, but it's important to also keep your shelter ventilated and have a carbon monoxide detector to monitor levels.
You'll also want a sleeping cot that's off the ground along with a sleeping pad. Consider adding a foam camping pad or foam board underneath the cot for extra insulation. A winter-rated sleeping bag will also make a huge difference in getting a good night's sleep.
Also consider getting a well-insulated, waterproof ice fishing suit that allows you to move comfortably but most importantly, helps you stay afloat in case the worst-case scenario happens and you fall into an ice cold lake.
RV Camping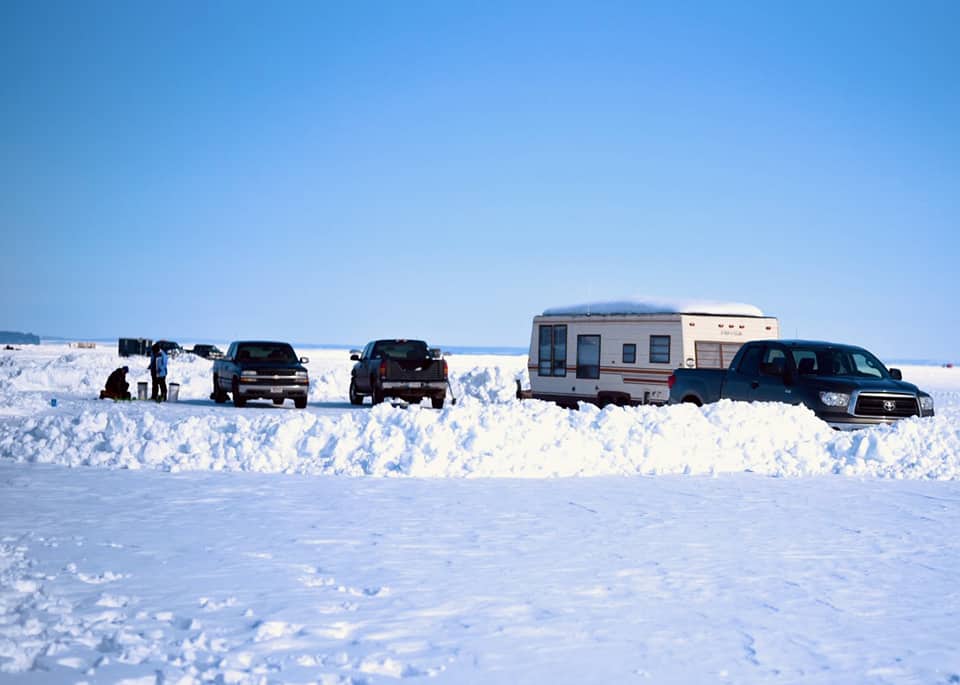 If you already own an RV and want to camp with it on a frozen lake, don't let the cold weather stop you. Some ice anglers like to bring a portable ice shelter and park their RV next to it so that when they're done fishing, they can hangout or sleep in their home on wheels.
Be sure to winterize your RV before considering any type of winter camping. That means no plumbing or running water. Experiencing a burst pipe while camping on ice is not ideal.
Other anglers like to park their RV on the ice and set up a few tip-ups for tip-up fishing and keep an eye out for flags. A tip-up is an ice fishing device used to suspend bait down to a certain depth through a hole drilled with an auger. When a fish bites the bait, it triggers a flag to pop up, signaling that there is a fish on the line.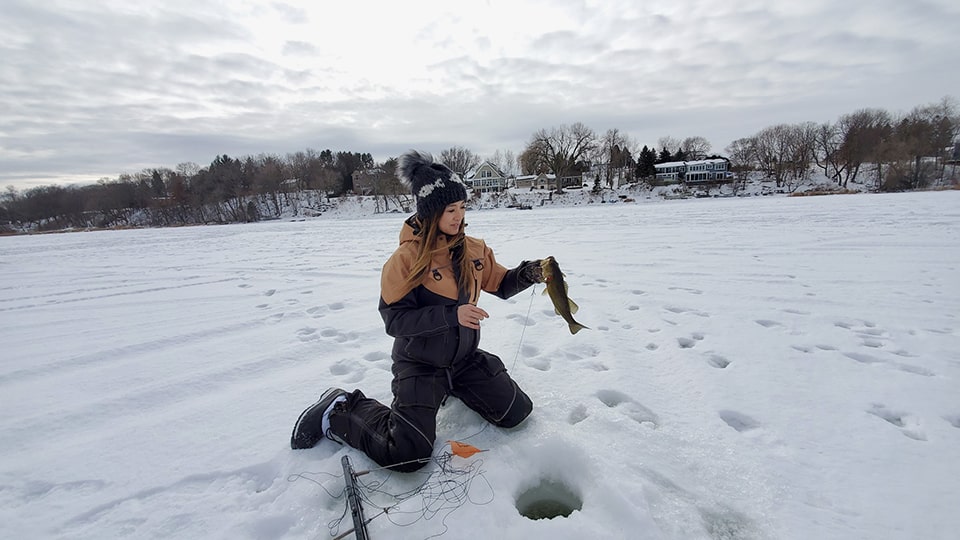 I highly recommend a propane heater with a minimum of 100 BTU per square foot of camper space. A powerful heater can make all the difference when temperatures reach freezing temperatures. Always remember to have a working carbon monoxide detector with you.
One of the best parts about ice camping is that you can use all of the camping gear essentials you'd use during regular camping months – like a portable camp stove, a portable campfire pit, camping chairs and a cooler. The cooler is great because you can store it outside, and your food stays fresh and cold thanks to Mother Nature.
As always, before stepping onto a frozen lake, use your best judgment on ice safety and thickness. Talk to local resorts or bait shops, consult with other anglers, and drill a few holes with your auger before committing to camp on the lake. Ice is never 100 percent safe.
Hygiene on Ice
Most fish houses come with a "bathroom," which is a separate closet-sized room with a 5-gallon bucket toilet. Line the bucket with a garbage bag, and toss in kitty litter or peat moss to absorb odor and moisture. Dispose of the bag in the garbage. Use a similar setup in a winterized RV.
For hand washing or fish cleaning, some people bring jugs of water. Some will empty grey water into a bucket for reuse.
As for showers, bring body wipes or face wipes. These can tide you over until you get home for a real shower.
More Outdoor Tips from Jenny Anderson
Want ideas for hunting season camping essentials, or to learn more about compact boats that can fit in your trunk? Read some of Jenny's past posts for more info!
About Jenny Anderson

Jenny Anderson, known as 'The Girl of 10,000 Lakes' is a young mom, avid angler and outdoors enthusiast. Hailing from Minnesota, there are few places she'd rather be than canoeing in the Boundary Waters, ice fishing on Mille Lacs or enjoying lake life at the cabin. But her love for all things outdoors wasn't something always instilled in her. It's something she discovered later on in life and that's why she encourages everyone to take more detours, step outside your comfort zone and try something new outdoors. View all posts by Jenny Anderson →