Review: Taurus Raging Hunter Ready to Roll for Hunting Out West
The first time I laid eyes on the Taurus Raging Hunter, I knew I would have to try one. I saw it when it launched at an NRA show a few years ago. The Raging Hunter won the 2019 American Hunter Handgun of the Year Golden Bullseye Award. I am not a competition shooter, but I am a serious hunter. I have carried a long-barreled Taurus titanium .357 Magnum as my sidearm in the backcountry for years. It was a gift from my father. When the Raging Hunter came out, I wanted to not only use it as a sidearm when hunting, but also, I wanted to learn to hunt with it.

Sponsored by Taurus
Taurus sent me the Raging Hunter, chambered in .357 MAG/.38 Spl + P with a 5.12-inch barrel that holds 7 rounds. My goal is to practice shooting and holstering with my Crossbreed chest rig for carrying while elk hunting. And eventually, I would like to add a scope and hunt deer with it. It weighs 50.3 ounces and hold 7 rounds and is a double action revolver. I chose a matte black finish. The grip is very secure and fits my hands well.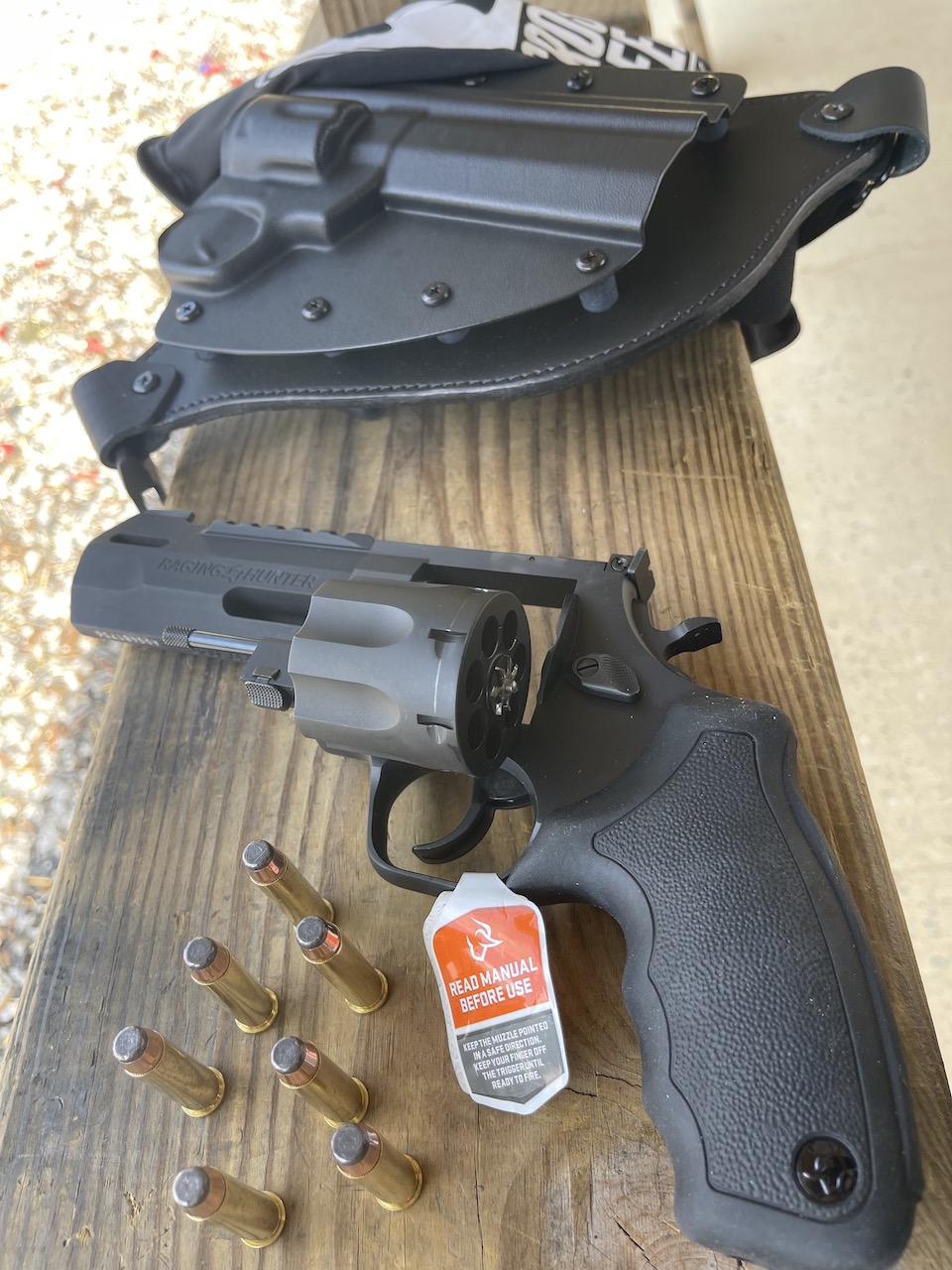 On my first day at the range with the Raging Hunter, I spend some time working (unloaded) with grip, sights and opening and closing the cylinder. The cylinder has two latches to release. One is the front latch, and it has a thumb piece in the rear. I worked it unloaded until I was comfortable manipulating the gun.
I went to the Dead Zero Shooting Park in Spencer, Tennessee, to shoot it for the first time. At this shooting park, all Magnum load pistols are shot at the 50-yard range. I set up to shoot at a 12-inch steel target at 50 yards. I did not have a pistol rest for shooting from the sitting position. My only goal was to stand and shoot and try and hit the steel, just as if I had been approached out West by a bear wanting to do me harm. I loaded 7 rounds, aimed at the target and pulled back the hammer. The first shot missed, and I adjusted my sight hold. The second round sent the ring of the steel back. I was able to hit the target again and again.
At first, I was a little intimidated by the first pull of the trigger, but once I started shooting, it was a confidence builder. I like the longer barrel of a revolver and can appreciate that I can stretch the distance with accuracy as I train more, which I will do. Quite possibly, though, I will find .38 Special +P loads, because the .357 Mags pack a punch, and my arthritic hands noticed.
My goal of carrying the Raging Hunter as a side arm for elk camp requires that I be safe and have a secure holster. I chose that aforementioned chest holster from Crossbreed (MSRP: $149.95). This is my favorite way to carry afield when I need to be on the move. The great thing about this chest rig is that it comes with multiple points of retention adjustment, so that I can customize the retention and I will practice with the rig on over my jacket, as well.
I like to carry a revolver for a sidearm because of the reliability when exposed to dirt and debris when hunting. Having seven rounds is plenty and I train to use it and hope I never have to actually defend myself against a predator on two or four feet. The Raging Hunter comes in an innovative design with a ported barrel to reduce recoil, which is something I look for in a longer barrel revolver. Even though this revolver is large and may seem intimidating to a new shooter, I recommend giving it a try. It is powerful and can get the job done.
The Raging Hunter will be an asset to my collection. I am looking forward to adjusting my sights further with a bench rest and adding a scope or red dot to it for future hunting trips. Most definitely, it will be packed for my upcoming elk trip in Colorado.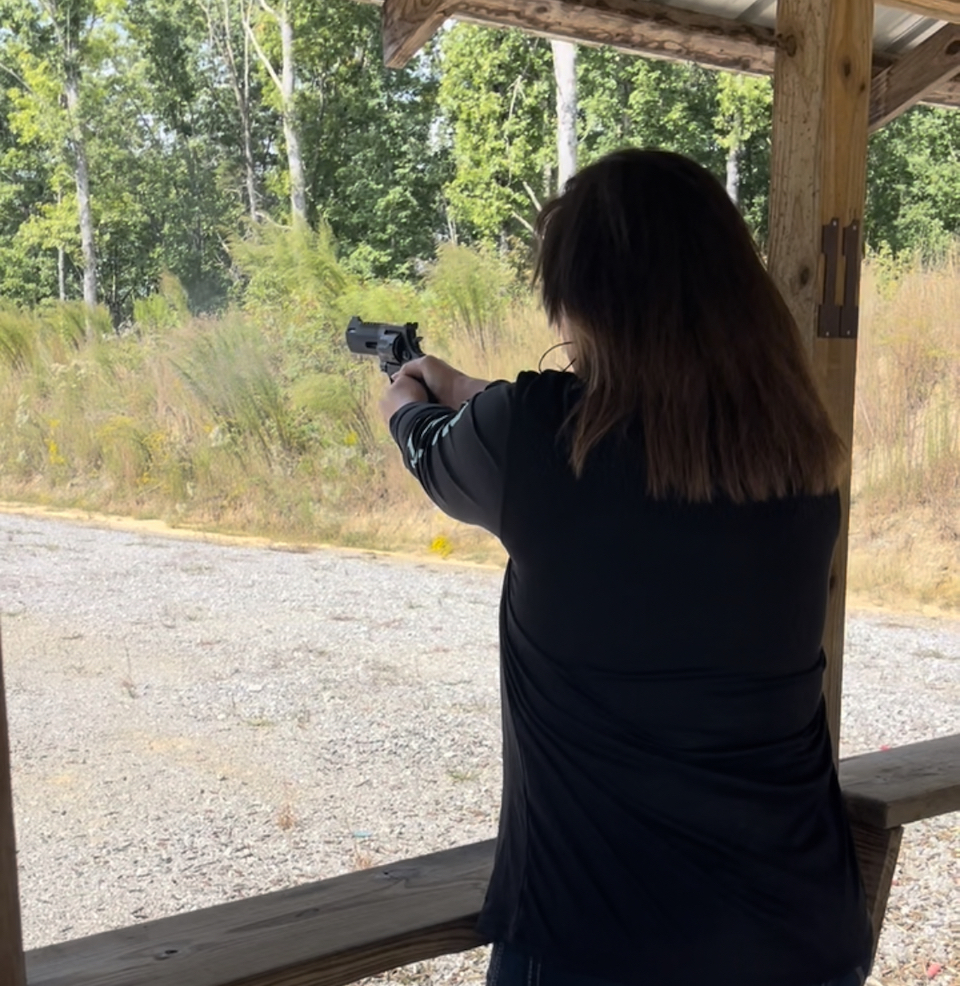 See more about the Taurus Raging Hunter, which comes in several calibers and barrel lengths, at the Taurus USA website.
Read our other reviews about the Raging Hunter:
Take Along a Taurus Raging Hunter for Hunting and/or Hiking
Review: Taurus Raging Hunter 44 Magnum
Taking the Taurus Raging Hunter Hiking and Panning for Gold
About Amy Ray

Amy Ray is the owner of The Sisterhood Of The Outdoors, an organization that creates opportunities for women to hunt, shoot and fish. Amy is a pro-staff shooting instructor with Shoot Like A Girl. Amy is certified as an NRA pistol instructor and Refuse to Be A Victim instructor. As a member of the Freedom Hunters advisory board, she helps to expand hunting opportunities for servicewomen, Gold Star wives and daughters of fallen heroes. She also is an avid hunter and shooter and loves mentoring others in the outdoors.   View all posts by Amy Ray →