Thanksgiving at The WON
In preparation for the Thanksgiving holiday this week, I've assembled a few past posts to get us all in the right mood. Here at The WON we are great big fans of the meaning of Thanksgiving; every year we all look forward to celebrating this special holiday. Keep reading and join us for a little trip down Memory Lane, where we revisit a few of our favorite Thanksgiving craft posts, and what these projects mean to us.
Make a Gratitude Pumpkin
In this post, our publisher Barbara Baird encourages us to start a gratitude pumpkin now. She knows you'll be surprised and encouraged by the things your company choose to note on its surface.
I know many of you are focusing on the next big holiday, which is Halloween, but here's an idea — why not start your "gratitude pumpkin" now while the pickin's good? We began this tradition last year, when I found a scraggly old pumpkin that had some space on it for writing. I had seen this idea done before, and wanted to see what my family would add to such a canvas.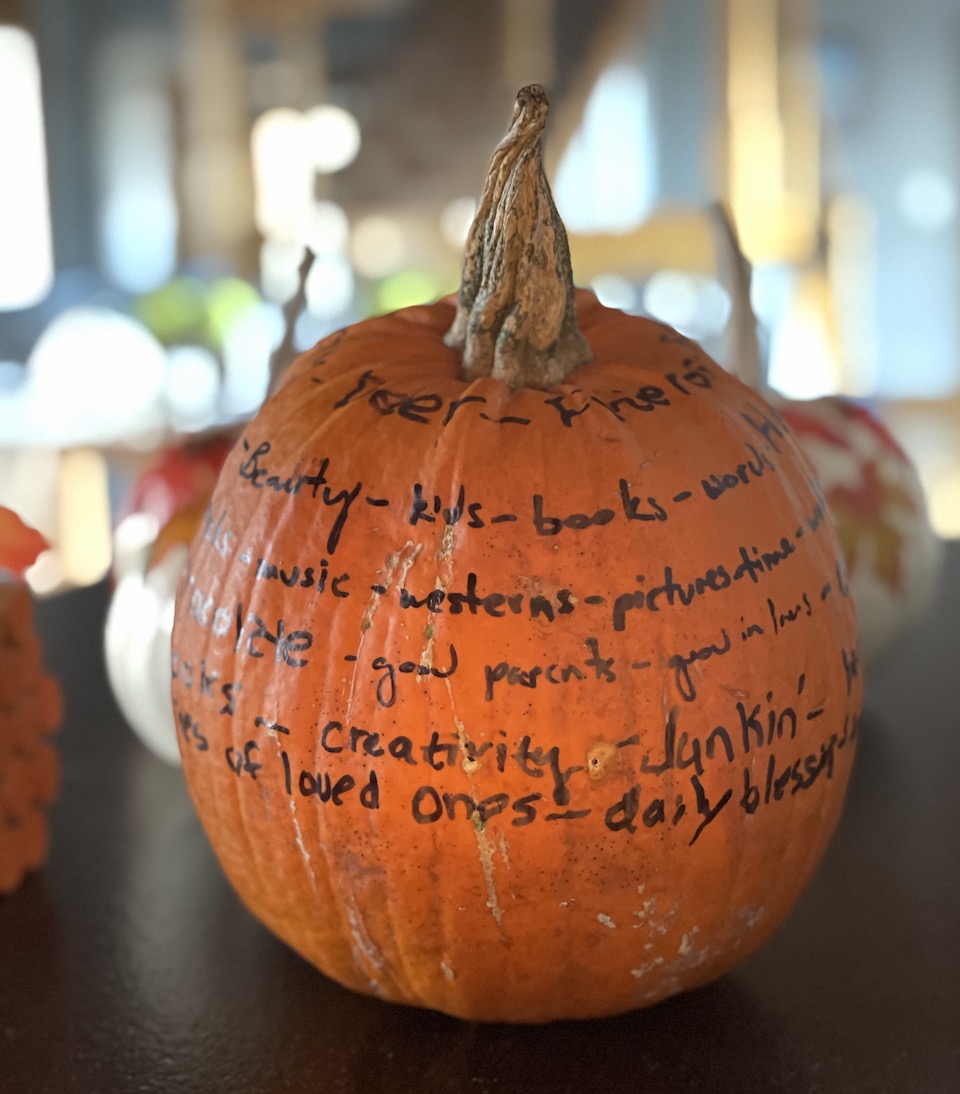 I was not disappointed. At that time, my daughter and her husband were living with us because of a major house renovation, and I also noticed sometimes words that appeared on the pumpkin sparked a conversation at dinner. "So, you like old Westerns? Which ones?" You know, gratitude pumpkins don't have to be all serious and liturgical.
So this year, I am using a lovely white pumpkin — and seriously, what's with the white pumpkin craze? Is it the most popular for modern farmhouse decor, or what? In our neck of the woods, it's downright difficult to find white pumpkins. They come at a premium price, too. But, hey, I put one on the list with my Walmart pick up, and I got one delivered, without a stem. Now, I don't know about you, but a pumpkin without a stem is like a wineglass with a broken stem, a cookie jar without a lid and you get the picture. It's not complete.
Continue reading our post Make a Gratitude Pumpkin.
Setting the Thanksgiving Table
In this post, Jackie Richardson sets the Thanksgiving table and reflects on the what really makes this holiday special to her family.
This year I am determined to set our Thanksgiving table a little different. A little simpler. I'm not sure if it's my age, the fact that I have two small kids, or that I recently moved across several states with all of our junk, but I am determined to only put things on the table that mean something to our family. Our family suffered tremendous losses this summer – both of my maternal grandparents passed away within a span of a week. So, with all of these things in mind, it feels right to set a simple table full of things that bring us joy or remind us of joyful times.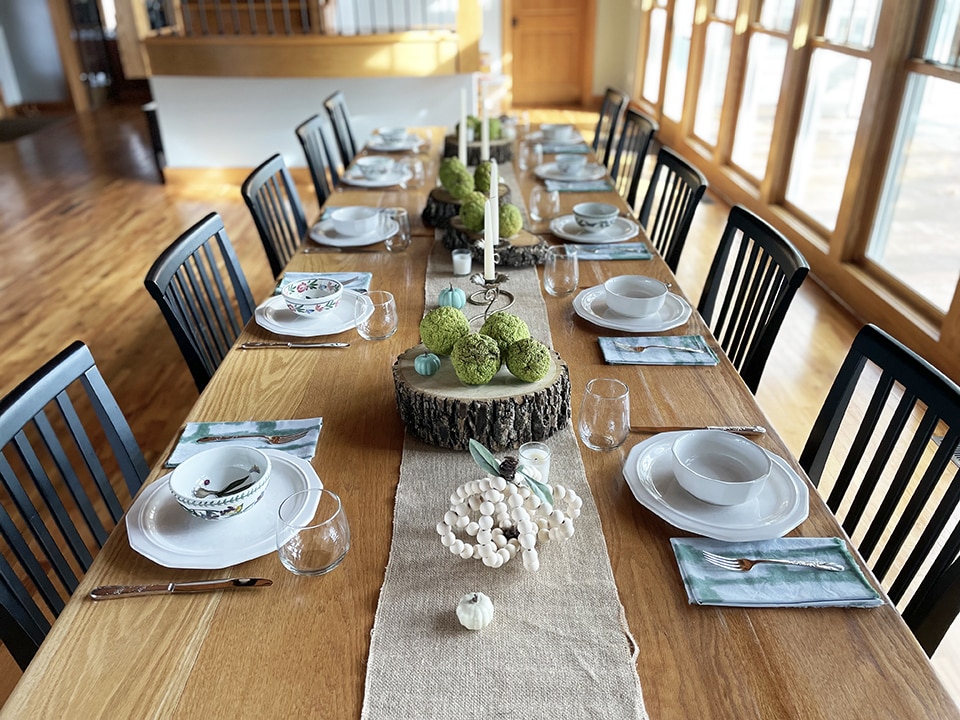 Thanksgiving Table Decor Materials
burlap runner
mini foam pumpkins – these decorate Granny's china cabinet in the fall
Modern Farmhouse Style Wooden Beaded Pumpkin
Osage orange balls
cut wood rounds
mixture of votive and taper candles
brass candlestick holders – used for Advent wreaths, birthday parties, etc. over the years
Shibori Napkins
sentimental plates, bowls and silverware
Continue reading our post Setting the Thanksgiving Table.
DIY Turkey T-shirt from Scrap Fabric
In this post, Jackie Richardson gathers remnants and makes matching turkey tees in preparation for a great big family Thanksgiving meal.
Inspired by the t-shirts made by my sister-in-law for Thanksgivings past, I set out to find a fun DIY turkey day tee tutorial. This version, from The Cottage Mama, allows for a lot of versatility in design and end product, which always appeals to me in a craft or DIY undertaking. Because I purged the majority of my remnant fabrics in a misguided attempt at decluttering and simplifying, I unfortunately had to strike out for supplies. Luckily, my local Hobby Lobby offers a good variety of remnant fabrics for purchase at reduced prices.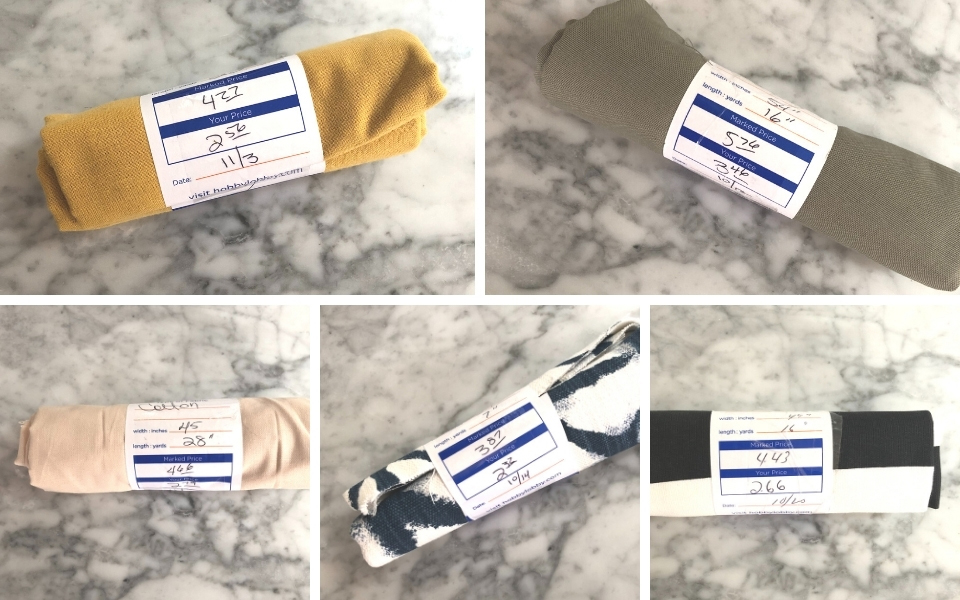 The most stressful part of this craft turned out to be the sewing. Luckily, that part is optional! The whacky assortment of scrap fabrics creates a festive, low-budget holiday shirt.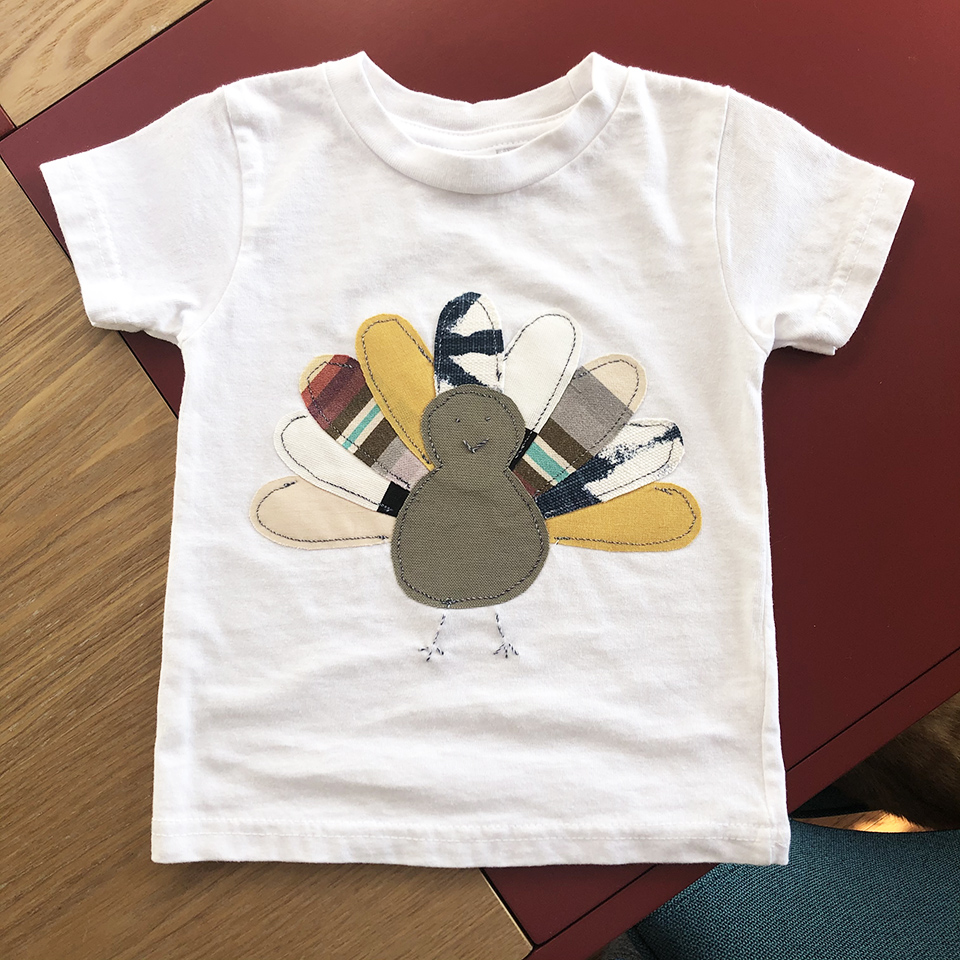 DIY Turkey T-shirts Materials
Fusible web adhesive – available in many brand names, I used Heat-N-Bond
Iron – heated to cotton setting
Scrap or remnant fabrics
Scissors
Printed turkey template (more on this later)
Pen or marker for tracing turkey template
Embroidery thread and needle
Sewing machine (optional)
Continue reading our post DIY Turkey T-shirt from Scrap Fabric.
Joyful Spirits
Hopefully this little collection of posts helps warm up those joyful spirits and creative minds. I wish that you all enjoy a peaceful Thanksgiving holiday, embracing the people you love the most. And please, if you decide to make any of the crafts featured here at The WON, share your projects with us on social media by using #WONphoto.
About Jackie Richardson

Jackie Baird Richardson is an interior designer, editor at The WON and avid junker. Watch for her design tips and occasional crafting ideas, bringing the outdoors indoors. View all posts by Jackie Richardson →