Hunt Like A Girl – Shoot Like A Girl Beretta Duck Hunt 2022
Another adventure in store, I recently went on my first-ever duck hunt. As the plane landed in Houston, Texas, I felt excitement, hope, wonder and gratitude. Excitement – for a whole new outdoor adventure. Hope – to learn more about the tradition of waterfowl hunting, do well and develop new relationships with other outdoors men and women. Wonder – because I had no idea of what to expect, but couldn't wait to jump in. Gratitude – that I received the opportunity to partake of this once-in-a-lifetime adventure.
Here is my attempt to recapture the moments of this amazing trip, sponsored by Beretta.
The Setting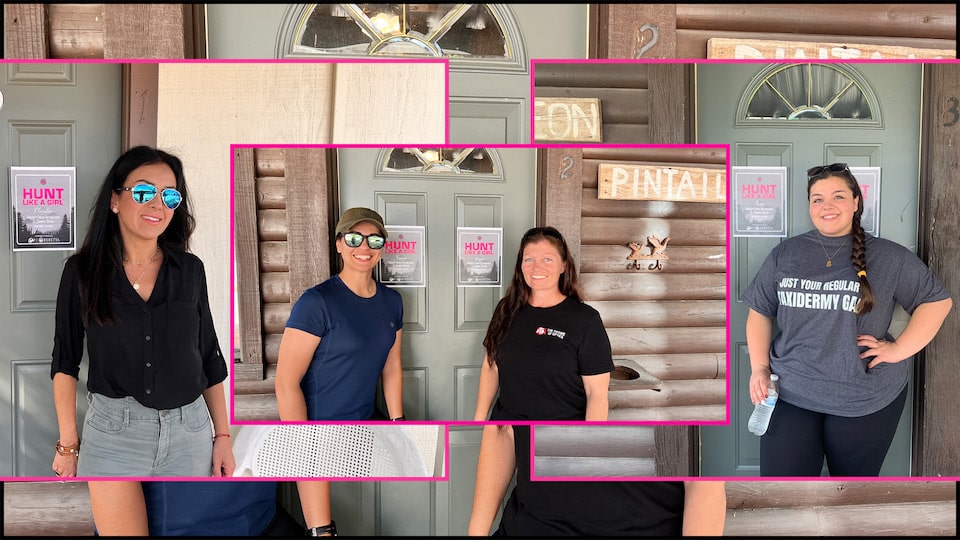 Arriving at the Rocky Creek Retrievers Lodge in El Campo, Texas, in good company, Shoot Like A Girl (SLG2) invited seven women to this hunt. After a very warm welcome, we were shown to our extremely comfortable accommodations and given time to get unpacked and settled in.
Safety Briefing and Guided Practice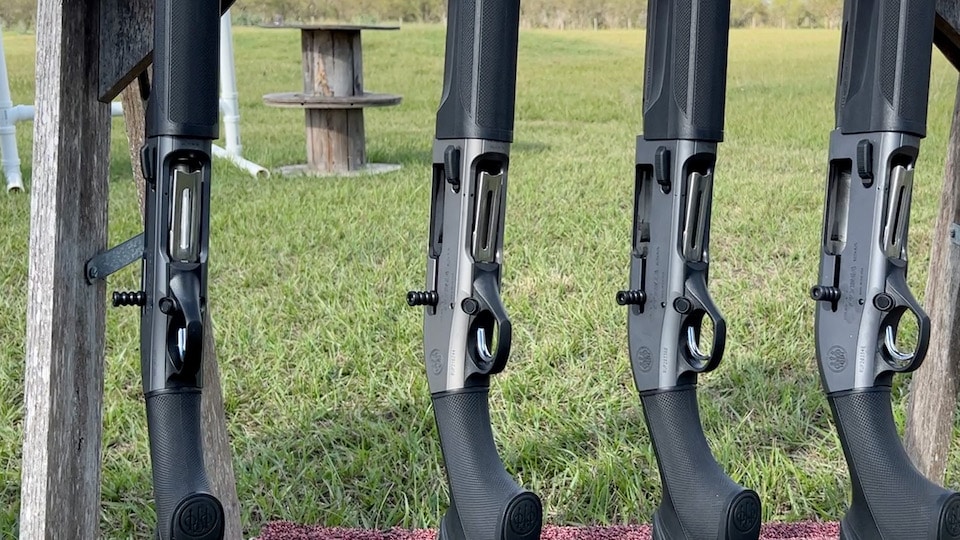 Karen Butler (owner, founder and CEO of SLG2) led the first group to the range to get familiar with the Beretta A300 Ultima 12 Gauge Shotgun. After a safety briefing and dispersing of safety gear, which included Walker's hearing, and eye protection, one of the ladies I arrived with, Jessica Hook (Beretta pro-shooter), covered the aesthetics, operation and demonstration of the Beretta A300 12-gauge shotgun. She explained the longer breach bolt is great for duck hunting, because it allows a hunter to find it and get a good grip, which means less fumbling around as you reload quickly for the next shots.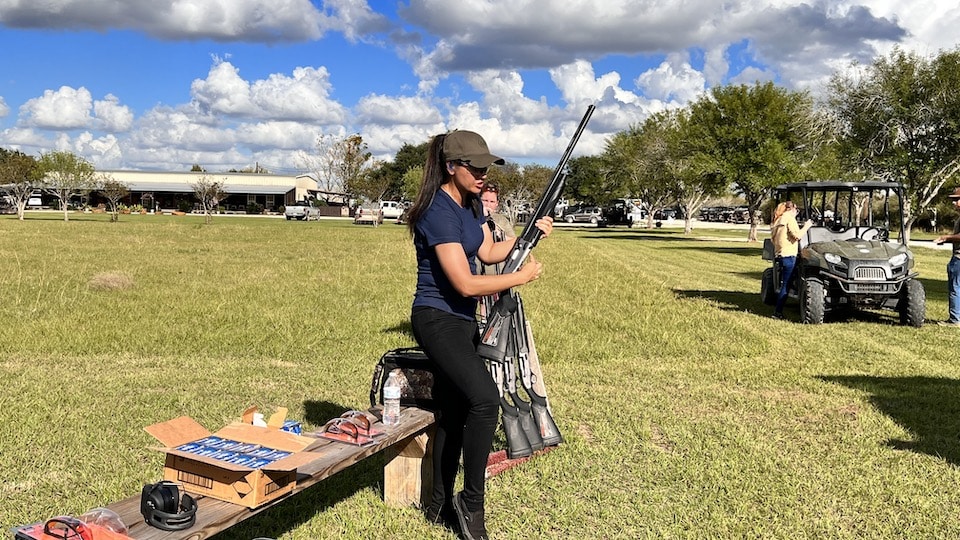 First Shots
Immediately after the demonstration we took our first shots with the A300s. I've shot many shotguns; I'd be less than honest if I were to tell you I wasn't a little concerned about the time it may take to get accustomed to this one. Much to my surprise, we nailed clays relentlessly! Beretta hit it out of the park with this model, as it is a comfortable shooter for women of all sizes, especially offering the adjustability with the drop, cast and length-of-pull spacers. I witnessed this firsthand, when one of the ladies was unable to quickly shoulder the gun because she was very petite and naturally had a limited length-of-pull. Karen Butler removed one of the spacers and miraculously, the gun fit.
A Trip to the Duck Hunt Simulator
With the bench set up in the makeshift blind at the practice range, we set up in position on the benches with shotguns loaded (max of three shells) Federal Top Gun 2 ¾" small shot, shot shells. Each safety had been engaged, one hand on the stock, one finger on the safety and the other hand gripping the forearm awaiting instruction from the instructor. We then heard, "Get ready! Ducks coming in. Flying low right. SHOOT! SHOOT! SHOOT!"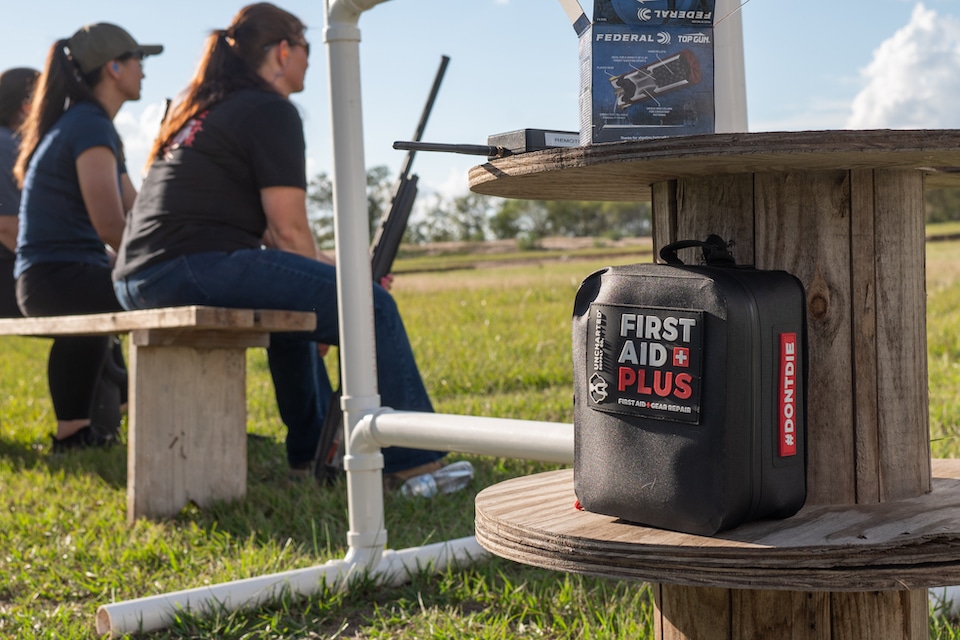 Almost in sync, we rose quickly to our feet, shouldering our shotguns, taking aim at the pretend orange ducks, disengaging the push button safeties and slipping our trigger fingers onto the triggers, accomplishing the goals of sending shot into the clays as we experience the satisfaction of watching the broken pieces disappear into the pond below. The training instruction from the SLG2 team, full of patience and clarity, quickly brought us to a place of confidence for our first hunt early in the morning.
Retriever Demo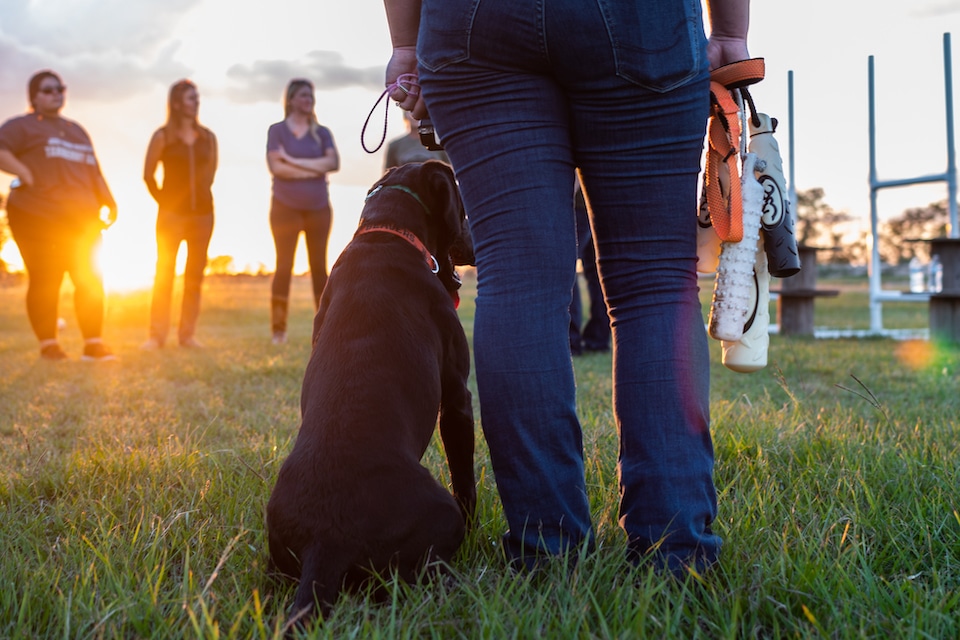 Before the sun dropped and left us in the dark, we had to see one more demo: the duck dog demonstration. The shining star of this demo belongs to Karen Butler. A young dog named Skadi, she just finished training with Sloan Lyons (owner of S&S Outdoors). I was excited not only for Skadi, but also for Karen and Sloan to reap the benefits of the work put into her. Next up was Trigger; she is a bit more seasoned than Skadi; both performances were outstanding! They sat with perfect attention on their human waiting for instruction and permission to do what they do best, retrieve dead birds with the utmost energy and excitement.
All Geared Up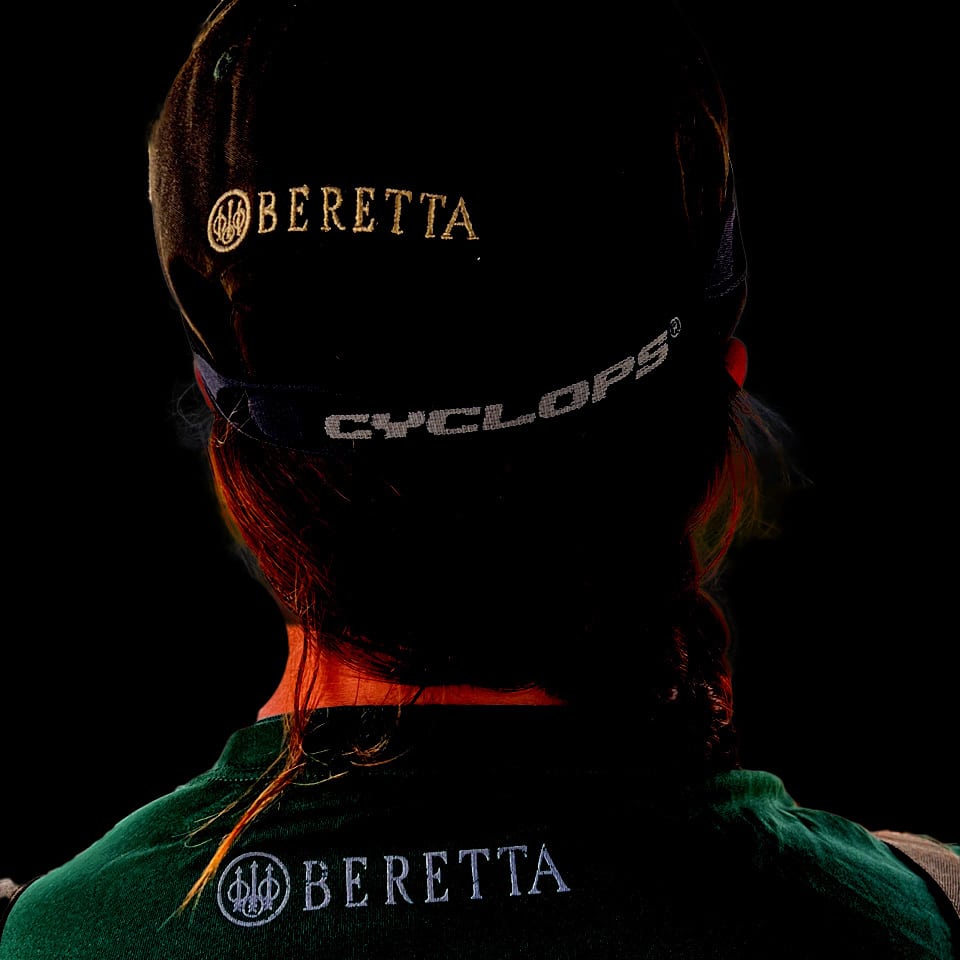 Up and at it. We packed the gear that had been gifted to us: SHE Outdoor 4.0 Base Layers, Beretta Long Sleeve Shirt, Merino socks, SHE Outdoor Chest Waders, Walker's hearing and eye protection, Cyclops head lamp, and a Shoot Like a Girl Beretta Hat. Now we just had to place Beretta A300 Shotguns in Beretta floating gun cases and load up and head to the duck blind.
The Hunt
We arrived at the duck blind in the dark, as the guide, Jeremy placed the Avian decoys in the water. The other hunters and I get settled in and waited for first-light for shooting. The legal shooting time arrived, but the ducks did not, at least not in front of our blind.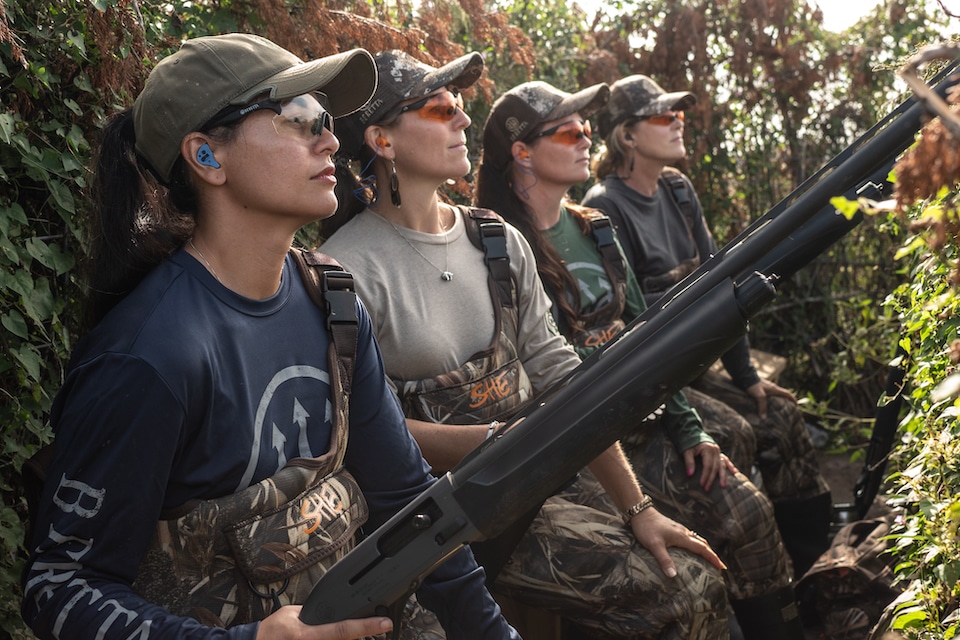 Shots rang out from the blinds across the water, which only made the excitement build. A thick fog surrounded us and made it more difficult for us to spot any ducks coming in, as well as for the ducks to see the Avian decoys inviting them to join them. Regardless, smiles and anticipation covered the faces of the first-time duck hunters as we sat hoping to draw the ducks in with our thoughts.
FINALLY! The words we'd been longing to hear, "Here they come … Get ready! SHOOT! SHOOT! SHOOT!" Just as in practice, we rose to our feet in sync, shouldered guns, disengaged the safeties, slipped our fingers onto the triggers, with a squeeze, ducks fell into the water! YES! YES! YES! I almost couldn't believe a couple of us harvested our first and best ducks ever with those first shots.
Dog In the Water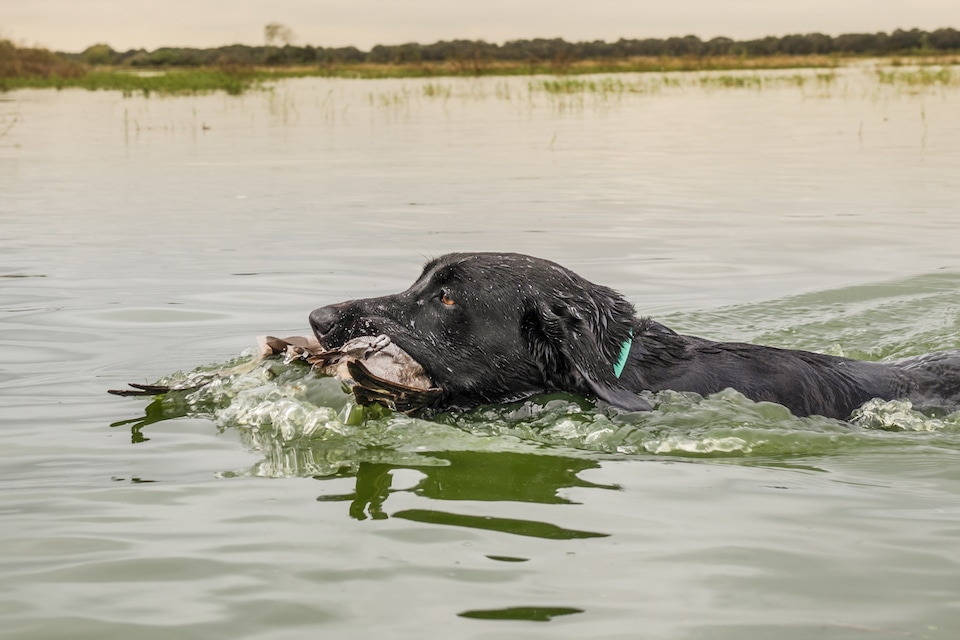 "Safeties engaged, guns down, dog in the water!" said Karen.
First and Best Ducks Ever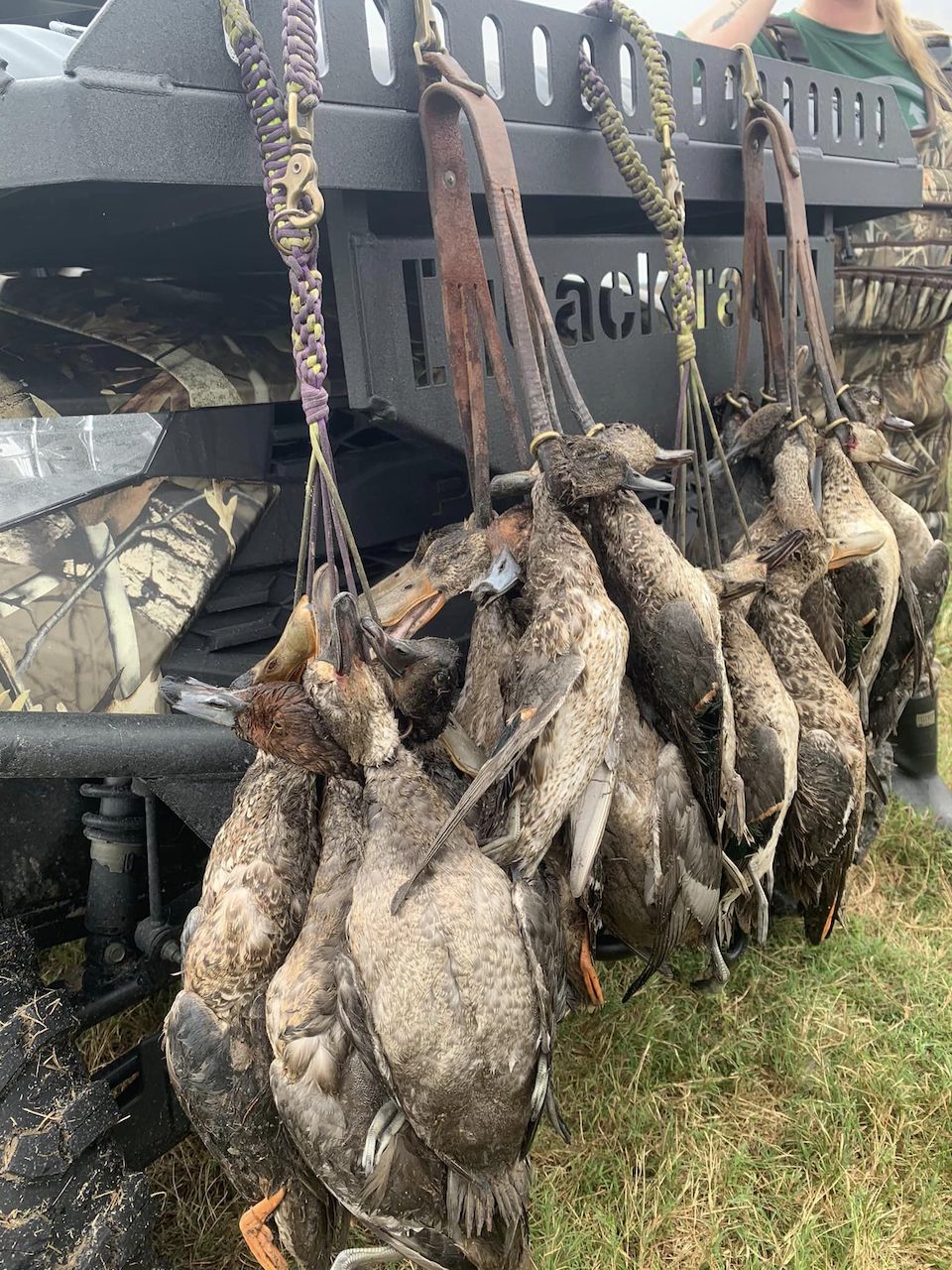 My team brought in a total of five ducks, as not many showed up at our blind, but another group of first-time hunters limited out with a total of 24. It looks like we're going to have plenty of material for the upcoming events back at the lodge.
A Crafty Duck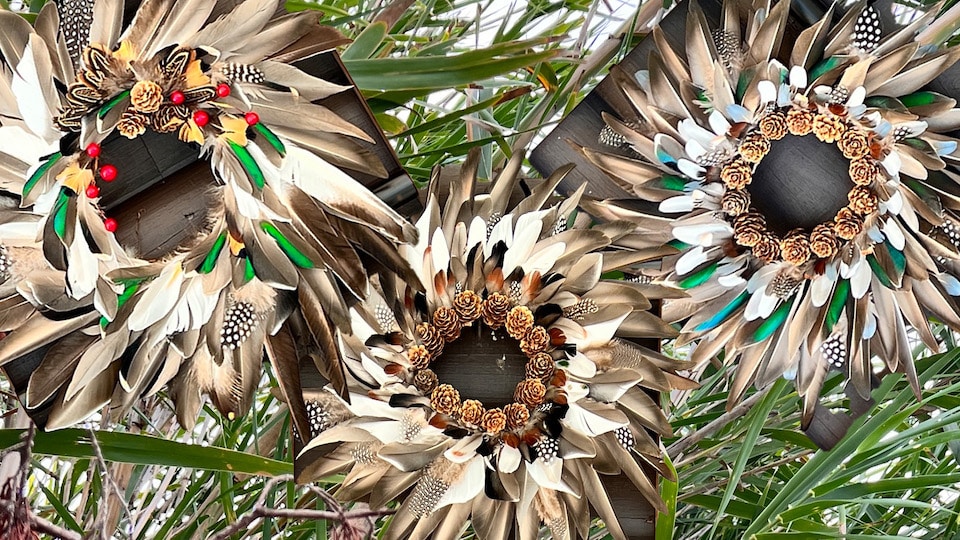 After field dressing lessons, and lunch, Melanie Bolke (event manager for SLG2), invited us to make our own duck wreath from our ducks' feathers. Melanie is a taxidermist and offers the wreaths to her bird hunters as an alternative option to a mount through Feather Designs by Melanie Ann. What a great way to use more of your harvest!
In the Blind Day Two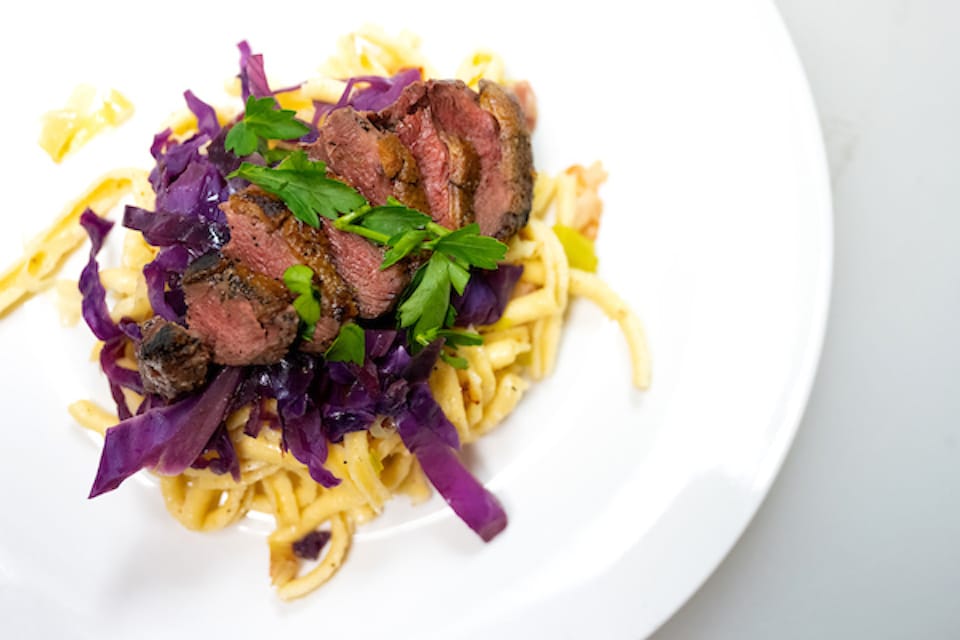 Up for the same thing the next morning, this time I was with Melanie crew and two guides. In the blind again and the fog rolled in, even worse than it appeared the previous morning. Though not as big of a bounty as we had hoped, we returned to the lodge with the same count as the day before. All harvests together meant we had more than enough ducks for Wild Game Chef Jaime Teigen to prepare a melt-in-your-mouth meal for the crew; it was one of my most memorable meals ever! The flavor and texture reminded me of the best fillet mignon I've ever had, and she only use salt and pepper to season.
Time Flies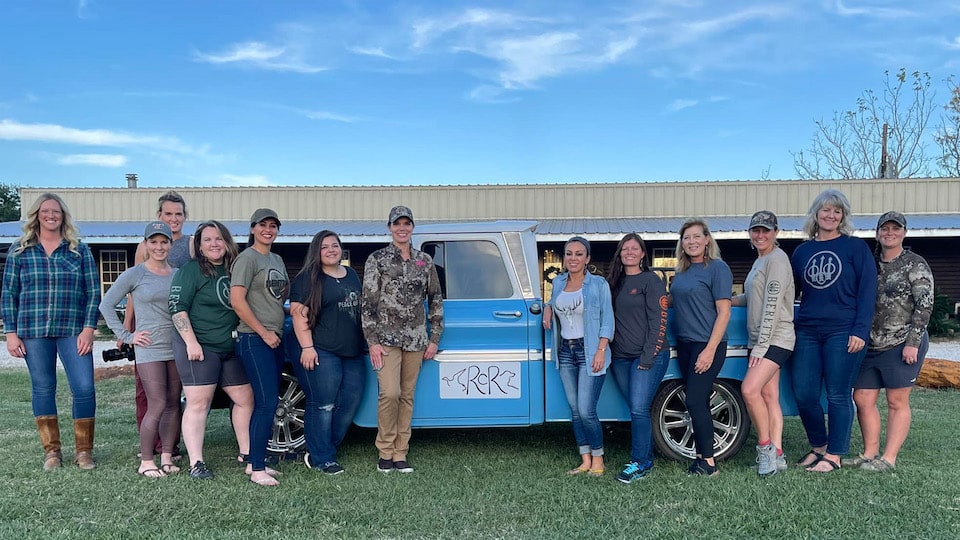 With our first duck hunt behind us, our time with the SLG2 team and all involved seemed to race to an end. The saying, "Time flies when you're having fun," was proving to be true. I held onto the night as long as possible, finding a perfect place of temporary residence by the fire with the other ladies and some of the guides. With conversations mixing together, I enjoyed the many stories about the different duck experiences told and personal life experiences shared, surely a special experience from start to finish. We will never be first-time duck hunters again, what an honor to be a party to many firsts and to shoot like girls.
About Angie Perry

I am a wife and a mother who loves the outdoors, I also review and test airguns and shooting products for various manufacturers. As Airgun Angie, I get to spend a fair amount of time outdoors hunting and shooting! I love what I do, I get the opportunity to test many different types of shooting and hunting gear. My current adventures can be found on https://www.youtube.com/channel/UC764VE4T-i2XihiyISmkJKA You can also follow me on Facebook, @leadlife17 "Airgun Angie." View all posts by Angie Perry →
The Conversation