Franchi Momentum Elite and Her First Big Buck
My state representative, Hannah Kelly, and I decided earlier this year that we would hunt together on opening morning of deer season in Missouri. Our goal? To get her a big buck for two reasons: meat sticks for constituent gifts and a nice Euro mount for her new office in Jefferson City. We wanted the buck to be from her district, and so where better than my place, this old former cattle ranch in the Ozarks? Also, we wanted her to be able to reach out to at least 300, maybe up to 400 yards, with the caliber for this hunt. Enter the Franchi Momentum Elite, chambered in .308 WIN.

Sponsored by Franchi
The Gun
It should be noted that our writer, Angie Perry, had success on a nice South Carolina buck last month, with this model – chambered in 6.5 Creedmoor. Angie reports that not only did she purchase the gun because she liked it so much, but also, she has since taken out three new youth hunters and they've tagged their first deer with this gun. It's becoming a legacy gun for her, and we like to hear that.

A Bit More About the Gun: Franchi Momentum Elite
I chose the caliber of .308 WIN for its knock-down power at 200 yards and beyond. Here are some of its features that worked well for us afield:
TSA Recoil Pad – Oh yeah, when you're shooting a .308 WIN, this matters. Hannah practiced with this gun, with at least 50 shots downrange from 50 to 300 yards. I then put another 25 rounds through it, getting myself acquainted with it and out to 400 yards. Neither one of us wore recoil pad protection and felt just fine. Of course, on opening morning, Hannah wore a thick, insulated jacket.
Fluted Chrome 3-Lug Bolt – If you're wearing gloves, no problem. With a 60-degree bolt throw, it's easy to work this one fast. In fact, Hannah learned how to do it, since she didn't load a round into the chamber before spotting the buck.
Muzzle Brake – A muzzle brake will reduce felt recoil, and more importantly, muzzle rise, so you can get reloaded and back on target it you need to take another shot quickly. Hannah didn't need this feature.
Removable Box-Type Magazine – The detachable magazine holds three .308 WIN cartridges.
One-Piece Picatinny Rail – This feature made it easy to attach the Crimson Trace scope.
Evolved Ergonom-X – We'll dive into this feature further in this post, because this is one of the main factors for Hannah's success during this particular hunt. Built with hunters in mind, this gun can hunt from the ground up to the tallest blind. Its impressive balance allows it to become an extension of your arm, and if you can train your mind to think about sending the shot to your intended target, you're golden.
A Bit More About Hannah's First Big Buck
Hannah has grown up around hunting, with brothers and a dad that hunt. She hadn't spent much time, though, learning to hunt and showed a real interest in the tradition two years ago. She had great success on her third morning out, again on our property, and tagged a medium size doe and a smaller buck. We have several game cameras out and an outstanding buck population. I gave her the go-ahead on that one because I had seen several bachelor buck groups on the cameras and knew some of them had to be culled.
However, since that first experience, she desired to tag a bigger buck, especially for meat sticks for Christmas presents, and as a trophy in her office. Win. Win.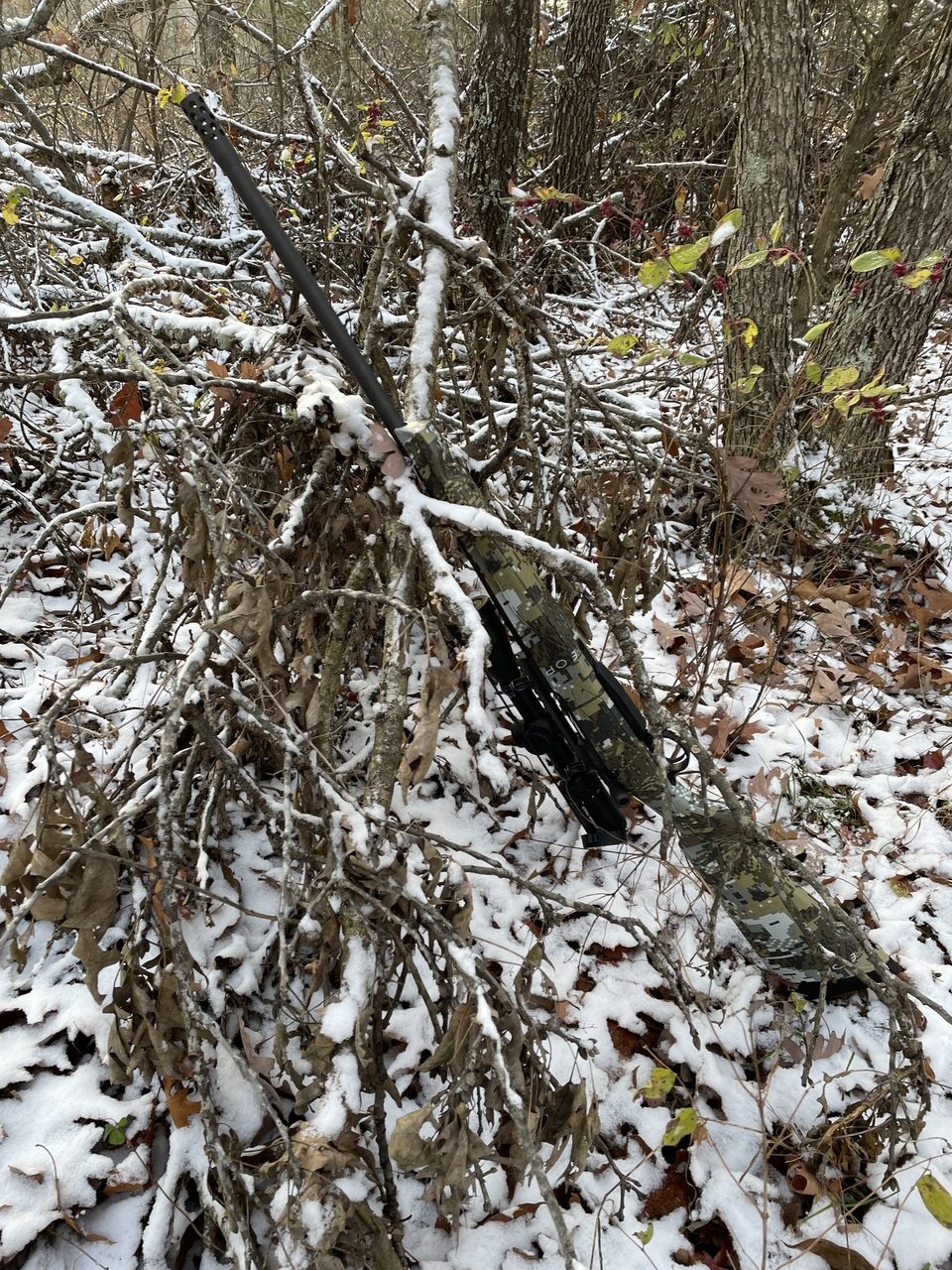 The Process from Box to Field
I cleaned the gun after receiving it. I cannot stress enough the importance of cleaning any gun that you bring home for the first time, whether it's new or used. You need to know that all the internal parts are in there and whether it needs to be oiled or de-oiled! You also need to perform a safety function check on a cleaned and unloaded gun so that you can be assured of no discharges afield that shouldn't happen.
After cleaning it, I boresighted the new Crimson Trace Brushline Pro 2.5-10 X 42 PLEX riflescope. Then, I took the rifle to the range and started at 50 yards. After achieving a nice group of three shots, and some windage adjustments, I moved down to 100 yards and worked on the elevation (of about two inches above the target). I got a zero for the scope at 200 yards, which is where I wanted it. I decided to use Federal Premium Ammunition Vital-Shok 308 Winchester 180 Grain Nosler Partition ammo. For sighting in the rifle, I used mostly Hornady American Gunner 308 WIN 155 grain BTHP, then switched to the hunting cartridge to refine the shot placement.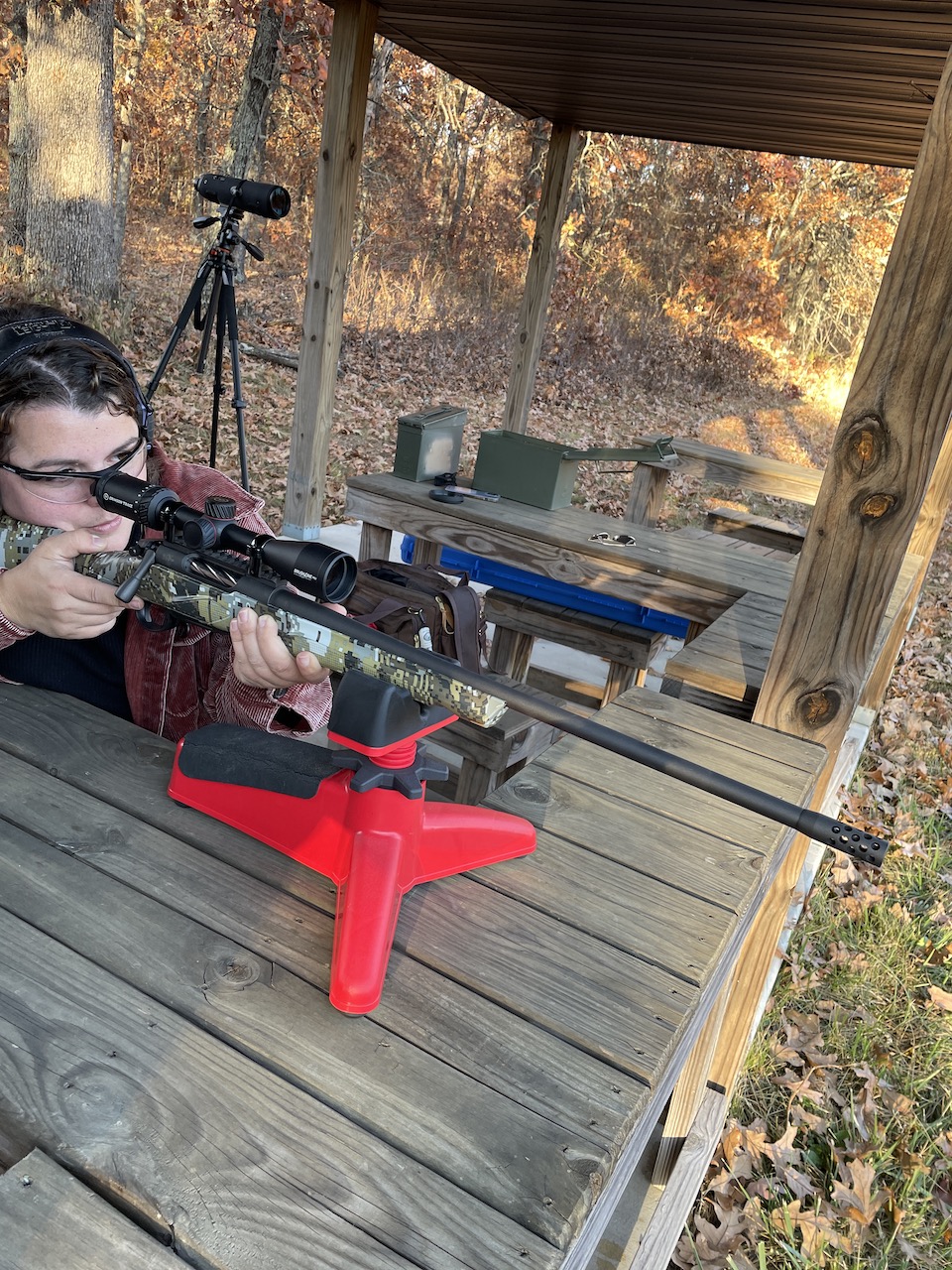 Then, Hannah appeared and started working with the features of the gun. She learned about where its release button lies for the magazine, and how to operate (again and again) the safety button. Then, the real work began, as we worked together to zero the scope exactly for her.
By the end of the second practice time on the range, she was shooting at 100, then 200, then 300 – right where the bullets needed to fall. She felt confident and ready for opening morning.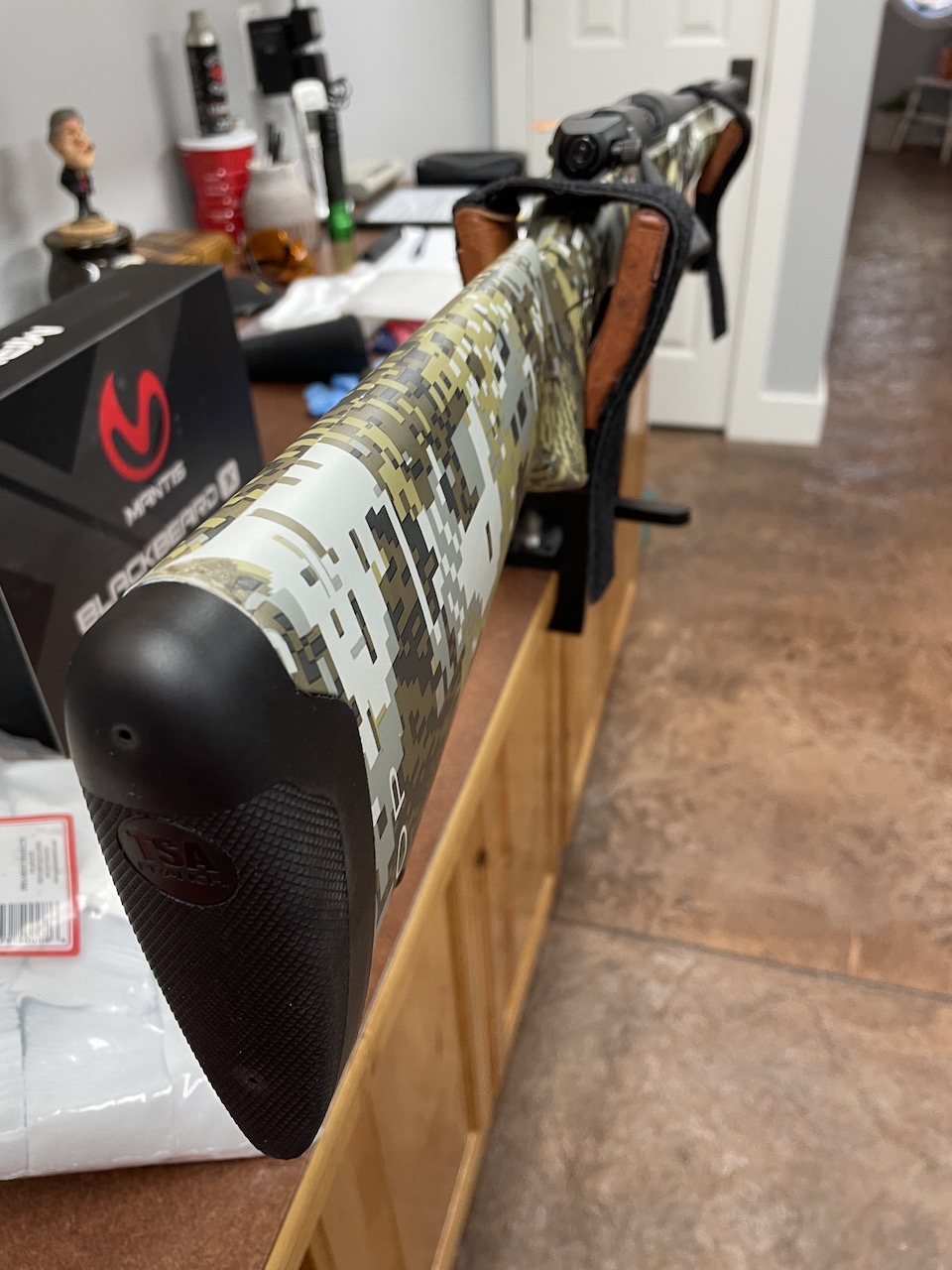 As I mentioned, I also put more rounds through it, but that's after I cleaned it. Normally, I wouldn't clean a hunting rifle after it's been sighted in, but in this case, and with so many rounds through it, I knew it would have a bit of copper in the barrel (and, it did). I cleaned it, and took it back out and checked it with her settings. Everything shot in perfect order, and it stood ready in the gun safe for opening morning.
The Hunt for the Big Buck
Hannah arrived earlier than she needed to – she felt excited for this day. She said she could hardly sleep. We packed up the truck and headed down to the stand in the field. We parked about a quarter mile away and hauled our guns and gear into the blind at the beginning of sunrise. We got all set up, using the DeathGrip from Bog for her gun, a piece of gear she became familiar with during the last hunt. We settled in to watch the field as the sun rose. A light snow had fallen the night before, and the wind blew from the north at about 5 mph.
We thoroughly expected to see the big old boys start appearing way down yonder, where there were some scrapes and rubs. However, a few days earlier I had noticed a new scrape, about 40 yards and to the hard left of our stand. Wouldn't you know it … that's where this 8-point buck headed from across the field, after his grand entrance at 100 yards, stage right. Hannah put down her breakfast burrito (Yes, I am a full-service guide.) and started tracking the buck. He stopped at the scrape and at this time she focused her scope on him. He quartered. She whispered, "I got him in my sight." I whispered, "Send it."
After she pulled the trigger, the deer humped up and then shot off into the woods. She kept replaying the shot in her head, saying, "Barb, I just know I hit him." Frankly, I thought she did, too, just from the way he reacted. We waited almost 30 minutes, and then, she unloaded the gun, but took it along in case she'd need it for a finishing shot in the woods.
We approached the scrape area. No blood. She took the trail into the woods and I went through the brush about 10 feet to the side of her. By 20 yards into the timbers, I began to wonder if she had missed him. Then, she looked down at her feet at red sprinkles in the snow and asked, "Hey Barb, are these berries?"
It was blood. From then on, Hannah learned about tracking and she found the deer, lying amidst downed branches.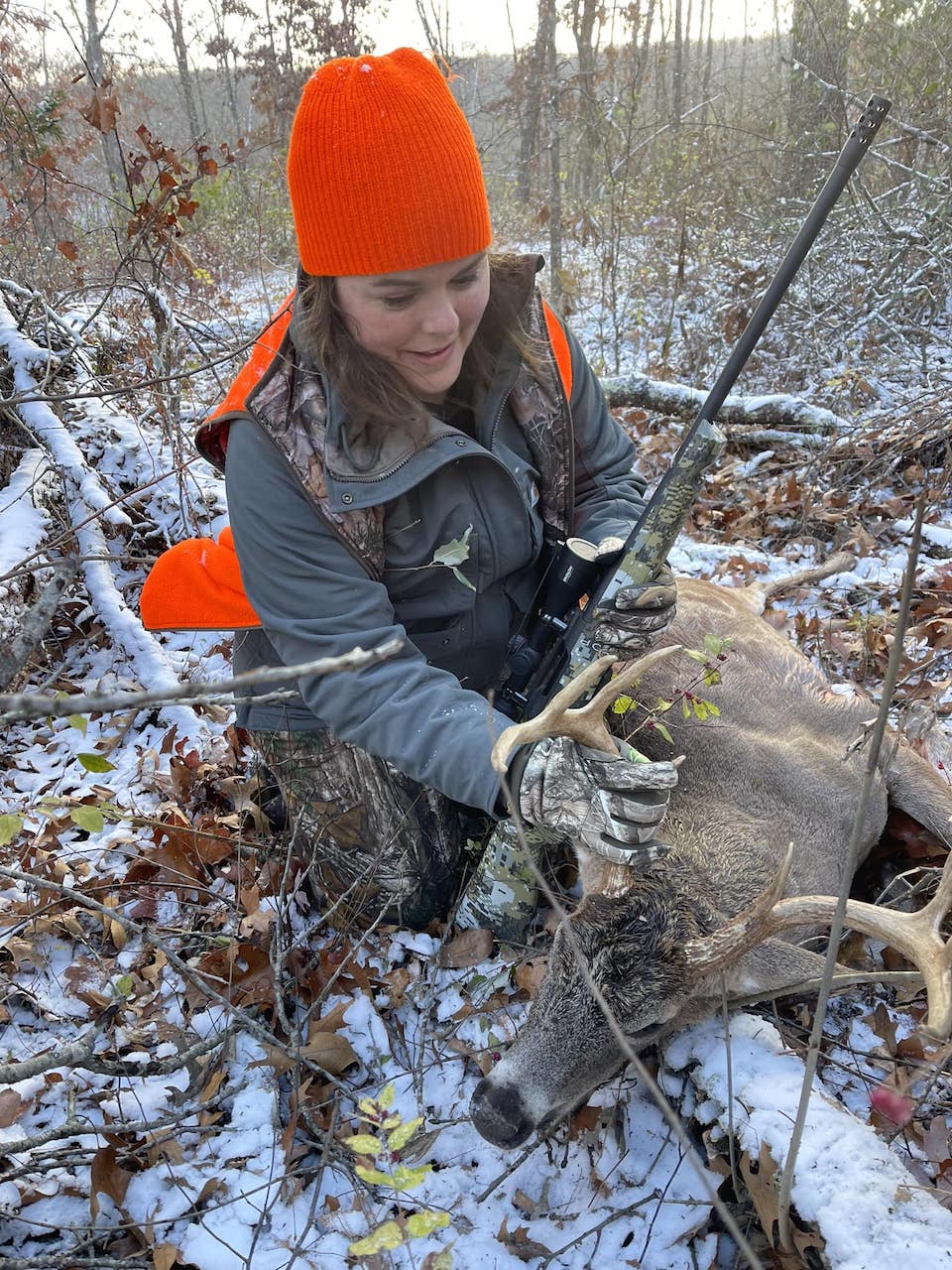 After she discovered him, she turned and hugged me hard. Her eyes welled up. She went around to him, lay her hand on his warm shoulder and whispered a word of thanks to the Creator for this moment. She was, frankly, awestruck. That scene is frozen in my memory.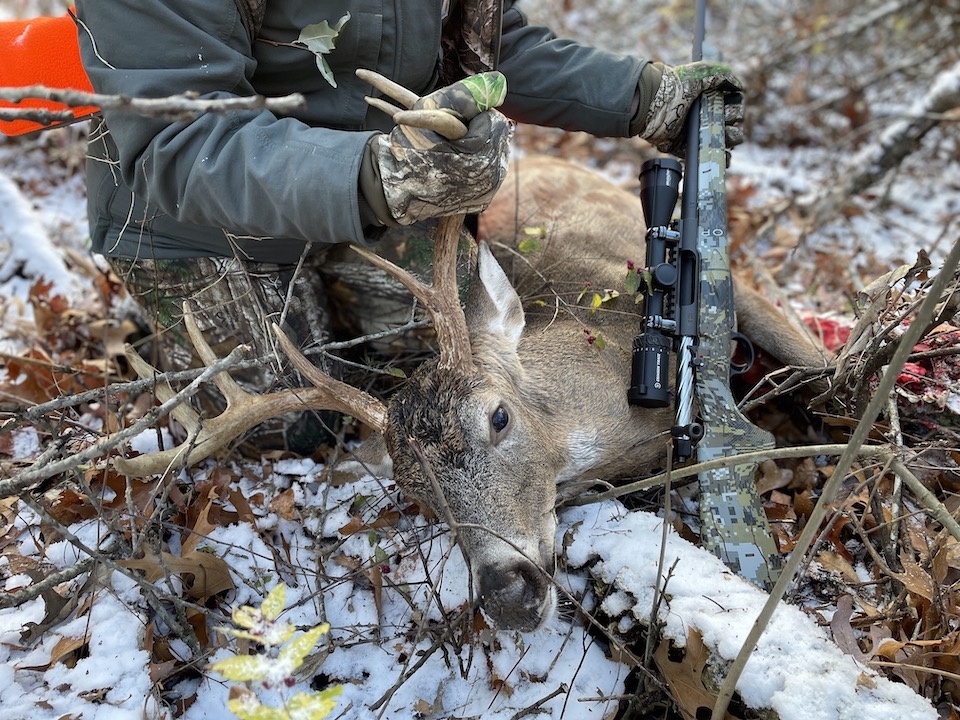 We dragged him a few yards to an old logging road, and commenced the process of field dressing him. Her shot had fallen perfectly, through the lungs.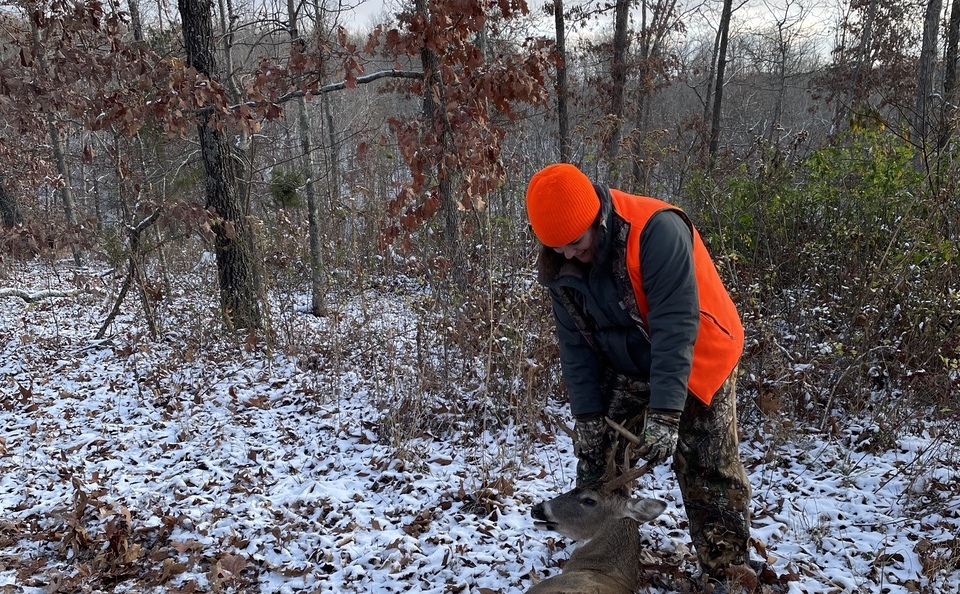 I truly believe that Hannah's practice with the Franchi Momentum Elite, combined with the perfect scope, allowed her to have the confidence to adjust to that shot – a shot we hadn't set up and practiced. And this is what hunting is about, and why people love it.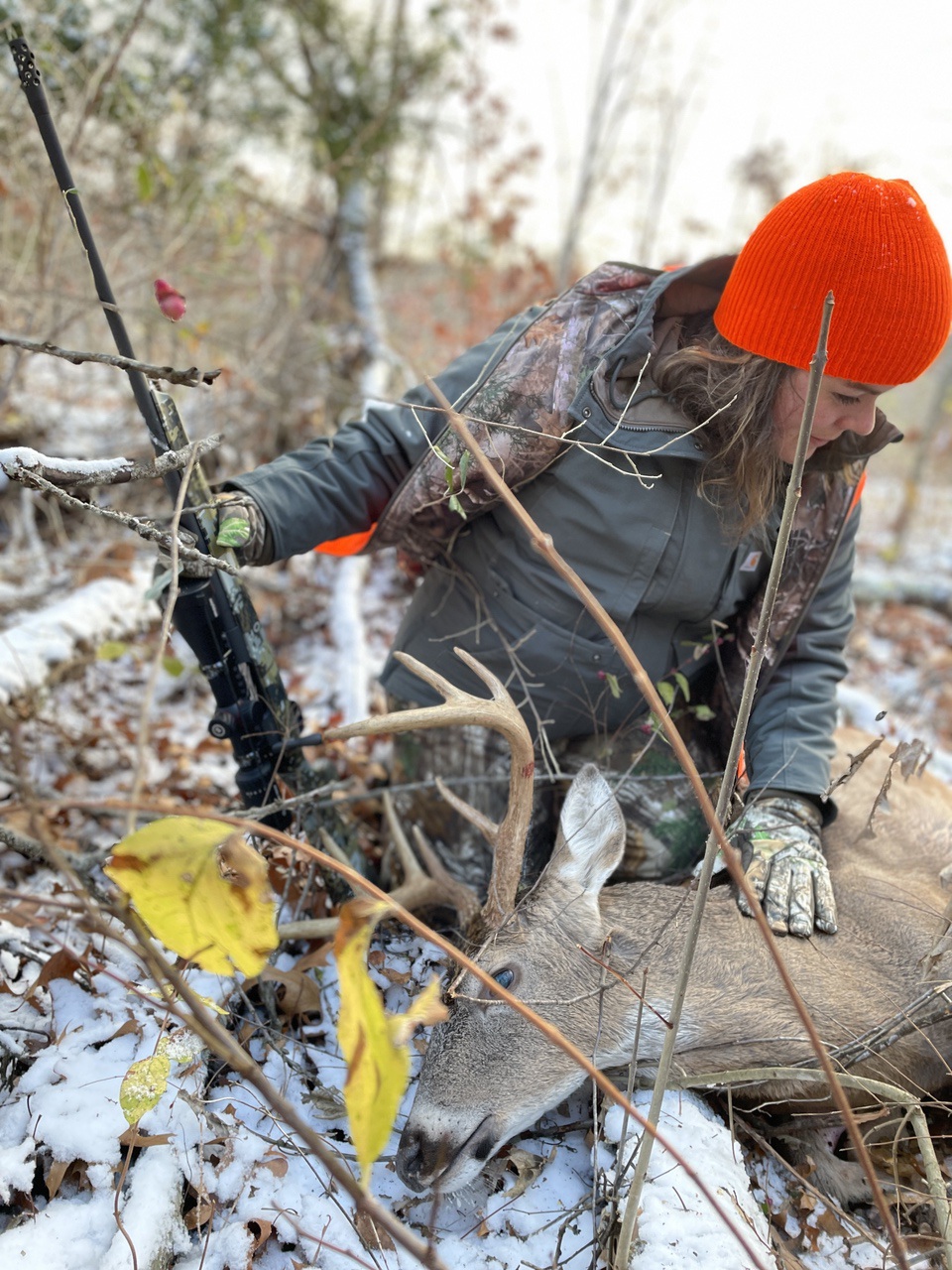 You just never know what's going to appear and present itself to you, and you have to be a quick thinker, which Hannah has proven to be – on the floor of the House and in the deer field.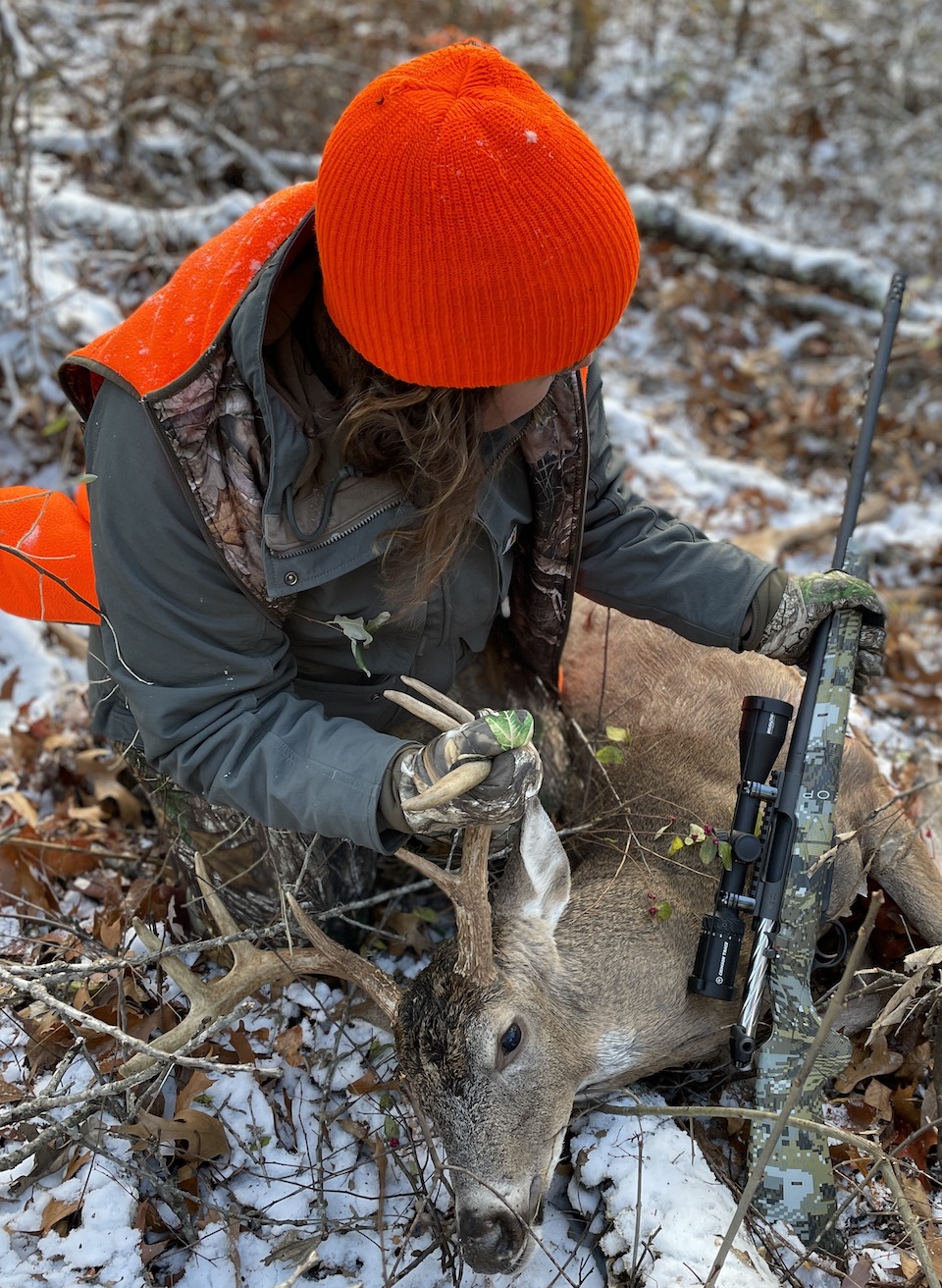 Learn more about the Franchi Momentum Elite here.
Need help choosing a deer caliber? Check out this informative post and video, featuring the Franchi Momentum Elite in five deer-hunting calibers.
About Barbara Baird

Publisher/Editor Barbara Baird is a freelance writer in hunting, shooting and outdoor markets. Her bylines are found at several top hunting and shooting publications. She also is a travel writer, and you can follow her at https://www.ozarkian.com. View all posts by Barbara Baird →